It is in your best interest to keep a good and current backup of your iTunes data on your computer apart from having all your valuable data only on your mobile devices. One might have to deal with data loss after a major iOS upgrade or worse yet a hardware failure. iTunes backup is vital to keep all your iOS devices data like, music, pictures, documents, contacts, etc. safe.
Today we are going to see how one could easily save and restore iTunes backup to iOS (iOS 10) devices like iPhone, iPad or iPod Touch from a local copy on their computer using a third-party program called MobileTrans for Mac ( or MobileTrans for Windows), which is much easier to use and features rich when compared to the default backup/restore options provided by Apple.
There are a lot of reasons to use the Phone Transfer to transfer iTunes backup to iOS.
Transfer data between devices that run different operating systems like, iOS (iOS 10), Android, Symbian, BlackBerry, etc. This means that no matter what OS one uses, they can have same data on all the devices and are consistent.
One will be able to transfer content such as, Music and videos, photos, contacts, apps (if compatible), call logs, etc.
Restore or backup files with just one-click. It can't get easier than this.
Erase existing or deleted data from your phone permanently.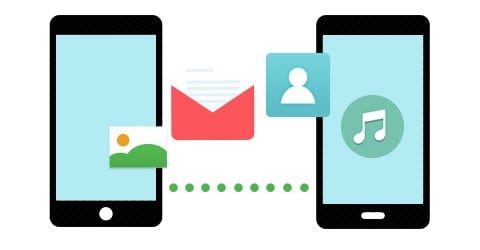 Simple Steps for iTunes Backup to iOS transfer
Without further-ado let's see how one could quickly restore iTunes backup to any iOS device using Phone Transfer program.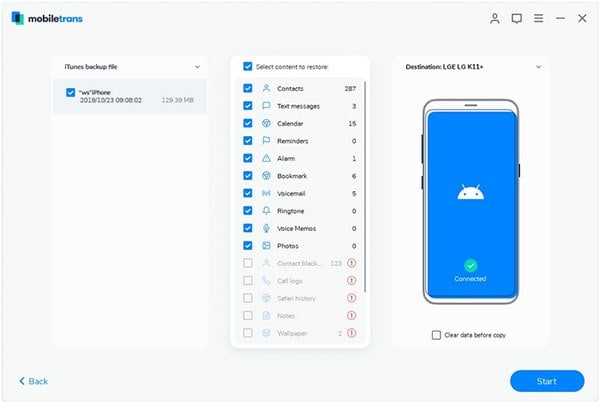 Step 2. Connect your iOS (iOS 10) device to your computer using the USB cable. Go to "Restore From Backup" and choose "iTunes".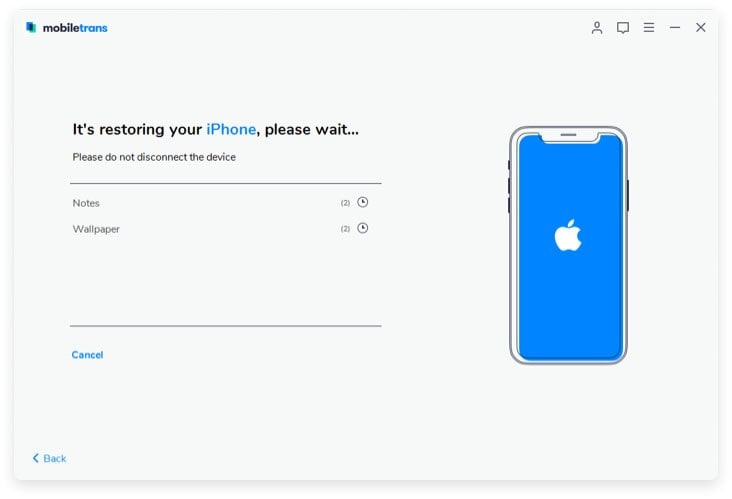 Step 3. Select the data from iTunes backup and click "Start Copy" to start transferring iTunes backup to iOS devices.
Also, note that backing up the data from your iOS device to your computer is just the reverse of what we just did above and is pretty straight-forward. All transfer options such as, Phone to Phone Transfer, Restore From Backups, Backup Your Phone, and Erase Your Old Phone are effortless to use.