Although Android and Mac devices are entirely separate devices, there are hundreds of thousands Android transfers to Mac solutions that can be used to pair and transfer data between them. Here are the top 6 Android Transfers for Mac that will ease your work, especially if you would like to transfer all data between Android and Mac devices.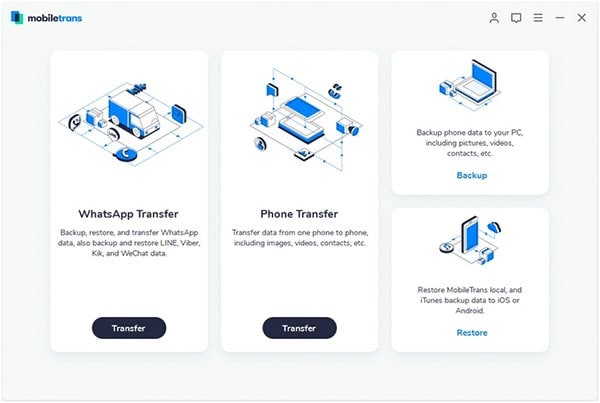 MobileTrans for Mac(or you can use MobileTrans for Windows) is probably the most reliable cross-platform data transfer software on the web. It comes with advanced features that you can't find in most Android transfer for Mac programs. Once you download and install it on your computer, it will enable you to transfer all types of data between tablets, phones and computers without losing quality. To enjoy all the benefits of this amazing software, the free trial version is available.
Key Features:
It does support not only Android devices but also iOS, Nokia Symbian, and Blackberry devices.
You can easily backup data from your Android to Mac and then restore it at a later date with just one click.
iSkysoft Phone Transfer allows you to transfer iCloud and iTunes backup to Android or other devices.
It enables users to erase their personal phone data permanently, especially when they would like to upgrade or sell their phones.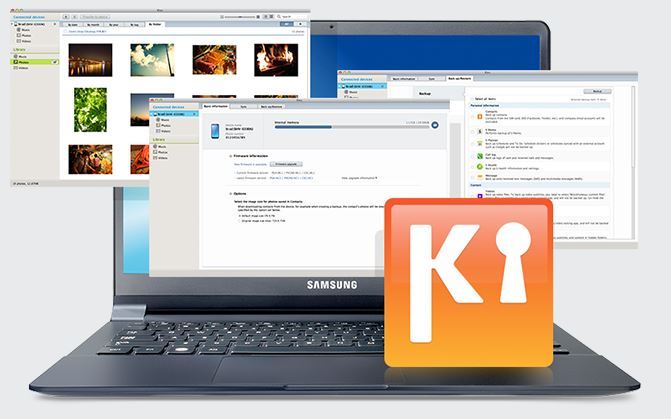 If you are looking for a data transfer program that can connect your Android device to your Mac, then you should consider Samsung Kies. It's Samsung's official tool for Android devices that allows you to manage videos, music and other files, making it easier to synchronize data between Android and Mac devices. With it, you can transfer calendars, contacts, photos and more within a few minutes.
Pros:
Samsung Kies for Mac allows users to receive and install firmware updates for their Samsung devices.
You can use it to backup data and restore them at a later date.
It features an attractive interface, which makes it easy to use.
Cons:
It does not backup DRM protected files.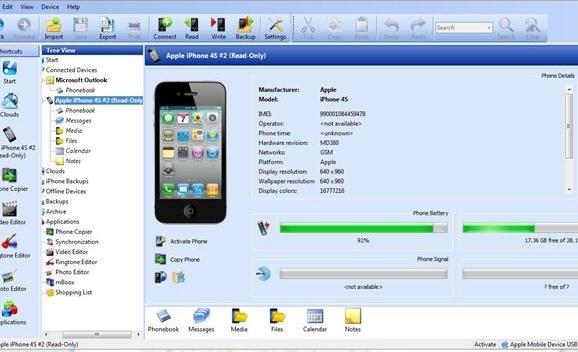 MOBiILedit Phone Copier is one of the fastest content transfer tool as well as the most reliable Android transfers for Mac. Transfer messages, contacts, videos, photos and other data to your new phone with just a few clicks. Moreover, MOBILedit is a purely software based solution and an excellent data management software that allows you to control data from your PC or Mac. You will be able to edit, delete, add, synchronize or backup anything that you would like.
Pros:
Connects to phones via Bluetooth, USB, lrDA and even Wi-Fi.
Supports data transfer between the newest Android and iPhone devices and almost all other phones including the ones with old features.
Developers have designed an award-winning MOBILedit connection kit that features all the necessary cables for the fast and easy use of the software.
It features a friendly interface that makes it easy to use.
Cons:
Contacts can only be transferred through Bluetooth or WiFi.
You have to install driver software for different types of devices to transfer files, but these steps are outlined clearly during the installation process.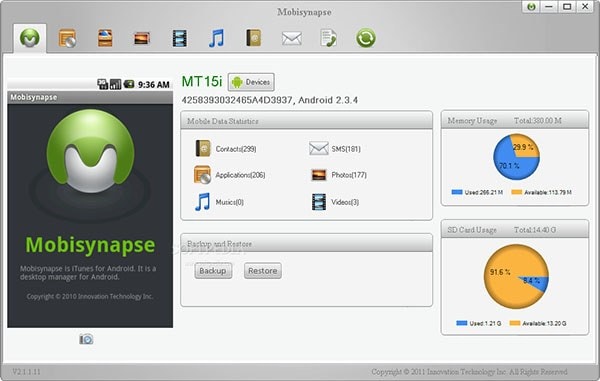 This is an Android Outlook Sync and Android desktop manager that allow you to sync Outlook calendars, contacts, notes, reminders as well as apps, music, photos, and videos between Mac and Android devices. Files are managed easily between Android and PC through simple drag and drops. Furthermore, it supports contacts, SMS, apps backup and helps users sync their playlists with iTunes.
Pros:
Supports Wi-Fi and USB connection.
Easy to use and transfers a variety of data.
You can use it to restore backed up data.
The SMS Manager feature allows you to send and receive SMS from your PC.
Cons:
It doesn't backup some files such as videos and music.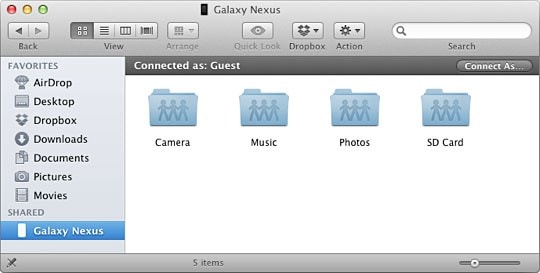 With just a single tap, DroidNAS turns your Android tablet or phone into wireless flash drive. It allows you to share data folders over Wi-Fi network, enabling your Android device to be visible through Bonjour computer in Finder on your Mac. There is no need to launch your web browser or download, install and run a separate program on your Mac.
The app is easy to use. Just download and launch it on your Android device and then select the profile you would like to use. You can choose the pre-configured Home, Office or Cafe profiles and then tap the "Start Server" button. Your Android device will show up in Finder on your Mac then you can start transferring files back and forth.
Pros:
Different profiles can be used to select the specific folders to be shared.
DroidNAS auto selects profiles on the start as long as you have assigned your office or home Wi-Fi networks to profiles.
It's a lightweight and portable app with a size of only 1.5MB.
Cons:
It doesn't support Windows, and most probably, Linux also won't work.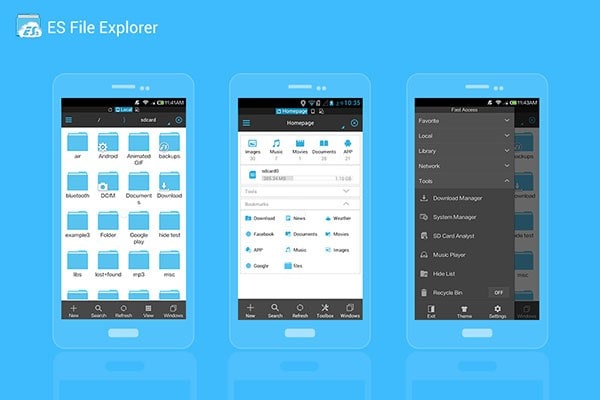 6# ES File Explorer
ES File Explorer is a free and ad-free app that provides you with an excellent way to transfer data between your devices, but it also comes with unique features such as app manager, cache cleaner, and the task manager, which make it a more suitable choice.
Pros:
It features a multimedia explorer that you can click to play music, videos, check documents and images.
The app is simple to use.
Users can copy and paste files between Bluetooth ready devices or use the Wi-Fi to wirelessly edit files.
Supports cloud storage such as Dropbox, Box.net, Google Drive, Amazon S3 and more.
Cons:
You must have an internet connection to transfer files.