If you are planning to switch to Android and you have an amazing iTunes library, you must look for the best app to sync iTunes to Android. With the improvement in the level of technology, there are a variety of iTunes to Android apps from the highly skilled and innovative software developers. These apps can help you sync iTunes to Android in a more convenient way and within a few minutes. We have identified top 4 iTunes to Android apps that you can install on your Android Phone or tablet and make your switch to Android easy.
This is one of the best software available on the web for syncing iTunes to Android within the shortest time possible. It allows you to transfer iTunes contents to Android in a safe and risk-free manner. The transfer process is easy as you are just required to download and install the software on your PC, connect your Android tablet or phone to PC, click the Restore from backup on the main interface, select iTunes, check the contents to transfer and then click the Start Copy button.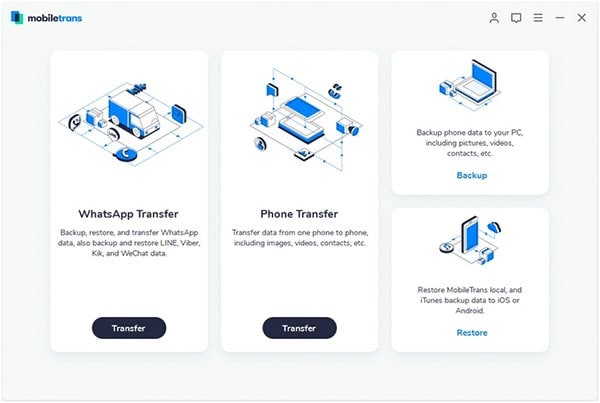 MobileTrans for Mac is available for Mac and Windows users also have MobileTrans for Windows version. An added advantage is that its an all in one software as it does support not only iTunes syncing, but also phone to phone data transfer, data backup on PC, data restoration to phone, data retrieval from iCloud and can be used to delete phone's data as well as the deleted data permanently. This is a must have software for all individuals who would like to use the top rated and highly efficient software.
Make it possible and easy to sync iTunes to Android
Cross platform transfer, security guarantee and without high quality
Support for 3,500+ Phones and different networks
One click to transfer, backup, restore and even erase the phone data
---
Sync iTunes to Android-windows is a free version of Synctunes wireless program for Android and Windows users. This iTunes to Android app is perfect for syncing iTunes library from Windows to Android tablet or phone. You will be able to sync your favorite videos, podcasts, playlist, album art and music from iTunes library to Android just over WiFi.
Moreover, this app can sync to either internal or external sdcard and organize music folders on Android devices based on the album or artist. Any new music that is added to your iTunes library is automatically detected and synced in your next sync session. You will also be able to filter your favorite tracks to be synced based on size, date, length and more.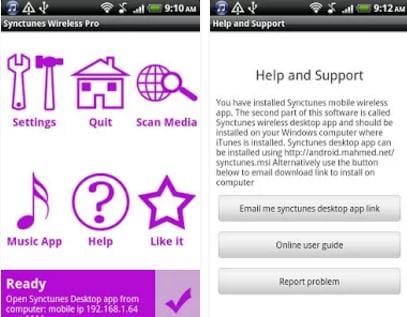 Note: With Sync iTunes to Android installed on your phone or tablet, it's easy to start syncing iTunes to Android. You just have to download Sync iTunes to Android-Windows for Window or Mac then use the Android version to note IP address as well as the port numbers for the downloaded Mac or Windows version device. This helps you to connect the Windows version to Android mobile app with ease, as you sync music from iTunes.
What is the drawback?
The free version of Synctunes wireless, Sync iTunes to Android-Windows has a limit of only 100 songs per sync session.
DRM tracks may not be successfully synced as they are protected by copyrights and Sync iTunes to Android-Windows doesn't remove such restrictions.
You may encounter warnings while downloading the Windows version, indicating that the software is not commonly downloaded and may be dangerous, but you can just ignore the warnings and download it.
---
3# iSyncr for iTunes to Android
iSyncr is one of the best iTunes to Android apps. It enables users to sync iTunes to their Android devices in a quick and more convenient way by using WiFi or USB. It works directly with iTunes allowing you to sync music, videos, podcasts, multiple iTunes libraries, playlists, ratings, skip counts, last skipped date, play counts, last played date and more. The sync is compatible with MTP, which makes this app great compared to other solutions.
iSyncr syncs data to external or internal storage, allows you to keep your playlist up to date, supports automatic wireless syncing of videos and music on a schedule and lets you sync Android playlist back to your PC. It comes with a live list feature that you can use to create smart playlists on your phone. The live list updates dynamically while playing.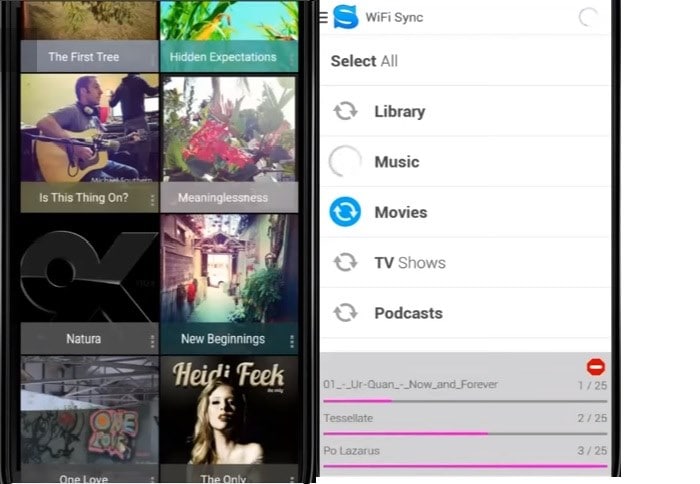 Note: Once you download iSyncr for iTunes to Android and installed it on your phone, you will have to download and install iSyncr Desktop (free software), before you can sync iTunes.
What is the drawback?
The app does not sync copy protected videos or music, but it alerts you on the songs that will not play if you decide to sync them to your phone.
Users have complained that the app downloads the same songs that they already have instead of the new ones.
The free version is limited to 1 playlist at a time and 100 songs per playlist. However, the pro version supports unlimited playlist and song syncing.
---
DoubleTwist is an advanced app that acts as a music player, podcast manager and at the same time, it supports the music sync functionality. This app comes with a beautiful and user-friendly interface that is easy to use. The process of syncing iTunes playlist to Android has been made easier with this app. Just as any other best iTunes to Android app, you will have to download the desktop version (Windows version), to successfully sync iTunes to Android.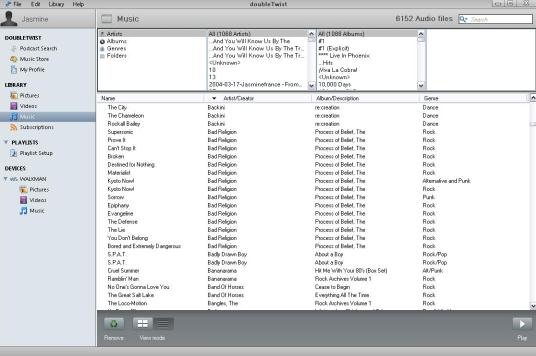 What is the drawback?
The program may sometimes double songs while syncing iTunes to Android.
It does not support iTunes syncing on Android devices that do not offer USB Mass Storage (MSC) mode. Examples include Google Nexus 5 and Samsung Galaxy S4, which offers only USB MTP mode that doubleTwist does not support.