Whether you are upgrading your iPhone or you just want to duplicate your data on a different phone, you will find that tools offered by Apple including iTunes and iCloud barely suffice for the task. For starters, both iTunes and iCloud do not support media content that wasn't purchased through the iTunes Store or even photos you have transferred from your computer. Moreover, the iCloud Backup service requires you to perform daily cloud backups which can be quite costly.
iTunes and iCloud backup services are also not as foolproof as Apple would like you to believe. For instance, if your iCloud or iTunes backups become corrupt or your account is compromised, you won't be able to perform a backup. In addition too, the speed of the transfer from one iPhone to another is going to be limited to the state of the Apple servers or your own internet connection. Many iPhone users are also frustrated by the fact that you cannot restore particular elements of the backed up data from iTunes or iCloud, you have to do a whole backup or leave it.
The reasons offered above make it necessary for iPhone owners to look for alternative and more convenient ways of transferring data and content from one iPhone to another.
How to Transfer iPhone to iPhone without iTunes and iCloud
There are quite a number of tools and solutions being offered to help people transfer data from one iPhone to another. Of all the tools available online, MobileTrans for Mac (or MobileTrans for Windows) is by far the most convenient and foolproof.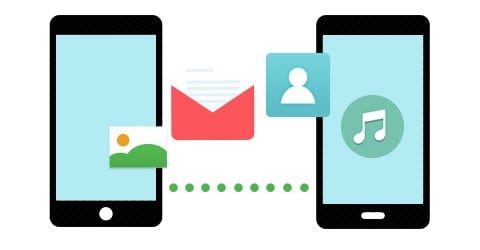 Features of Phone Transfer
Single click functionality to transfer everything from SMS text messages to photos, messages from messenger apps like WhatsApp or Facebook, music, video, apps, contacts, call history and calendar from one iPhone to another
Works on both Windows PC and Mac OS platforms
Backs up your phone's data automatically
Can integrate with your iTunes and iCloud accounts
Ability to restore data from multiple backup modes
Avoid leakage of privacy and malicious recovery by deleting all the data from your old phone after transfer
Use a free trial version to test the program's functionality before paying. What is more, offers a 30-day money back guarantee if the application does not perform as indicated
Get a lifetime worth of free upgrades on purchase
How to Transfer Data from iPhone to iPhone Using Phone Transfer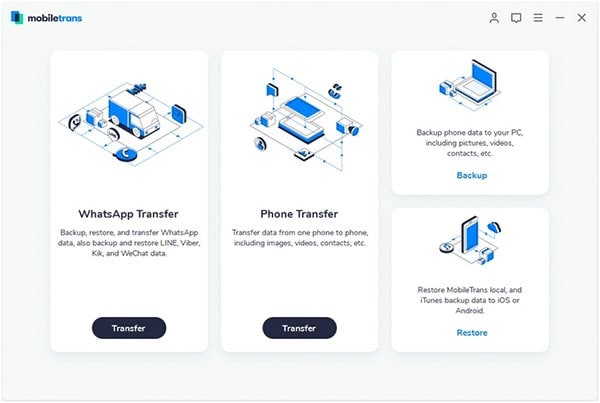 Step 1: Download and launch the program
First, download and install the on your computer's hard drive. Then, connect both devices to the PC or Mac by USB cables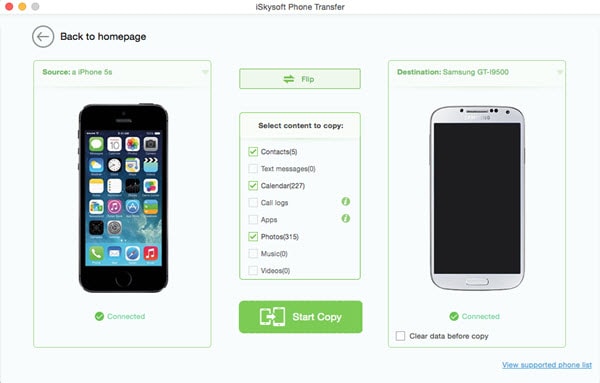 Step 2: Preview and select what you want
On the interface, select the Phone to Phone Transfer tab. The program will identify one device as the source and the other one as the destination. If this is not correct, just click the "Flip" button to interchange them. Select the sort of data you want to transfer by clicking the option boxes next to the listed choices such as "Text messages", "Photos", "Video", "Music" etc.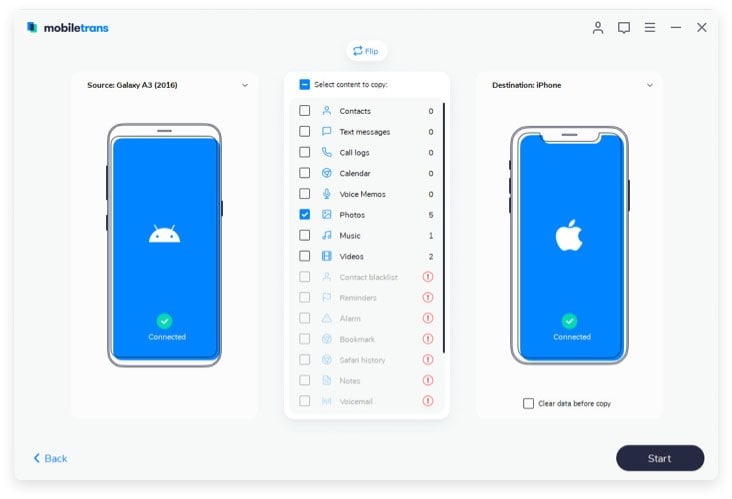 Step 3: Begain to transfer data from iPhone to iPhone
Click the "Start Copy" button to begin the transfer process. A progress bar will appear notifying you how long it will take to complete the transfer. When the transfer is complete, close the interface and disconnect your phones. You are now all set to begin enjoying a personalized new iPhone without any extra cost or inconvenience.