Is There Any Good Photo Background Editor?
If you go to the market with a mindset of looking for the best photo background editor, you will end up getting the worst or nothing. All programs are designed to perform background editing in still images but it's all about how you use one that will determine its suitability. Also, there are features as well as pros and cons that will play a vital role in the choices you make.
Best 5 Photo Background Editor You May Not Know
There are very many editors available for changing backgrounds of images. Some are effective while others are not very much reliable. The experience you have will be determined by the type of editor you settle for, so be very careful on your choices. To start with, give the following three a consideration:
#1. PhotoScissors
Very few people can admit to knowing of this PhotoScissors. Even those who know about its existence don't know that it is designed to remove background in photos. Well, it's a top choice that you should always go for because it has all the required features and tools for photo editing. The interface is a top feature for this program. It is user-friendly as well as intuitive making it the right choice for editing photos. The other feature is twin brushes that help in separating the background from the foreground for easy erasing.
PhotoScissors can remove background instantly for listings on Amazon, Etsy and eBay. It does not have limits on the size of files to edit and supports many file formats making it highly compatible. You will not require any skills to work with this program.
---
#2. GIMPSHOP
This is a free alternative to the malfunctioning photo editing programs in the market. You will always have a safe option in case the program you have frustrates you. It is updated regularly so be sure to get the latest version in the market when making choices. Notable features for GIMPSHOP to lookout for include professional grade photo enhancement, complete customization and compatibility with multiple file formats, expansive accessory support and powerful GEGL backend. This program will accomplish all that for you.
Pros:
It comes totally free.
It guarantees high quality to the edited photos.
It also works with Linux, Mac and Windows platforms.
Cons:
Due to its free availability, you have to expect the performance of GIMPSHOP to be unreliable because there are some features absent.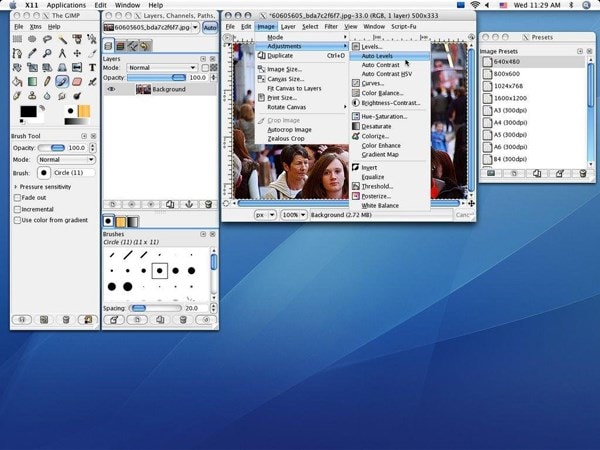 ---
#3. Photo Pos Pro
This is yet another good photo background editor that you possibly never knew about. It will give you limitless possibilities as far as photo background editing is concerned all touching on enhancement of your images. Very few programs in the market can match its performance. The main features that make Photo Pos Pro a good alternative for removing background from your still images are support of digital cameras and scanners, support for different picture file types, tools for creating computer graphics, tools for precision editing and repairs as well as rich text tools and special effects. Others are converting pictures file formats, picture browser, batch operations and script tools.
Pros:
It has powerful editing tools.
It has a user-friendly interface.
It's available for free.
Even for the few that you get to pay, it's affordable compared to the huge features turnout.
Cons:
Photo Pos Pro might have problems handling very complex images despite its batch processing capability.
---
#4. PhotoPlus
You need to use this program and discover what new and advanced editing features along with tools can offer. It's loaded with all that and you can only get a firsthand experience to give your verdict. Very few people are aware about its presence in the market but it's important you are informed on that. The features that make it effective are pinpoint precision which ensures it cuts background without flaws, color control to make sure you choose the ideal one for your photo as well as great pictures and impressive results. All these are enough to inform your choices.
Pros:
The program has an intuitive interface that makes the editing easier and faster.
It is completely free to save you money.
Its editing tools are not complicated.
Cons:
Do not expect to enjoy all the features and full benefits because it's free of charge.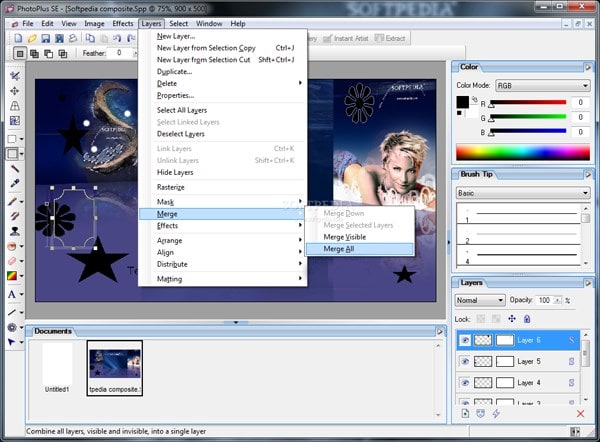 ---
#5. Canva
With Canva, you will have the opportunity to come up with wonderful photos right from scratch and within a very short period of time. That is what you have been missing in case this program was unknown to you. Photo straightener will make sure your photos are properly in line, image cropper helps to crop images in case you want to frame, add text to photos will be good for coming up with a photo narrative, speech bubble maker will give your edited images a voice while the transparency tool gives a delicate fade to photos. Other features are photo enhancer, photo blur, photo vignette, design grids, free icons, photo frames, web wireframe, stickers, badges, photo editor and add texture.
Pros:
It has a brilliant guide for designs.
It's simple to use.
It comes up with quality images.
It's absolutely free.
Cons:
If you have content to export, this program will not combine.
It's not possible to alter image dimensions once you have started editing. .