Are There Any Good Apps to Remove Background?
If you are looking for a good app to help in removing background from your still images, you will be spoilt for choice. Your search will deliver a variety of results and you should be wise enough to settle on the best one.
Part 1. 3 Apps in Removing Image Background
The following are three apps for removing background, their features as well as pros and cons. That should help you in making the right choice:
#1. Gimp
From downloading to installing and using Gimp, it will prove to be one of the easiest things to do as a photo editor. This software is a unique one to use for getting rid of your photos background regardless of how it looks like and editing demands. It's generally up to the task. The features you will want to know about this program include an interface that is customizable, barrel distortion, photo enhancement, digitized retouching and hardware support.
Pros:
It is absolutely free.
It has regular updates for features.
It is easy to customize.
It is supported by multiple platforms like Linux, Windows and Mac.
On top of that, Gimp is very easy to use thanks to its intuitive interface and has high compatibility with support for many formats.
Cons:
It does not have adjustment layers.
Its development of features is very slow.
It's buggy at times and is very difficult to learn using even for professionals.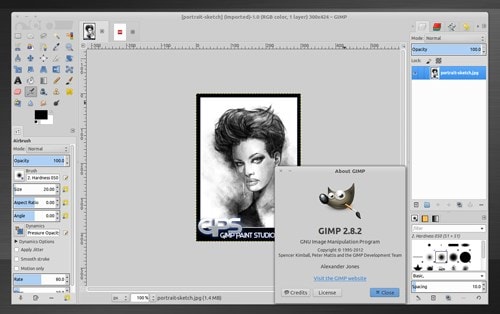 ---
#2. Canva
The awesome part of this program is the many features it offers for users to enjoy. It has the drag and drop tool that will give you ease of use when editing. Regardless of the type of project or design you want to come up with by removing background from your photo, Canva is very much suited to handle that professionally. It has many features. Adding texture is one of the top features that this program offers and it's solely there to offer some feel to your images. Other features are photo editor, badges, stickers, web wireframe, photo frames, free icons, design grids, photo vignette, photo blur, photo enhancer, transparency tool, speech bubble maker, as well as photo straightener.
Pros:
On the positive end, Canva comes with properly guided designs in terms of type and size.
It's very simple and easy to use and it comes as a free version plus enhances image quality.
Cons:
You might not want to use this program because it is not very much reliable.
It works at very slow speed.
Pre-made templates are insufficient.
It's difficult changing image dimensions when editing is in progress.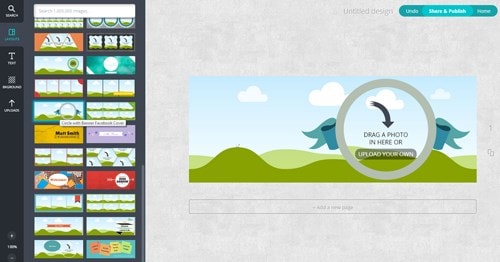 ---
#3. ImageSkill
This program is supported by Windows and will be fine for photo editing where you need to extract some sections. Defringe zone brush is the main feature that is responsible for color unmixing. Another feature is the multi-language interface.
Pros:
It is capable of determining areas to be extracted and those not to be extracted.
It comes for free.
It's easy to use.
Cons:
Some of the important features are missing.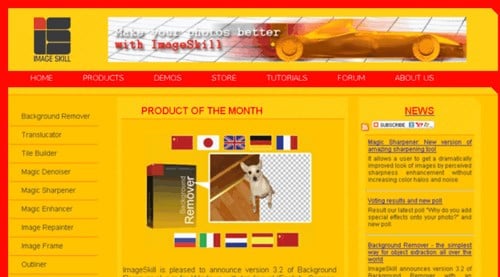 ---
Part 2. Best Desktop Image Background Romover - Teorex PhotoScissors
You will be mesmerized by the speed at which this PhotoScissors works. It will save you a lot of time, you will need a few clicks to remove background from images and results are instant. Even if you are a new user, the processes are straightforward so you don't expect to face a lot of challenges. There are a built-in editor and user-friendly interface that makes this program a darling of many people. They will make your experience totally enjoyable and memorable.
You will not have any limitations on size of images to edit, you will not have to acquire any special skills for using the program and has very high compatibility rate. If you are a beginner, Teorex PhotoScissors will be a good software program for removing background from your images. It will handle any type of background including the complex ones which makes it the right desktop tool for removing background from your images. It works very fast and in a straightforward manner.
Step-by-step Guide on How to Remove Image Background Using PhotoScissors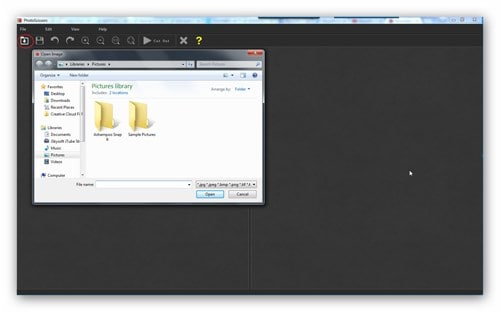 Step 1. Load Image
From the menu bar, you will be able to browse through the computer to locate images in the folder you saved them. Just add only the image to use.
Step 2. Mark Image
Select both the foreground and background to have a clear separation of what will be removed and that which will be retained.
Step 3. Save Image
The background will then vanish and now you are able to save the image without a background.