A wedding ceremony is one of the most memorable events for most couples. To recall these happy moments, you can make wedding photo slideshows with your favorite wedding photos and videos to retain the most those precious memories.
How do you go about it? In fact, making a creative and amazing wedding slideshow on Mac yourself is easier than you thought. There are several easy to use wedding slideshow programs that can help you finish this project in minutes. Read on to find out which best program we recommend.
The Best Tool to Make a Wedding Slideshow on Mac
Having said that there are many wedding slideshow creators to choose from, the best tool we recommend users to use is iSkysoft Slideshow Maker for Mac (or iSkysoft Slideshow Maker for Windows). This program allows you to use various slideshow templates to turn your wedding photos and videos into eye-catching slideshow movies in minutes on Mac.
Key features of iSkysoft Slideshow Maker:
Make your slideshows creative and amazing with pre-built templates.
Share Videos Instantly and watch in High Definition.
The operation can be conducted through the drag-and-drop feature, making the program fast and intuitive.
Comes with an easy to use media editor for rotating, cropping and adding special image effects.
Upload presentations to social media sites, video-sharing sites, and also transfers them to portable devices and iTunes.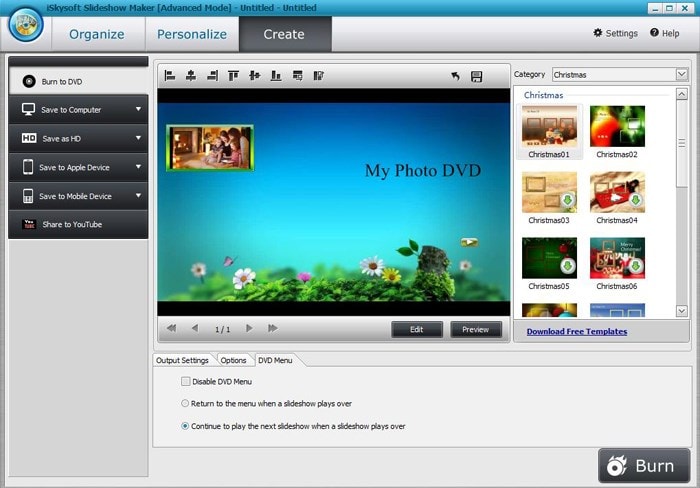 Tutorial on Making Wedding Slideshows on Mac
In this section, we have given a step by step guide on how to create stunning slideshows for a wedding using this program. .
Step 1
Launch the Program
Download and install this wedding this tool and then run the program to access its interface. In the main interface, you will access options such as Create a New Project, Open an existing Project and Open Recent.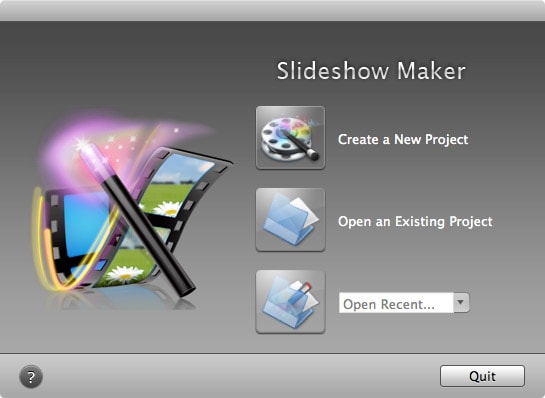 Step 2
Import pictures or videos.
To start a new project, click "Create a New Project." This program comes with a built-in Media Browser which allows you to import your images, audios, videos and other media files directly. The Media Browser icon can be turned off and on. Proceed by simply dragging and dropping your pictures and videos from the Media Browser to the storyboard.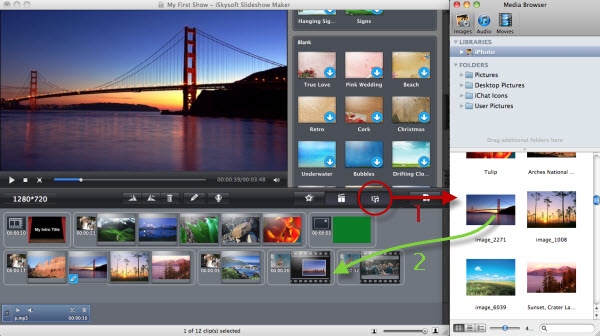 Step 3
Change Styles
The program selects random themes and applies them automatically on the project. You can decide to proceed with this random theme or change it to something better. To do this, drag and drop a desired style to the storyboard. You can also change the style by dragging the photo within styles.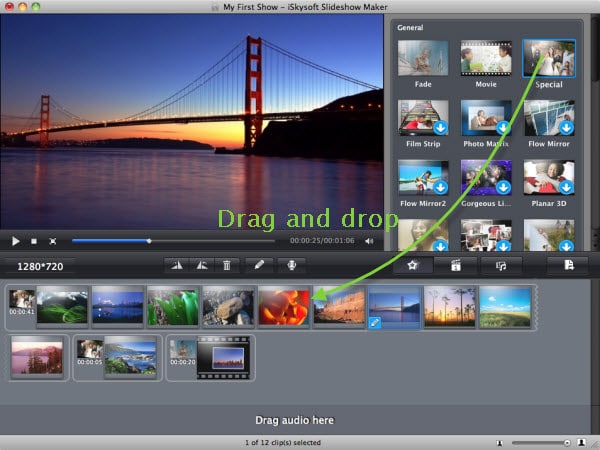 Step 4
Edit videos or pictures
Click on the "Edit" button or double click the photo or video you have imported to access the editing dialog.
Photo editing: In the photo editing windows, you will see three editing options which are Crop, Caption, and Filter. Select the desired caption template to add a caption. Just add the template on the screen and then enter your caption. To crop the photos, choose your desired aspect ratio, adjust it on preview windows and then click Apply changes.
Video editing: Drag the slider to adjust volume. Go to the bottom of the preview window to trim the video into pieces. To accomplish this, set the starting point and then proceed by clicking on the "Cut button."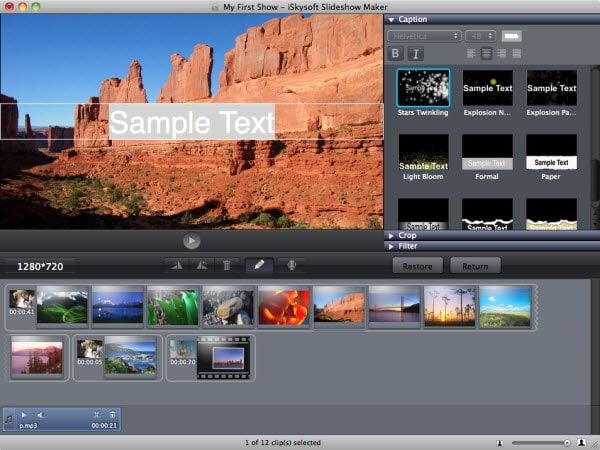 Step 5
Add music
Highlight the photo or video slideshow you want to add music to it, and then click on the "Edit button." After doing this, a dialog will appear. Switch to the Music tab. Proceed by clicking on the Add Background Music button choose your favorite music from your computer. Click OK to save the changes.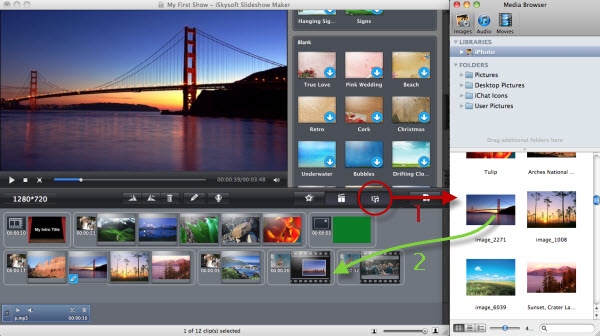 Step 6
Create slideshow
When you have finished changing the styles, editing your videos and photos, and adding the background music, you can export the slideshow to iTunes, click "Share" to publish the video or click on iDVD or Burn to DVD icon to burn the slideshow to DVD.