Slideshows are often used by people to support their presentations. They can also be used for keeping memories that are captured in pictures in an interesting way. To be able to make slideshows, you need to have a software program that is meant for that purpose. Some of the features that a good slideshow maker should have include support for text, images, graphics, sound and even video so as to allow you to deliver your material or information.
To be able to make free picture slideshows with music, the following are the online free picture slideshow makers that you can use.
Top 10 Ways to Make Free Picture Slideshow with Music
#1. PhotoShow
Even though it should not be considered a serious photo editing tool, PhotoShow is going to add a splash of fun to your slideshow making projects. It features an intuitive and user friendly interface that makes it perfect for newbies. It also features a sleek combination of scene transitions, music, photos and special effects to help you create presentations that are fun to watch.
Pros:
It allows you to use your own music in the slideshows.
It has great themes and background choices.
Cons:
Some video formats are not supported.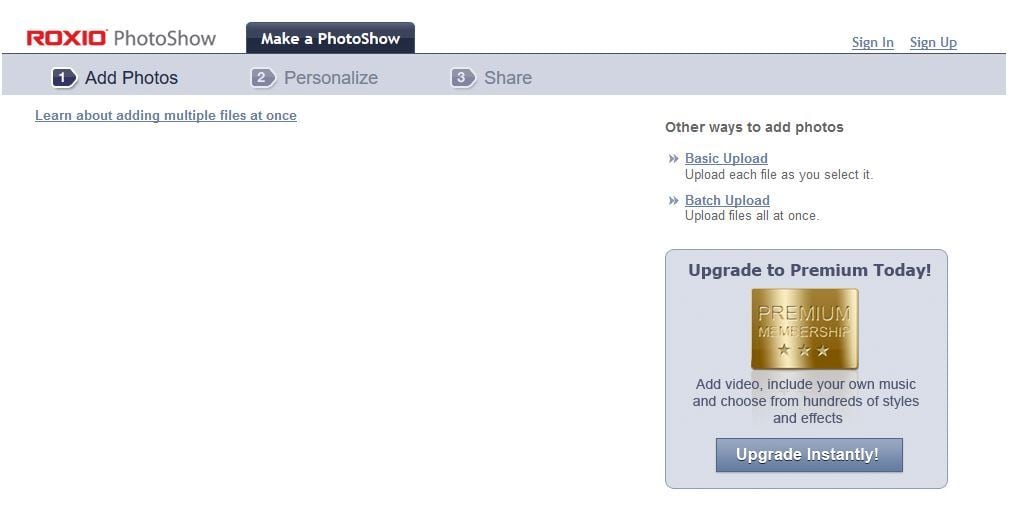 #2. PhotoSnack
PhotoSnack is a really nice slideshow maker that is very easy to use. If you want to share important moments of your life with family and friends, it will give a great way to do so. It is perfect for you whether you are a newbie or professional photographer. Its photo portfolios can be shared online very easily.
Pros:
It allows you to make slideshows are that are compatible with mobile devices.
It makes photo sharing a breeze.
Cons:
The file size that you can upload for conversion is limited.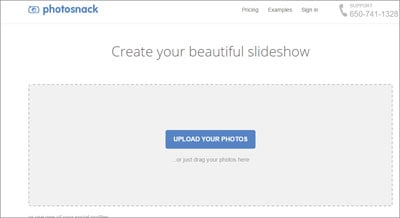 #3. Smilebox
This is one of the simplest online slideshow makers available. You can use it to transform images into very beautiful slideshows easily. It has a variety of slideshow designs that you can choose from for all occasions.
Pros:
You will simply need to add photos and leave the rest to it.
It allows you to email or post your slideshows to social media.
Cons: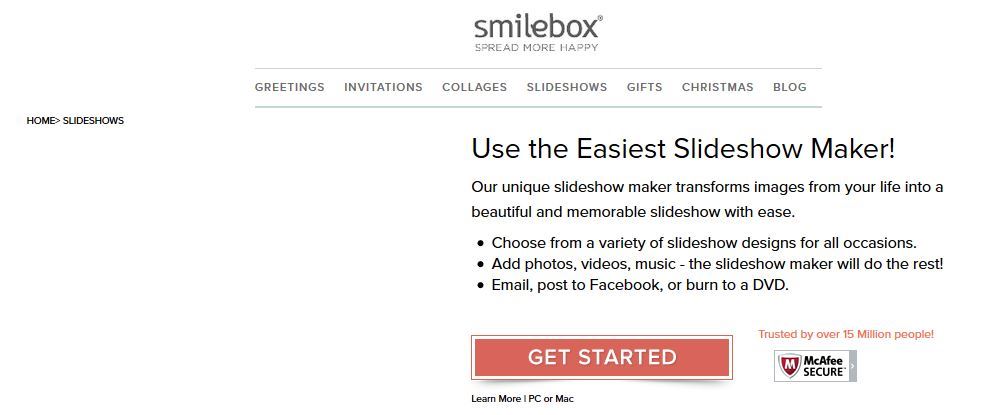 #4. Kizoa
PhotoStage Slideshow Software will also help you create vibrant slideshows from your favorite photos easily and quickly. Some of the key features of this program are easy to use and intuitive interface and high definition viewing. The program offers you all that is needed in creating professional slideshows.
Pros:
Uploading photos is very easy.
The graphical interface is very simple.
Cons:
The customer service is not good.
#5. Stupeflix
This is an online video creation application that allows you to tell a story with your pictures, videos, music and other digital content. It is very easy and super fun to use. It has beautiful themes and unique features to choose from.
Pros:
You can upload any image, song or video.
It has beautiful themes.
Cons:
It adds a watermark to your video.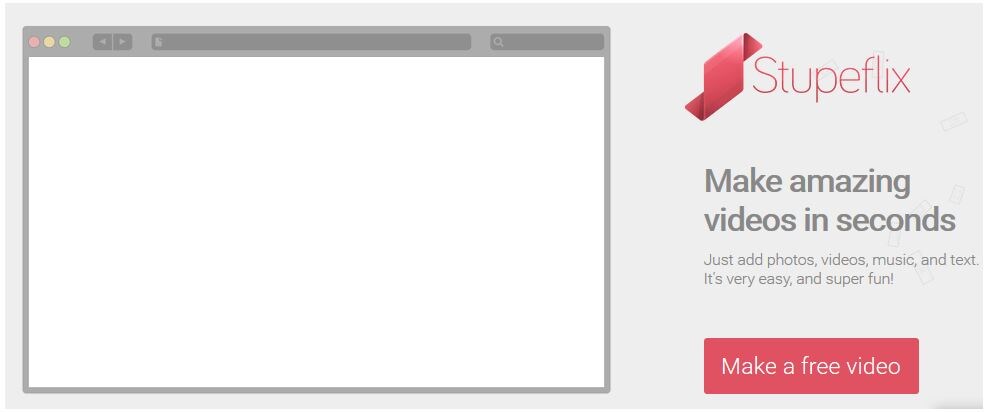 #6. Slidely
You are going to have an easy time creating beautiful slideshows with this social video creation platform. It allows you to create, share and discover photo and video collections in amazing ways.
Pros:
It is very easy to use.
It loads very fast.
Cons:
It does not support downloading of video for burning.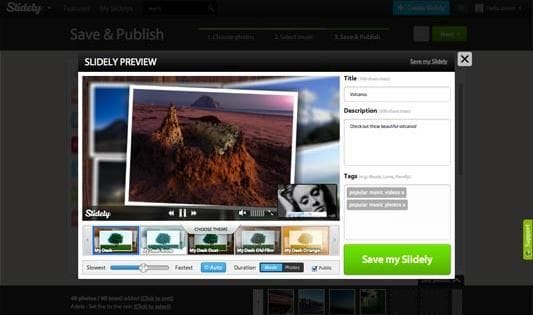 This is a jaw dropping slideshow maker that that allows you to create beautiful memories of your vacation pictures. You will be able to create a slideshow of your vacation pictures in a matter of minutes and then share them with your family and friends.
Pros:
It features animated maps that are both informative and fun.
After creating your slideshow, you can download it to your computer and burn it to DVD.
Cons:
It is not a smartphone app. You need to sit in front of your computer to be able to use it.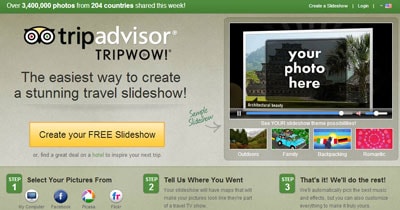 #8. Animoto
This is a cloud-based video creation service that you can use to create amazing slideshows from your video clips and photos. It the perfect slideshow maker for slideshows you want to post online.
Pros:
It is almost fully automated.
It is very easy and quick to use.
Cons:
Most useful features are only offered in the paid version.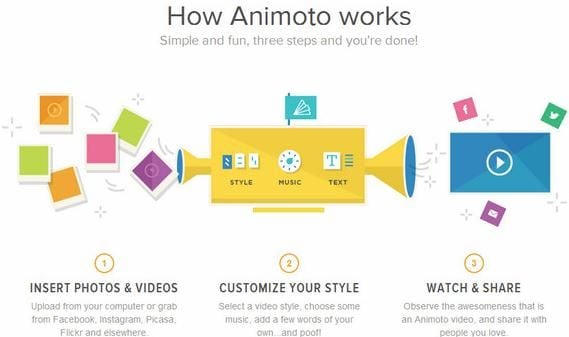 #9. FlixTime
FlixTime is an online slideshow maker that you can use for making slideshows of music and photos. Once you agree to a FlixTime account, you will be able to your photos and music and start making slideshows.
Pros:
It has a media library with stock photos.
It is very easy to use
Cons:
25 slides limit for free account.
Only 360p video quality for free download.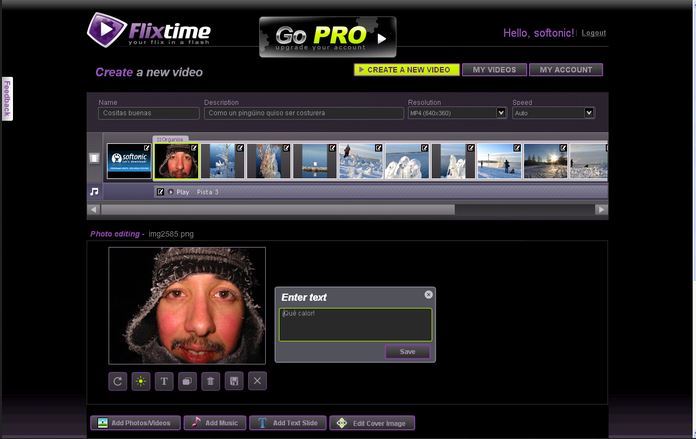 #10. PicoVico
You can use PicoVico to convert photos into wonderful slideshows online. You can add photos from your computer or from online sites such as Facebook and Instagram.
Pros:
You can download the slideshow you will create with it and then burn it to DVD.
It is very easy to use and totally free.
Cons:
It does not have ready templates.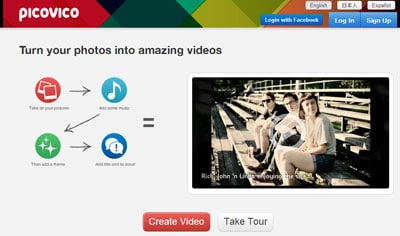 Alternative Solution to Free Picture Slideshow with Music
iSkysoft Slideshow Maker
iSkysoft Slideshow Maker for Mac (or iSkysoft Slideshow Maker for Windows) For the best results when making slideshows, the best application that you should consider using is iSkysoft Slideshow Maker for Mac. It has a wide range of features that will enable you to make flawless slideshows. You can do many things with it, including cropping, rotating, adding titles, adding audio, using filters and repairing red eyes. It gives you the opportunity to share the slideshows that you will create online and across different mobile devices.
Key Features Of iSkysoft Slideshow Maker for Mac:
It saves your slideshows in high definition format, something that makes it perfect for making more detailed and impactful videos.
It has tons of superb effects that you can use for personalizing your slideshows.
It has a user friendly interface that makes it absolutely easy for you to learn how to use it.
It allows you to use different types of clip art on different types of photos.