Looking for the best photo slideshow editor? Getting the best program can be a daunting task. Choosing the best photo slideshow editor ensures that you get amazing photo slideshows. Most of the programs used to edit photo slideshow are sold at an exorbitant price, but did you know that you can get the best photo slideshow editor free download that offers premium services? Read on and get the best solution.
The Best Photo Slideshow Editor for Mac
While there are options like iPhoto, iMovie and the HyperEgine AV, iSkysoft Slideshow Maker for Mac comes on top. It allows the user to take control of their photo slideshow and edit it the way they want. It combines the functionality of sophisticated slideshow editor with a simple to use interface. (And iSkysoft Slideshow Maker for Windows is also available.)
The main features of this photo slideshow editor:
Professional themes and editing features- This program come packed with a lot of themes hence choosing the perfect one for a particular occasion is easy. The program has advanced editing features such as the red eye remover, cropping, rotation, changing photo brightness, and filters.
Saving and sharing- You can share the slideshows on iDVD, Youtube, Facebook, iPad, iPhone or you could simply burn them to a DVD. Saving and sharing have never been easier than this.
Adding text and music-You can quickly add captions in any part of the slideshow along with your credits at the end of the slideshow. You can also add background music to complement the slideshow.
Compatibility with Mac OS- iSkysoft Slideshow Maker for Mac is compatible with all the Mac OS variants such as 10.11 EL Capitan, 10.10 Yosemite, 10.9 Mavericks, 10.8 Mountain Lion, 10.7 Lion, and 10.6 Snow Leopard.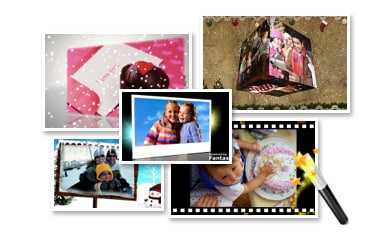 Steps to Create and Edit Photo Slideshow on Mac
Step 1
Launch the Program
Download the application if it not installed on your computer. Run the program by double-clicking the application icon either on the desktop or the taskbar. An interface will show, and you can choose to create a new project or open and existing project.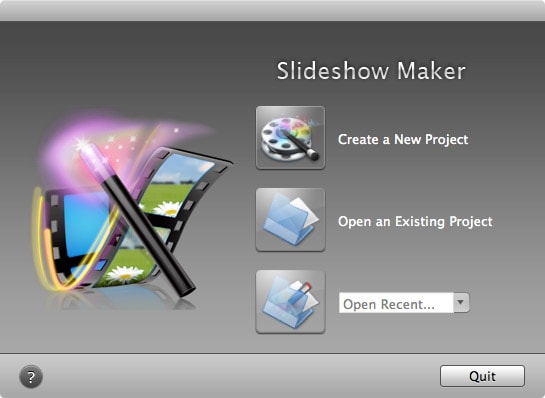 Step 2
Import Pictures or Videos
iSkysoft Slideshow Maker for Mac has a media browser icon that allows you to drag and drop media files such as music, images, and videos. After you have all the media you want for the project, you arrange them in the right order on the storyboard.
You can delete a media file from the program by dragging it out of the interface. You have to set the resolution of the slideshow to match the device you will use to watch it.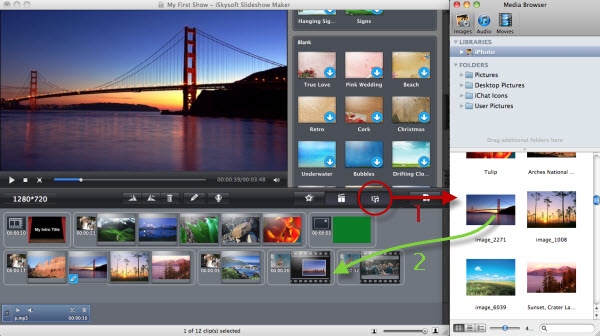 Step 3
Change Styles
Random themes are selected when you start a new project. You can choose to keep or change them. You can add a style to individual or all photos by dragging and dropping the desired style. You can download additional themes.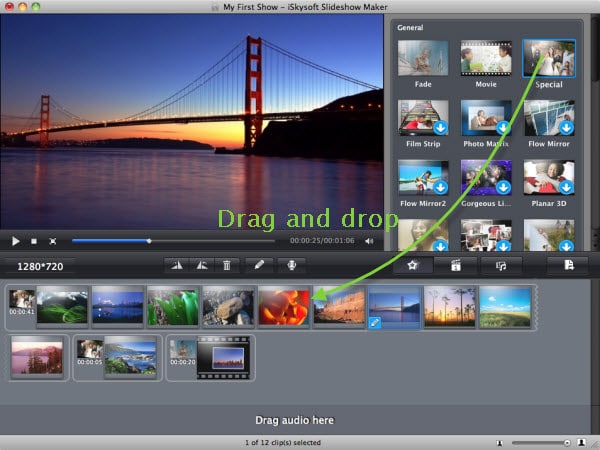 Step 4
Edit Photo Slideshow
Edit photos and videos before including them in the slideshow. You can fix red-eye, rotate, flip, crop and even apply filters to make a picture fit to the slideshow.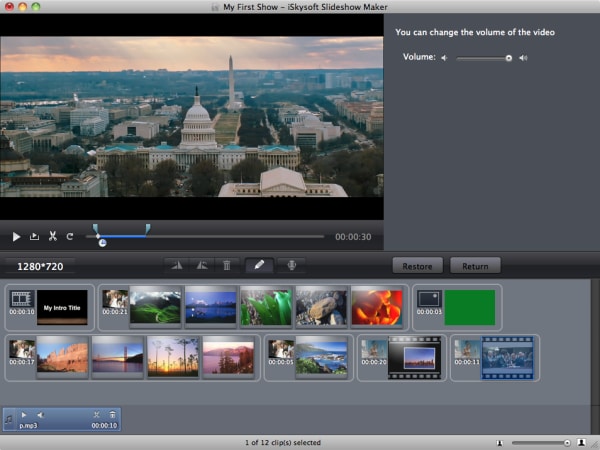 Step 5
Add Music
To make the slideshow more appealing, you can play your favorite music. If you had not added music with the other media files, simple click on media browser and drag and drop it.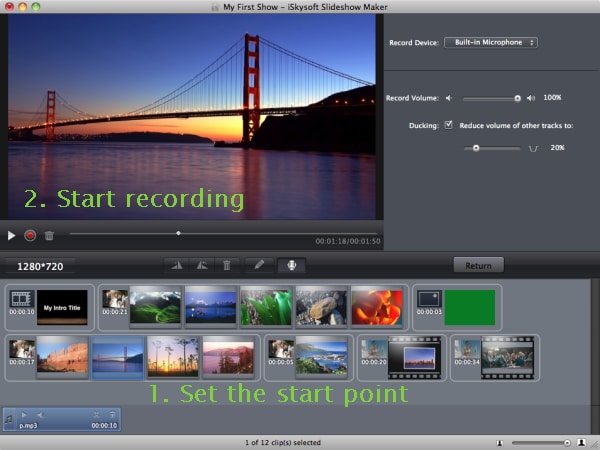 Step 6
Create Slideshow
When you have everything in place, you can create the slideshow. Swap photos that you thin are not in the correct order. Allocate time to each video and photo. Preview the slideshow and save it. You can choose to share it on the different platforms or burn it to a DVD.