Your friends have been pushing you for a couple of time to finally show them pictures from your last vacation? Don't worry. There are a lot of video and picture slideshow maker software available for Mac to create video and picture slideshows within a few minutes. You do not have to have special skills, but the final results will be awesome. Create a cool and professional slideshow of your photos using photo video slideshow tools.
The Best Picture and Video Slideshow Maker for Mac
To make sure you can proudly presentat your last vacation photos and snapshots, you should not simply switch them one after the other. Instead, you could use the photos to create your own slideshow using iSkysoft Slideshow Maker for Mac, which can then be added up with your favourite music, and all your lovely pictures will move dynamically. This way, your viewers are entertained. We present you step by step how to use ISkysoft Slideshow Maker for Mac. It's easy to use. Simply select the corresponding images, set transition effects, and select a suitable music title of your own choice as a background melody. The rest will be done by iSkysoft Slideshow Maker for Max. Download the free trial and try it out yourself.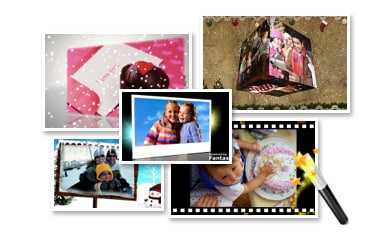 Steps to Create Photo and Video Slideshow on Mac
Step 1
Launch the Program
First of all, you have to download the software. The software can easily be found on www.iskysoft.com. Install the fantastic Slideshow Maker for Mac. After installing, run the program, and your easy-to-use user interface will pop up.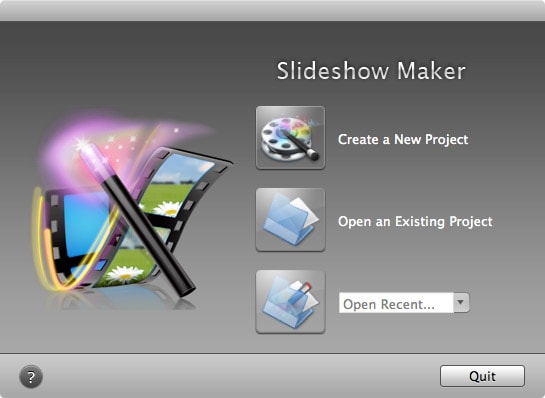 Step 2
Add Photos and Videos
The picture and video slideshow Maker for Mac will let you easily import images. Simply click the "Media Browser" button to upload pictures. As soon as your picture is added to the storyboard, you can copy and paste your chosen picture to your slideshow. If you think your picture doesn't fit in, just delete it. It's as easy as adding pictures. Only a few clicks, and it will be gone. You're pictures need a little boost? iSkysoft Slideshow Maker for Mac will let you edit and rotate your memories easily.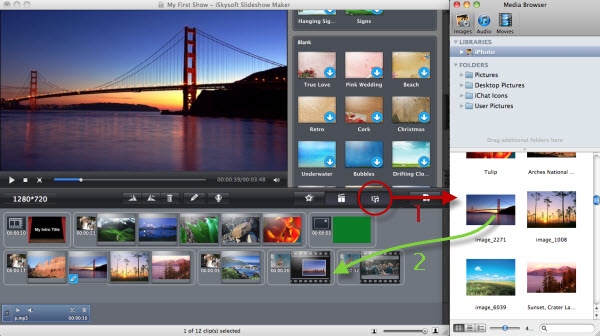 Step 3
Select a Style
When it comes to being normal, all that's left to say is: It's boring. Instead of using random themes, you can change the chosen template anytime. The video and picture slideshow maker interface offers you more than 30 styles to choose from. Just drag and drop another theme that suits your pictures better. And if your viewers shouldn't see all of what you've done during your last vacation, just increase the number of clips used in your slideshow. If you want more than the 30 styles offered in the trial version, there's a lot more available. You can easily download them online.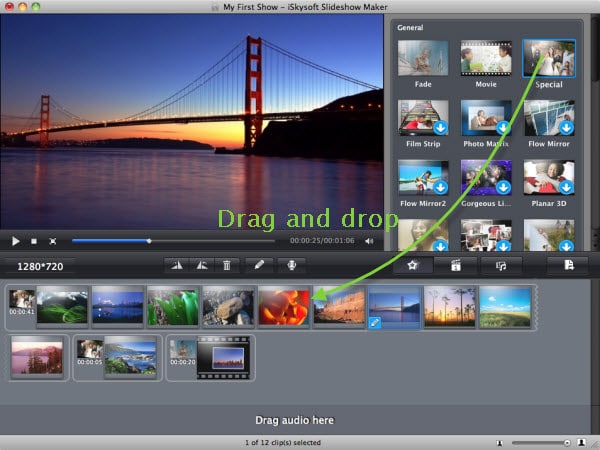 Step 4
Edit Slideshow
Edit pictures: There's no need to become a Photoshop Pro to edit your lovely memories. iSkysoft Slideshow Maker for Mac will easily guide you through the whole thing within only a few clicks. You can add caption to your pictures, furthermore crop your pics, and for the special effect, apply one of 15+ filters. Added captions will be turned to animated content immediately after adding, and you can change the text anytime you want. After all, don't forget to click the apply button to save your enhancing changes.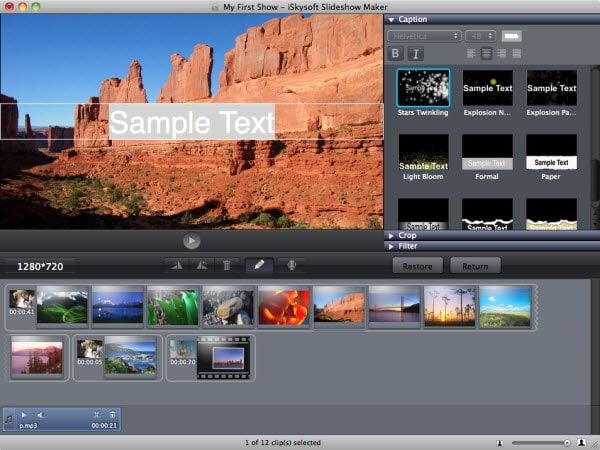 Edit videos: Slideshow Maker for Mac does not only allow you to pimp up your pictures, but also provides easy video editing tools. It's almost the same thing as editing your photos with that useful software. You can change the volume of your snapshots as well as you can trim the whole video at all. By simply dragging the slider to change or adjust volume, you can highlighten special parts or hide others. If you want to make your video even more interesting, split it into different parts by setting start and end points and simply clicking the cut button. Duration can be adjusted easily after that step.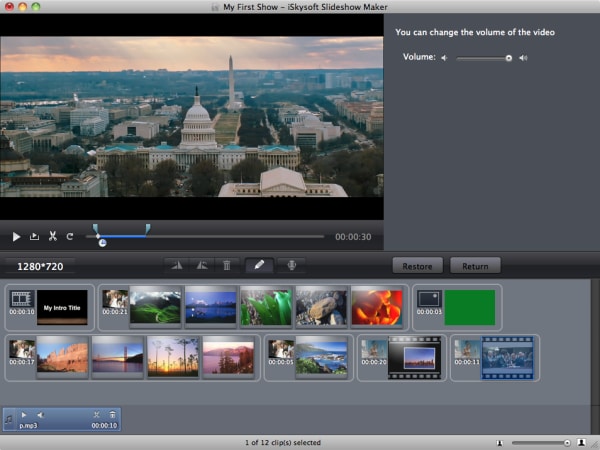 Step 5
Create Slideshow with Video and Pictures
There's only three easy steps to create your own picture or video slideshow. Upload all the content (means: your pictures and videos), and use the edit button to either edit them or put them into the slideshow at all. Return and Restore buttons should be self-explaining. You think you made it? Watch the whole thing from start to end and check out if you want to share your memories with your friends and family instantly. The share menu lets you decide in which way you'd like to share your new created picture or video slideshow. Featured youtube buttons allow you to directly upload your slideshow to your youtube account, so the whole world will be able to enjoy your selfmade hollywood movie.