Graduation day is a special day for students. We would like to take photos and videos to remmber our student time. The best way to remember and cherish your unforgettable school days is to make a graduation video slideshow. A graduation video with all your epic moments on and off the classroom is something that would make everyone cheer and relieve your glorious days in school. Pictures of the popular personalities, activities, events, special occasions or just any random pictures in your school will certainly make your batch mates miss their school days. Below we will show you the easiest to create a graduation video.
The Best Tool to Make a Graduation Video Slideshow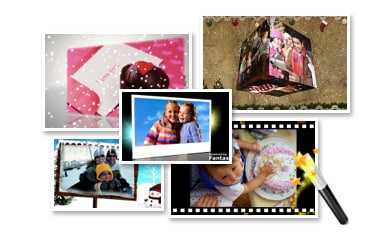 One of the most reliable and simple video creators is the iSkysoft Slideshow Maker for Mac (or iSkysoft Slideshow Maker for Windows). This very user friendly graduation video maker can help you create professional looking and high quality video using your Mac computer or laptop. A full length video can be done with just a few simple steps. Just choose from a selection of themes that you'll use for your video and then start pasting your photos into the timeline. The entire user interface of the software allows the user to pretty much drag and drop items in and out of the timeline. Once you have uploaded all the photos, your next task is to select what background music to use and just copy or drag it to the user panel. Your video is now ready for preview and you can edit some parts of the video either by adjusting the speed, add or delete some photos or use a different music or theme. See the detailed user guide here.
people have downloaded it
How to Make a Graduation Video Slideshow on Mac
Step 1
Launch the graduation video maker
First download and install graduation video maker on your Mac, and launch this program. In the main interface you will get several options to start a video creation project. Click "Create a New Project" to get started.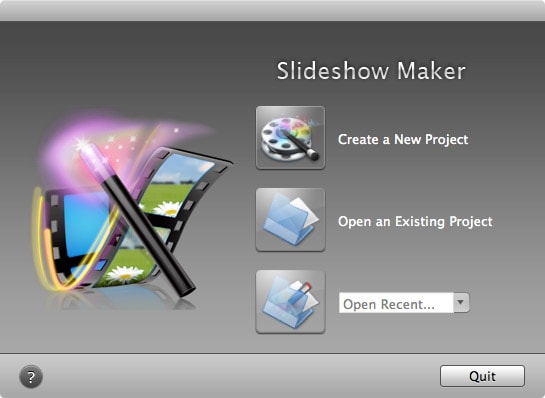 Step 2
Import graduation videos and photos
This graduation video maker comes with a built-in Media Browser allowing you to import your media files directly. You can simply drag and drop the videos and photos to the story board from the Media Browser.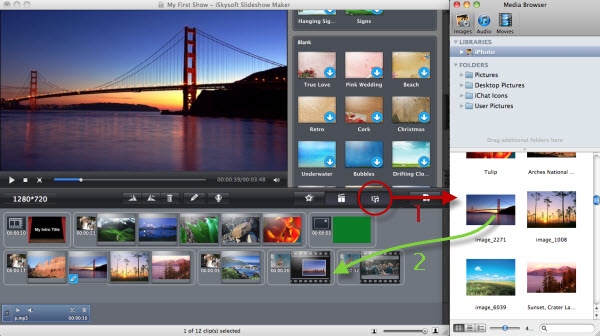 Step 3
Edit graduation photos and videos
Now you can customize your slideshow with the built-in editor. you can crop, trim, add effects, background music and do any other changes if needed.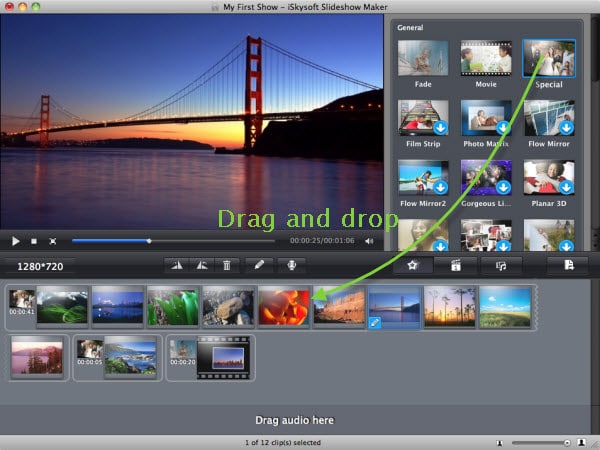 Step 4
Publish graduation video
When finish the editing, you can click "Share" to publish the video. You can choose to share the graduation video to YouTube or Facebook directly. Or you can export the video to iTunes and your devices.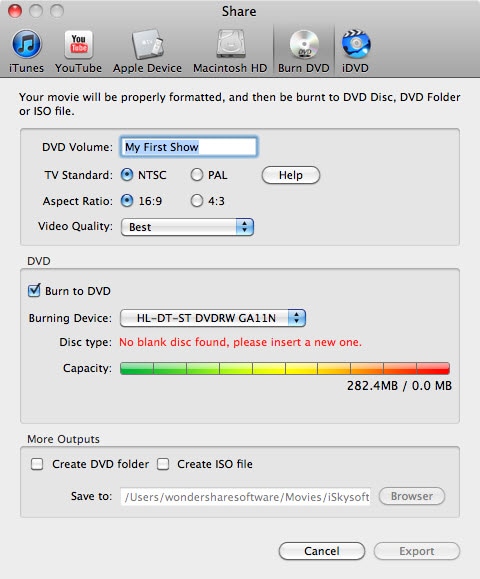 Tips: The software also have a feature that allows the user to burn graduation video in a DVD. With the iSkysoft DVD Slideshow Maker for Mac you can make a stunning video in just a matter of minutes and you won't even have to pay to hire a professional video editor. The best thing about this is that you can use the software as often as you want like and make video presentations as a gift for birthdays, wedding and anniversaries or for just about any occasions.