Whether it's used in a GIF file or video, animated text does a great job attracting and keeping the attention of your audience, not to mention the beauty it might add to your digital story if used properly. There're so many animated text makers out there to pick from… and that's why we did the hard work for you—sorting out the bests from the lot! 
So, let's quickly review the 7 best online animated text generators and the 3 desktop animated text makers currently available. We'll start with the desktop counterpart.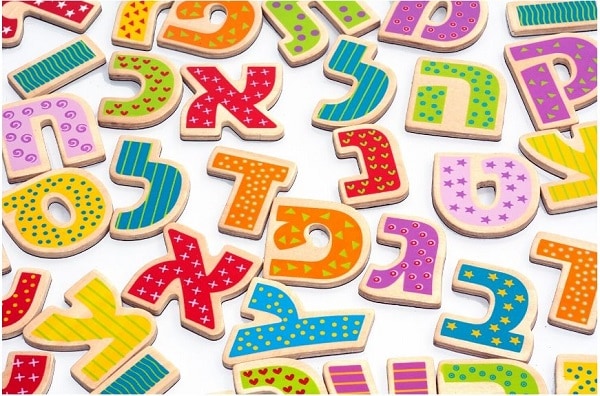 3 Best Desktop Animated Text Makers
Without further ado, let's take a quick look at the top 3 desktop animated text makers:
#1. Filmora Video Editor (For Beginner)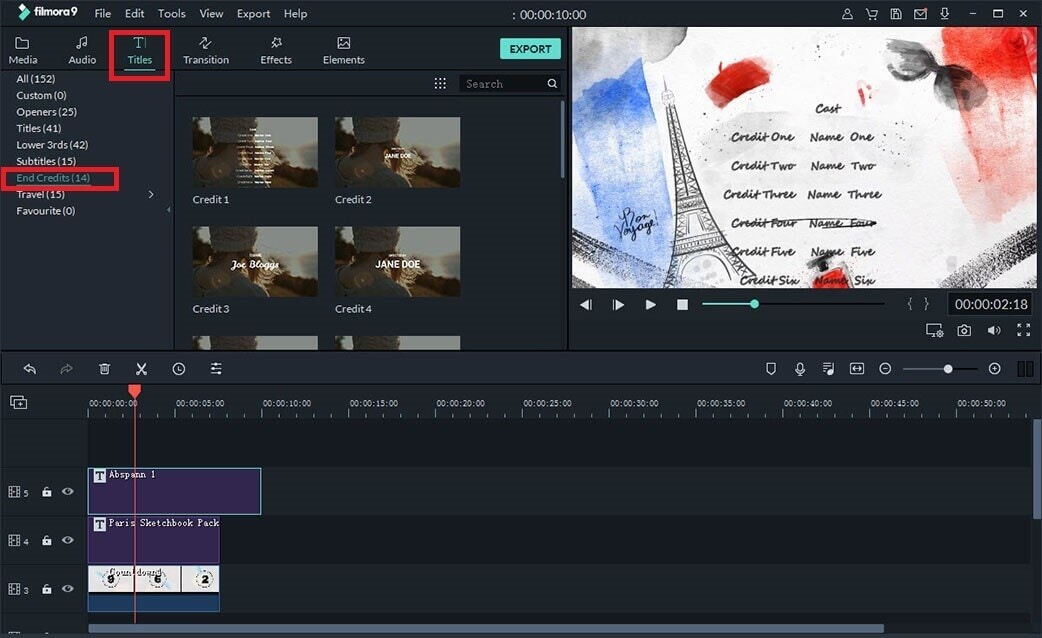 Filmora Video Editor is usually the go-to software for starters, semi-professionals, YouTubers and gamers looking to add animated texts to their videos. Filmora is a video editor capable of creating beautiful animated text. Various text animation templates exist on Filmora, you simply type in something and choose an animation style!
Platforms: Windows & Mac
Pros:
• Very easy to use (even when new to video editing)
• Support custom text font, color, background, motion effects and more
• Hundreds of built-in animated text templates
• Supports multiple output formats
---
#2. FilmoraPro (For Demi-professional)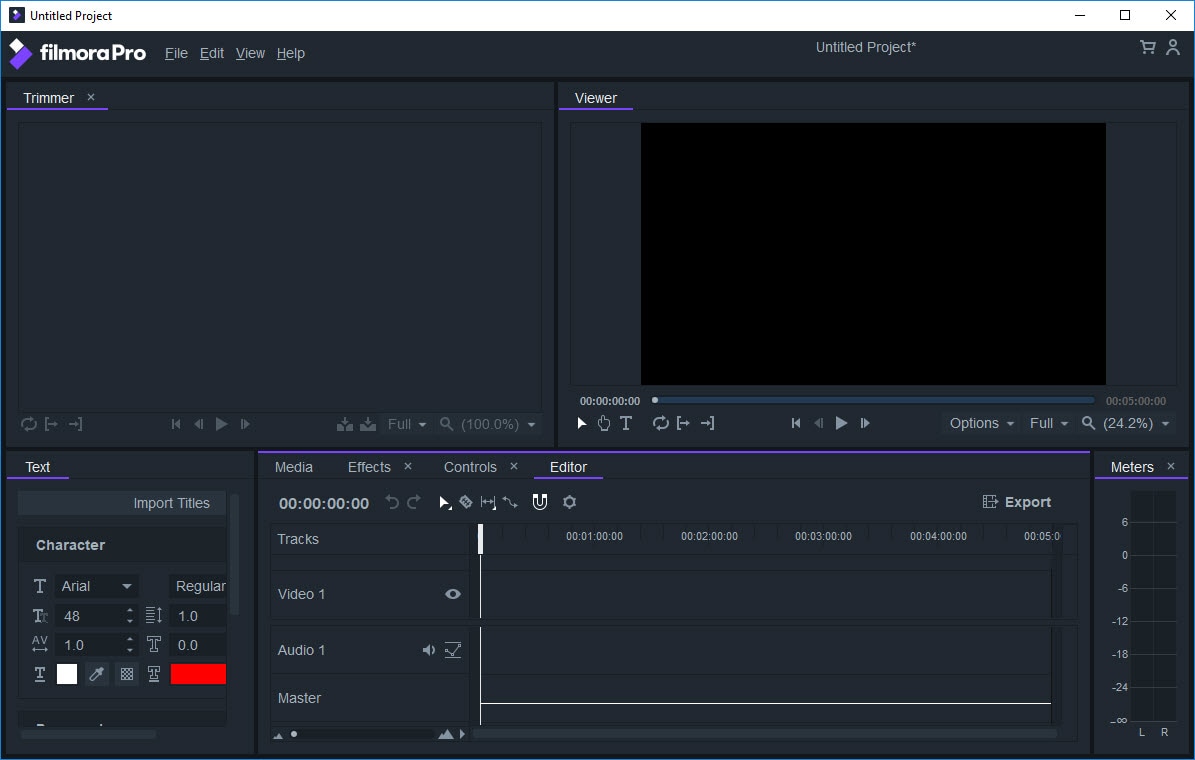 FilmoraPro is a full-fledged video editor that is popular among professional movie producers. Unlike Filmora, FilmoraPro gives total control to the editor coupled with very rich features used in modern filmmaking. On the text animation part, FilmoraPro does a wonderful job. Numerous text animation templates exist on the software, all you need to do is to add a text label and pick your favourite animation style.
Platforms: Windows (8 and above) & Mac (macOS 10.13 or later)
Pro:
• Professional editing tools and options
• Has Keyframes to animate the text
• Built-in animation effects for text
---
#3. Adobe After Effects (For Professional)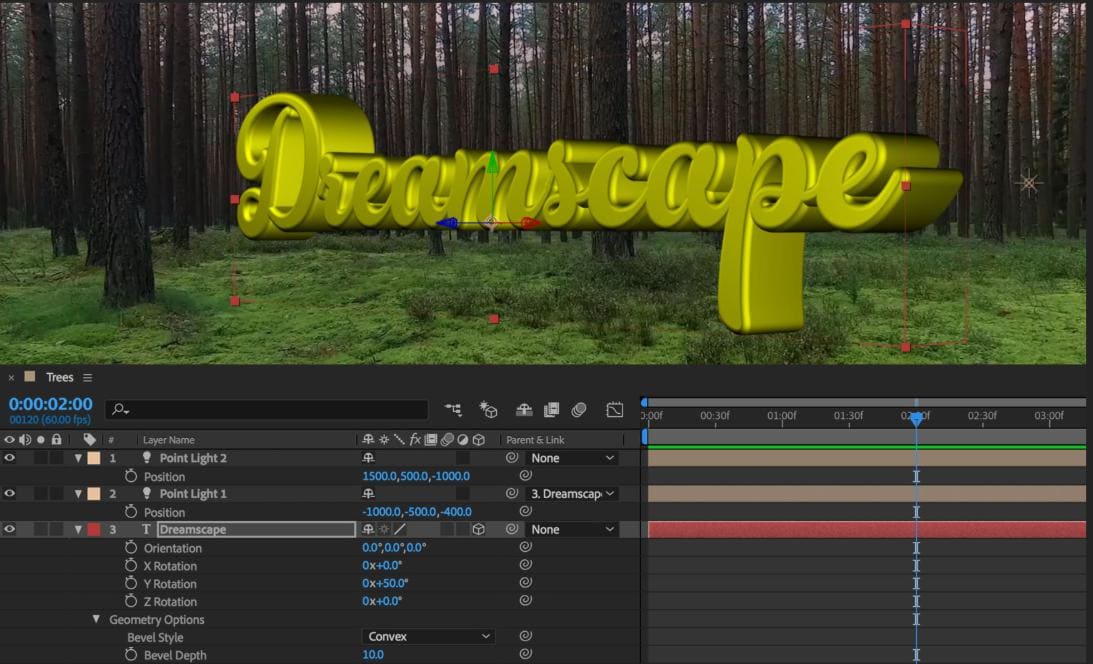 Adobe After Effects is another cool motion graphics software that can be used for making text animations. It does a pretty wonderful job for simple roll credits and sequence titles. For text animation, choose from the available presets or create something unique yourself!
Platforms: Windows & macOS
Pros:
• 3D text animation and professional motion graphics
• Cool presets (jumping letter, floating phrase, etc.)
Cons:
• Beginners may have a bit of a tough time finding their way around
• Limited options for video editing (though not its primary aim)
---
7 Online Animated Text Generators
#1. Kapwing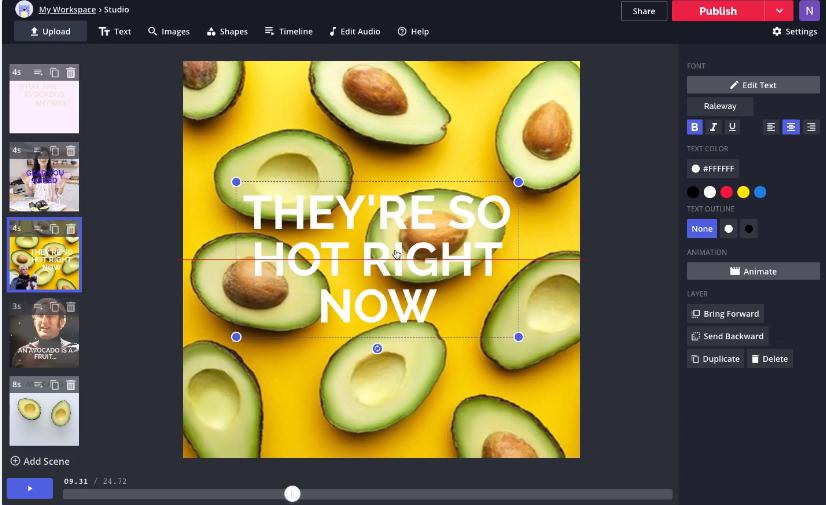 Kapwing is a popular online animated text generator that does a very good job when it comes to digital storytelling. Rich text animation tools and features are made available on Kapwing. You can rotate texts, add transitions, change background colour, shift text appearance in the timeline, live preview, etc. Downloads are available as GIF, image or video.
Pro:
• Very fast and simple, no sign-up required
• No software download required.
Cons:
• 100% online, therefore Internet connection required.
• Sign-in required to remove watermark
---
#2. Typito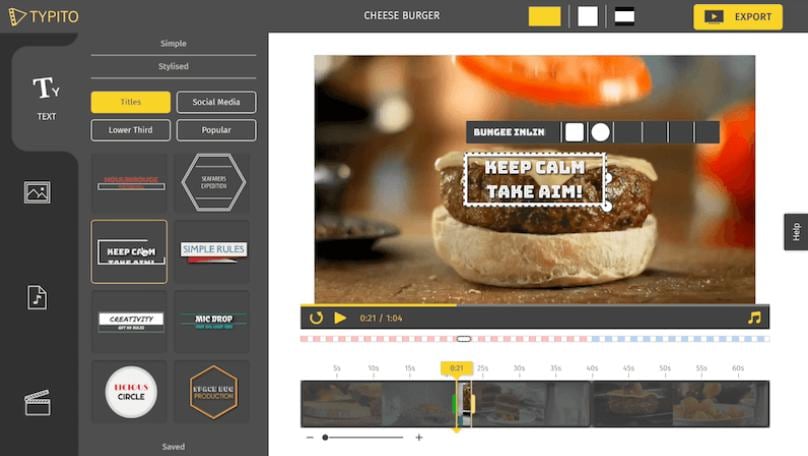 Typito is another online text animator that can also be used professionally. Everything from adding texts to video timeline and modifying style and orientation can be done on Typito. Choose from 200+ templates and have fun!
Pro:
• Web-based, no installation required
• Preview your creation on the go
Cons:
• Sign-up/sign-in required
• Active Internet connection required
---
#3. Loading.io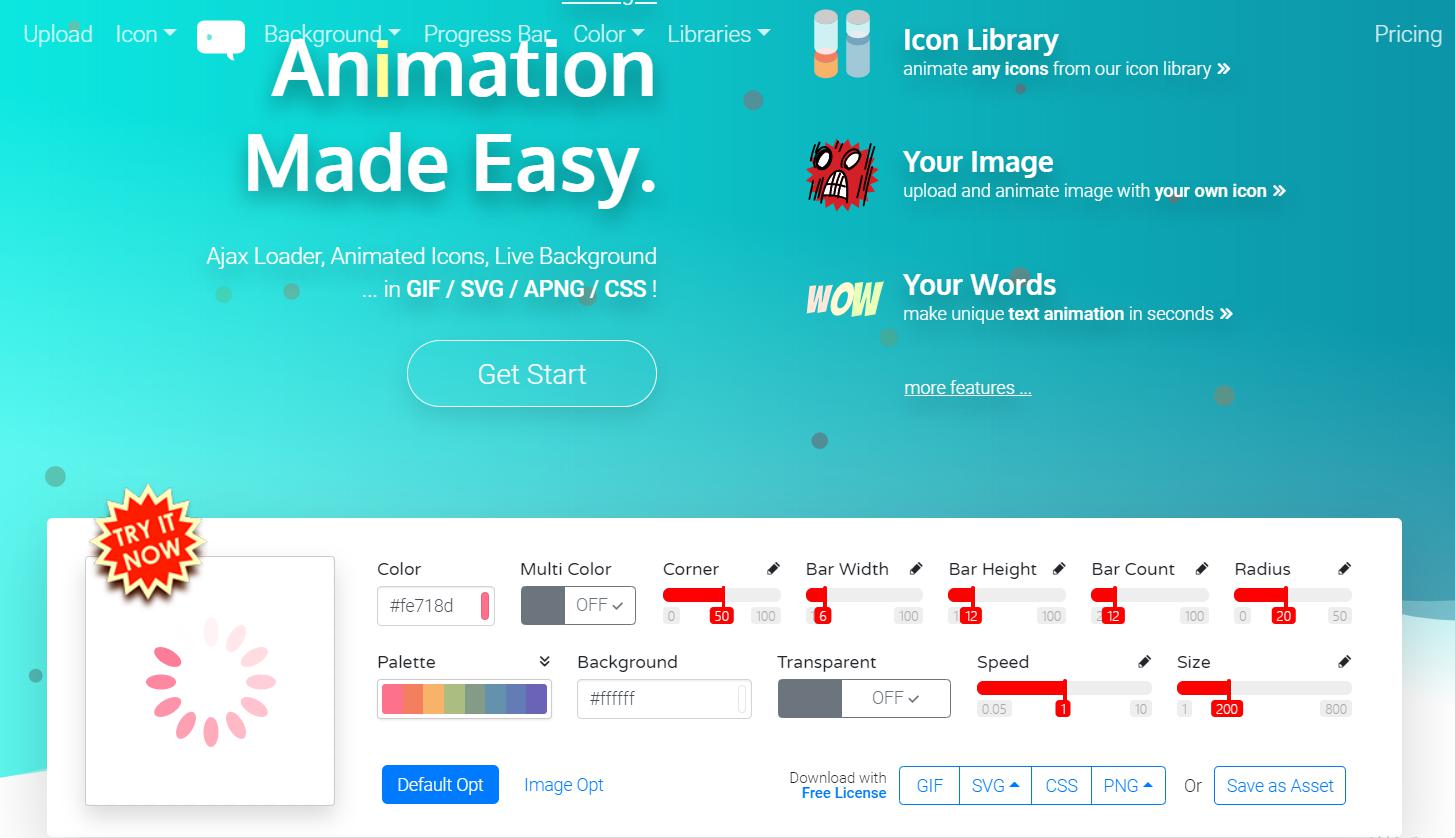 Loading.io a beautiful preloader icon generator that's also used for icon and text animation. Add beautiful background patterns to your animated texts. Loading.io is also packed with lots of icons to spice up your animated texts.
Pro:
• Lots of icons and styles available
• Upload your own layers and work on them
Cons:
• Mainly an ajax preloaders generator
• Signup required to download
---
#4. Textanim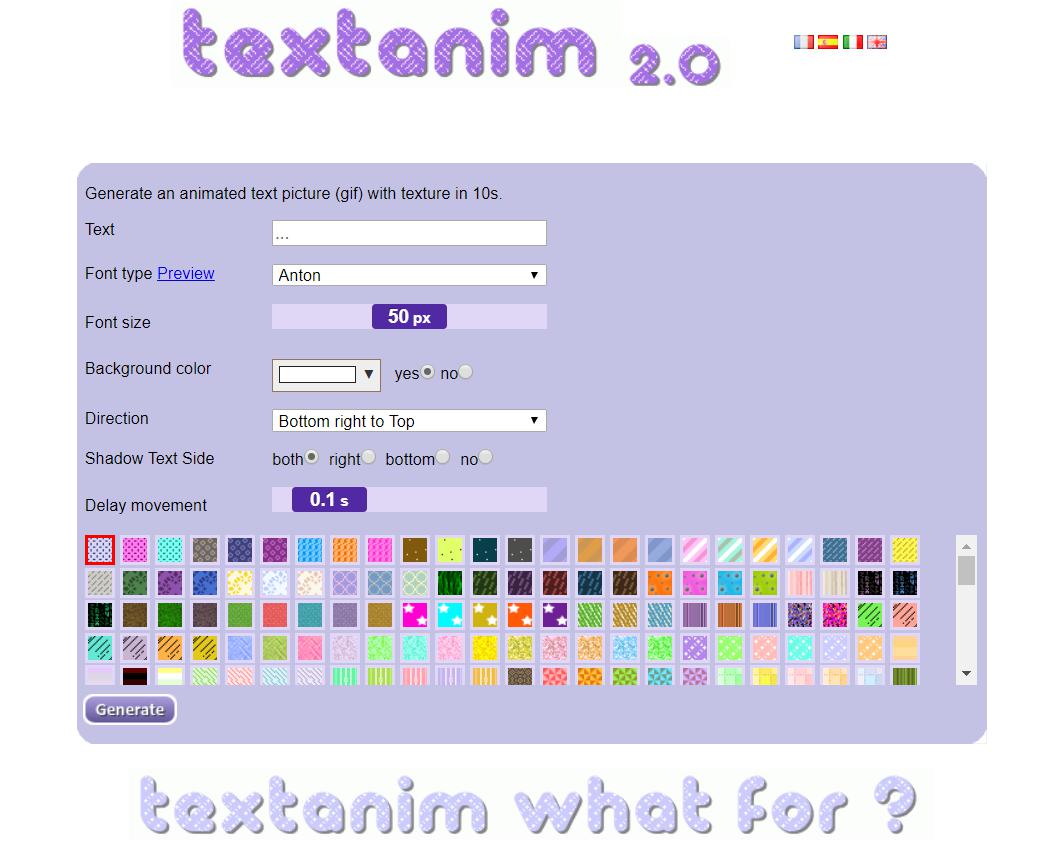 Textanim is arguably the simplest and most straightforward of all. You simply enter your text, change transition time and orientation, select your desired style from the numerous styles available and save!
Pro:
• No sign-up requirements for editing and downloading
• Very simple user interface
Cons:
• No video or image upload support
• Basic text animation features
---
#5. Cooltext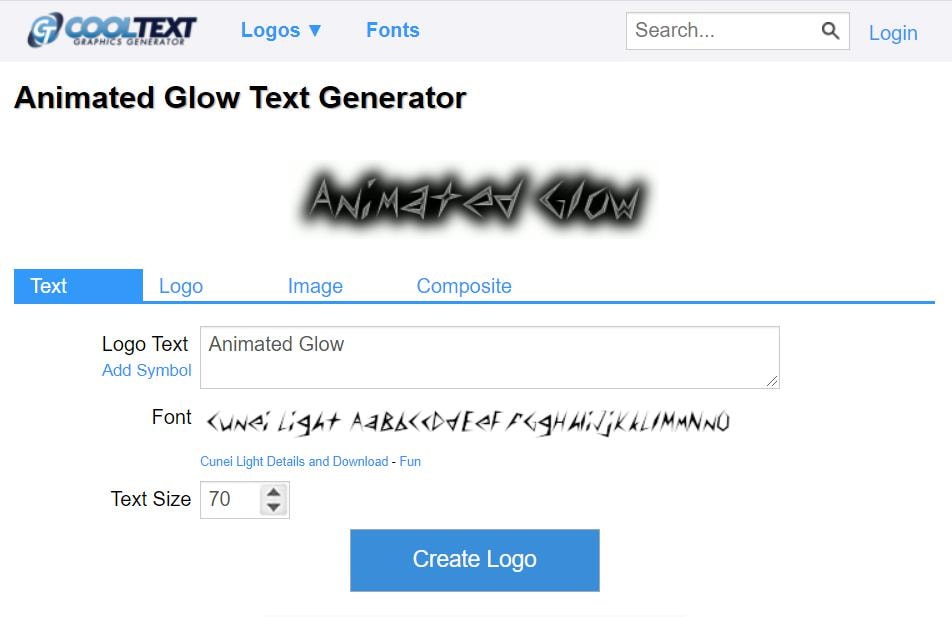 Cooltext is another simple Web text animator specialized at adding animated glow effects to texts and perfect for creating eye-catching logos. There's a huge variety of glowing animations to choose from.
Pro:
• Good for creating eye-catching logos
• Non-complex user interface
Cons:
• Almost limited to glowing text
• No text on video options
---
#6. EnGFTO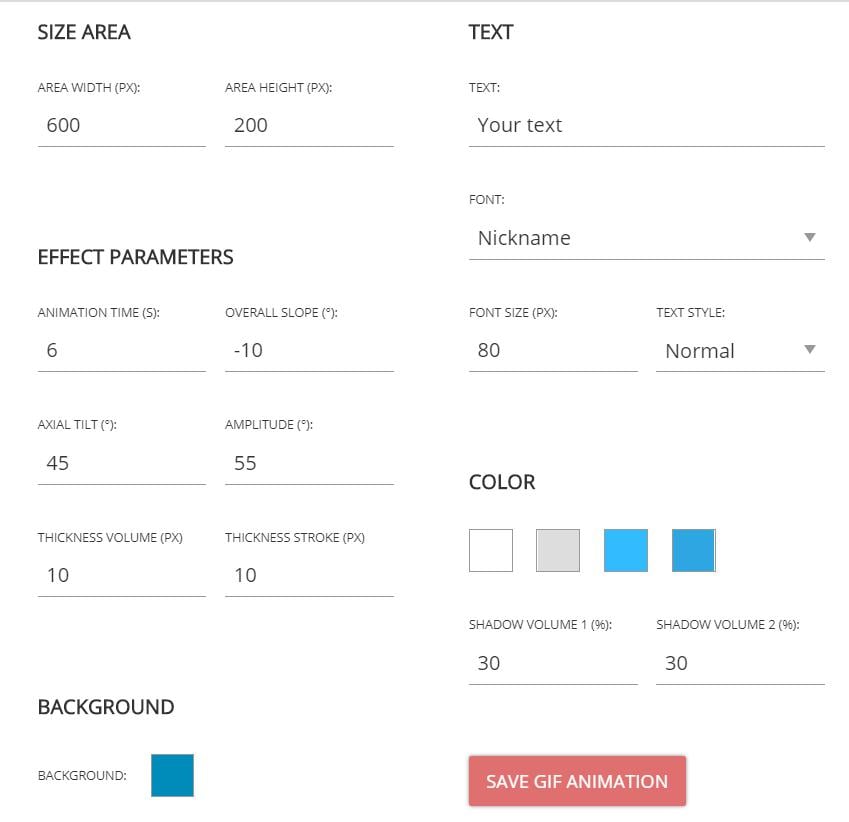 Create captions and beautiful text effects with EnGFTO. Lots of cool fancy text are available on the website to choose from. Add shadows, outlines and 3D effects all online.
Pro:
• Fast and easy to use
• Good for beginners
Cons:
• Limited control over the design
• Log in may be required for downloads
---
#7. Flamingtext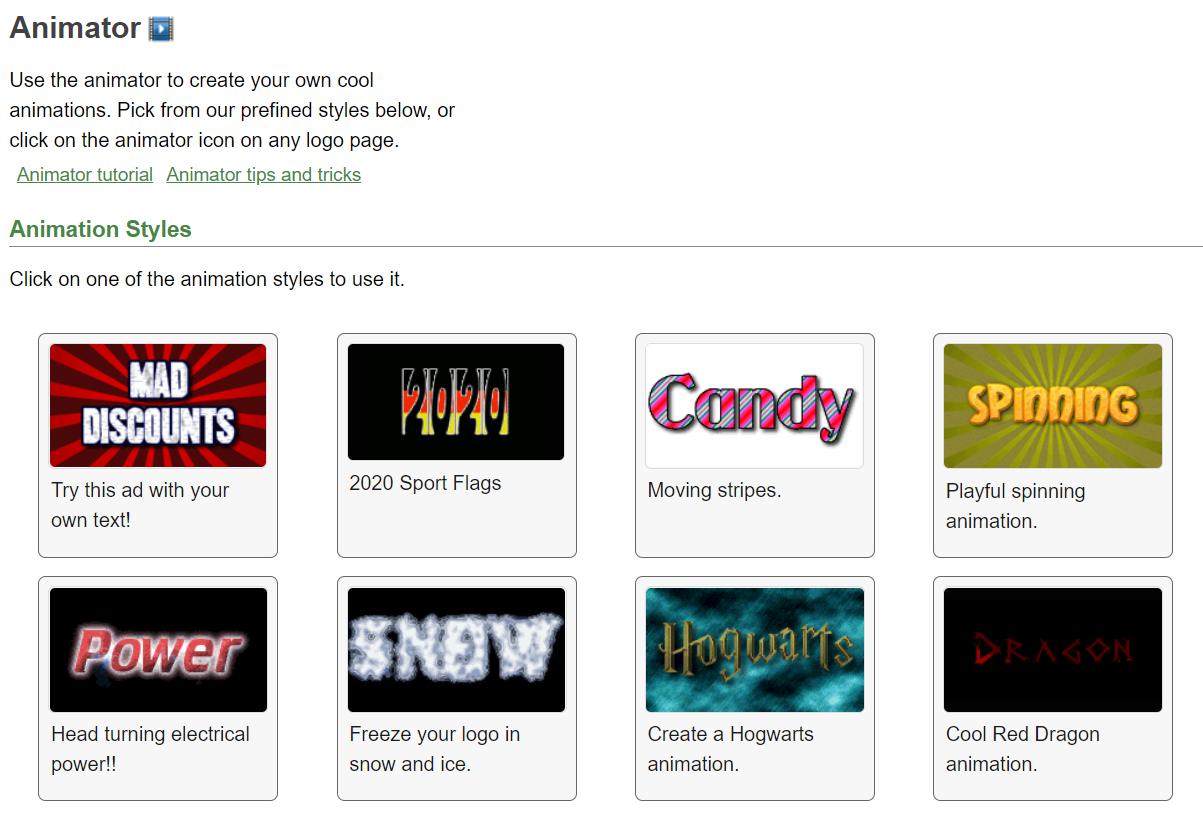 Last, but not the least, is Flamingtext — a simple animated text maker. Lots of samples are available on the website to choose from. You simply enter your text, select style and download!
Pro:
• Automated, no hard work
• Easy to use and understand
Cons:
• Easy to use and understand
• Text design is not manual
---
Conclusion
That's it! The top animated text makers, both online and offline.
In summary,
If you prefer working offline, you should go for the desktop tools (Filmora, FilmoraPro or Adobe After Effects).
For the online animated text makers, Kapwing and Typito are used by more professionals –creating beautiful documentaries and digital storytelling. Loading.io, on the other hand, is mainly used for preloader icons while FlamingText, EnGFTO, CoolText and TextAnim are great for random logo design.