Have you ever encountered this situation: you need to edit an audio file but not on your own desktop device and can't download software, or you just want to simply edit a few of your favorite music? 
It seems that downloading professional audio editing software and editing clips with it will be more complicated and take a lot of time. So, it's time for audio editor online to work. No need to download, and it will provide you great aid in editing audio files online in a simple way.
Like audio editor program, the online editor also allows you to increase or decrease the volume, bass, treble and pitch of the song. The online editing tools also provides an opportunity to shorten the song or a music clip by cutting a segment as per your likes. You can also send these edited audio files to your friends via different social networking tools. Furthermore, using an editor over the net is considered as a lucrative prospect since you don't have to store the file first on your laptop which saves your time and space.
In this post, I will introduce 5 best and simple audio editor online. They are great for beginners to learn how to edit audio files.
Part 1. Top 5 Audio Editor Online to Edit Audio Files
1. Beautiful Audio Editor
This free online audio editor provides you an opportunity to apply filters as well as compression in the track. You can effectively organize a project in a Google Drive; moreover the application gives a choice for audio edition in Google Chrome as well as in Firefox.
Features:
The editor is considered as ideal for podcast production as well as alarm and ringtone production.
You can also use the editor for sound mixing and can produce unique audio.
You can also get flexibility in recording through the help of microphone and can also format on various mp3 source files.
After you have initially used the editor it can be accessed on Chrome in an offline mode.
You can also export various forms of mp3 files viz. from 16 to 128 bit.
Pros:
- Undo and redo button, dynamic compression etc.
- Custom fade in as well as fade out.
Cons:
- The application is susceptible to crash if data exceeds beyond 300 MB.
- Chrome doesn't provide enough storage memory for the application.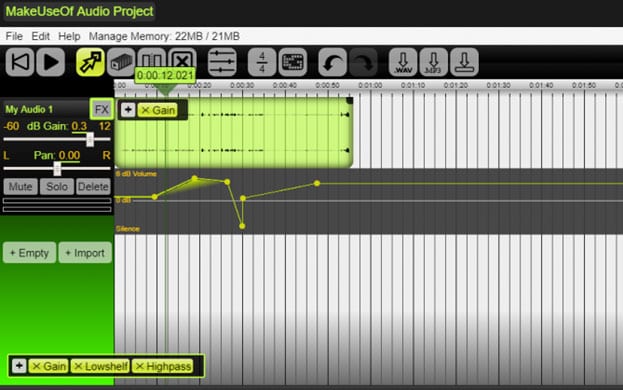 ---
2. TwistedWave Online
This application is used to edit audio files online as well as it is used for Mac and iPhones. The application is very easy for beginners, since it has basic features which can be used effectively. Transport bar of the application showcases several consol buttons which aid in editing process.
Features:
You are offered drag and drop facility.
You can also playback the file while copying and cropping.
You will be offered custom fade in option.
The application provides option of selection markers which you can use in to-be edited audio file.
You will also be able to conduct a multichannel recording with ease.
Pros:
- It provides great aid in batch processing.
- Metadata can easily be added to various file formats viz. AIFF, MP3 etc.
Cons:
- For multichannel files, you will get automatic panning.
- Metadata V4 doesn't support the application.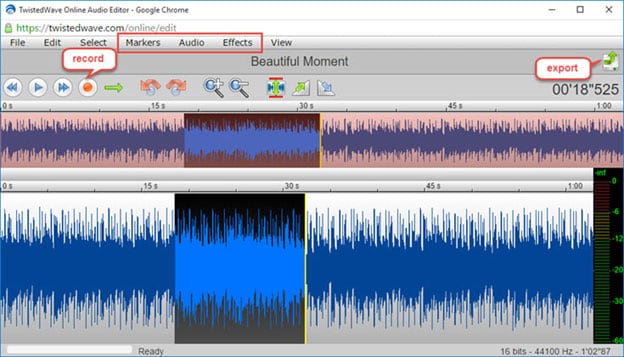 ---
3. Bear Audio Editor
This application picks files straight from the local storage thus you don't have to upload the file over the internet. You can also import a file directly from a URL; this feature will save your enough time. You can also get personalized library sounds which are used by bear audio for song mixing. This audio editing website has audio which are free of copyright and you can use it for different projects.
Features:
You get audio import function from YouTube.
You will also get a built-in library function with great sound clippings.
Bear audio editor also supports file format conversion feature.
Pros:
- Effective undo as well as redo button.
- Can drag file to edit from several sources.
Cons:
- Few face blurring options.
- In-app purchases required to remove ads.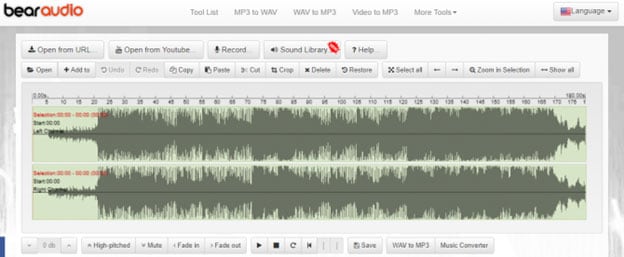 ---
4. Sodaphonic
This online audio editor with effects is very helpful if you want to cut a piece of audio file. You can easily import MP3 as well as OGG files and can edit them extensively. Sadophonic also supports uploading a file directly from Dropbox and then You can place it for editing process.  
Features:
Sodaphonic is used to trim delete, copy as well as paste different audio clips.
You can also record clear and effective audios through this application.
The application also gives you a chance to save the file in a WAV format.
It has great user experience and interaction and it is very easy to use the application.
The speed of this application is worth commenting as you will get edited audio files in no time.  
Pros:
- You can focus on a particular part of a sound clip.
- Fast speed.
Cons:
- Offers a limited size of file to be edited.
- Meant for Windows.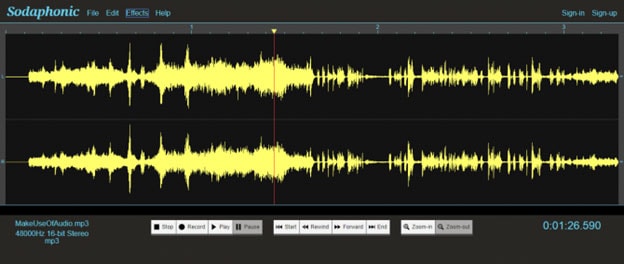 ---
5. Hya-Wave
This online audio editor allows you to edit files through short-cuts through the keyboards. The application has given an option to record and edit audio online as well as offline mode. This application basically uses 18 different filters viz. feedback delay, audio pass and normalization filter.
Features:
This editor has minimum design which makes it easy to edit the song of your choice.
It allows you to take sound clip from a URL source or through any other social media platform.
You can customize every other audio filter with ease.
The song editor also provides feature where you can pre-listen to the song according to adjustments you've made.
You can effectively edit the song through the gauge which appears at the bottom of the application.
Pros:
- Easy to use keyboard shortcuts.
- Great informative visuals which makes it easy to use the application.
Cons:
- You have to install Adobe flash for the file editing process.
- You may receive some instability during high sized file editing.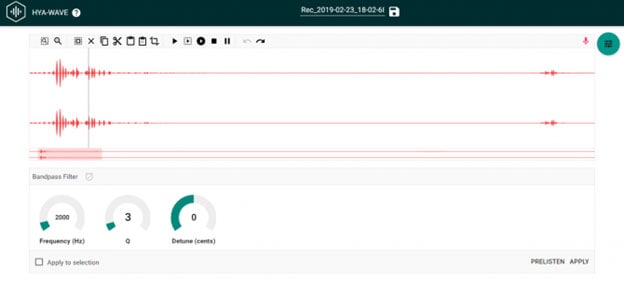 These online tools are gaining popularity as they allow editing the audio on the go.
However, all the work depends on the internet connection. If you have weak or no internet connection, you might not be able to do your desired editing work. Also, many of these tools offer limited editing features. So, it is better to use the desktop versions and make sure that your files are safe as well.
---
Part 2. Best Alternative for Online Audio Editor - Filmora Video Editor
Filmora Video Editor or Filmora Video Editor for Mac is a desktop audio and video editing software. Like the online tools we mentioned, it is easy to use, and friendly to novices. At the same time it is also professional audio editor. Not only does it have powerful audio editing capabilities, it also meets your video editing needs, and help you do more professional and interesting video clips.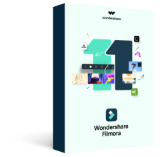 Basic and advanved fonctions for editing audio, such as record voice, split, mute, mixer audio files, ect.
Various professional audio and video editing tools, and they are easy to use.
Lots of special audio and video effects. You can fin more on a resource site - Filmstock.
Support multiple formats, such as Mp3, Wav, M4a, Wma, Ogg, Flac.
...