The music industry is a booming market, with new artists regularly coming up with interesting soundtracks and albums. However, competition is high in such a big market, and professionals always need to prepare something unique to stand out.
If you are going through this situation, take the help of high-quality music mixing software to mix and compose your music masterfully. Indeed, music producers, artists, and DJs use these for various purposes, like matching tempos of multiple songs without pitch distortion, slicing digital music, and then reassembling them into new tracks.
Wondering which software to try out? Here we present some suggestions.
Part 1. Best 7 Music Mixing Software You Can't Miss
There is a wide range of multiple high-quality music mixing software options available for Windows and Mac devices. We looked through many and then compiled this list of the top 7 choices to try.
Filmora is a strong music mixer app that works for creative editing for videos and audio tracks. The software comes with diverse audio-related features like audio synchronization, silence detection, and audio ducking.
You can use the wide library of royalty-free music under this application to add to video files and blend multiple songs together. Also, use the Auto Beat Sync feature for quick song beats and rhythm synchronization.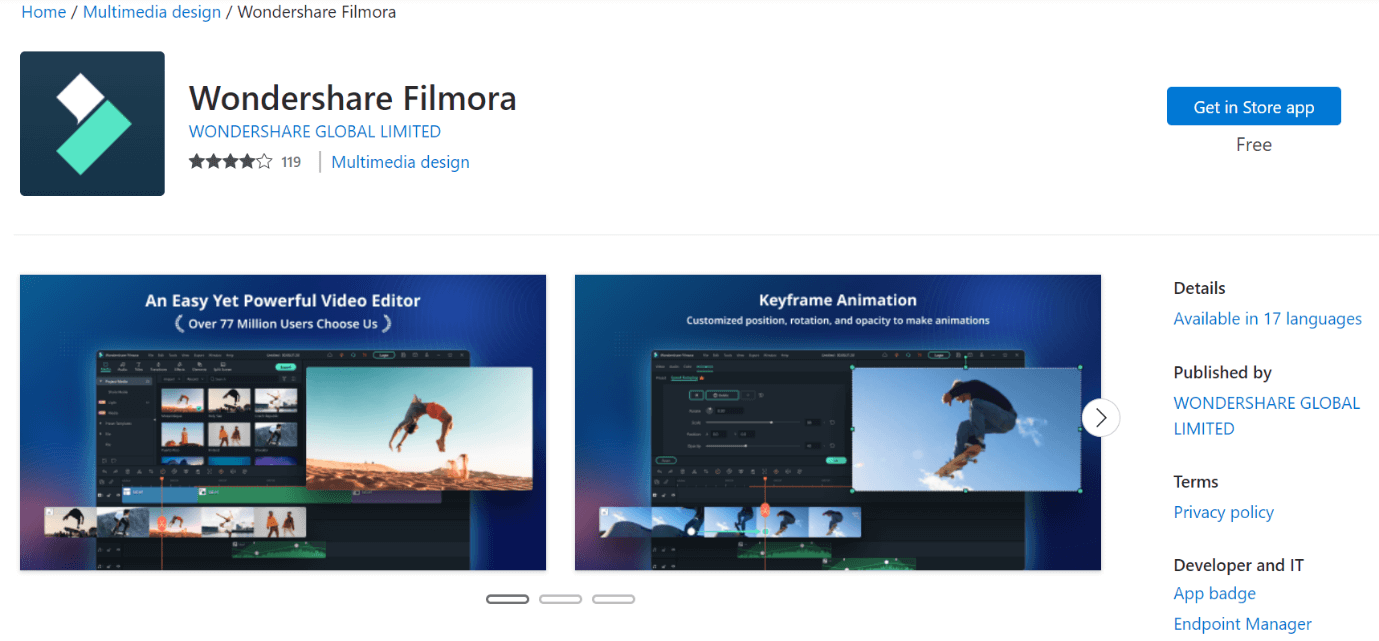 How to Download:
Compatible Platform: Windows, macOS
Price: Free Trial with standard features. Monthly Plan- USD 28.98/month, Annual Plan- USD 68.98/year, Perpetual Plan- USD 79.99 (Windows version), USD 116.95 (Mac version)
Main Selling Points:
Access to Boris FX, NewBlue, and Filmstock Standard plugins.
Use an audio visualizer to mix and edit audio tracks.
One-click optimization for speech to subtitle text conversion.
Sync audio and video with one click during editing.
Pros:
1 GB of Wondershare Drive support is available.
Helpful tools and tutorials are accessible.
Users get royalty-free music, smart templates, and plugins here.
Cons:
The Free trial has no 4K output, keyframing, or speed ramping functions.
Users under the trial period cannot put project files (Instant Mode) in the Filmora timeline.
Best For: Professional composers, content creators, and producers can use this comprehensive software for various audio editing and video editing functions.
---
A suitable music mixing software for professional DJs and sound producers is Audacity. With this desktop-based application, you can record audio using a mixer or microphone live. Download digital recordings from other media options, like a YouTube music mixer. Also, users can easily edit/combine audio files and export them in varying formats with high sound quality.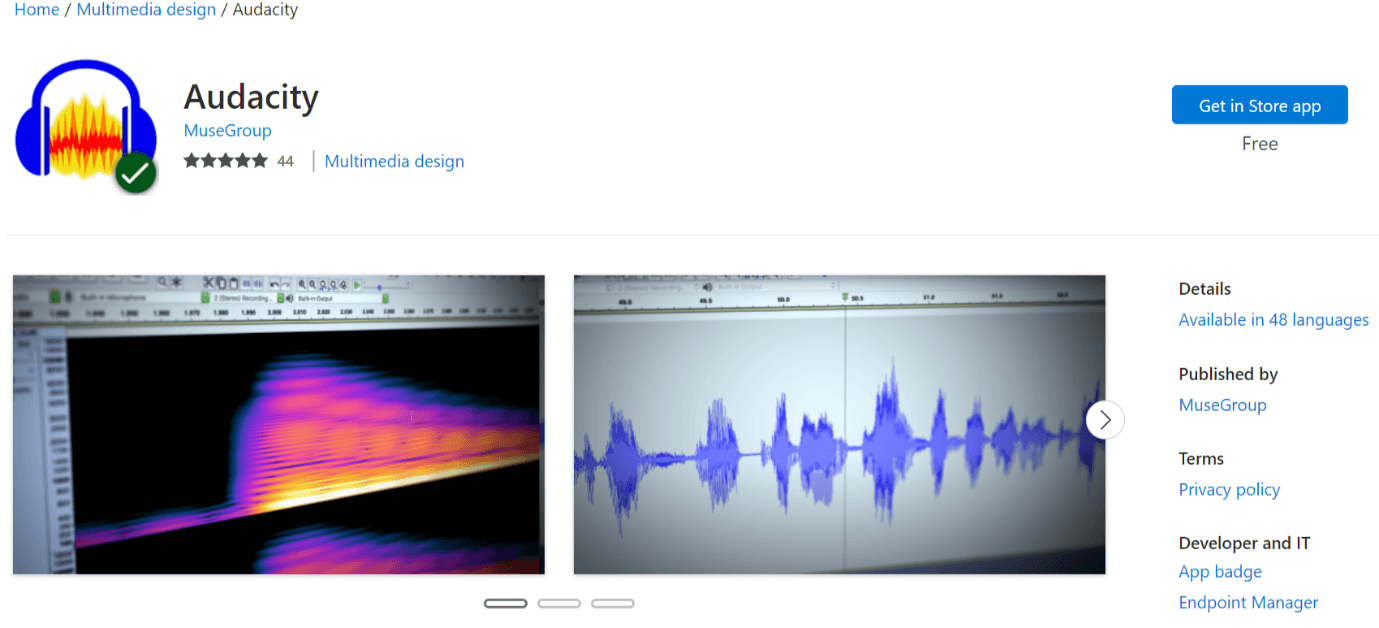 How to Download: Microsoft Store (Windows), Website
Compatible Platform: Windows, macOS, Linux
Price: Free
Main Selling Points:
Spectrogram view features visualized frequencies.
Effects available for audio editing like Audio Unit (only for Mac), VST, LV2, and LADSPA.
Cut, delete, and merge clips in tracks.
Use quick Sequential Redo/Undo steps for continuous correction during editing.
Pros:
Get a detailed analysis of audio frequencies during editing.
The software is completely free to use.
Keyboard shortcuts are available for different functions; it improves usability.
Cons:
Crashes can happen while using the Mac version.
The UI design is slightly outdated.
Best For: Composers looking for an easy-to-use, open-source platform for advanced sound editing with access to usable plugins/tools.
---
Mixx is suitable software for professional DJs to create new mixes and sounds from digital music options. The turntables on this application come with diverse features, like a programmable built-in mapping system. It works with any HID and MIDI device and is useful for customizing the sound editing workflow. Also, use the vinyl passthrough feature changing the toggle settings to mix these sounds into a project.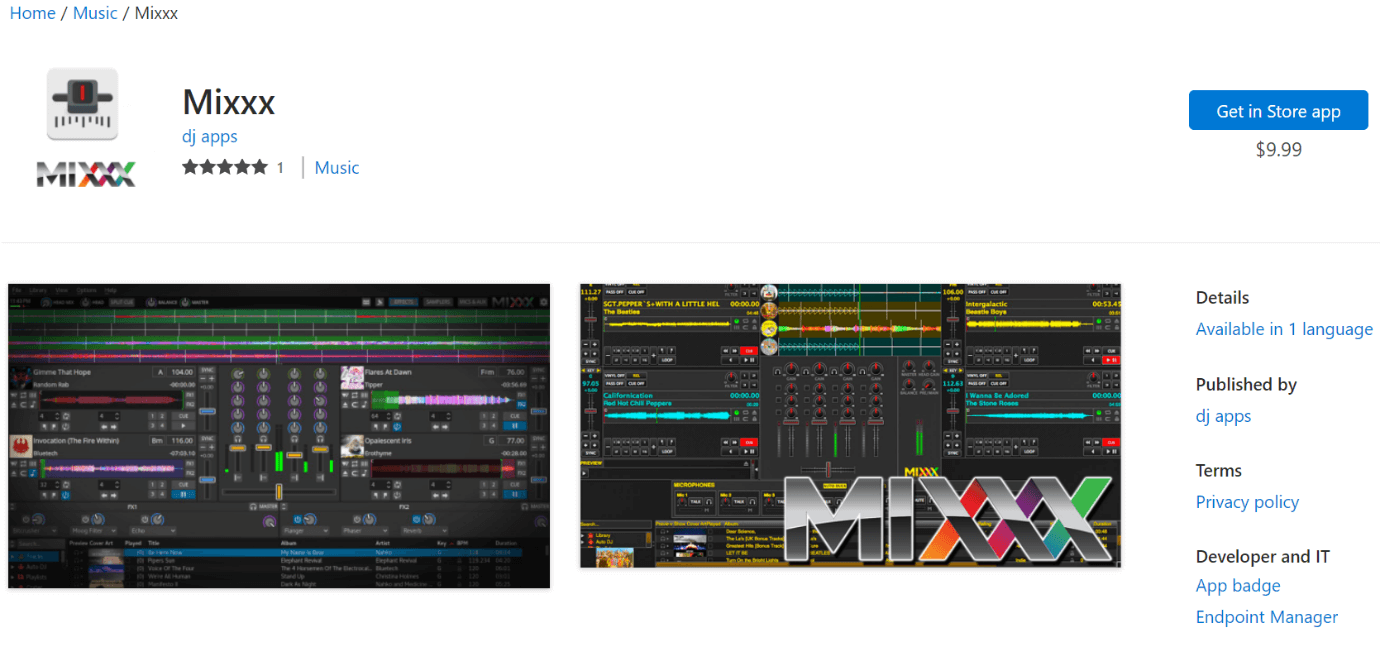 How to Download: Website Download Link (Mac), Website
Compatible Platform: Windows, macOS, Fedora, Linux, Ubuntu
Price: Free, and users can provide donations.
Main Selling Points:
Turntable function for controlling playback and timecoding vinyl recordings.
Twist knobs and other features to change audio tracks with unique effects.
Preset DJ controller mapping is available for better music editing control.
Use the musical key and BPM detection feature to find the right track from the integrated music library.
Pros:
Users can contribute solutions to the open-source community or find codes quicker from other contributors.
There is a pre-set mapping system in this software for smoother workflow management.
A wide range of audio effects is available.
Cons:
Limited functions compared to some other software options.
Development snapshots are not great for live use and so crashes are possible.
Best For: DJs can use this app easily to source digital audio samples to create new live sounds.
---
MixPad is a useful music mixing software that musicians can use for audio mixing and sound production from a desktop. You can expect professional studio-quality music and features in this comprehensive application. Users can use it to record, edit, and mix unlimited types of vocal, music, and audio files. Furthermore, you can access royalty-free music and sound effects in the NCH Sound Library for sound mixing.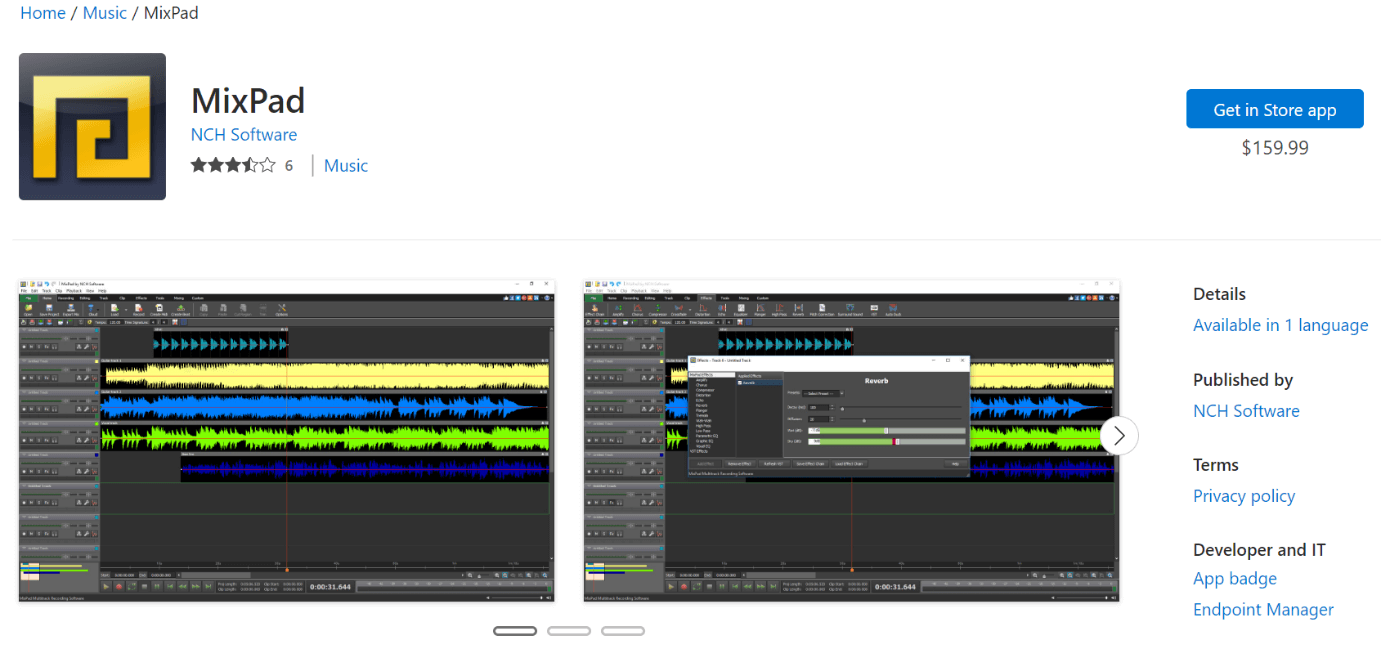 How to Download: Microsoft Store (Windows), Website
Compatible Platform: Windows, macOS
Price: Master's Edition- USD 59.95, Master's Edition (Quarterly)- USD 5.50/month, Home Edition- USD 34.99
Main Selling Points:
Add, record, and mix an unlimited number of tracks and recordings.
Adjust audio effects like compression, EQ, and reverb.
Use preset beat samples and create new beats with the integrated Beat Maker.
Optimize software functions with extra VST plugins for instrumentation and sound effects.
Pros:
Add multiple or single tracks during recording.
Simple sound upload and mixing functionality.
A wide range of free songs and sound effects are available.
Cons:
The interface of this software does not have a modern design.
It is not available for free.
Best For: Professionals in music production can use this software for advanced track editing, with effects like reverb, compression, and EQ.
---
Logic Pro is a valuable music mixing software that song creators can use for various mixing, beat-making, songwriting, and editing tasks. You can use the audio authoring tools for spatial audio transition into Dolby Atmos mixes. Make melodic sections in songs, bass lines, and program beats with Step Sequencer and electronic/hip hop/acoustic drum tracks with the Drum Machine Designer feature.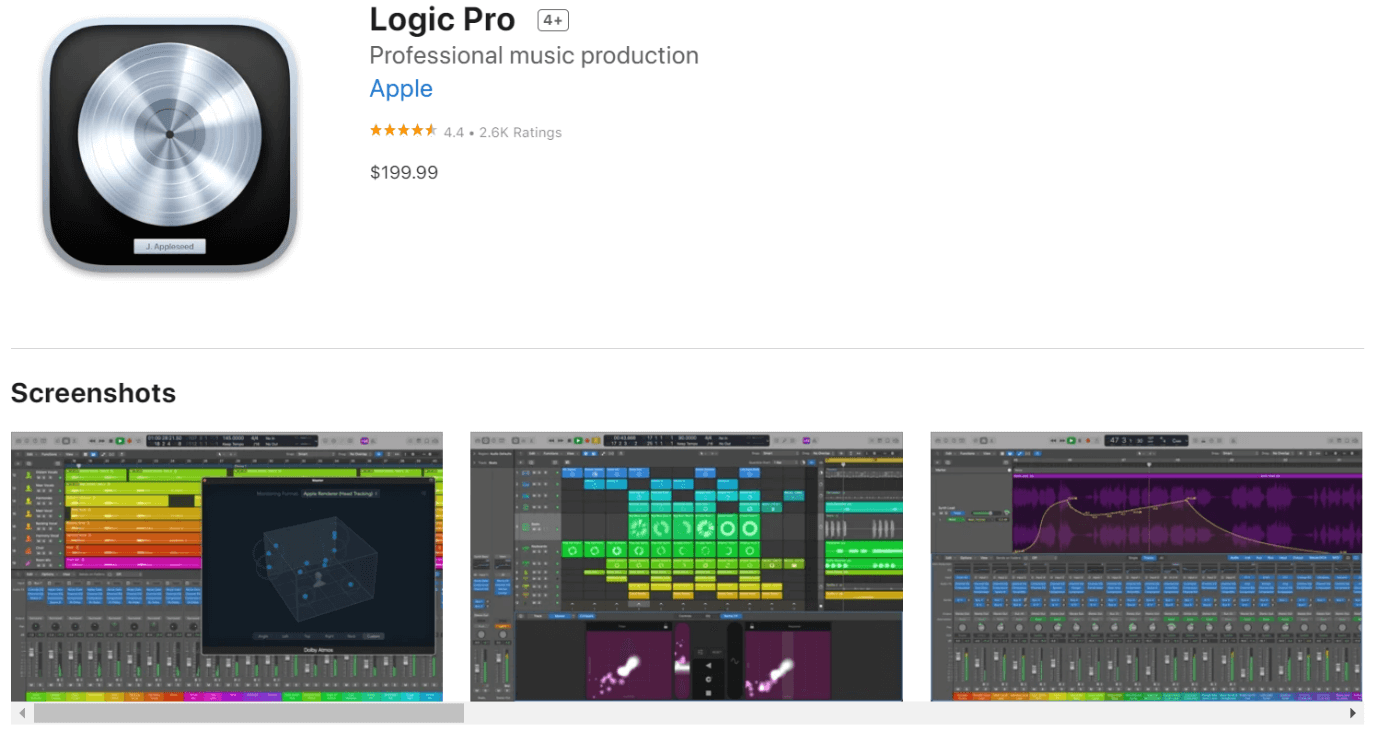 How to Download: Website, Apple Store (Mac)
Compatible Platform: macOS
Price: USD 199.99
Main Selling Points:
Royalty-free music producer sound packs are available from providers like TRAKGIRL.
Use 3D Object Panner to mix and cut precise sound positions.
Users can also control the composition sessions using Logic Remote on iPhones and iPad.
Spatial audio support with Dolby Atmos-centric tools.
Pros:
You can export or import MIDI regions in the form of MIDI files and export audio/MIDI regions in the form of Apple Loops.
Use plugins for spatial audio enhancement.
Easily exports projects in Dolby Atmos format.
Cons:
The macOS version does not have features like Sound Library navigation and Smart Controls.
A huge app size of 1.1 GB. This software can lag older device models or after long-term usage.
Best For: Songwriters and composers can use this software for creative beat-making with various available tools, features like Logic Remote, and plugins.
---
GarageBand is one of the best music mixer-free online software options that artists can use for audio editing. You can use it for different tracks, mixing, or instrument setting functions. When you are using is as a music mixer-free software, you can include effects into the audio tracks. The UI of the software is simple and shows the available editing tools in one location for easier access and usage. You can mix around 255 tracks or lower for new music.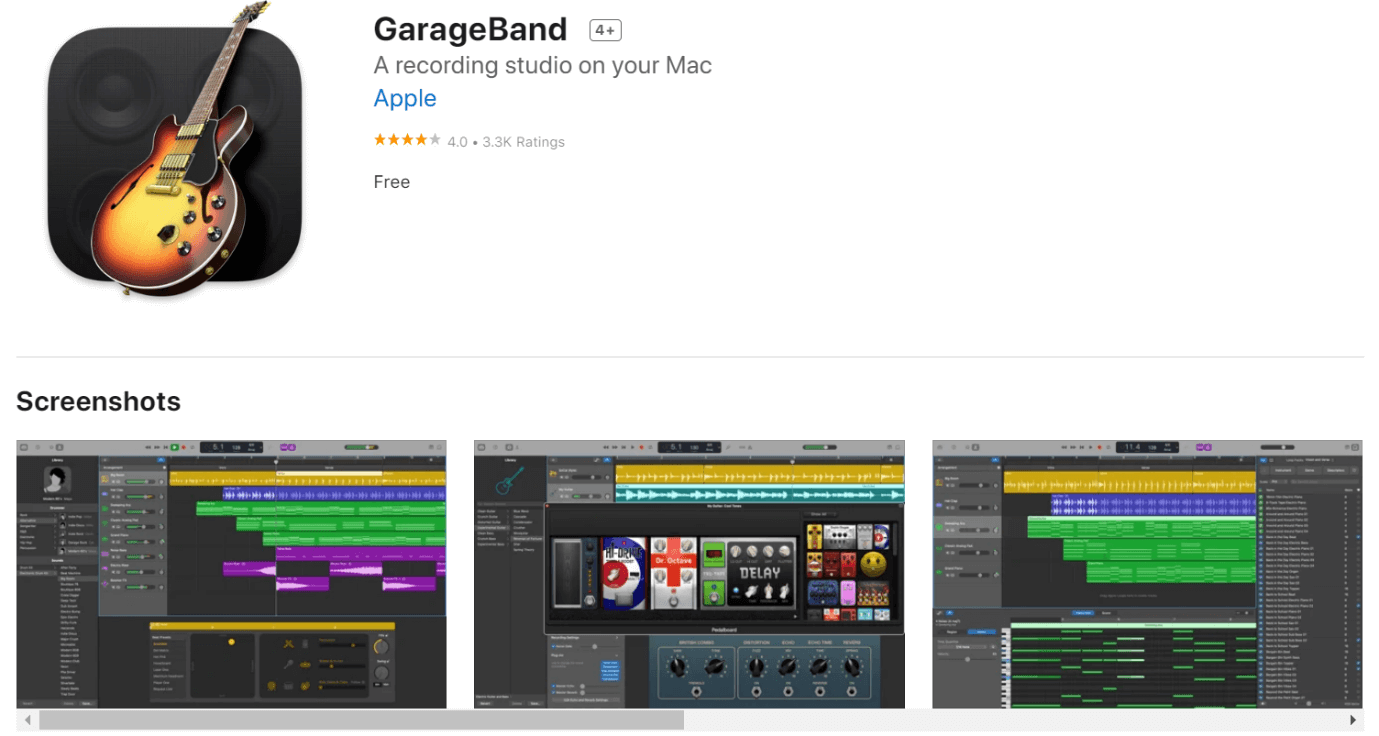 How to Download: Mac Apple Store (macOS)
Compatible Platform: macOS
Price: Free
Main Selling Points:
Share and store projects via iCloud and SoundCloud.
Smart functionality for customizing slides, buttons, and knots among the software controls.
Bass Amp Designer is a useful modern and classic tone dial-up.
Groove Track works to quickly alight track timing/rhythm.
Pros:
The software suits both professionals and beginners.
A very user-friendly UI is available.
The steps to mixing music are simple.
Cons:
Navigating the software can get tricky initially for users.
Not suitable for Windows or other OS types besides Apple products.
Best For: Beginner-level users learning how to compose and mix tracks can use this music mixer online.
---
One of the best music mixing software options available is djay Pro, prepared around the Windows 10 structure. You can use strong sound mixing functions like four-deck mixing, vertical or horizontal layouts, or multi-directional crossfader assignments. Access your private music library and change audio tracks from your playlists. Use the best features here, like audio effects, hardware integration, and HD waveforms for music editing and mixing.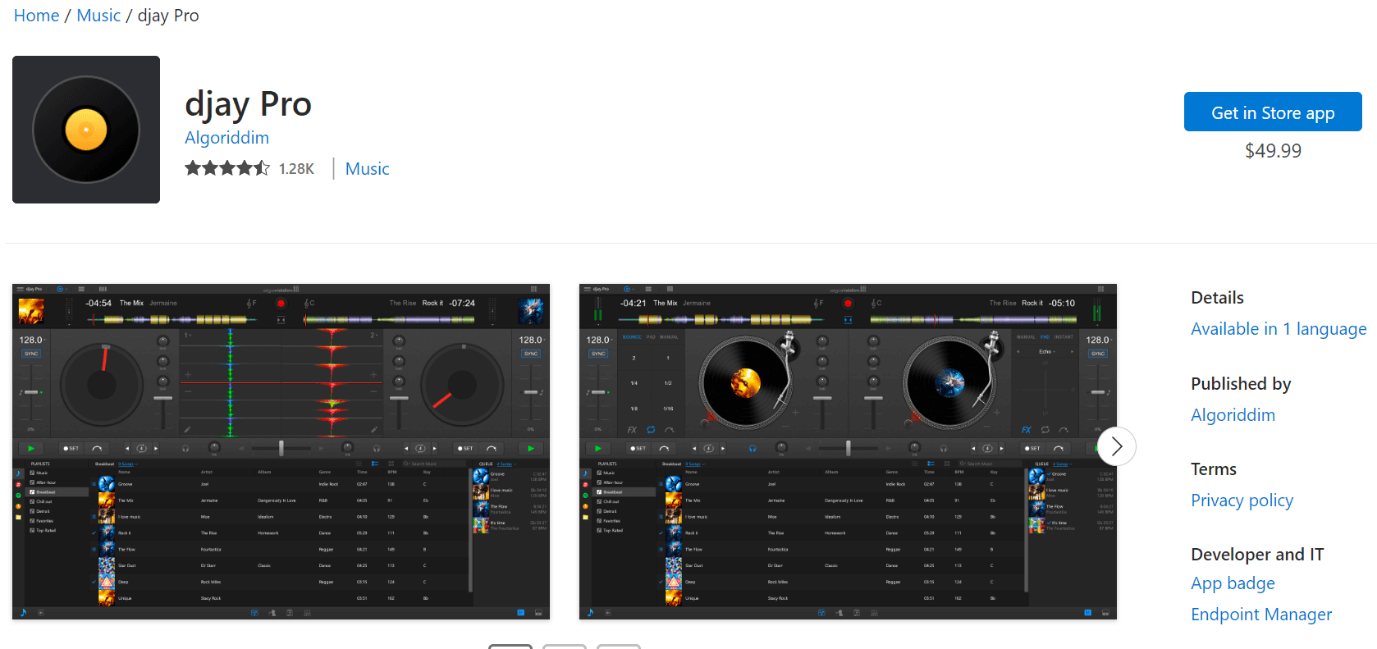 How to Download: Microsoft Store (Windows)
Compatible Platform: Windows
Price: USD 49.99
Main Selling Points:
Comprehensive music library with queue/history access and expand mode.
Four-deck mixing is available with crossfader assignments.
Access the preset editor and live sampler for audio editing.
Get a wide range of tracks through SoundCloud and TIDAL integration.
Pros:
No need for a complex installation process.
The graphics engine works at 60 FPS.
It includes an external mixer and a MIDI Learn mode.
Cons:
The app is not suitable for older device models, like those before Windows 10.
It does not work with Beatsource and Beatport on Windows.
Best For: DJs can use it to create beat drops, layer tracks, and process audio timing/pitch shifting easily.
---
Part 2. How to Mix Music with Filmora?
Filmora is one of the best software options available for various video editing functions. However, it is suitable for audio editing and mixing as well, with robust features like Auto Beat Sync and Silence Detection.
Besides that, features like the Auto Montage Maker automatically evaluate audio beat points. While this is useful for adding a soundtrack to video files, you can additionally use the software for pitch/speed adjustments, volume adjustments, and sound fade in/fade out. Plus, after completing the steps, you can share the mixes with other social media apps.
How to do this?
Step 1: Download the app from the website or desktop app store and install the software. Follow the installation steps as instructed.
Step 2: Launch the editor program.
Step 3: Click your cursor on top of the "Import Media Files Here" choice under the Media menu.
Step 4: Choose the "File" option and click on the "Import Media" button. Another way you can use it is to drag and drop the audio files into the software.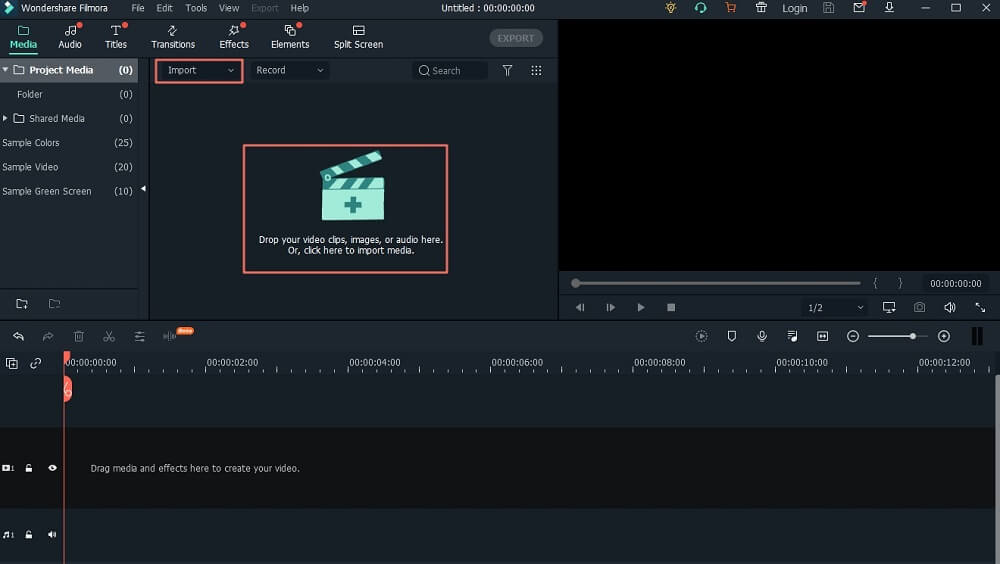 Step 5: After adding the right files from the Media Library, you can click your cursor on the "Audio Mixer" option. In the next pop-up window, the imported tracks would appear in purple.
Click on the Master icon to increase or decrease the volume or spin each small circle individually. After you are satisfied with the changes you made, click on the "OK" button.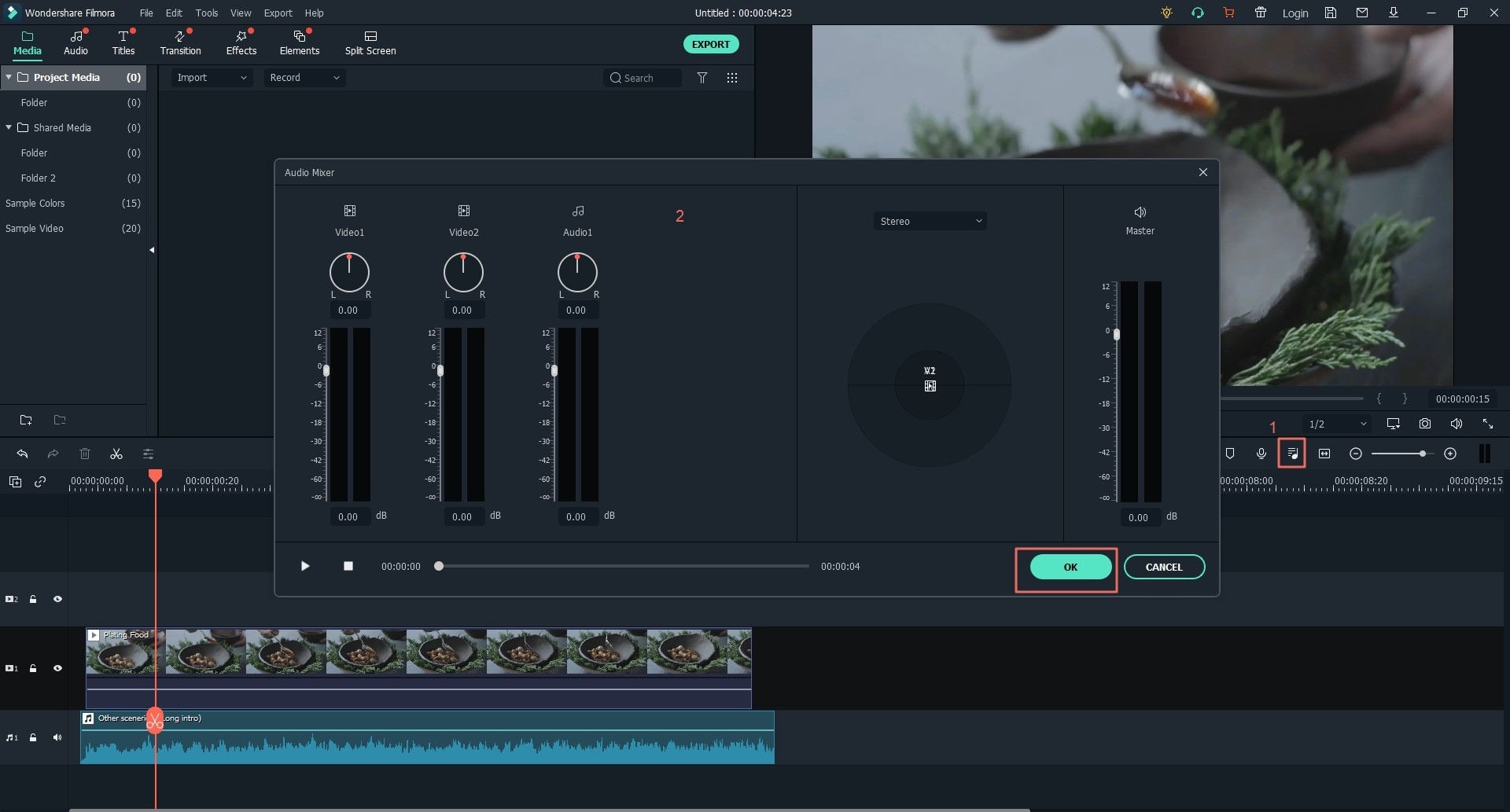 Step 6: Choose the "Export" option and change the location settings to your desired folder. Make other changes like output format, change name, or social media sharing.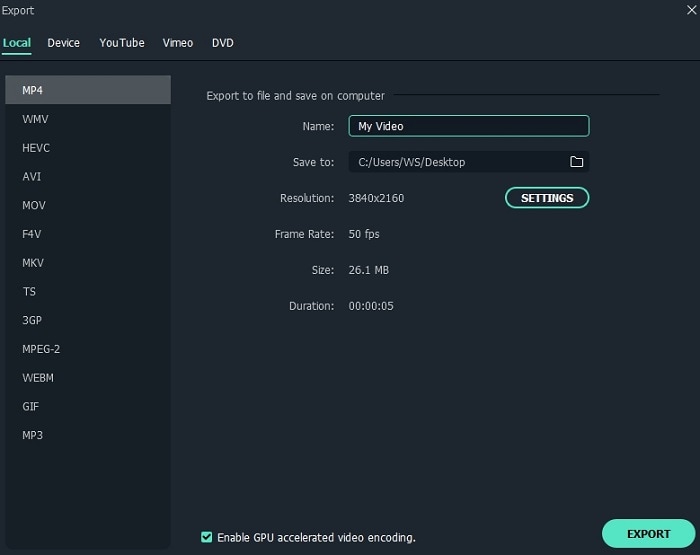 ---
Part 3. Conclusion
All these software options are suitable for sound mixing functions.
Filmora is a comprehensive tool for professional-quality audio editing features with video editing functions on the same platform. For DJs looking to make unique sound mixes, Mixxx and djay Pro are useful, while GarageBand is best for beginners.
Audacity is a good free software option for music mixing if you want open-source benefits. Composers and music producers can also choose the advanced functions of MixPad and Logic Pro for the best results.
Also, we conclude this article by comparing these 7 audio mixer software. It would help if you tried each option before selecting the one that best fits your needs.
|   | Filmora Video Editor | Audacity | Mixxx | MixPad | Logic Pro X | GarageBand | djay PRO |
| --- | --- | --- | --- | --- | --- | --- | --- |
| Price | Version Dependent | Free | Free | Version Dependent | $199 | Free | $49.99 |
| Professional | Yes | Yes | No | Yes | Yes | No | No |
| Varied supported operating systems | Windows, Mac | Windows, Mac | Windows, Mac | Windows, Mac | Mac | Mac | Windows 10 |
| Varied supported formats | Yes | Yes | Yes | Yes | Yes | Yes | No |
| Entails advanced editing features | Yes | No | No | Yes | Yes | No | No |
| Varied Import/Export options | Yes | Yes | Yes | Yes | Yes | No | Yes |
| Fast conversion rate | Yes | Yes | Yes | Yes | Yes | Yes | No |
Part 4. Frequently Asked Questions
Which is the best music mixer app?
With a wide range of advanced sound mixing functions, beat analysis functions, and easy usability, Filmora is the best desktop app for music mixing. It has diverse functions like beat syncing, auto analysis of silent portions in tracks, and volume control. You can later add the right audio to video files during editing.
Which is the best music mixer online?
Logic Pro is one of the top music mixers for online users who want high-quality music tracks. Users can make creative sounds and Dolby Atmos mixes with this software and share them across different platforms.
Which is the best youtube music mixer?
The best music mixers that support YouTube to import or export files are Filmora, Logic Pro, YouMix, Cakewalk, Youtube DJ, and Audacity.