Final Cut Pro is a pro-level 64-bit video editing software for MacOS device users. It is packed with powerful features that professional video creators, hobbyists, and others can use to design the desired video. It is one of the best alternatives to Adobe Premiere Pro but remained in controversy for beginning with a clean slate.
The latest available version of Final Cut Pro is 10.5, which features a magnetic timeline, Multicam footage, special effects, filters, 360-degree video editing, color match, etc. This content will teach you how to match color in Final Cut Pro and much more to help you use color match Final Cut Pro effectively.
What is color match?
When you record several clips under the environment, then there are chances that their colors can be different. With the help of the color match grading feature in Final Cut Pro, video editors can tweak the colors and match it with the other scenes taken place in the same location with the same appearance. This way, all the clips will have the same color that gives your video a stunning look. For beginners in video editing, this is an essential video editing tool to start with. This color match Final Cut Pro option remains present in the "Enhancement" tool.
Is the color match important?
Color Match Final Cut Pro feature is the secret behind why some videos appear so perfect. It changes the overall look and environment of a video. The consistent lighting in all the clips is necessary if you want to make a good impression. A video was taken during the night time, and another in the day will have a significant difference in the color temperature. Therefore, it is crucial to use color match and bring all the right hues together in the entire clips to find it impressive.
Part 1: How to Use Color Match Between Clips in Final Cut Pro
You don't need a mentor for using the color match feature of Final Cut Pro. It is an easy tool to use, but yes, you may need guidance, which we will provide you here. This compact program delivers superb results when used correctly. You can take the example of the color match feature. If a user wants to do Final Cut Pro Color Matching between clips, he has to get familiar with the interface and functions. Unfortunately, this is not a free tool but if you want to experience the standard video editing, consider using Final Cut Pro.
Key Features:
• A lot of motion templates are available for including in a video
• Move and trim clips as per your wish
• Add from the known effects and use plugins that you need
• VR editing is something that no other video program can let you do
• Its color grading feature has some advanced options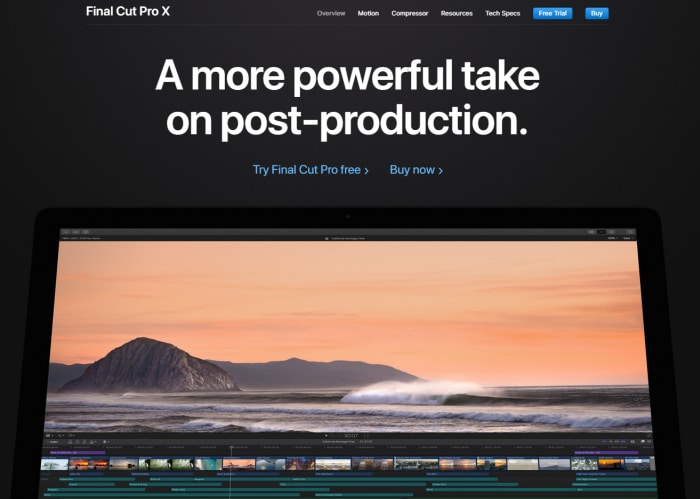 Steps to using match color in Final Cut Pro
Step 1: Launch Final Cut Pro and on its timeline, choose the number of clips in which you want to adjust colors.

Step 2: Tweak them by clicking on Modify and then Match Color. An alternate way is to press Option + Command + M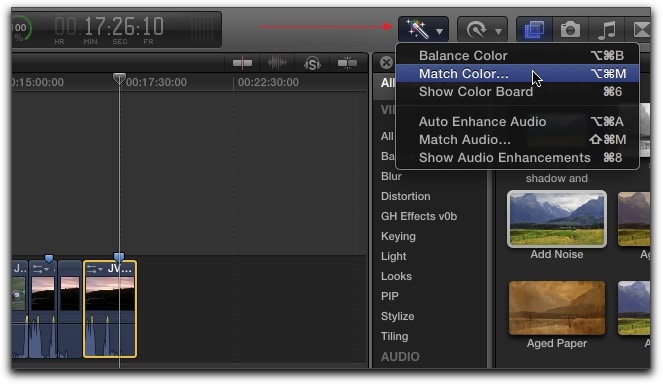 Step 3: Click on the Enhancements pop-up menu present below the viewer and select Match Color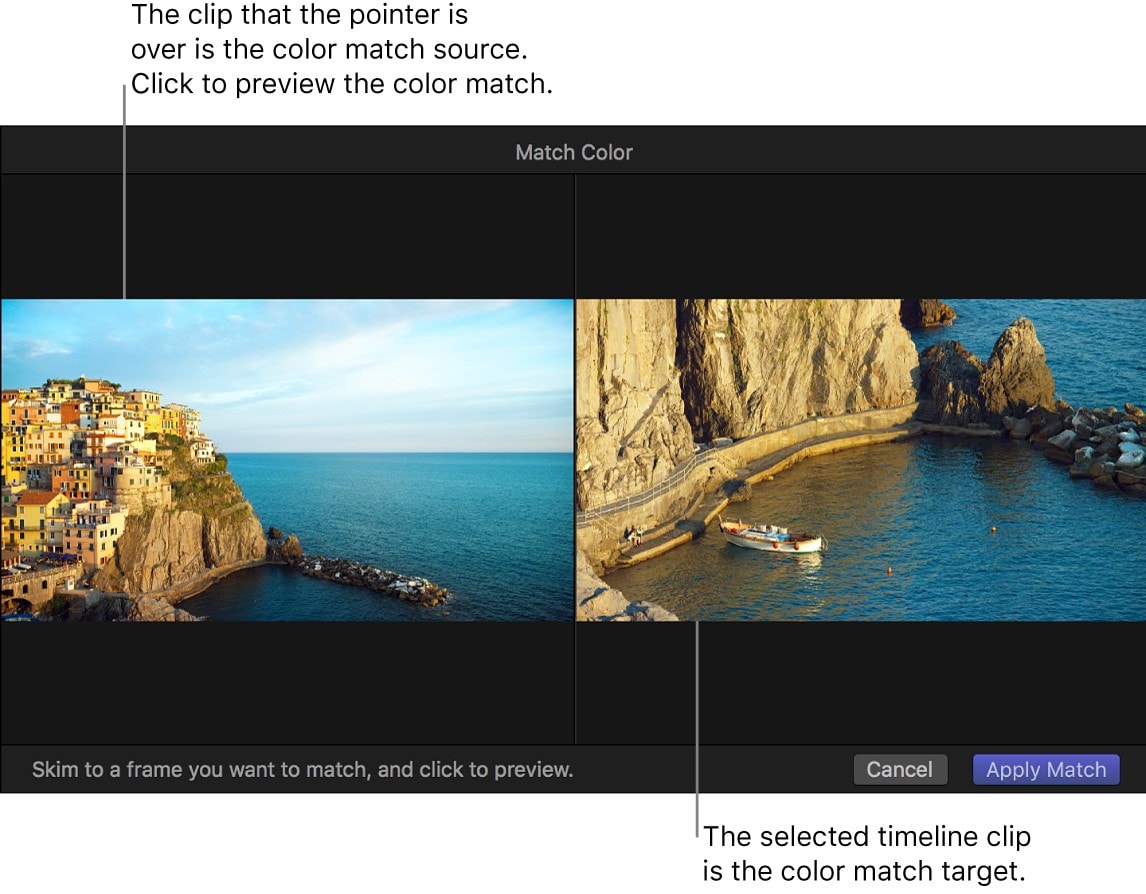 Step 4: Once you selected the Match Color option, the viewer window will shift to show the clip you want to correct the color for the right pane with the instructions. The match color mode disables the function of dragging the play where it is positioned.
Step 5: In the next step, you have to use the Skimming tool. When you move it on the timeline, a camera icon will appear along with the skimmer line. Click on the ones that are not looking good to you. To finish the Final Cut Pro Color Matching between clips, go to the next step.
Step 6: If the appearance looks perfect to you, click on Apply Match.
---
Best Color Matching Tools - Filmora Video Editor
If you are facing problems in using Final Cut Pro, there's an application that does the same thing, and we know it as Filmora Video Editor & Filmora Video Editor for Mac. For creating an eye-catching wedding video, none of the available video editing applications can match Filmora X. This tool provides immense capability to the users for creating the best wedding video. Imagine all your wedding videos arranged in an attractive frame with special effects, filters, and sounds.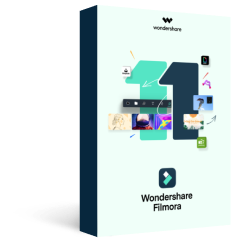 Filmora Video Editor - Best Color Matching Tools
Allow the users to match the color of the clips they want to the mainframe.
Its video keyframe feature displays the parameter changes of the beginning and the end.
Helps you in tracking the objects in the motion of video and adding extra elements to it.
Perform essential video editing functions such as splitting, trimming, rotating, cropping, or adjusting the speed of a video.
Enable you to customize a video in your way.
---
Part 2: Final Cut Pro Vs. Filmora: Comparison at a Glance
When compared, both tools seem unique in their ways, but the win-win situation is with Final Cut Pro. It is much better for complex video projects, and the most significant benefit is its 360-degree VR editing feature. Let' see some of the features that set this apart from Filmora X.
Interface: Final Cut Pro beats the Filmora here. It has a better user interface that makes it easier to use the functions and access it.
Color Match: Final Cut Pro has more color correction options than Filmora offers to its users. However, you may have to pay more for it.
Ease of Use: Filmora is ideal for someone who has no experience in video making and editing, but Final Cut Pro comes with complexity. Only a pro video editor can get familiar with the latter one.
Video Editing: Both of the software is packed with endless features for editing video. Here, Filmora has more editing tools that you are wondering about having in Final Cut Pro.
Plugins: When a tool has many users, the developers focus on creating more plugins to meet their demands. Final Cut Pro will offer you endless plugins as compared to Filmora.
Pricing:Filmora is cheaper but available in three price ranges, whereas you have to spend more than $250 to get the full package of Final Cut Pro.
---
Part 3: Reasons for Setting Color Matching for Videos
1. Adjust color temperature
Outdoor and indoor lighting varies in color temperature, and this thing can affect the video quality. Colors play a crucial role in video making and bringing out the real pleasure of video watching. The lens of the camera can't do that magic, which colors can do in a video. It's a difficult task for newbies, and this requires experience to understand how to match colors for making a video visually appealing.
2. Be real
Color Match adds a real effect to a video. Without it, the video will lack that tone, which audiences are craving to see. Millions of video makers work daily on the color match using this tool. Color match or color correction is a brilliant technique for keeping the audience engaged in your video.
---
Final Words:
Filmora X would be a cheaper choice for you and a good one if you were not an experienced video editor. Moreover, it has equivalent features as seen in Final Cut Pro, but still, some things are there about them that suggest us to prefer Filmora Video Editor & Filmora Video Editor for Mac. It lets you remove a voice from a video, tune color, mix audio, and equalize, and there is much more to discover. Decide according to your requirement and budget, but we will recommend Final Cut Pro only if your account is high.