Drones, also known as Unmanned Aerial Vehicles (UAVs), are rapidly growing in popularity. They make it possible to record epic aerial videos for both professional film productions and recreational drone pilots. Drone footage is often of high quality and offers stunning bird's-eye views.
However,
It is inevitable that Drone footage always contains lots of unwanted parts when you wish to sharing or creating a Drone video with your friends. So, you need a video editing program to cut out the parts you don't want.
What's more,
A video editor will also help to stabilize the video if your drone was shaking in the wind as well as optimize the quality of your recording by adding interesting filters, transitions, graphics, and background music to make the video even more interesting for the viewer.
Today, you can get a variety of good drone video editing software for every skill level. Choosing the right video editor will enable even an inexperienced beginner to create high-quality drone videos that are a joy to watch.
[Entry Level] BEST Drone Editing Software for Mac and PC
1. Filmora Video Editor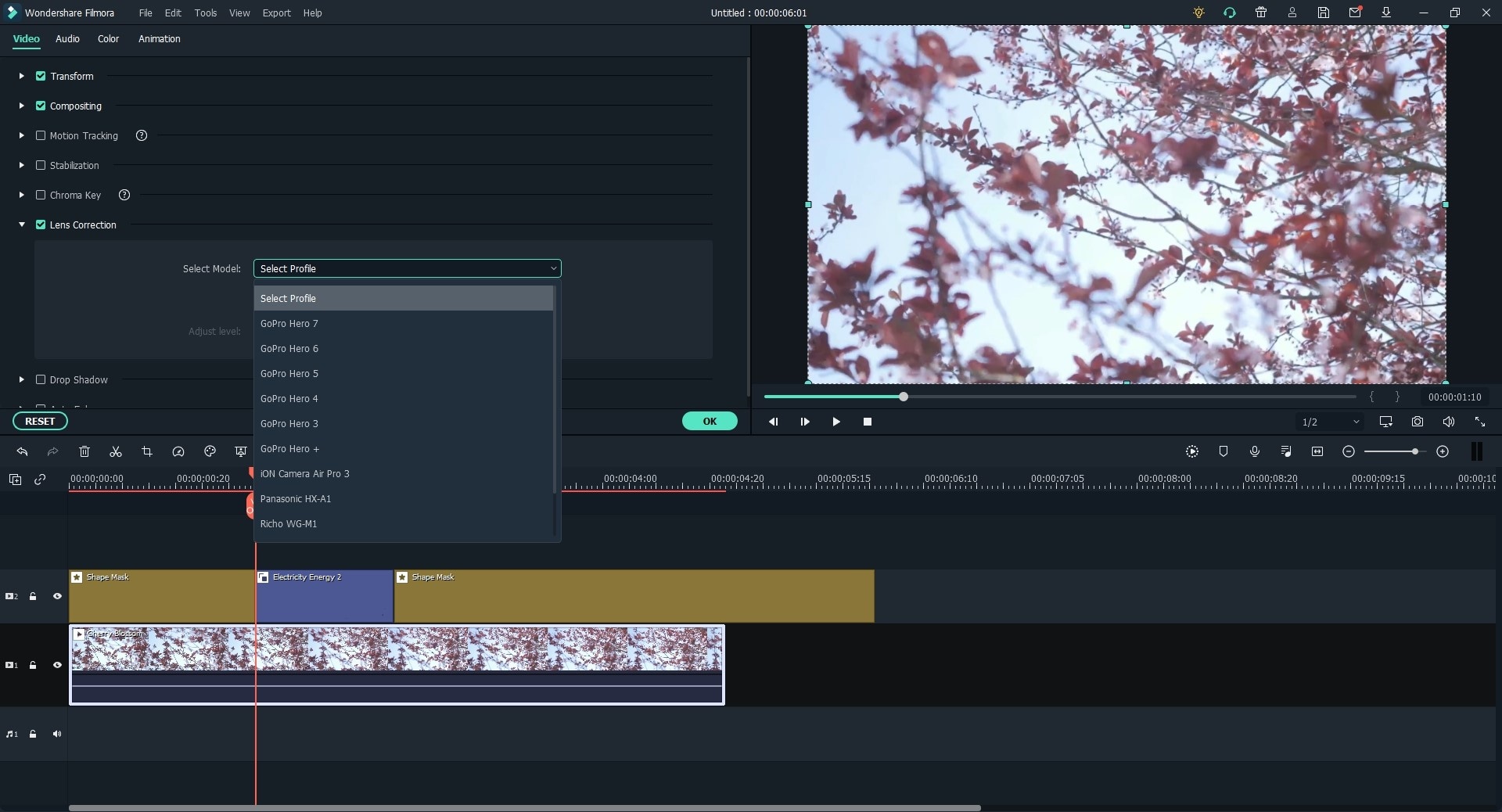 When you need a program that you can use to edit drone videos quickly and easily, Filmora Video Editor is an excellent choice. The software is extremely easy to use and offers a full range of powerful video editing tools.
Users have access to over 500 special effects, most of which can be tweaked and customized. Plenty of stunning filters, transitions, overlays and animations are also available which make it easy to get started with video editing. With this inexpensive program, even first timers can make professional looking drone videos.
---
2. iMovie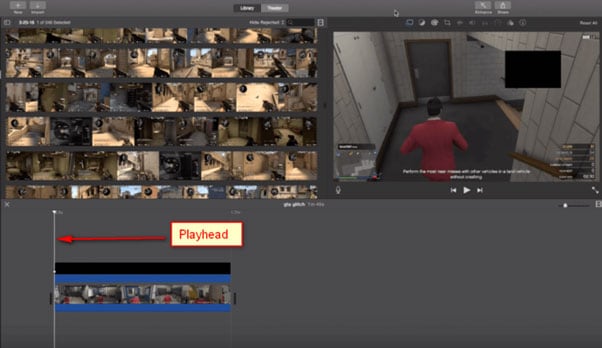 iMovie comes pre-installed on Apple computers. It features a minimalist interface and offers all the video editing functions that you would need to make basic edits to drone footage. It has two video tracks and two audio tracks that you can use to combine multiple clips.
Using this simple program, you can add titles, transitions and video effects. You can also cut, crop, rotate and zoom a selected area, as well as adjust playback speed and the length of transitions between scenes. iMovie works well with most video formats and supports editing in HD or 4K resolution.
---
3. Windows Movie Maker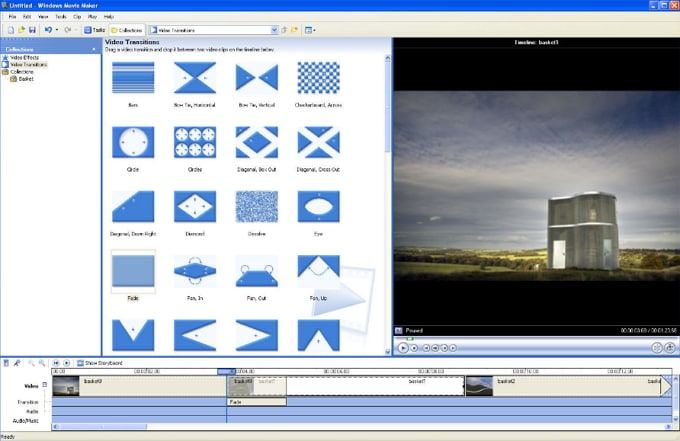 Once popular for creating slideshow videos for birthdays, holidays and parties, many are already familiar with Windows Movie Maker. Its video editing tools are very basic but not surprising since it is a free program. Using Windows Movie Maker, you can apply a variety of fonts and video effects to your drone footage. Trimming and merging clips as well as adding background music are easy to perform. This software is very easy to use but it is no longer officially supported by Microsoft. If you can find it, it can still be installed and used.
---
4. GoPro Studio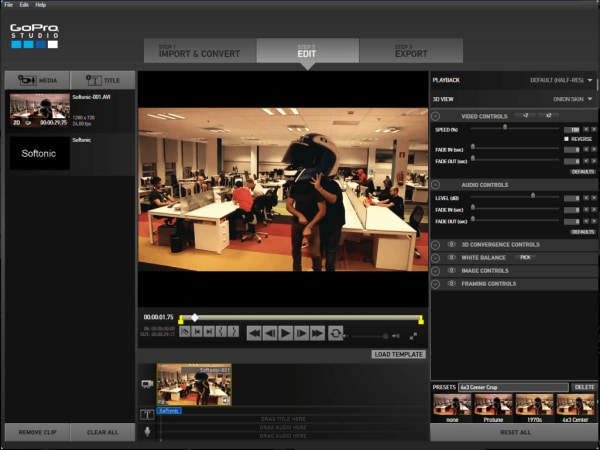 As the name suggests, this entry-level video editor is designed for GoPro camera users. It offers basic tools to edit drone videos, but can also update your GoPro camera firmware.
It has fewer functions and features than similar video editors which limits its capabilities but accommodates beginners and inexperienced users. Using this software, you can easily import video files from your camera and perform basic edits such as trim, cut and join video clips, as well as add titles and music. You can also use GoPro Studio to adjust the color balance of your video and change the playback speed.
---
[Intermediate Level] Drone Editing Software for Mac/PC
1. FilmoraPro Video Editor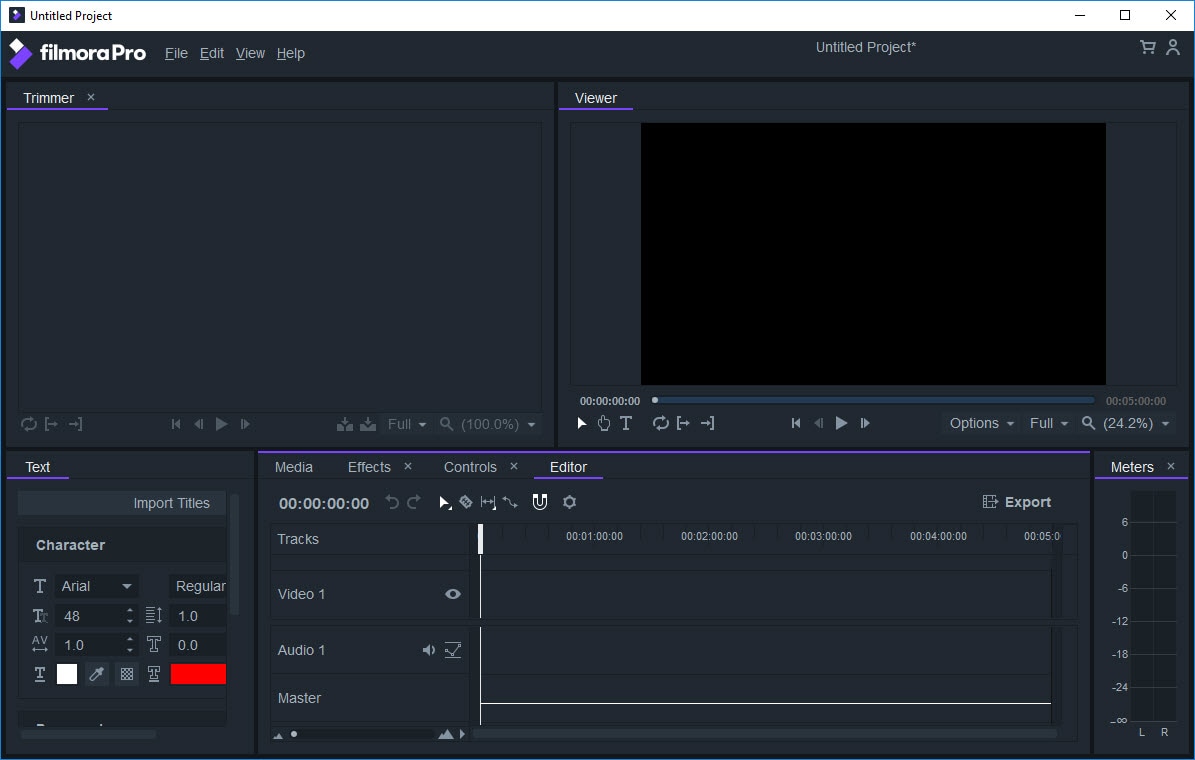 FilmoraPro Video Editor is a budget friendly video editor that offers advanced tools suited for more experienced users. Its simple and intuitive layout makes it is very easy to use. It offers unlimited tracks which allows you to work with as many video and audio tracks as you want.
In addition to the usual editing tools such as trim, crop, merge, cut and split, users also have access to advanced video editing tools including rate stretch, slip, slide, ripple edit, and more, to help produce high quality drone videos. If you are familiar with Adobe Premier Pro and need a software tool with similar advanced features and functionality at a lower price, this is the perfect video editor for you. .
---
2. WeVideo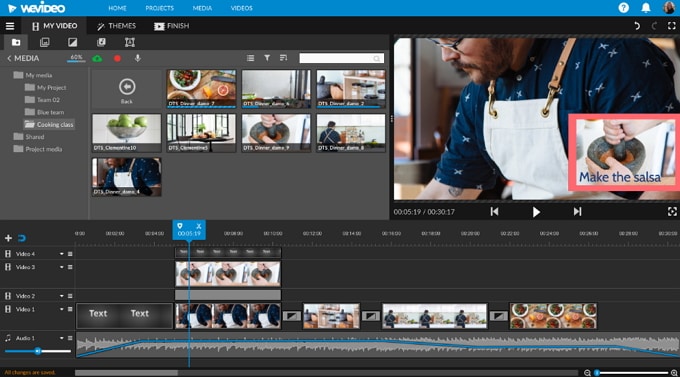 WeVideo is an easy to use, cloud-based video editor that can be used to edit 4K drone footage. Since it is cloud-based, it can be accessed from any computer or device with an internet connection. It supports most media formats which helps to provide a smooth video editing experience. On the program users can find all the basic video editing tools such and can cut & trim clips, apply special effects, filters, transitions and overlays, and add music and text. Other advanced features are also available including, WeVideo JumpStart, Cloud storage, screen recording, Green Screen effect, Music library and playback speed control.
---
3. Lightworks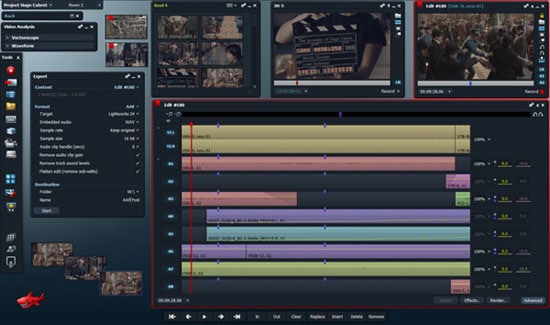 Lightworks is a free video editor that offers intermediate level tools to edit drone videos. It offers basic and advanced tools that provide good control over all the aspects of video editing. The UI looks somewhat outdated but is still easy to use.
You can easily drag and drop clip sequences, add audio tracks and special effects to your drone footage. Users can also use the video editing tools to cut, trim, crop and split clips. The free version of Lightworks only allows users to export edited videos at a maximum 720p and limits video formats to MPEG4/.
---
4. Cyberlink Power Director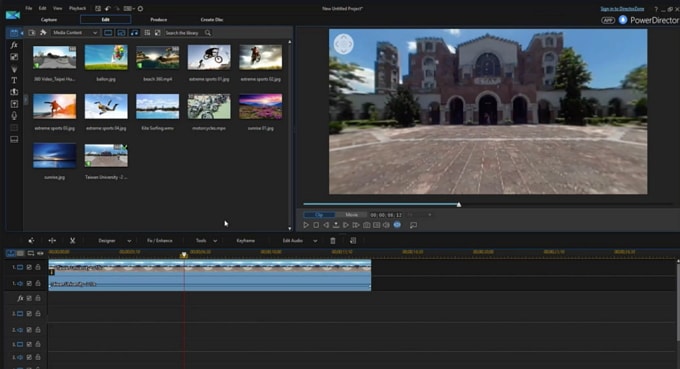 Cyberlink Power Director is a mid-range video editor that provides a good balance between advanced tools and user friendliness. It provides a wide range of features and functions that are suited for 360 degree drone footage, 4K resolution and multicam video editing. With the program users can perform all the usual video editing functions as well add filters, transitions, special effects, graphics, music and text. This software provides interesting features such as True Theater Color technology which autocorrects video color and Magic Movie Wizard which can automatically edit your drone video with just a few clicks.
---
[Advanced Level] Video Editor for Drone Footage
1. Adobe Premiere Pro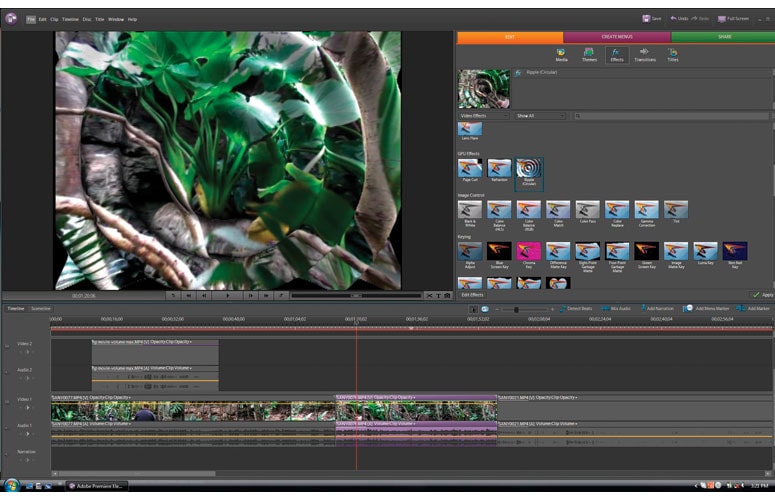 Adobe Premiere Pro is a popular professional video editor that offers advanced video editing functions. Its UI is clear and easy to navigate despite its wide range of tools and features. This greatly simplifies the operation of the software tool and provides full control of every aspect of the video editing process. Adobe Premiere Pro is compatible with most media formats and is capable of processing drone footage in UHD and 4K. Using this software users can trim, cut & append clips, do color correcting, apply filters & special effects, add music, graphics, titles, overlays, transitions, text and much more.
---
2. Final Cut Pro X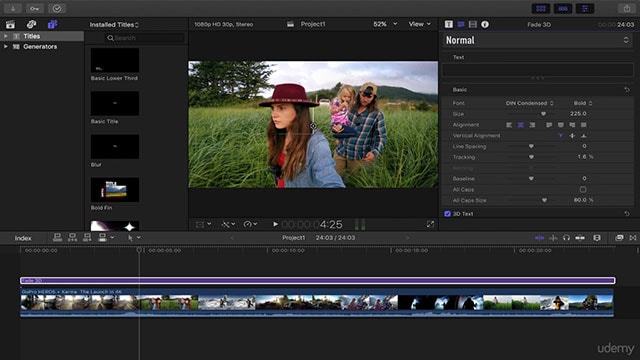 Final Cut Pro X is a professional MacOS video editor designed especially for experts and semi-professional videographers. It is used by some Hollywood filmmakers and is credited for editing some well-known blockbuster movies. It features a comprehensive range of tools that provide a high degree of control for every aspect of drone video editing.
This program has a simple UI that is similar to iMovie, which helps to make it less intimidating for users familiar with Apple's entry-level video editor. Users have access to wide selection of special effects, filters, overlays, transitions and audio effects. Advanced tools include 3D & 360-degree video support, multicam editing, XML exporting and HVEC support.
---
3. Avid Media Composer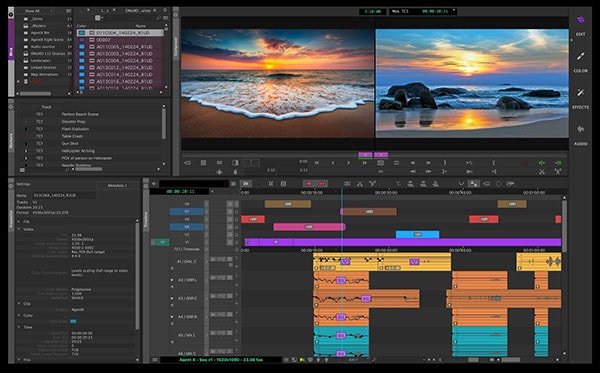 Avid Media Composer is a professional video editing software that can be used to edit drone footage. It is often used to edit mainstream TV shows and movies. This software provides powerful advanced in a complex, feature-rich UI that is suited to advanced users. It is compatible with most video formats and can work with different resolutions from SD up to 8K. Using its cloud options, users are also able to access and edit their drone videos remotely. Some of its pro-level features include support for any aspect ratio, support for UHD video, Avid DNxHD codec, 3D & multicam editing, FrameFlex and Audio Dupe Detection.
---
Conclusion
Choosing the best video editor suited for your skill level will help you get the most out of your drone footage. With the right software tool, you can effectively create high quality and entertaining drone videos at your home without wasting time learning to use a program or spending more than you need to.
So,
If you are a beginner looking for a drone video editor with a good mix of features to allow you to explore your creativity while being easy to use, light on system resources and budget friendly, go with Filmora Video Editor. If you are already familiar with video editing and need more advanced tools to better enhance your drone footage, FilmoraPro Video Editor is perfect for you.