What is a Snapchat filter? How to make a Snapchat filter? Snapchat is a popular social media platform for people to share their moments with their friends. You can view live stories, photos and more on Snapchat and best understand what's going on with your friends. When you share photos on Snapchat, you are able to add face filter or other filters to the picture. There are many type of filters on Snapchat that you can apply to your photo, which is called Geofilters. These Geofilters are normally words associated with the photos location or graphics based on specific images. In this guide, we will share detailed guide on how to make Snapchat filters easily.
Part 1. The Common Way to Make A Snapchat Filter
Snapchat allows you to create a filter for your photo directly. You are able to apply filters to show off your business or celebrate an event. It is the best way to add reference frame by using the filters. You can choose filter themes like wedding, birthday, party and more. Where are the Snapchat filters? Below are detailed step-by-step guide to help you to make a Snapchat filter.
Easy Steps to Make A Snapchat Filter
Step 1. The first step is to log in your Snapchat account. You can log in on your desktop computer or laptop. If you do not have a Snapchat account, you can register one for free with your personal information input.
Step 2. And click on the "Create Filter" option to start your Snapchat filter creation.
Step 3. This step is to select the occasion that you would like the filter to use for. This can be done by clicking the "Design Online" in the scrolled down menu.
Step 4. Now it will come to the step to design your filter.
• Navigate to the left side of the interface, you can choose a template for the filter. There are many templates for you to choose. Just select the one that fit your theme.
• And then move to the right side to select a color palette. Click on the color palette, and you can use the color picker to pick your wanted color for the filter. Just click on the color and apply.
• Next, you can type new text for the filter. And there are options for you to do any change on the texts. You can change the size and font of the text.
• And then select a new picture and upload it from your local folder on your computer.
• There are options to add Bitmoji and friendmoji. You can tap on the "+ Friends" and then pick up a pal when you add stickers.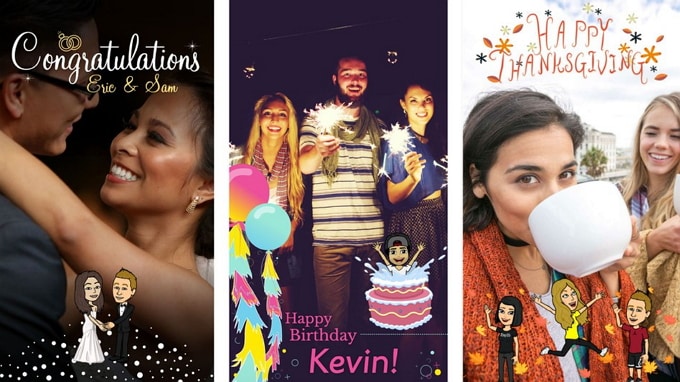 Step 5. If you feel the filter that comes with the look in the right way, just click on the "Next" button to move onto next step.
Step 6. It will come to the option to set the location for the filter you have made. You can simply type in your address. And click on the "Draw Fence" and then map out the location you would like your filter to be active in the map.
Step 7. It is possible to set the start time and end time for the filter. You can make the filter display on certain time daily or weekly by clicking on the "Repeat Event" option.
Step 8. If you confirm that the Geofence is OK and look good, you can click on the "Checkout" button.
Step 9. The last step is to give a name for your filter. And enter your private payment information. Lastly click on the "Submit" button to send the filter you have made to the Snapshot customer service team for approval.
---
Top 5 Most Popular Snapchat Filters
1. Hip Glasses
This Snapshot filter combines cool and reflective glasses. If you want to use this filter on your video, you can design it with beautiful background music.
2. Rainbow Vomit
This Snapchat filter is designed with rainbow. And it comes with the feature for people to paint the rainbow on their chins that use on the Halloween theme.
3. Puppy
This is a funny Snapchat filter with a number of puppy template for one and more people decorating on the photo. The puppy templates are interesting and cute.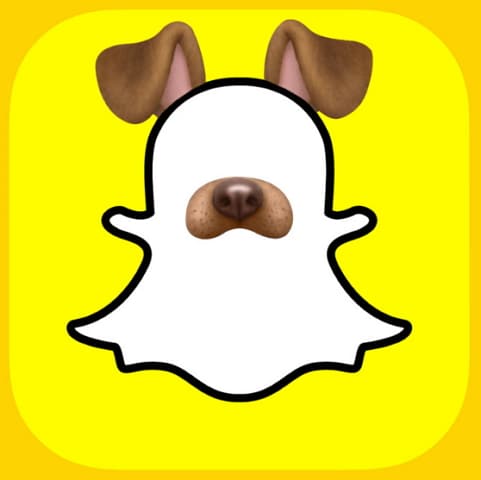 4. Face Swap
This kind of Snapchat filter is very interesting. By applying the filter, you can swap the face with your friends' face. For example change a woman's face with a man's face.
5. Flower Crown
This is a beautiful Snapchat filter. You can decorate your photo with the flower crown. And there are a large number of flower crown templates to fit your different theme photos.
---
Part 2. Best Way to Get Snapchat Video Filters on Computer
To make things simple, Filmora Video Editor for Windows (or Filmora Video Editor for Mac) is designed to offer you a large number of free filters that you can apply for your Snapchat photos. Simply drag and drop to add the filter to your picture without additional operation and skill. And the filter templates are as many as possible to fit any theme. In addition, this program is also the multi-functional video editing software allowing you edit and customize your videos and photos easily. With it, you will have handy and easy video editing tools as well as professional advanced video customization tools. Besides, there are a number of free effects to help you to personalize your videos. Its continuously update feature can meet you demands on video editing on any occasion.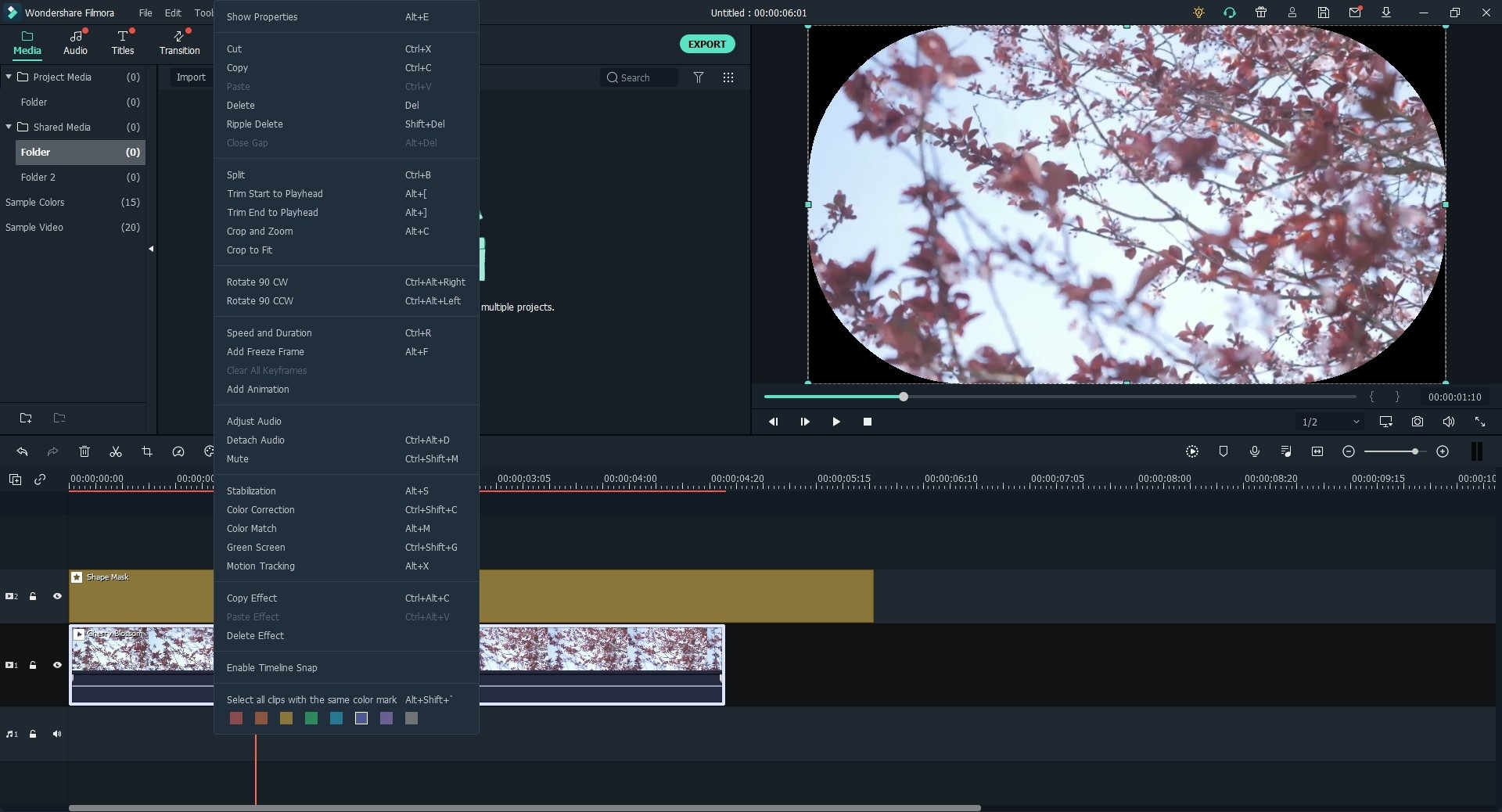 Why Choose This Snapchat Filter Software:
There are more than 200 free filters and overlays that you can use for your photos and videos.
It is easy to split, rotate, crop, trim, adjust speed and brightness, and combine videos.
You ca have advanced editing tools like color tuning, video stabilizing, green screen, PIP, etc.
It also offers you with a wide range of amazing effects, including texts, transitions, elements, and more.
Also you can have many options to export your video and photos to any format or upload it to the social media sites.
Easy Steps to Get Snapchat Filters for Videos and Photos
Step 1. Install and Launch Filmora Video Editor
First get the Filmora Video Editor download on your computer. And activate the installation wizard by double clicking on the program file. You can follow the built-in instruction info to process the installation step-by-step. When it is done, run the program automatically.
In the program main interface, you can click on the "FULL FEATURE MODE" option to open the working board for adding filter to the videos.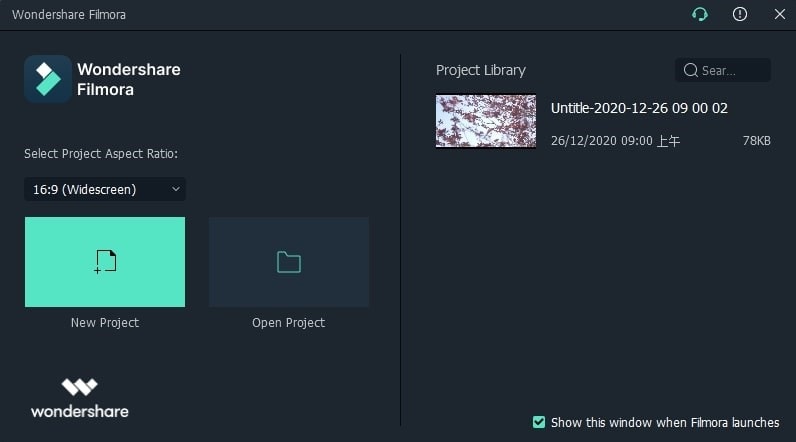 Step 2. Import Your Photos and Videos to the Program
And you have to load the pictures and videos that you would like to share to Snapchat to the program. On the left side window, you will see the "Import Media Files Here" on the media library. Click on the button and you can select your local photos or videos and import them to media library of the program.
It also allows you to import the videos or photos shot by your camera or phones. To do so, click on the "IMPORT" button and choose the option of "Import from Camera or Phone…". And add the file you captured to the program.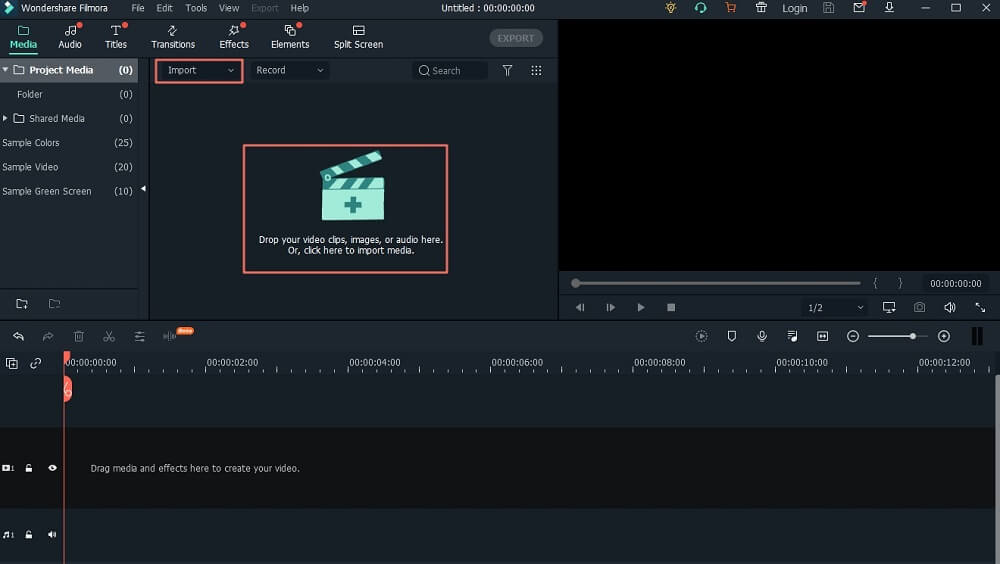 Step 3. Add Filters and Overlays to the Videos
Drag the video file from the media library to the timeline. And click on the "FILTERS" button above the timeline to open the library for filter templates. There are a number of filter template in various theme and effect. Double click on any of the filter and it will be added to your video in the timeline.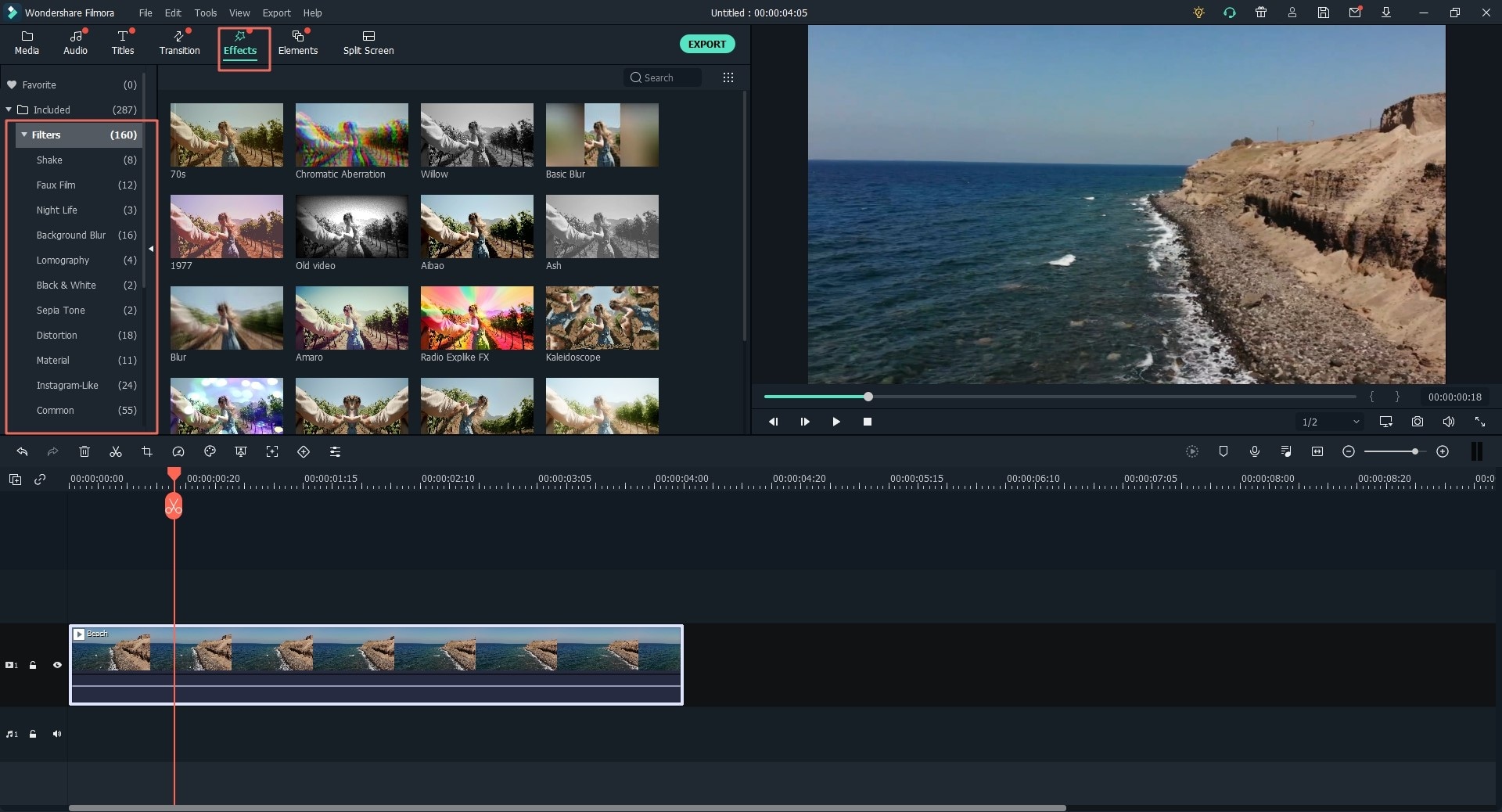 To add overlays to your video, you can click on the "OVERLAYS" button above the timeline. And select the overlay template from the library. And then drag it to the timeline to apply it to your video.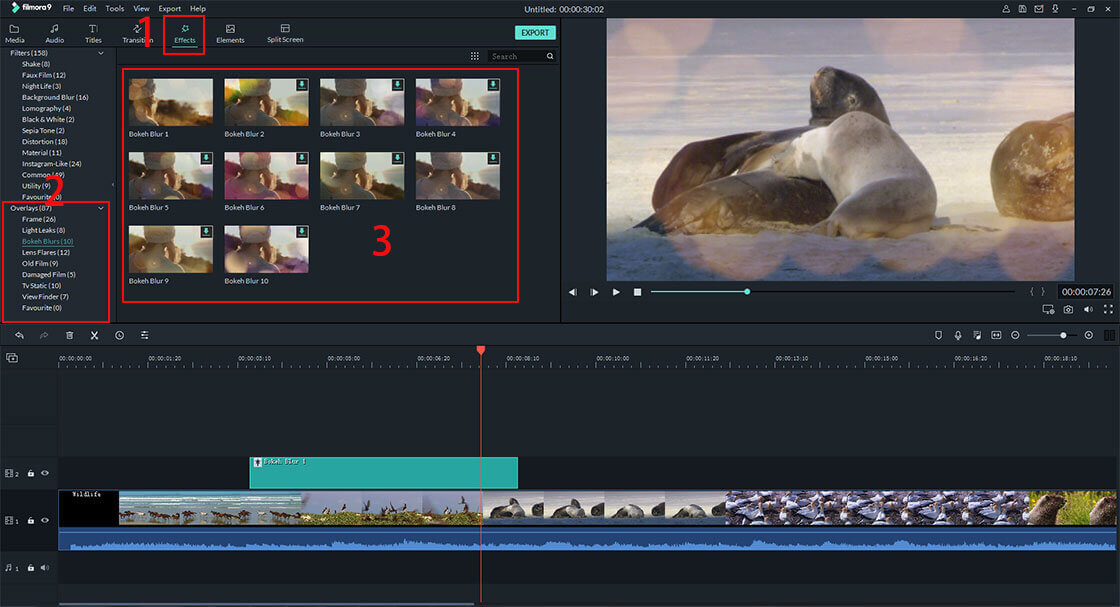 Step 4. Add Elements to Your Videos
You can also add elements to your videos to make them look interesting and funny. Click on the "ELEMENTS" button above the timeline, and you are able to choose any wanted element and add it to your video. You can put the element to any place of your video or change the position you want.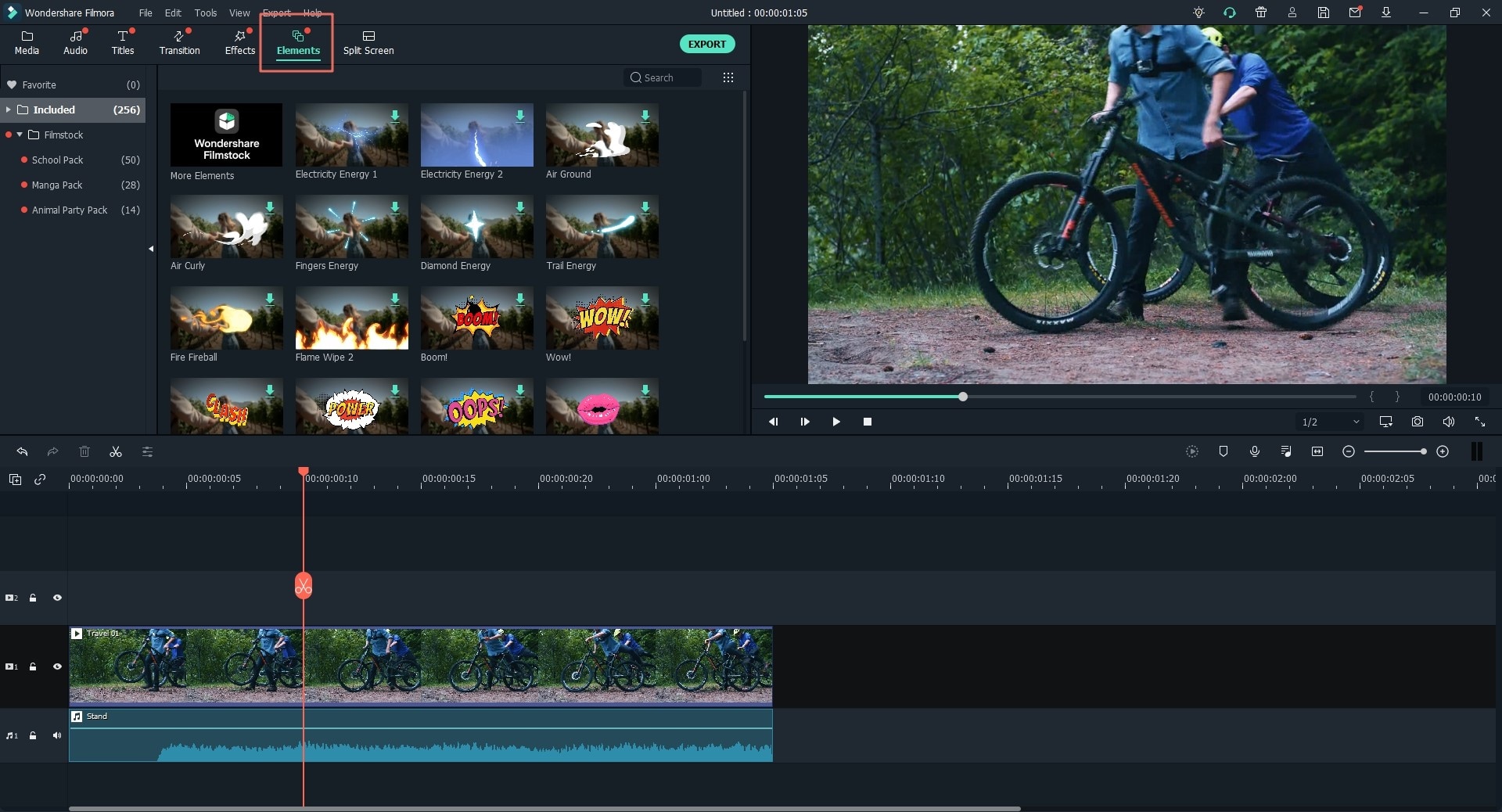 Step 5. Export the Video with Filter
When you confirm your video editing, you can click on the "EXPORT" button to choose the way you want to save the video. It allows you to convert the video to most popular format or preset for your mobile devices. And you can also upload the video with filter to your social media account.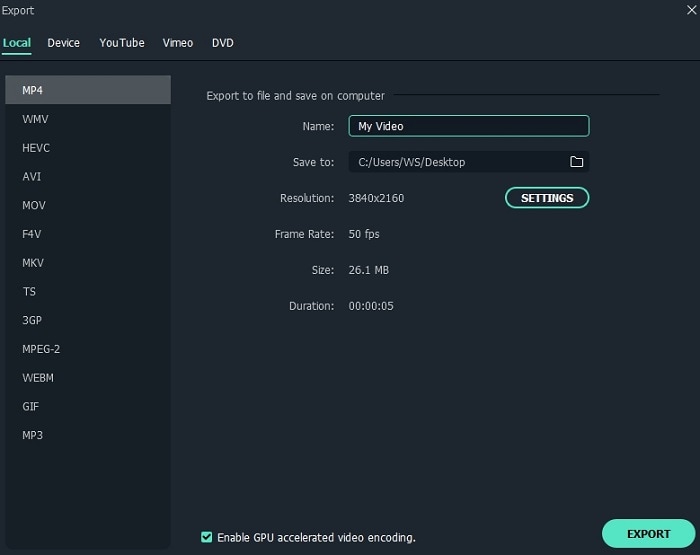 ---
Part 3. Top 8 Snapchat Filters Apps on Android and iPhone
1. Masquerade (for iOS and Android)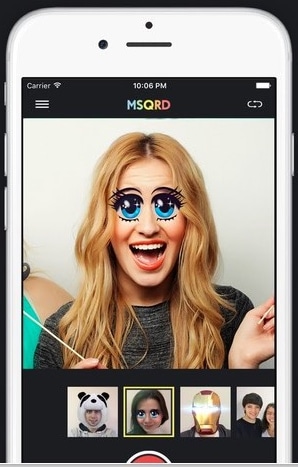 Masquerade is a Snapchat filter app for iOS and Android devices, also known as Snapchat alternative. It is a popular filter app for selfie. And it can work perfectly on animating the faces of people in any interesting and odd ways. You are able to use Masquerade to make both videos and photos live for broadcast to all your fans and friends on your Facebook.
You can get Masquerade from Facebook. So it can take the technology advantage of this social media giant to apply the filter to your Instagram stories as well. Now you can still download and use Masquerade on your iPhone or Android phones. However, it does not support regular updates at current time.
Pros:Design your photos and video with amazing filters. And turn your face to zombie, panda, even can do face swap.
Cons:It does not update for a long time.
Price:Free.
Support OS:Requires iOS 8.4 or later.
---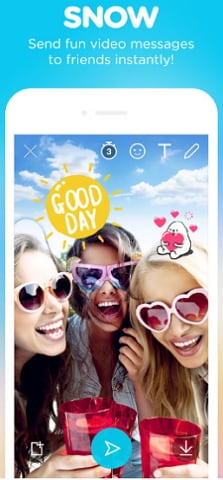 SNOW is a Korean produced Snapchat filter app for iOS devices. It is known as a replacement of Snapchat. SNOW is focus on filters and provides you with a large number of crazy and interesting filter effects. You can get the filters like eerily similar, ridiculous filters and other popular filters you can find from Snapchat.
In addition to the wide range of stickers and filters options, SNOW also works well as a chat app. And it also features with GIF function and 48-hours stories. If anyone want to take a screenshot, you will get notice, which is just like the feature of Snapchat.
Pros:Not just work for Snapchat filters, but also comes with features of stickers, GIF and more.
Cons:The new version of SNOW might miss the function of video calling your friends.
Price:Free.
Support OS:Requires iOS 9.0 or later.
---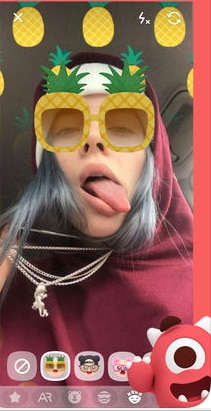 BOO! Is recommended here as a Snapchat filter app for Android and iOS devices. It is worth choosing if you do want enough funny Snapchat filters. If BOO! is integrated with other apps, it has the ability for selfie or create a video or broadcast video live to your friends. With BOO!, you are able to add caption or subtitles or draw doodles directly on your videos and images.
Pros:It comes with the similar feature as Snapchat allows you to add filters, captions and doodles to the photos and videos.
Cons:You will have limited filters with this Snapchat filter app.
Price:Free.
Support OS:Requires iOS 10.0 or later.
---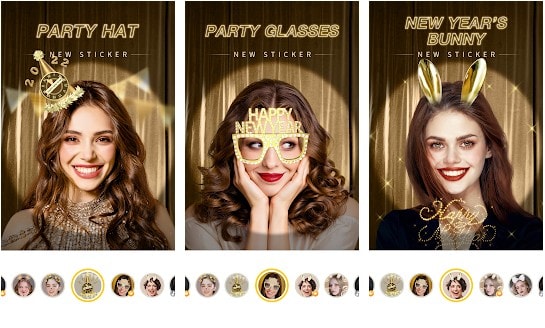 Camera360 is similar to SNOW that is designed with wide range popular filters for face. This Snapchat filter app also made from Korea. You can choose from more than 100 filters for your photos and videos. It has the ability for selfies as well. With Camera360, you can combine your crazy and odd looking selfies with filters and editing effects for enhancing the videos and photos, which is quite different from other apps including the Snapchat. This Snapchat filter app is best for whimsical look animation.
Pros:It allows you to create Snapchat photos with wonderful filters and other editing effects.
Cons:It will take long time to open the camera for selfies.
Price:Free.
Support OS: Requires iOS 8.0 or later.
---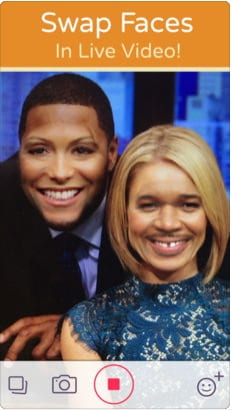 Face Swap Live is a simple Snapchat app that come out with face swap filter earlier than the Snapchat itself. This app lets you to switch faces between yours and your friends' in real time while you are shooting videos or capture a photo. It also allows you to import the local photo and swap the faces of the persons in the photo. The Lite version of Face Swap Live is a free Snapchat filter app. And you can update to the pro version for unlimited advanced features. Face Swap Live can be your best choice if you are looking for a swap face app for your iPhone or Android device.
Pros: It comes with the advanced swap face filter and many other useful features for making Snapchat photos and videos.
Cons:If you do not have a high resolution camera on your device, Face Swap Live will not be able to recognize your face.
Price: $1.99.
Support OS:Requires iOS 8.0 or later.
---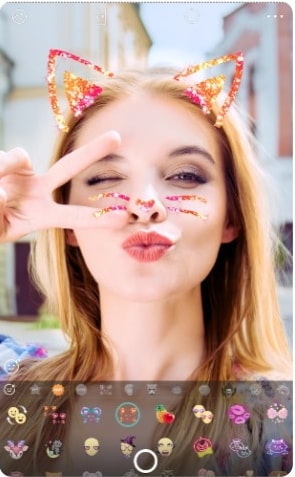 B612 Selfiegenic Camera is an Android app to create Snapchat filter effect. It has collected more than 300 million global users. People can take portraits and selfies with the live beautification adjustments. It can recognize your face while you taking photos or videos and then apply cute filters including animals to your face. And you are able to design your photo on the screen directly. The real time picture optimization helps you to produce high quality and beautiful picture to share with your friends.
Pros:It allows one click to optimize your picture on the device screen and provides you with a large number of filter templates.
Cons:It might get stuck sometimes and without updated version to solve such problem.
Price:$1.99.
Support OS:Required Android 4.3 or above.
---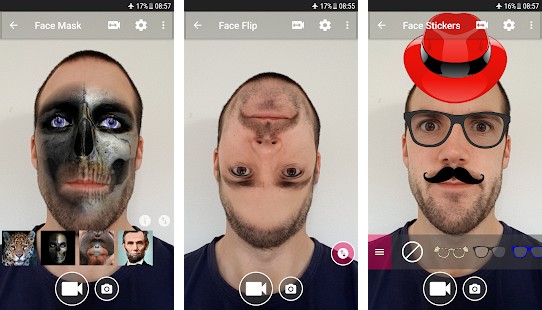 Face Changer Video is another Snapchat filter app for Android devices. It can be the best face warp application for Android phones and tablets. You can apply funny effects like face warp to your videos and photos with Face Changer Video. Besides, it allow you to add stickers like glasses, hats, moustaches and many others to your selfie videos and photos. You also can use it to swap face between people on the screen.
Pros:It provides you with a large number of animal live filters, funny face effects, face stickers, and more.
Cons:It might not function properly sometimes.
Price:Free.
Support OS:It supports Android 4.3 or above.
---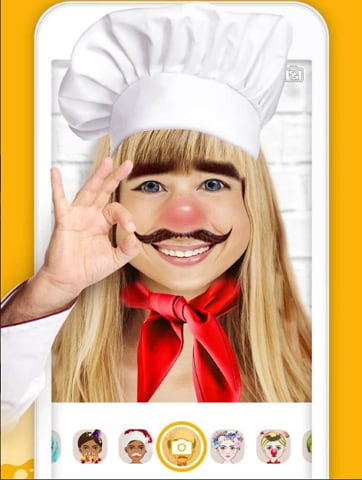 YouCam Fun – Snap Live Selfie Filters & Share Pics is another Snapchat filter app for Android phones and tablets. You can use this filter app to make funny selfie videos and photos quickly. It comes with many useful features for creating selfie in a fun way. You are able to add animation stickers, real time filters, picture effects, motion stickers and more to your photos and videos. There are also many other picture effects that you can use like animal face, new hairstyle, etc.
Pros:There are a number of photo and video effects to make your selfie fun and interesting. And it is easy to use.
Cons:You might get stuck with the program while you are shooting pictures.
Price:Free.
Support OS:Required Android 4.0 or above. .
---
Part 4. 6 Ways to Make A Snapchat Filter Online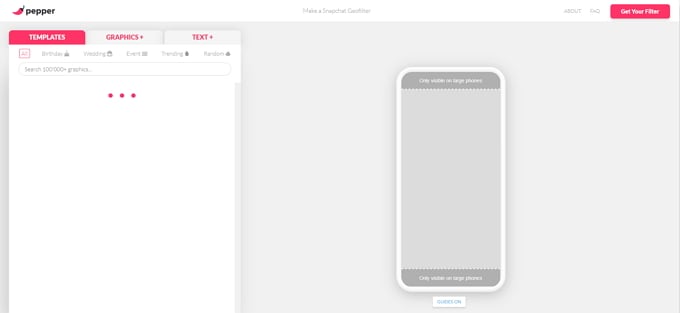 pepper is an online tool to help you to make a Snapchat filter on the web without any downloads. It comes with a large number of free filter templates including birthday, wedding, event, trending and random. And it provides you with many animal graphic filters. In addition, you are able to add texts to your Snapchat photos.
---
2. Canva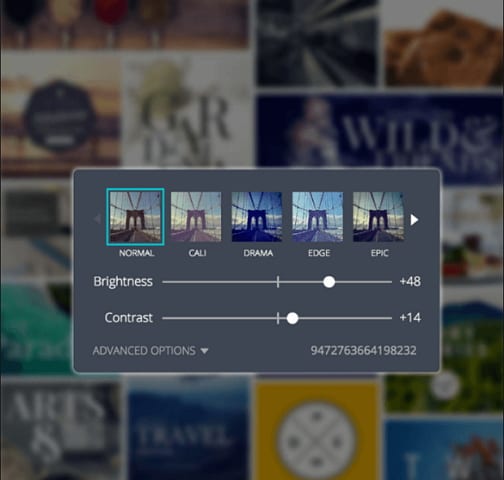 Canva is another web based tool allows you to create Snapchat filter online. You can use it to make eye-catching and unique Snapchat Geofilters. Canva lets you customize a Snapchat filter for occasion, event or outing with the built-in and easy-to-use design tools. With it, you are able to make funny pictures by adding dog filters, doe-eyed deer, and many other filters.
---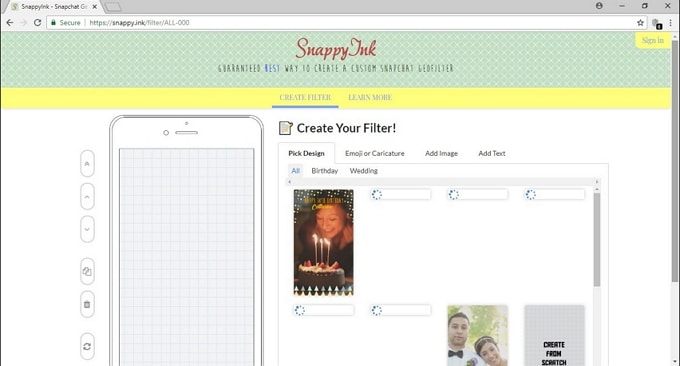 Snappy Ink enables you to customize a Snapchat filter online for free. It is powerful yet comes with intuitive interface for easily creating filters. This web is mobile friendly so you are able to use it to create Snapchat filter on your iPhone or Android without hassle. When working with Snappy Ink, the creating and process move smoothly.
---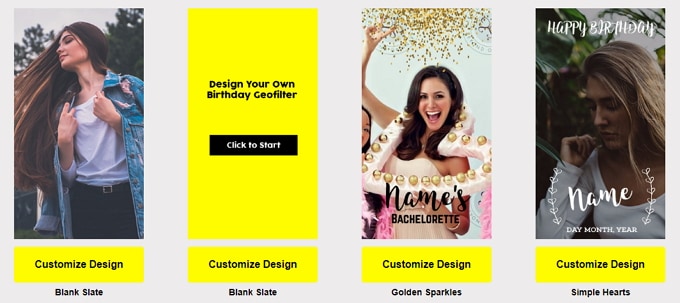 FilterPop is a one-stop Snapchat filter online creator that allows you to make Snapchat Geofilter graphic directly online for totally free. With it, you can launch your Geofilter, find a Geofilter or edit a Geofilter on Snapchat directly without account switching. You will have thousands of filter templates to choose from. And it let you customize your design easily without extra training.
---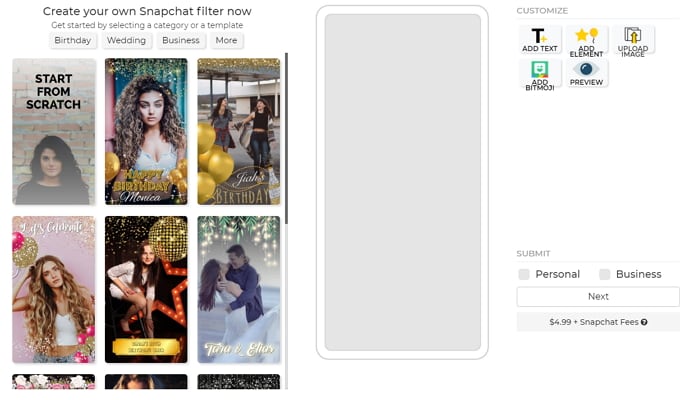 SwipeStudio is secially designed for Snapchat filters that used in wedding, birthday, baby shower, EID AL-ADHA, business, and many others. It lets you to create and customize your own Snapchat Geofilter online for free in just a snap. This online service has got more than 50000 happy users. And you are able to enjoy more wonderful filter templates for $4.99 payment.
---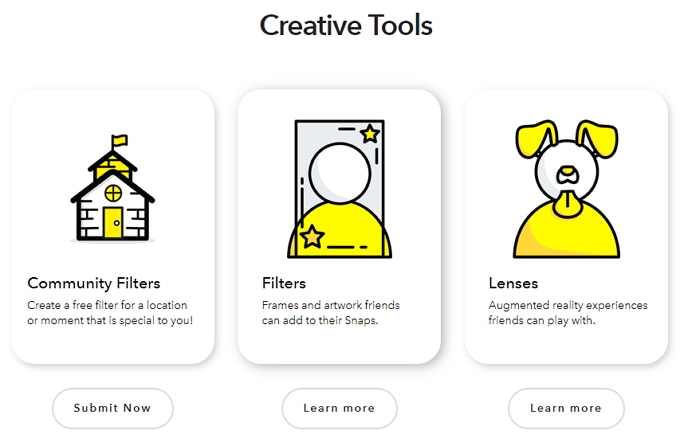 Snapchat itself enables you to create your own Snapchat filter online directly. With it, you can customize your own filter and lens for your photos and videos. Whether it is your friends' wedding or a birthday event, Snapchat lets you personalize your event and make it look special. Click on the "GET STARTED" button and you will be able to make a free filter for the moment and a certain location.
---
Part 5. [Tips] How to Use Filters on Snapchat Video Call
When you are chatting with your friends on Snapchat, how do you use the face filter? Below we will share the step-by-step guide on how to use filter on a Snapchat video call.
Step 1. If you want to use filter effect while you are chatting with your friend on Snapchat, you need to trigger the ELM (Expanded Local Media) to use the lens.
Step 2. Now navigate to the button of the screen and tap on yourself viewing bubble. This will expand to turn to third of screen for creating filter.
Step 3. Tap and hold your screen until you see icons for the filter creation pop up. You can slide left or right to get many face filter templates.
Step 4. Simple select your desired filter template and tap on it to apply it to your screen. You have done the Snapchat filter when you are chatting with your friends.