Rolling over the internet, you must come across the question. Can you make money on YouTube? The latest study on YouTube reveals that around 1 billion hours of videos are being watched every day with the 2 Billion active viewers worldwide. This directly concerns the dollars amount as millions and billions of dollars are in motion with the hike in YouTube users. But how do people make money on YouTube? You can find the secret of their success by browsing the video of the wealthiest YouTubers.
With the increase in video marketing trends, YouTube is now the top second platform on the internet with the highest traffic ultimately. With this much development and spike in the viewers, you might be thinking, can you still make money on YouTube? Well, the answer is affirmative! It just increased your chances of earning more money with this much pile of content creators and viewers. Here in this ultimate guide, we'll discuss ways to make money on YouTube. Learn more here.
Monetize on YouTube in Different Ways
With such a mountain of a significant audience, every digital marketer sees the YouTube platform as a way to multiply their worth. But before you dive into the YouTube channel, you need to research effectively on how do I make money on YouTube. This section will demonstrate to you with valid and useful facts on monetization tips and techniques you can opt easily.
1. Make money on YouTube with your YouTube video
The best way to giving it a blow is starting from your channel and making your content. It's maybe an easy way to make money on YouTube as embarking with your first project with someone else's content might limit you to the copyright claim and left you with no choice other than halting your channel. While considering that, this might be the best way to make money on YouTube. You can easily thrive on your channel with the upcoming tips concerning that method.
Improve your video quality with Filmora Video Editor
Meanwhile, getting views that will lead to the subscribers is your primary aim for creating a YouTube channel. But the critical component which will help you achieve that aim is a toolkit like Filmora Video Editor & Filmora Video Editor for Mac that empowers your creativity and make your content a professional and eye-catchy touch, which is a requirement to make money on YouTube.
According to the study by Omnicore, it is stated that the YouTube algorithm automatically suggests around 70% of total videos watched on YouTube and YouTube only offers a video if it is of high-quality. Great engaging content, so the viewers will consume more time. This can only be done with a resourceful video editor that allows you to create such content handily and effectively.
Filmora Video Editor is a user-friendly yet powerful video editor with built-in templates to bring colors to your creativity and imagination to handily create a video with your raw data that brings the highest possible audience and has the top quality as well.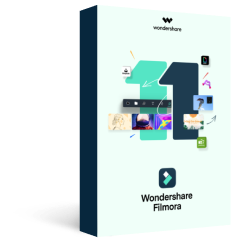 Key Features
Provide 4k quality output, the top-rated YouTube quality that the YouTube algorithm detects and suggests worldwide.
With its enriched features and customizable effects, you can bring life to your dull and straightforward recorded content.
Has a powerful intro and outro templates available in its built-in library, so you can choose the one and customize it accordingly.
Allows to directly hit the YouTube share button, which will post your masterpiece to your YouTube channel right from this video editor.
How to edit with Filmora Video Editor
You can easily get used to this video editor as it's an intuitive platform for beginners to pro-level video content creators. Consider the following guide:
• Download and install this software from the above links.
• With such an intuitive interface, you can import your media files, including images, videos, and audios of your own choice, as follows: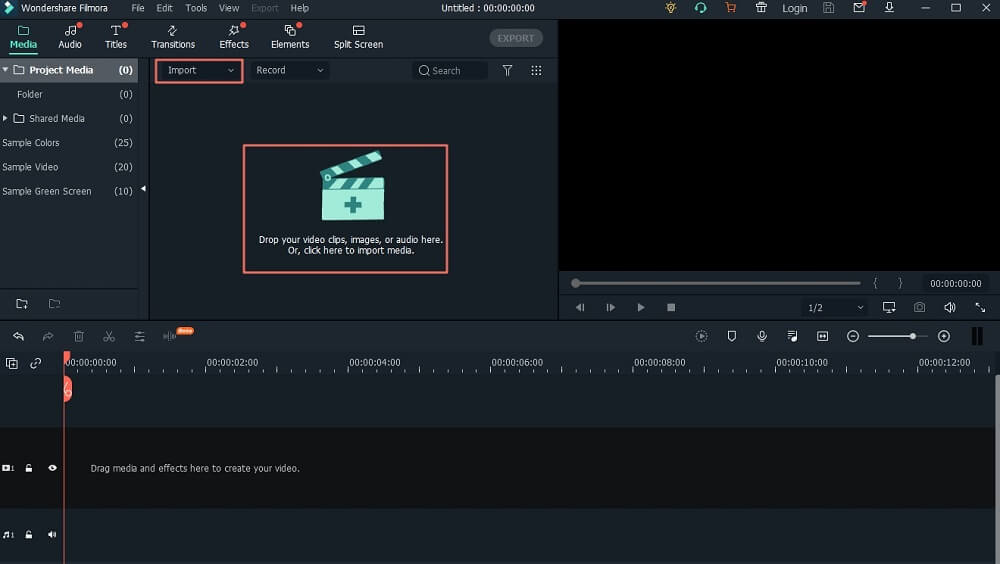 • You can bring Titles, Elements, Split Screen, Effects, Transitions, and much more to your imported clips and images: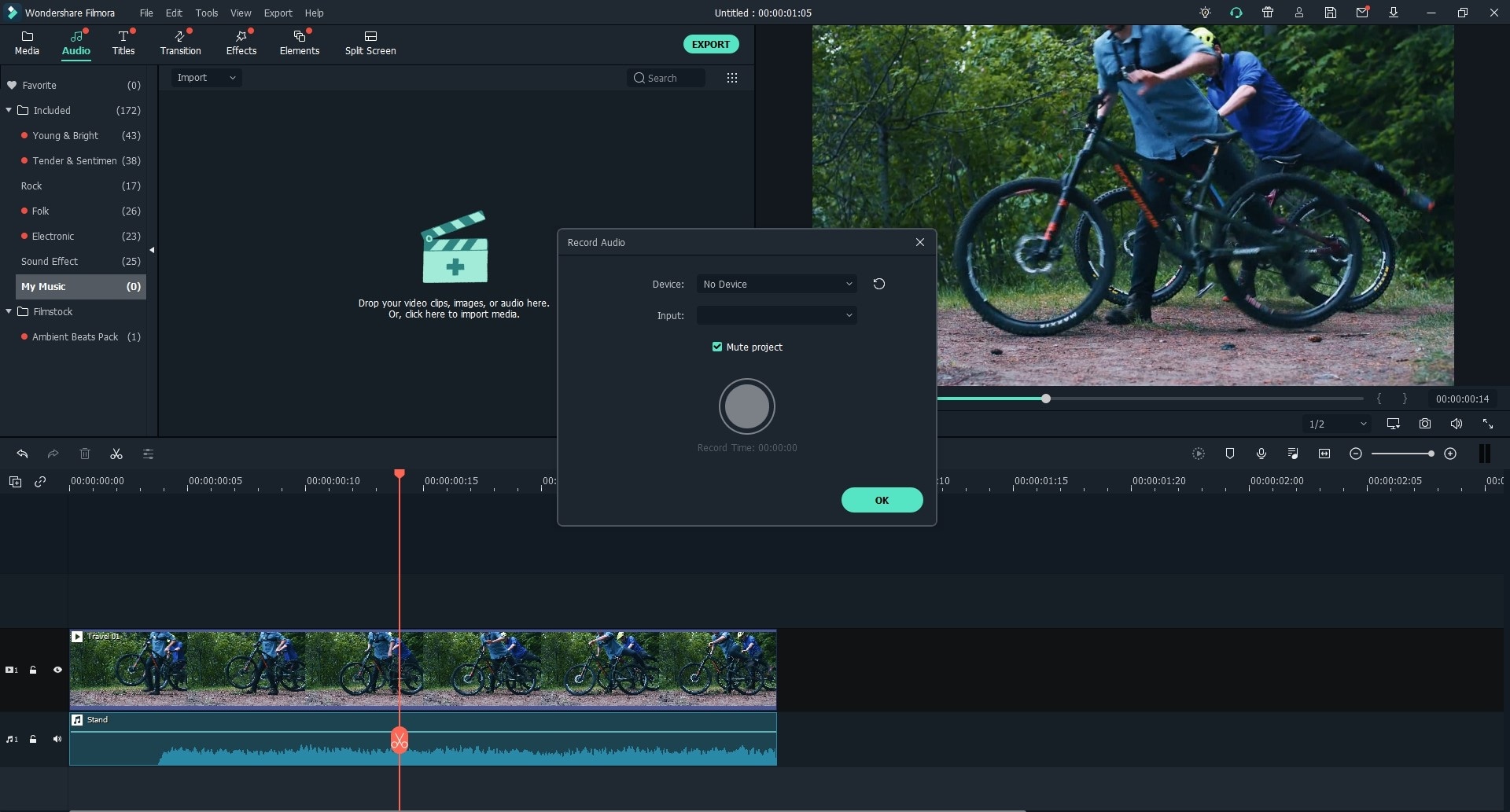 • The best part is that you can directly access the resourceful library of media templates named Filmstock with this video editor: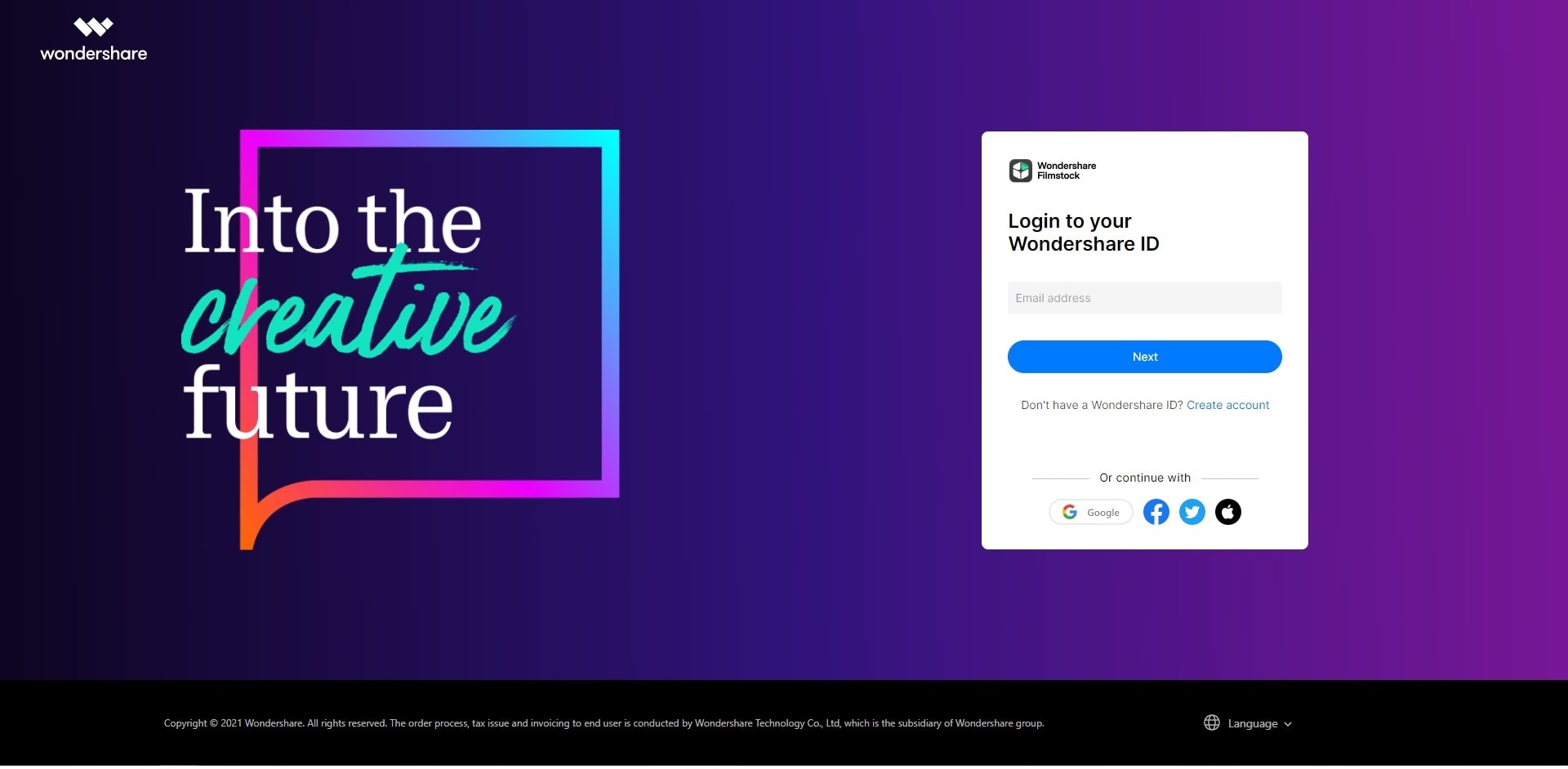 • You can download and customize your favorite template from the Filmstock Library and use it in your video project within Filmora Video Editor:
• After editing, it's time to export the masterpiece to the system or directly to the YouTube channel: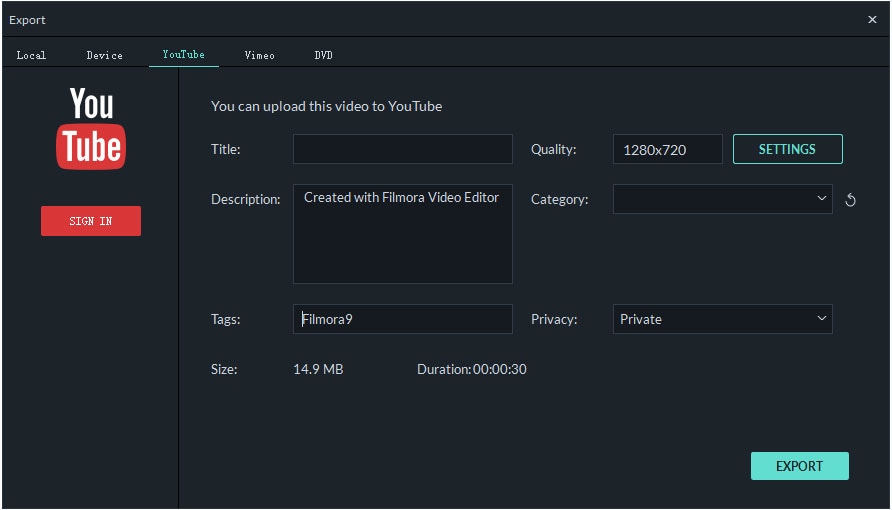 If you want your content to be standing out from the crowd, you need to bring some uniqueness to ensure your target concerning how we make money on YouTube. To bring light to this fact, consider the example of a famous Brazilian vlogger named Felipe Neto with the channel name Felipe Neto. He started from scratch in 2010 and now with more than 39 million subscribers and more than 10 Billion views on his videos. His success is his video quality and uniqueness, which you can also opt to make standing out content with a powerful Filmora Video Editor (or Filmora Video Editor for Mac) using the above guidelines.
---
2. Participate in the YouTube partner program
Now, if you think your content is gaining audience interest and its eye-catchy enough, you can dive into the money-making channel of YouTube and make money on YouTube views? Well, here's the answer. It's with the YouTube partner program. If your YouTube channel is in good shape, i-e, with good followers and views, you should opt for this program. In this program, you allow YouTube to make money from your channel by putting ads on your videos that Google has from its partners.
According to YouTube support, you need to have these two conditions implemented on your YouTube channel, which makes you eligible for the YouTube partner program:
1) Your channel has more than 1000 subscribers.
2) Your channel has more than 4000 watch hours within 1 year.
• If you're a Google AdSense linked to your channel, you can earn a percentage of ads revenue that YouTube overlays on your channel, and in some cases, it runs video ads as well.
• Now, if you're wondering how much money do I make on YouTube? Then here's the answer as it's around $0.3 to $2.5 per CPM. It's what your videos bring to the advertiser ad, which generates revenue, and you get a slice from YouTube in turn of that. Following that, if you're thinking of how much money does 1 million views on YouTube make? It turns out to be around $2,500/month if your CPM is $2.5, which is quite familiar.
• Another notable point is the merchandise shelf you can use with the sponsorship deals with the brands as some top-rated channels have made agreements and are getting paid for advertising to their broad audience.
• Super chats and Super Stickers are other essential features you get paid to highlight the particular brands' unique streams and pay you for the advertisement.
• YouTube also has a premium version with which you can earn a sufficient amount while being a creator. Your audience watches your videos while paying to YouTube for the premium ad-free program, and in turn, YouTube pays you well according to the number of premium viewers you have.
---
3. Sell your products on YouTube
Another kicker from the YouTube monetization and revenue generation is advertising your products with a quality number of subscribers. You can do this advertisement without any cost, and in this way, you can generate a lot of traffic to your products store and generate sufficient revenue. This is how you can do it:
• As we know, YouTube pays its content creators due to advertisement brands that pay YouTube to advertise their content and brand on top-rated channels.
• Now, if you're the owner of your brand and want to advertise, you have to spend a fair amount of dollars advertising your product for selling purposes.
• In contrast, if you have many subscribers and views on your channel, it means you can promote your brand and products to your audience on the channel without spending any money.
• With this technique, you can generate YouTube channel reviews and sell your products via an advertisement on your channel that too without any cost.
• Meanwhile, if you're short on subscriber numbers, then you need to join the affiliate program, which deals with this query of how much money you can make streaming on YouTube.
---
4. Affiliate links
Another big deal with YouTube earning is with Affiliate Link marketing. This refers to the fact that you include a unique link in your YouTube channel videos from the retailer or the source brand with a built-in tracker record on that link. And you earn a percentage whenever someone purchases via that link. This means that it's your audience who have made purchases of their product. And for that, you get paid, which is usually a percentage of the product.
As you know, the affiliate links brief details. Now is the time to add these links. To do that, the first step you need to do is find affiliate programs that every huge brand offers in their official services. Now you need to follow the procedure, which is different for different brands. But collectively, the steps are almost the same.
• Join the affiliate network of your desired brand, which must be massive enough to offer affiliate links like Amazon, Wal-Mart, and other big brands.
• The next step is to log in to your affiliate account for that brand and get the links which they offer just for you.
• Paste those links into your YouTube channel videos description, and, in this way, you can add affiliate links to your YouTube account.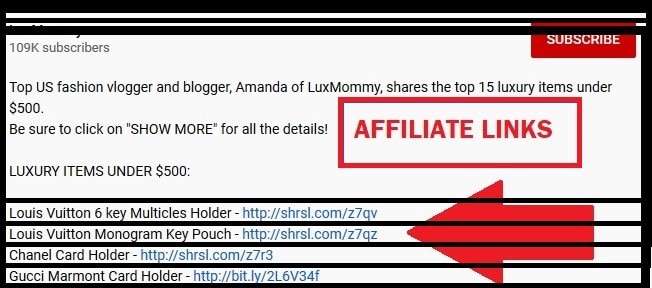 How to Integrate Affiliate Link into YouTube Videos?
The integration of affiliate links to your YouTube videos from your affiliate network is quite simple. You can integrate it in your description, which means you need to redirect your viewers to the link you've attached to your video description. This technique involves just a hint or note for your viewers in your videos, which can direct them to the affiliate link made for you uniquely, and they can use it to purchase the specific product.
Where do you place Affiliate Links from your Affiliate Network?
Your description of YouTube videos is the best place to put your affiliate links. However, it would help if you ensured that the link you've set in your description must match with the YouTube disclaimer and copyright accords. To avoid any future panicking, we recommend putting the links swiftly, which demonstrates the product so you can engage your audience in your videos. On the other hand, they can go to the specific affiliate link of yours to make a purchase.
---
Conclusion
The bottom line indicates that having your YouTube channel monetized can give you a fair amount of money. With the above demonstration on monetization techniques, you can embark on your YouTube channel project and start earning a fair amount. Apart from these techniques, you need to realize how easy it is to make money on YouTube just by delivering high-quality content made possible only with Filmora Video Editor. It has powerful techniques for providing such creative content to your YouTube audience.
In a nutshell, we believe you should opt for an easy way to earn money from the YouTube channel, and that method must be unique enough. Therefore, using Filmora Video Editor to create content and give it professional touch is the best and effective way to post a video on YouTube and make money. Since other strategies also involve several different factors, these factors need to be ensured when using these techniques.