We live in a modern era where precious memories are stored in the form of the beautiful photos and videos. Although photos tells many stories about a perfect event but nothing can beat the beautiful videos created on that specific occasion. Winter is upon us and so is the beautiful Thanksgiving to say thanks for all the beautiful things, people and memories we had this year. Do you have plenty of photos lying around? You can always use a string in the form of videos to convert these beautiful photos into videos. As this is thanksgiving, you can gather all photos of previous thanksgiving events and combine them with a beautiful melody to make the great video. The theme of joining different photos should be simple, you can rearrange them, perform little editing and apply the beautiful filters depending upon the nature of photos and then can ultimately make one perfect video. Once a beautiful slide show of different photos is made, you can share them with your friends using Facebook, YouTube or other popular social networking websites. You can also burn the video on a DVD and watch this video with the most people in your life.
Filmora Video Editor – The best tool to make Home Videos with Thanksgiving Photos
Filmora Video Editor for mac is one perfect video editing software which works equally well with the photos. It supports all famous video, audio or image formats and works with them in a seamless manner. You don't need to hire a professional video editor to make the beautiful videos of Thanksgiving photos, all of this can be done using Filmora Video Editor. The simplest user interface and interactive editing features will let any create the beautiful thanksgiving videos without special training. You can't only join these photos but can also apply basic video editing tools on them. Filmora Video Editor for Mac has got all these tools right on the timeline. You can remove the unwanted length of video using the trimming feature, cut the videos with just click of trackpad. You can also adjust the screen size of your video using the crop feature while rotate will let you rotate your videos in any direction. The rotation feature is useful for those who have recorded the videos or captured the photos using the Smartphones.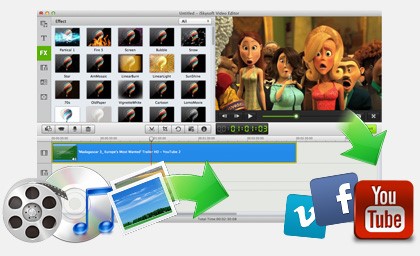 A perfect video isn't completed until it has the introductions and credits, to meet this need of users, Filmora Video editor for Mac has around 140 different text styles which can be applied with one click. Moreover, you can manually change the color, size, font and alignment of your text. If you are joining different photos, you may need different track depending upon the location, event and people of photos. Filmora video editor has a large library of the music tracks which can be added to your videos. If you are creating a thanksgiving video, you may need an element saying thanks, there are 280 different elements in the Filmora Video Editor which can also be set in motion. It also offers Split screen feature to add two or more different photos in the same screen.
Steps to Make Home Videos with Thanksgiving Day Photos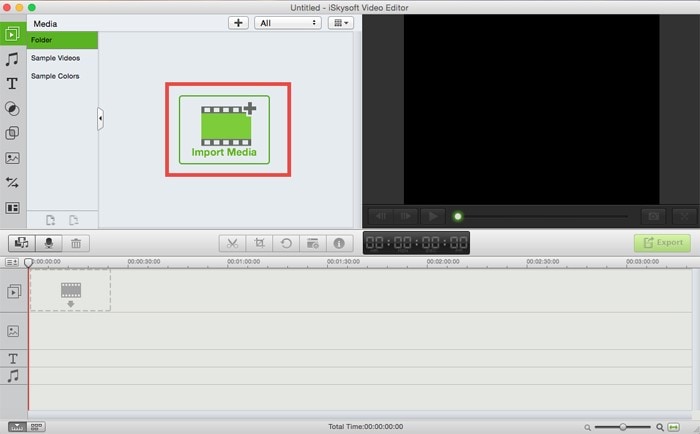 Step 1. First of all, download the latest version of Filmora Video Editor for Mac on your Mac OS X and install it using the simple on screen instructions. After installation, import all the Thanksgiving Photos to Filmora Video Editor. You can either select the photos in Finder and drag them to Filmora Video Editor or click on the import media button to get all the Thanksgiving Photos in Filmora Video Editor for Mac. You can also move different audio or video files which you want to incorporate in your video.
Step 2. The next step includes moving these photos to the timeline for editing purpose. You can select all the photos and simply drag to timeline. However, the best way is to select one photo at a time and move it to timeline in a perfect position. This will also save your time to rearrange the photos.
Step 3. Now, to make a beautiful video, you will need to add different transitions between the photos. Click on the transition button in the left panel, select a transition and apply it between two photos. You can apply as many transitions as you want depending upon the number of photos in the timeline.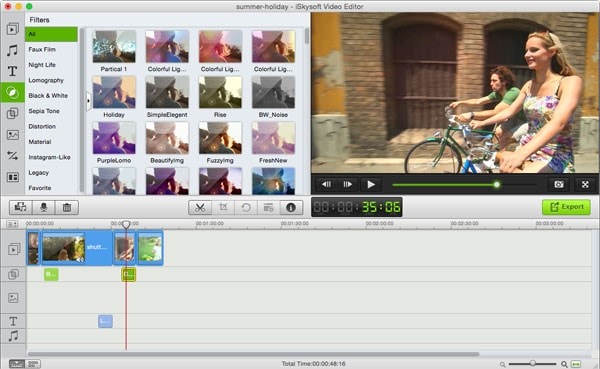 Step 4. To change the overall look of the final video, Filters and overlays are present in Filmora Video Editor for Mac. Click on "Filters" select a filter and move it to the timeline. The best part is that you can adjust the length of a filter, so that it can be applied on more than one photos. Similarly, Overlays can be applied on different Video.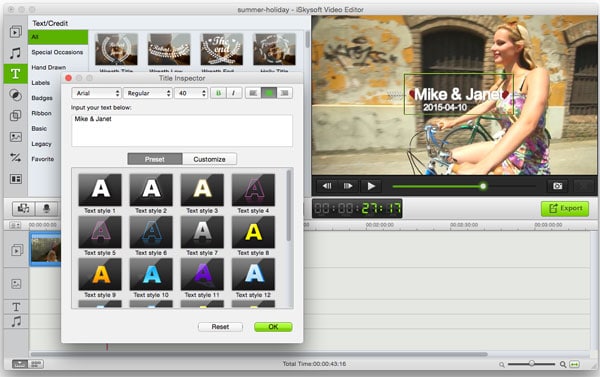 Step 5. Click on the text button right below the music and select a text style. Now, drag it to the timeline right below a particular photo to apply the text on the photos. Double tap the "Text" in timeline and here you can change the different aspects of your text such as color, size, alignment and bold, italics. As you are creating a thanksgiving video, so, you may want to add "Happy Thanksgivings" at the start and "Thank You" at the end of your video.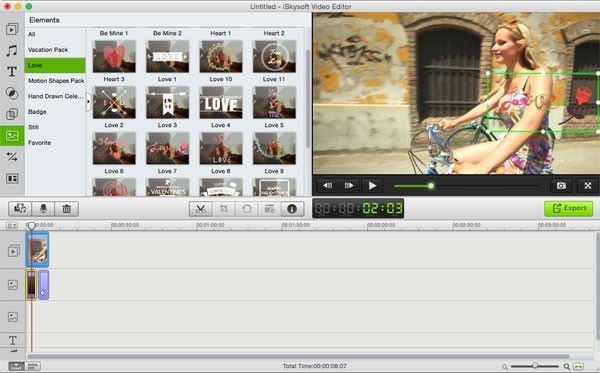 Step 6. To add some more effect on video, elements can be used. Click on the Motion element icon and select an element to apply on a video. You can use "Turkey" for a Thanksgiving video. After adding an element, you can set the motion of the element from the preview window.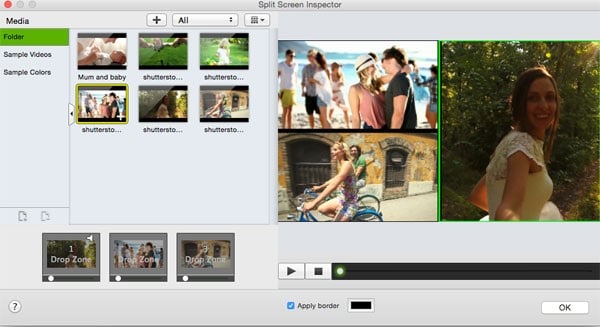 Step 7. Click on Split screen button at the last in left panel, select a style and add different photos in each zone to get the perfect split screen effect.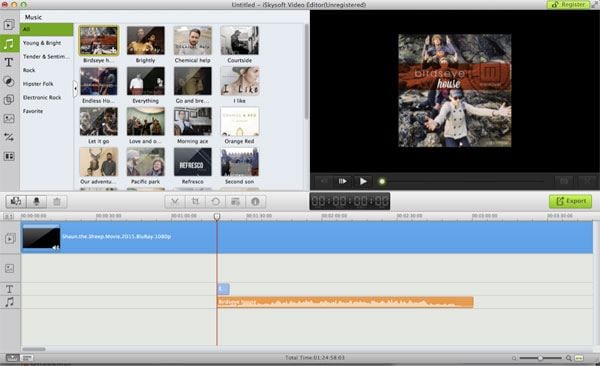 Step 8. Once you applied different effects, transitions, elements and text to your Thanksgiving video, you can add a beautiful track. Select one track from the library and drag it to the timeline. You can also adjust the length and position of this track by the red cursor.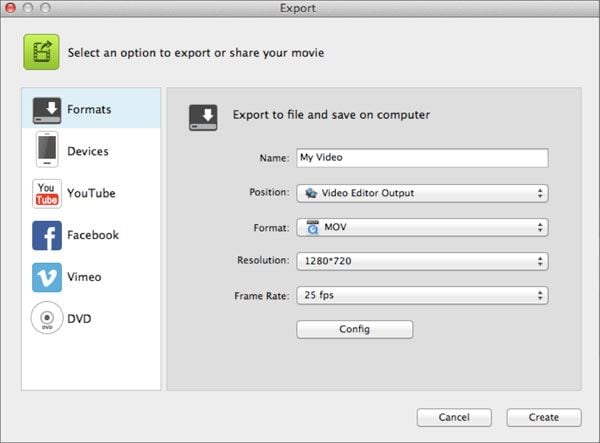 Step 9. Now, you video is ready to export, Click on the export button right below the Preview window to export photos in one video. From the new window, Upload the final video on YouTube, Vimeo, and Facebook or simply save it on your computer to watch it later.