We always find funny reversed videos on YouTube, Instagram, and Facebook, the videos are attractive and creative. Sometime, we may want to reverse videos to entertain ourself, but we can't come up with a one-click solution. So, that's the question:
How to reverse a video?
Where to find the ideal video reverser?
Adobe Premiere reverse clip? iMovie reverse clip?
Relax, forget these professional video editing software. Some online video reverser tools could directly add a rewind effect to the videos. No need downloading and installing, you can easily play video backward in regular speed, half speed, and double speed.
[Warm Tips]: It would be more fun with the special sound effects in the reversed video. Find more SFX in Filmstock.
The best part?
I have compiled the top 6 online video reverser tools and listed the features, pros or cons for your reference. You can compare them and decide which one is better according to your own needs.
Now, let's get started.
6 Best Online Video Reverser Help You Reverse Videos Online
There are several online reverse editors that can help with reverse videos however the quality of the video and the available features and effects may differ depending on the type of online video reverser that you choose. Here are some of the top online video reverser that one can choose from.
#1. Kapwing
Kapwing is an online video reverser that's easy to use and quite efficient. All you have to do is to upload the video you intend to reverse or copy the URL then continue with the steps. This online reverse video editor is free to use however a small fee is charged to remove the watermark
Pros:
- Ability to rewind videos at double speed for an exciting playback;
- Works effectively with QuickTime;
- Ability to choose the desired speed for playing reverse videos.
Cons:
- Lacks diverse features that can enhance video quality;
- The free version comes with a watermark.

#2. Ezgif.com
Ezgif.com is not only easy to use but also gives users the opportunity to output the reversed videos with same resolution and encoding. The steps are very simple as all that one need to do is to upload the video they intend to reverse then or copy the URL then press on reverse video.
Pros:
- Free and easy to use.
- Apart from reversing videos, it's also ideal for creating animated GIFs.
Cons:
- The maximum upload limit is 100MB which can be quite limiting.
- No key functions to improve the video quality.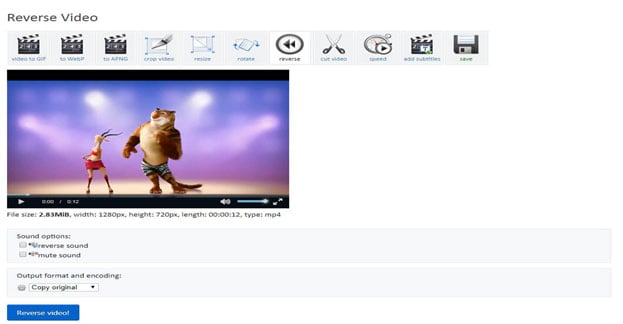 #3. YouTube Video Maker
YouTube Video Maker is a very popular online video reverser that is used by many people to improve video quality. The fact that it's an online tool and doesn't require downloading makes it be quite great. Users can cut the video clips to the desired length and also combine several clips into one project.
Pros:
- Free and easy to use, which can save your time and money.
- The pan and zoom features alongside the ability to adjust text overlays help in enhancing video quality.
- Users can incorporate photos, audio and video clips for enhanced quality.
Cons:
- Inability to add own music but only use tracks in the audio library.
- Cannot to overlay text or graphics and only use them at the beginning or end of the video

#4. PowToon
PowToon is such a versatile online video reverser that enables users to create captivating and engaging reverse videos. It is also a great tool for creating educational videos in a style that makes sharing of information easier and engaging. There are also drawings of objects and people that can be used to enhance video quality.
Pros:
- Intuitive and user-friendly.
- A wide range of features and effects that helps in producing very high-quality videos.
- Great for making educational videos with pre-built templates that make professional videos.
Cons:
- The free version is only available for a 45 seconds video length.
- Can be time-consuming if you want to make quality presentations.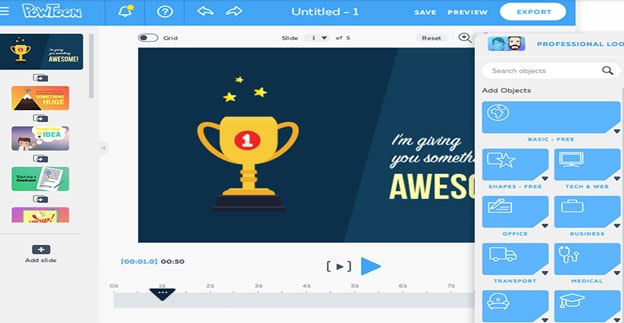 #5. Kizoa
Kizoa is a powerful online video reverser with a very intuitive interface that enables users to edit videos and also add effects. This is one of the easy to use online video reverse editors that enable users to reverse videos with just a click. It has a wide range of transition effects and a library that's loaded with lots of animations that can be used for improved video quality.
Pros:
- Ability to make videos in ultra high definition including 4k videos.
- Ability to combine video clips, photos, and other media for great quality.
- A variety of features and effects to increase video.
Cons:
- The interface can be overwhelming for a beginner.
- The full HD resolution is only available on Pro plan.
- Limited features available on a cheap plan.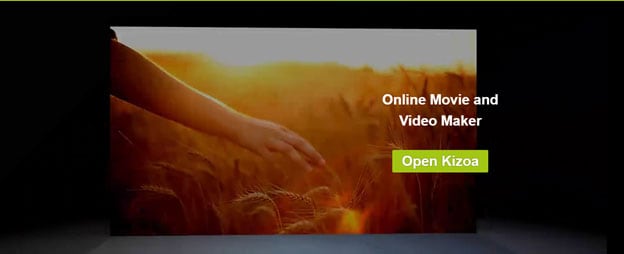 #6. ClipChamp
This is also another professional online video reverser that provides users with the best results. It has a very intuitive interface that beginners can easily use. ClipChamp online video reverser enables users to edit videos and share them easily on YouTube and other platforms.
Pros:
- Free online video reverser on basic option with very quality video output.
- It has an easy to use interface that's ideal for beginners.
- A wide range of features and effects that enhances video quality.
Cons:
- The basic option which is free has very limited features.
- Basic option come with watermarks.

Summary:
You have checked 6 advanced online video reverser tool in the above contents, have you found the desired one?
Obviously, online tools or services always be limited by network, video size or functions. So, if you're looking for a video reverser editor, then a simple video reverser online might cannot satisfy your needs.
Here is also another option for you to reverse or edit video online or offline.
---
Editor's Pick: Filmora Video Editor - Recommended
Filmora video editor or Filmora Video Editor for Mac is a full-functional video editing software for Windows and Mac users. It not only allows users to play a video backward, but also enables users to rotate a video, split or cut a video, edit a video with baisc and advanced editing tools. It supports most popular video formats and any sizes, so that you can edit a large video file at one time.
Below are the highlights of this powerful video reverser software: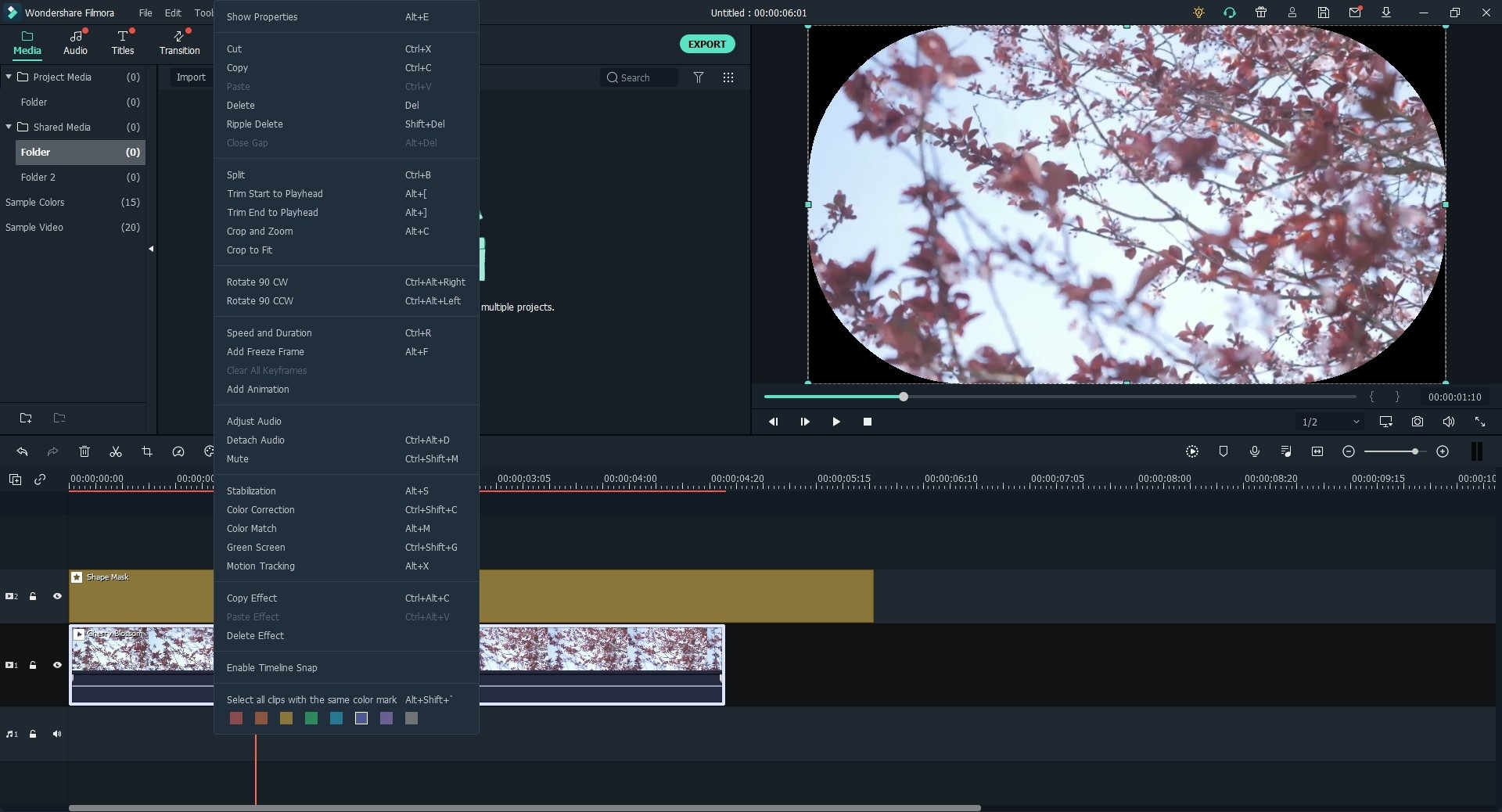 Key Features:
1 click to reverse video and play it backwards, and output reversed video to any formats as you like.
Up to 100 tracks for you to edit multiple video, audio or images without any restrictions.
Numerous video editing tools for you to edit a video like a pro, including green screen, picture in picture, etc.
1000+ video effects help you improve the video quality with simple clicks.
...
---
Now, let's check how to perform this powerful online video reverser on your computer:
First of all, you need to launch the program and click "New Project" to open the video editing window. Then click "Import" button to load the media files into the program.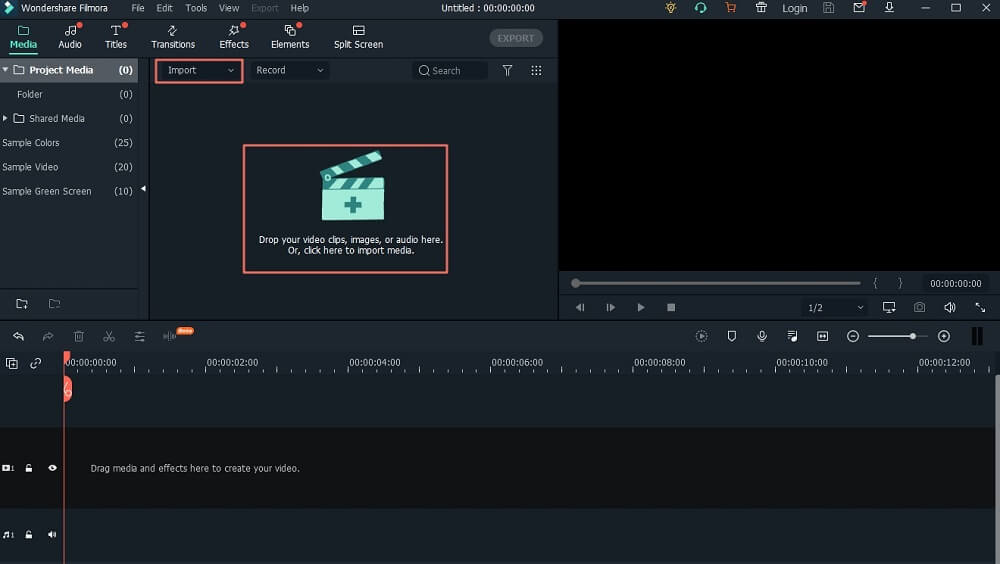 Then, drag and drop the video into the timeline, now you can right click on the video, then choose "Speed and Duration". Here, a pop-up window will appear on your computer as below: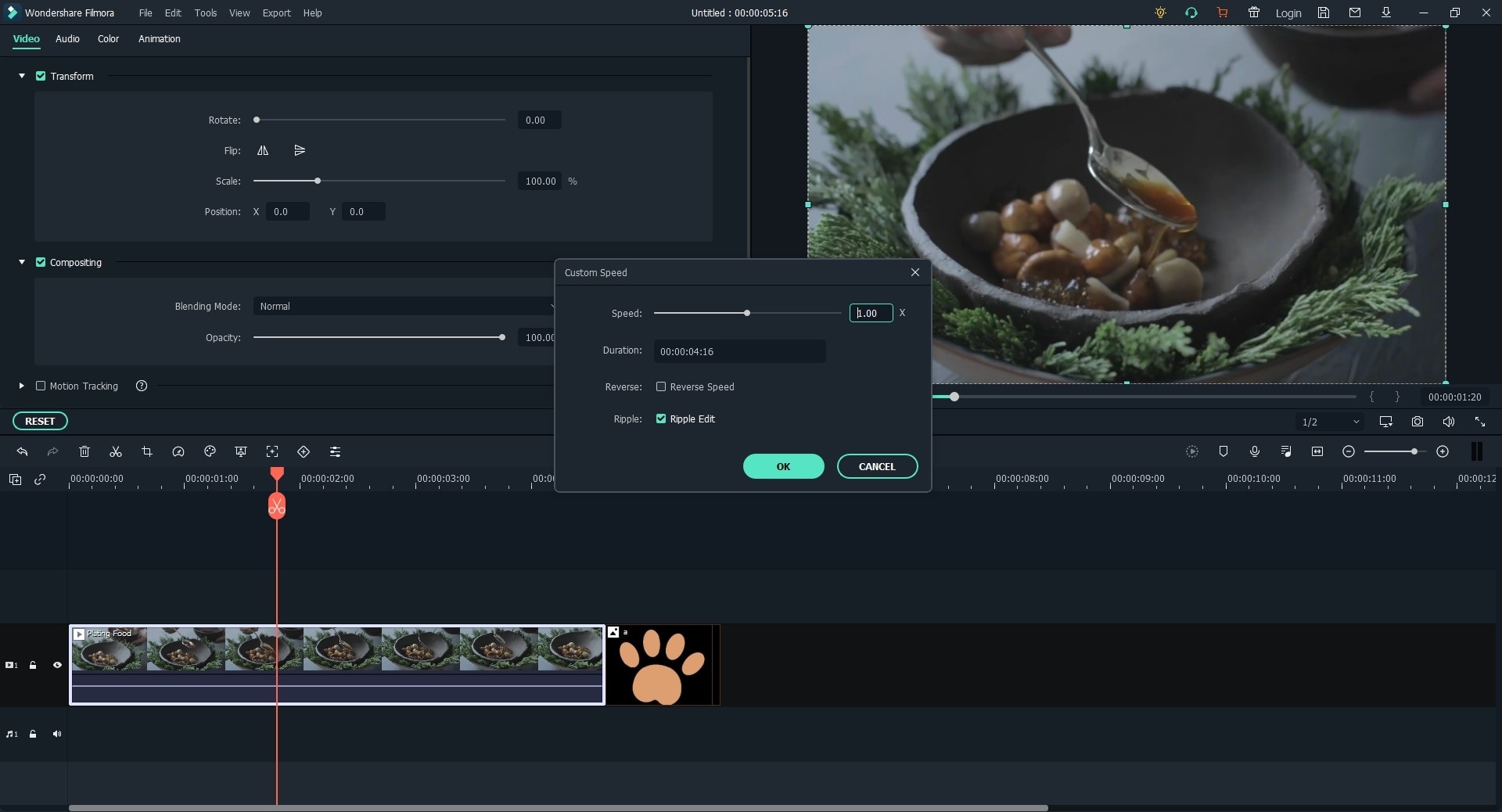 Tick the option of "Play video clip in reverse" and click "OK" button to save the changes.
Finally, you can preview the video playing effects and click "Export" button to choose an output video format for your targeted video. Here, you can also choose to upload the video to YouTube or Viemo as you like.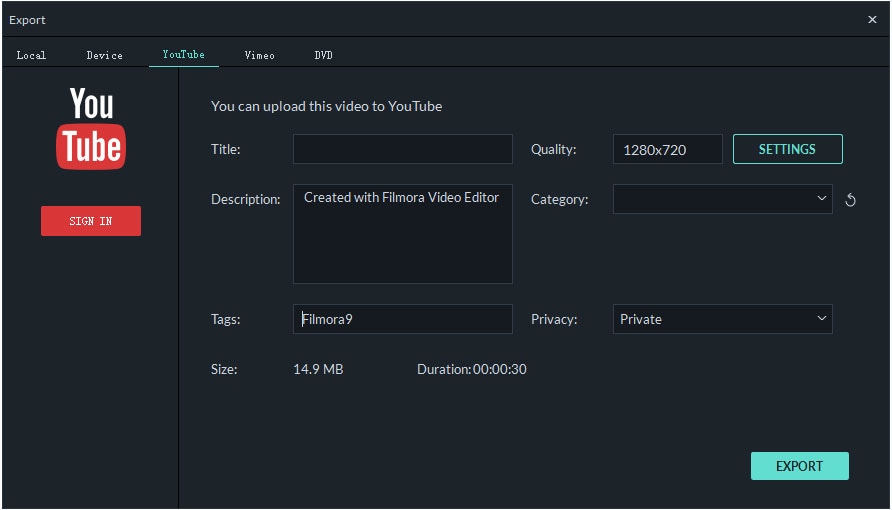 Sounds great? Or still can't make a decision?
Final Thought
Online video reverser tools make it possible for you to do quick and simple edits on websites without downloading and installing. But most of them have limits on video file formats and size, at the same time, online video reverser software is not as feature-rich as Filmora Video Editor.
So, if you only want to plack a short MP4 video backward, the 6 online video reverser listed above are your best choice. If you also want to mute the audio, add some special effects or make some other edits, Filmora would be a better choice.
Well, here I have taken the free trial version of Filmora Video Editor. You can click the below link to download it on your computer, then, experience all functions of this Filmora Video Editor by yourself.