- How to edit photos in Photoshop or alternative tools like it?
- How to quickly adjust the brightness of a photo, blur faces, or add mosaic effects in a photo?
- What is the best photo editing software?
- ...
Well, if you have encountered a question or trouble as the above, then, a professional yet easy to use photo enhancer can help you get out of these troubles soon.
In fact,
There are lots of photo editor software on the market, and Adobe Photoshop can be treated as one of the most popular photo editing software among designers, and professionals. However, it is not suitable for a beginner or people who're looking for a photo editor with simple functions like text writing, adjust transparent, etc.
So, in this post, I'd like to introduce you 10 advanced photo enhancer to help you edit & enhance an image on your Mac, PC, iPhone or other mobile phones. You can compare them and decide which one is better according to your own needs.
[Attention] This list is not limited to providing image editor for beginners, professional photo editor or photo editor with text editing or effects can also be found.
Now, let's start picking up your individual photo editing software as follows:
Top 10 Best Photo Enhancer for Beginners & Professionals
1. Lightroom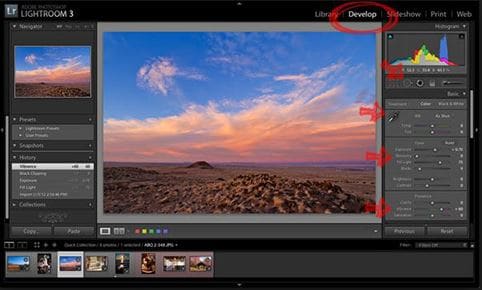 The battle between the Photoshop and the light room is always an epic battle. It was the first to be introduced and still being at the top and it is the first choice among the users who are looking to edit their image. But, then the Adobe lght rOOM comes with some cool and fantastic features seemed similar but also different than Photoshop. Light room has always been striven to improve their photos to the next level by developing them at anywhere cropping, tinning, toning, saturating, and of course can edit the photo like a new image or like an old vintage picture with the effects and edits.
Pros:
You can process RAW files and presets.
There is an efficient workflow and easier to learn.
There is little top editing software for video as well as for photo editing that will help you make your images so professional with the way you edit.
Cons:
The retouching application doesn't found.
There is no advanced image manipulation.
---
2. Adobe Photoshop CC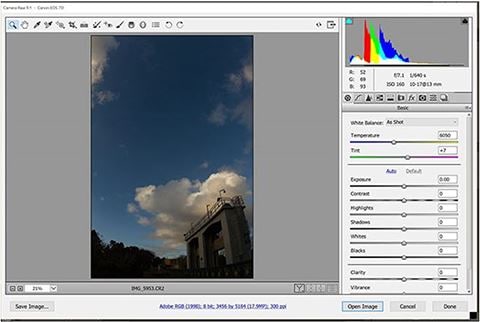 It is perhaps the most popular picture enhancer tool in the market and with good reason. Adobe is constantly improving Photoshop CC with better and more advanced features introduced with every update. It also has a very wide set of tools that can enhance an image in more ways than any other photo enhancer in the market.
Pros:
It has a slick user interface that can be easy to navigate once you get a hang of it.
It is significantly faster than most other photo enhancers.
as video editing and 3D capabilities.
Has a wide range of photo enhancement tools to choose from.
Cons:
There is no way to purchase a life-time license of the program and monthly subscriptions can be costly.
It has a steep learning curve especially for the beginner.
Download Adobe Photoshop >>
---
3. CyberLink PhotoDirector 8 Ultra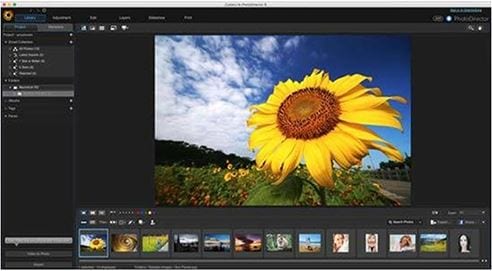 This program is another easy to use and feature-rich image enhancer program you can use to manage and edit photos. Among its greatest assets are the multiple filters and layer options.
Pros:
Has a simple to use interface despite all its advanced functionality.
It has multiple HDR effects and other editing tools.
You can easily export photos directly to Facebook and Flickr.
Cons: It lacks a lens-correction feature and the chromatic aberration correction feature is inadequate.
Download CyberLink >>
---
4. PaintShop Pro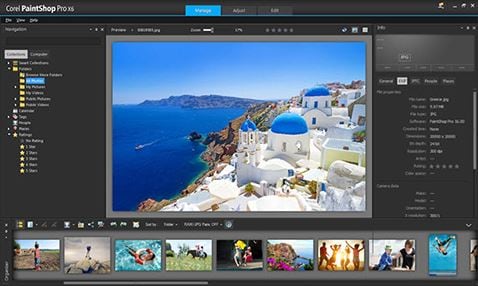 PaintShop Pro offers a wide range of basic photo enhancement apps although it may lack some of the more advanced tools you'd find in Photoshop or Filmora. It does however work very well for the beginner user. With the help of this photo enhancer, you can enhance picture quality with ease.
Pros:
It is considerably priced as compared to other similar programs.
Has powerful editing features and effects.
It comes with a cool face recognition feature.
Offers a wide-range of tutorials to help beginners.
Cons: The interface is a little cluttered and some operations may be slow.
Download PaintShop >>
---
5. DX0 OpticsPro 11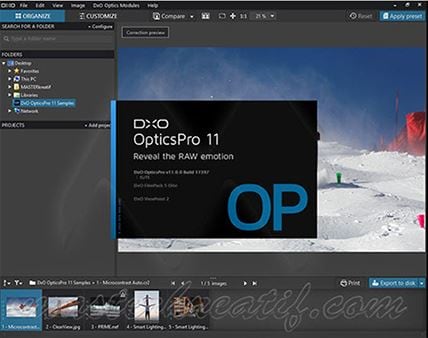 This is a program that you can use to improve digital SLR images and comes with surprising features for a program of its price. It is however not ideal when you are looking for a good way to organize photos.
Pros:
It has a very clear user interface that makes it easy to find its numerous features.
It can be used to directly export photos to Facebook and Flickr.
Cons:
It lacks brush tool and has very few workflow tools.
It doesn't support some of the newer cameras.
Download DX0 OpticsPro 11 >>
---
6. Microsoft Photos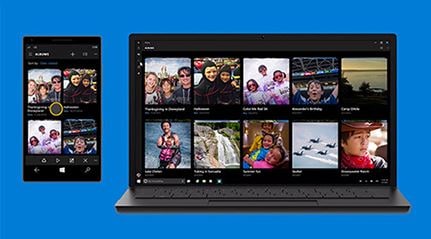 This free image quality enhancer that comes pre-installed on most PCs has quite the arsenal when it comes to simple video and photo editing capabilities. It is however not a tool we'd recommend if you want more advanced photo enhancement capabilities.
Pros:
It is free to use and has a very responsive simple user interface.
Make organization of photos and videos very easy by automatically creating albums.
It has quite a few image correction tools and very col video editing features.
Cons: It lacks some of the more advanced photo enhancement features including 3D effects and panorama stitching.
Download Microsoft Photos >>
---
7. ACDSee Ultimate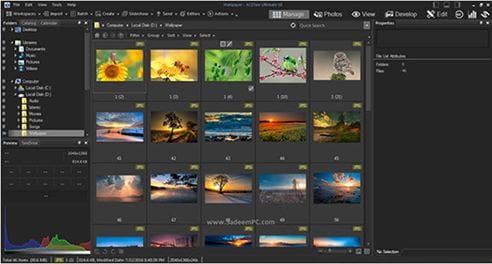 This photo enhancement tool offers a wide range of video and photo enhancement capabilities all of which can be accessed without having to pay the subscription fee.
Pros:
It has a lot of good adjustable effects and enhancement features.
It also has great sharing options.
Cons:
The interface is a little cluttered.
It lacks a face recognition feature.
Download ACDSee Ultimate >>
---
8. GIMP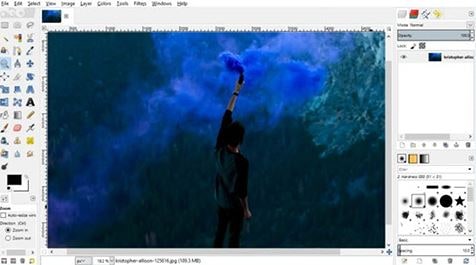 Another very popular free photo enhancement program, Gimp offers a wide range of features that rival even the best paid programs in the business. It has some of the best image-enhancing tools you'll find in Photoshop and has a simple user interface that makes it easy to learn and use to enhance photo quality.
Pros:
It is completely free to use with no ads and limitations.
It comes with a simple to use interface that is much like Photoshop in many aspects.
It has numerous advanced options with many added regularly.
Cons: It has a steep learning curve particularly for those who've never used photo enhancer software before.
Download GIMP >>
---
9. Photos Pos Pro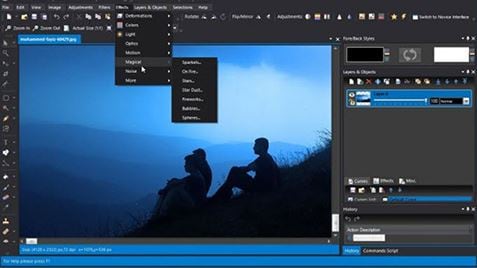 It may not be as well-known as gimp or Photoshop, but this free photo enhancing program offers top quality features. Its layout may remind you a little of Photoshop and there is a paid version with more advanced tools.
Pros:
It has a smart user interface with beginner and advanced modes.
Offers a wide range of editing tools.
Cons: The exported file's resolution is limited
Download Photos Pos Pro >>
---
10. Fotor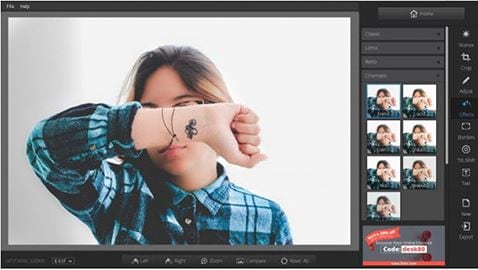 One of its main strongest points is its tilt-shift tool that has been praised as one of the best in the business. With it numerous tools, Fotor is the free photo enhancer you should choose when you need to make more vibrant changes to your images.
Pros:
It has many premium-level filters.
Supports batch image processing.
Has a lot of vibrant features that create artistic finishing.
Cons: It has no plugin support.
Download Fotor >>
---
Want to Edit Photos in A Video? Try Filmora Video Editor
Have loaded some pictures into a video, and want to edit the image in a video editor? Well, Filmora Video Editor is here to help you solve this issue. With it, you can easily cut, rotate, and edit an image within few simple clicks. Now, let's have a brief look on the main features of this powerful tool: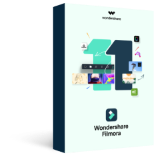 If you are looking for an advanced video and photo enhancer that makes it easy for you to enhance and share photos and videos. Filmora Video Editor for Mac (or Filmora Video Editor for Windows) offers a great solution for the question on how to enhance a photo. It comes packed with great advanced features that can edit all aspects of the photo or video and it is quite easy to use.
It has advanced features including the ability to edit both audio and color on a video.
Importing and exporting video and photos is quite easy.
You can create a video using your images.
It offers the option to purchase a life-time license to the program.
Now, let's check the video tutorial to see how easy the program performs.