Does shooting excite you? Do you want to know more about how you can make good use of your gun? Even if you are looking to hone your skills for shooting game, you may need some kind of prior expertise. You will need to start from somewhere, isn't it? One of the best ways by which you can do so is by choosing to play the bullet shooting videos in slow motion.
Whenever you watch a video in slow motion, it will allow you to truly understand and appreciate the different events and thus you can have a thorough understanding of the subject matter. When you are looking to either make a slow motion video or even when you wish to play one, you can make use of some excellent software. Here, we are going to talk about one such software which seems to be a popular choice among people.
Filmora Video Editor - Play Video in Slow Motion Easily
Of all the different video editor tools which you can find, the Filmora video editor for Mac is one of the top and the best choices. It is called so mainly because of the phenomenal ease of use which it has to offer. If you don't know what the key features are offered by this tool, let us first familiarize you with it.
- It comes with an extremely easy to use interface. Operating the tool requires little or no instructions at all
- You can import videos, images and even audio and edit each one of them for making a video
- It supports plenty of different formats. Some of the supported video formats are : MP4, F4V, M4V, TOD, EVO, NSV, TS, MPEG, MPG, FLV, MOV, VOB, AVI, M2TS and a lot more
- Not only videos, it supports a wide variety of audio formats too which include MP3, MP2, AU, APE, FLAC, MKA, WAV, AIFF, AAC, M4A and more
- Even when it comes to images, you will be amazed at the different image types which you can use for this software. Some of the supported formats include:JPG, ICO, GIF, BMP, PNG, TIF
- There are plenty of effects and transitions which you can add to the files
- Even when it comes to the kind of sound effects which you can add, there is plenty of variety to choose from
- There are options like animated titles, face fix and a lot more for editing the videos perfectly and meticulously
- You can control the speed of the video and make slo-mos as well
- You have the option of converting the videos from one format to other.
- Easily export the video to different devices with a few clicks
- You can share the video on different social media channels including YouTube and Facebook
- You can add intros and even credits to the video as well
Steps for making bullet shooting video in slow motion
Step 1. Import Videos
Make sure to download the latest version of the software from the iSkysoft website. After you have downloaded the software, install it on your MAC and launch it for using. The next step is to import the fields using which you will make the slow motion video. If you are simply looking to view a video, import the completed video. If you want to make one, you can import multiple clips and then follow the subsequent steps. For importing files, you need to move to 'Files' and then choose the option, 'Add files'. When you find a new dialog box, choose the files which you want to opt for and then import them. Alternately, there is a provision to simple drag and drop the files as well.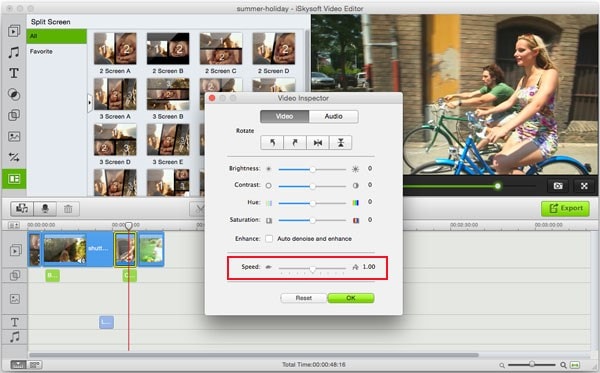 Step 2. Drag videos to the timeline
When you have added the videos you should hover near the timeline. You will find a small button which would resemble the refresh symbol.
Download the free trial version of Filmora Video Editor to have a try now!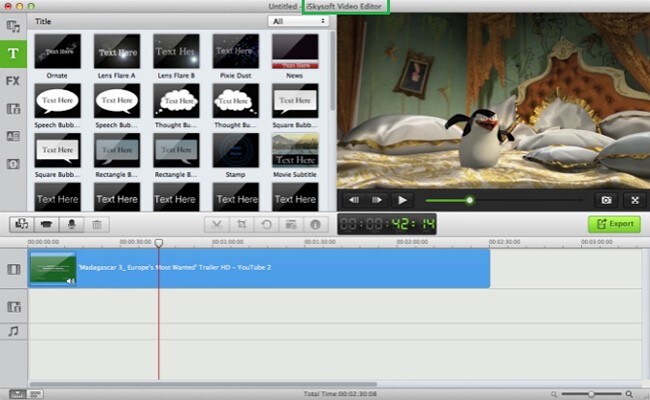 Step 3. Play Bullet Shooting Video in Slow Motion
When you click on that symbol, it will open a dialog box which will have different properties. One of these properties would be speed. You can drag the slider to fix the speed which you want. When you have fixed the speed, hit play and you can watch your video in slow motion. If needed, you can also edit the videos by trimming the length or adding transitions, effects and credits or intro slides too.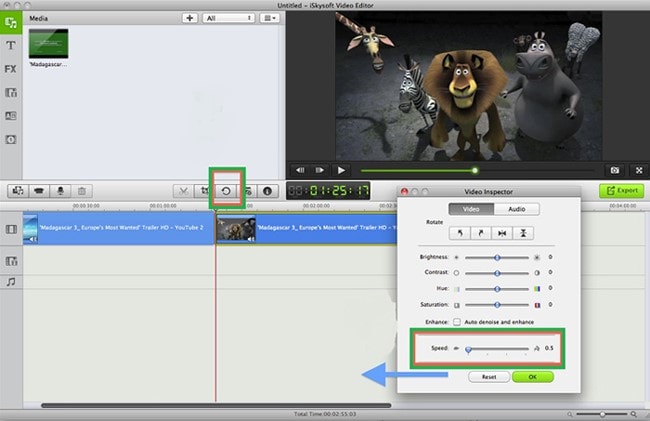 Get Filmora Video Editor free trial version now!