What is photo slimming? Or how to make yourself look thinner in pictures?
You might have trouble finding the motivation to lose weight, or you only want to make yourself looks skinny in a picture, then a good performanced skinny photo editor or thinning photo editor app will help you lots in this situations. With these slim and skinny photo editor, you can quickly make you thin or skinny within few clicks.
Sounds great?
Well, in this post, I have picked up 9 different yet advanced thinning photo editor to help you from fat to thin in a picture quickly. You can compare them and decide which one is better according to your own needs.
Top 9 Skinny/Thinning Photo Editor You Can't Miss
#1. Photo Reshaping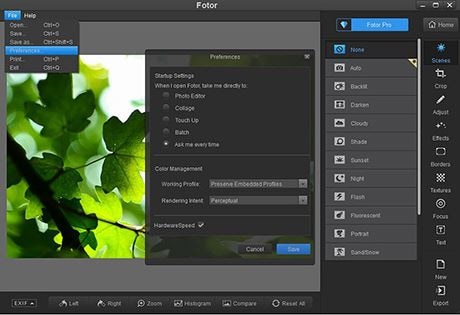 Fotor's Photo Reshaping app allows you to bring out the best in yourself. Reshaping is an excellent skinny photo editor because it offers you a comprehensive set of features for editing images. The Reshaping app gives you the freedom to make you look skinny, clear your skin, and alter your face shape as you need. The Fotor app lets you make these changes through an easy 3-step process. Even if you are not a professional editor, you can still create fantastic photos of your friends, and family. Photo Reshaping is available on both desktop computers and mobile devices. Whether you own a Windows, MAC, Android or iOS device, Photo Reshaping is available to you.
Pros:
• Five different features for touching up your photo.
• Choose already built a template for social media and save time.
• Make a choice between a collage or individual photos.
• Edit photos from a variety of fun, special effects.
• Edit and share your photos from your mobile devices.
Cons:
• Does not have a comprehensive feature set for editing photos in general.
• App is not suited for professional use.
Learn more >>
---
#2. iPiccy Photo Editor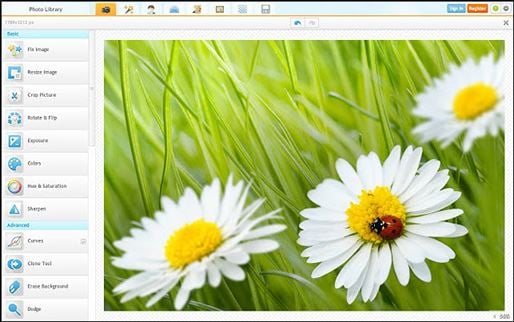 If you are searching for a comprehensive photo editing software, but are intimated by complex programs then try iPiccy Photo Editor. iPiccy has a feature called 'Thinnify' which essentially acts as a photo editor skinny. You can make improvements to your photos by slimming down your body. But its not just about slimming down your body. iPiccy allows you to make improvements to your face by clearing skin, and whitening teeth. There are multiple tools within iPiccy Photo Editor allow you to make several discrete improvements to selfies, portraits, and pictures. The photo editor features a toolset that is simple and intuitive, great for beginners.
Pros:
• Edit in a simple 4-step process.
• Accessible toolset for beginners.
• Features a full-screen editing option.
• Can share a photo after you finished editing.
• Simple but unique layouts for collage.
• Different options for uploading photos.
• Results are shown as soon editing is done.
Cons:
• If you want to save photos there are only two different file options.
• There is only one sharing option is available.
Learn more >>
---
#3. ReTouchMe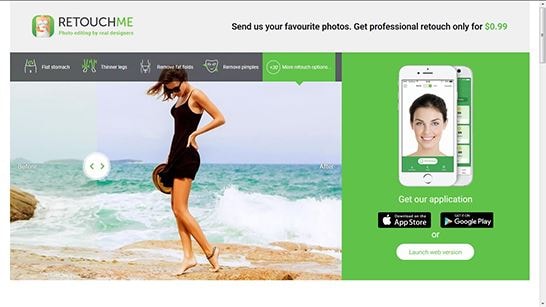 RetouchMe is more than photo editing app for slimming bodies. It is a comprehensive app for making improvements to anyone in the foreground of a picture. It is a perfect skin photo editor that allows you to remove pimples, clear skin and reduce wrinkles. If you need accessible photo editing software, then ReTouchMe is the perfect candidate for you. ReTouchMe can make improvements to both body and face, allowing you present yourself in the best way possible. ReTouchMe is accessible for both beginners and experts. Designers can use the app to make fine touches to make a photo absolutely perfect. If you are in need of a 'make me skinny' photo editor, look no further than ReTouchMe.
Pros:
• Easy, accessible interface.
• More than 30 different retouch options.
• Mobile app to edit photos at any time.
• Quick 4-step process for editing images.
• Great price for comprehensive editing options.
• Create professional-looking photos.
Cons:
• No synchronization between different platforms.
• Non availability of trial version.
Learn more >>
---
#4. Pink Mirror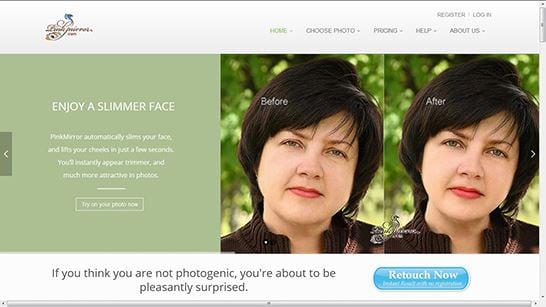 If you think you are not a photogenic person then Pink Mirror is the answer for you. Pink Mirror is the clear skin photo editor that fixes any and all flaws you might have. Do you have red eyes? Use Pink Mirror to fix it. Are you dealing with wrinkles and spots? Remove them with Pink Mirror. Is your face a bit too big for your liking? Use Pink Mirror to slim down your face. Need to make your teeth into pearly whites? Pink Mirror is the best for you. Pink Mirror is a versatile smooth skin photo editor designed to help you bring out the best in your facial features.
Pros:
• Available pre-sets to do all the work for you.
• Easy 4-step process for editing photos.
• No need to download software when editing photos.
• Save time when editing photos.
• Excellent for beginners who need to improve photos.
• Free advice on the website.
Cons:
• Must pay to access services when other apps are free.
• There is not much control over the final product.
Learn more >>
---
#5. FaceTune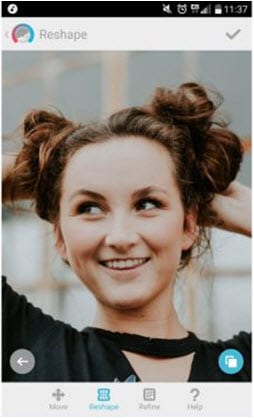 If you take a lot of selifes or of friends and family then FaceTune is perfect for you. Facetune is a comprehensive fat to skinny photo editor that allows you to slim down and clear face. If you feel that are few touch-ups are needed to improve photos in quick time, then FaceTune is perfect. The editor app allows you to do effective things like clearing skin and whitening teeth. You can fine-tune and perfect faces by making changes to specific areas around the face area. Very few photo editing apps give you this option. There is a FaceTune version for mobile devices, it can be found on both iOS and Android devices.
Pros:
• Works for beginners and professionals.
• Excellent retouching tools for refining portraits.
• Fingertip brushing for adding effects and edits.
• Improves skin tone.
• Great list of tips and tutorials.
• Face recognition software for effects and filters.
Cons:
• Limited support for social networks.
• Live preview feature looks 'softer' than adjusting actual images.
Learn more >>
---
#6. Spring Effects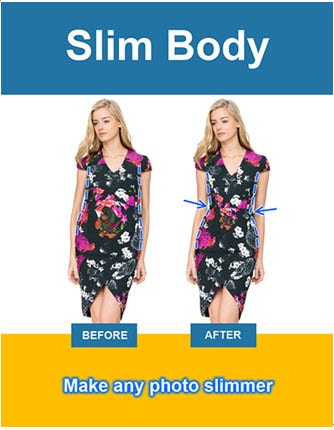 This photo editor to make your face thinner does more than just edit your photo to make you look thinner. You can use it to adjust body proportions on just about any image. The result is a remarkably different image than the one uploaded. It has tools that allow users to stretch the body, thereby making the subject look taller but can also completely adjust the proportions of the face, thighs, legs and face to make the subject look thinner. All of these features come packed in a pleasing user interface that is easy to use. The app is available for both iOS and Android devices.
Pros:
• It can alter the proportions on nearly any section of the photo which means you can completely alter the photo.
• The editing tools are quite easy to find and the app itself has a pleasing user interface.
• It is available for both iOS and Android devices.
Cons:
• It is not free.
• Because it can alter too many aspects of the photo, you might end up with a distorted photograph.
---
#7. Skinny Camera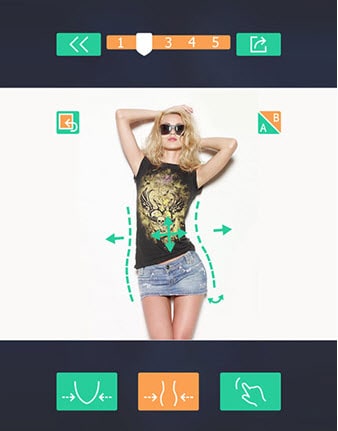 This thinning photo editor makes it easy for you alter any photo's dimensions. You only need to pinch the image to thin it. It therefore offers the best way to edit an image even for a beginner who's never used a similar app before. But this ease of use does have a disadvantage; there is no room for any other editing tools on the app. Apart from thinning or fattening an image, there isn't much you can do with this image editor.
Pros:
• It makes photo editing very easy; all you gave to is pinch the image until you have the desired size.
• It has a very simple user interface that is attractive and self-explanatory.
Cons:
• It is not free.
• Apart from the ability to thin an image, there aren't any more useful editing tools to use.
---
#8. Plump & Slim Booth Photo Editor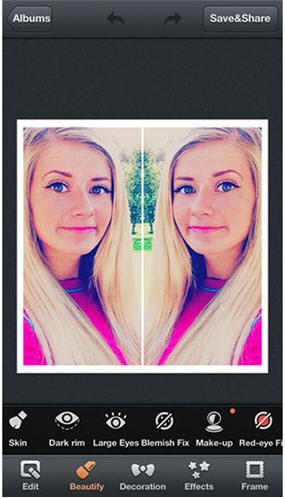 This free app, available for both Android and iOS devices can be used to alter the size and shape of an image thereby giving you a slimmer appearance. Like most apps of this nature it is very easy to use; all its tools are easily accessible and self-explanatory. Yet unlike some of the others we've seen, this app also make it very easy for you to export the edited photo. Once you have done the edits, you can choose to save the photo on the device or share it on social media.
Pros:
• It is very easy to use with all its editing features easily available.
• It allows for quick and easy sharing of the completed image on social media.
• It is free to use.
• It may also be used to add makeup and remove blemishes.
Cons:
• It may not be ideal for editing profile photos as it is editing frontal photos.
• It lacks any more editing tools and therefore may not be ideal for cropping a photo or changing its color.
Learn more >>
---
#9. Photowonder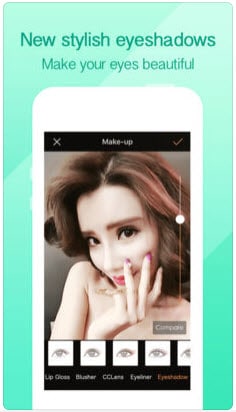 This Android and iOS app is more than just a thinning photo editor. It is a comprehensive selfie editor that will not just make you thin but also fix blemishes and add make up. It also makes it very easy for you to share the finished product on social media from directly within the app. As an added benefit, you can also get a wide range of filters to help you further enhance the selfie.
Pros:
• It offers a wide range of photo editing features including the ability to remove blemishes and smoothen out the skin.
• You can share the photos from directly within the app.
• It is very easy to use and completely free to download.
Cons: Aside from thinning and removing blemishes, there is very little else you can do the image in terms of editing.
---
Conclusion
Above are 9 different photo editor to make you look skinny on PC, iPhone or Android device, which one are you ready to try first?
Obviously,
Every thinning photo editor has its own pros and cons, so you'd better to understand what you really want first,
then, you'll get the proper software or app to help you looks skinny.
After that, you can use these edited photos to make a personalized photo video for sharing with your family memebers or friends at anytime anywhere.
To create an amazing photo video slideshow, you might need a tool like Filmora Video Editor like below: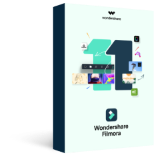 Filmora Video Editor for Mac (or Filmora Video Editor for Windows) gives you the capacity to create fantastic, high-tier video, even if you are new to video editing. And this program comes with a standalone effects library, which provide users with 1000+ special effects to make your photo video unique and amazing.
Allows users to create an amzing video from various materials, including photos, videos and audios;
Built-in effects like title, transitions, overlays, elements, etc. to enhance your video performance free;
1000+ special video effects from Filmstock can fully compatible with this program and offers more opportunity to your personalized video;
Export created videos to multiple platforms with 1 simple click.