In this golden age of technological advancement, communication has become simpler and more exciting. But have you thought of enhancing your looks while having a video chat or a video call? This should not be a conundrum because you might have overlooked filter tools in this great video communication programs. With a couple of clicks or finger taps on the apps interface, you will be surprised to learn video chat with filters enliven and perks up this form of communication. In this pragmatic article, I delve deep into video chat with filters of which Facebook Messenger, Snapchat, and Instagram users don't make full use of.
Part 1. How to Get Filters on Facebook Messenger Video Call on Android and iPhone
Since Facebook started rolling out video chat with filters functional for both Android and iPhone, it has been received with an overwhelming fun especially from the young generation. The sweeter piece of this feature is apart from one-on-one video call with a friend, you can host a video chat with filters with buddies of up to 50 in number at a go. However, only six faces will be displayed on screen at one time with one talking being among them. To engineer this conversion, you all need to have installed the latest version of Facebook Messenger. And also use a reliable and strong cellular or Wi-Fi network. And now, for you to know how to initiate a video chat with filters for both Android and iPhone, follow this detailed step-by-step guide.
Step 1. Click Facebook Messenger to open. Customarily you'll find it on the home screen or in the application drawer.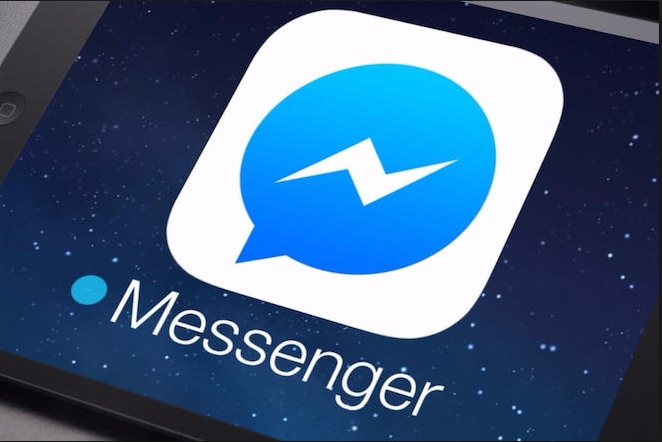 Step 2. Select a contact of a person with whom you want to video call. Use the search box at the top of the screen to locate him/her. The person you are contacting needs to turn on cellular data or be connected in a Wi-Fi network. This is indicated with the green small circle along his/her name.
Step 3. Initiate a video call by tapping the video camera icon. Your device camera will now be engaged. Wait for the video call to be answered to start using filters.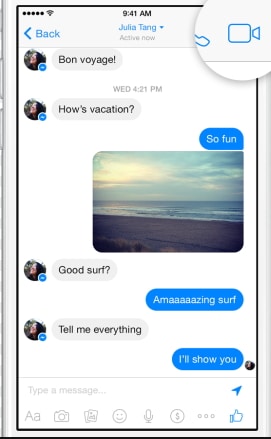 Step 4. Click the "raindrop" tab to access color and lighting filters. Slide through the options to apply the filters in real-time. The person you are chatting on the other side will be able to get a glimpse of the selected filter. At this point, you are having a striking video chart with filters.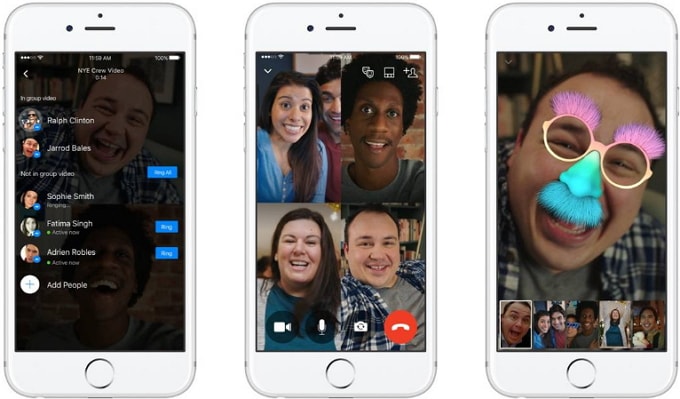 ---
Part 2. How to Use Snapchat Video Chat with Filters
Snapchat is a common application name and frequently use one among many users around the globe. From the time of its inception, it has gained a vast group who has become fond of it due to its magnificent feature, video chat with filters. From one-on-one chat, you can as well indulge in a lively group chat that is currently limited to 16 members simultaneously. Before getting to enjoy this, setting up a foundation that is installing the Snapchat app and having a reliable data network preferably Wi-Fi is the key.
Step 1. After installing the Snapchat app, tap its icon (ghost outline on a yellow background) to open. And click the "Log In" button, enter your credentials to sign in.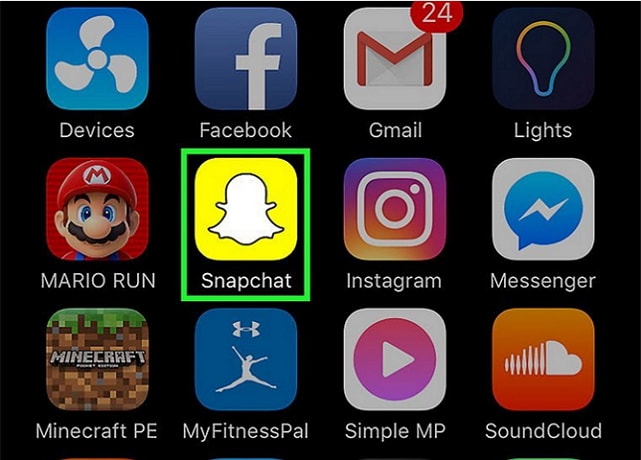 Step 2. Open your profile by scrolling down on the "Camera Screen".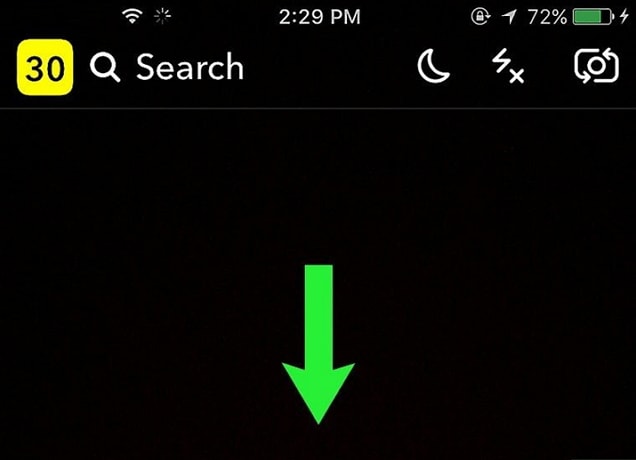 Step 3. Access settings by clicking the "star-like" icon which will open a menu window which will enable make it possible to turn on filters.
Step 4. Slide down and hit "Manage" preferences. You will get to this from the Additional services column.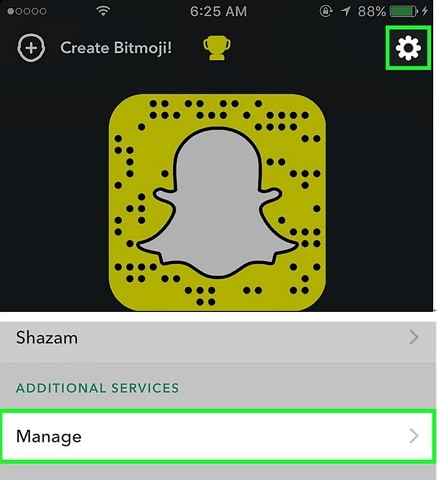 Step 5. From the manage preferences window, slide to the right filters switch which in turn will turn green. And you have successfully enabled filters!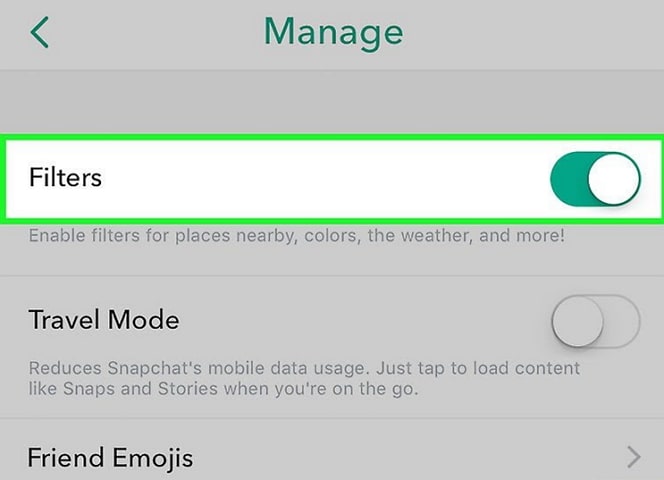 Step 6. To access video chat tool, open chat conversation with the person you intend to converse with.
Step 7. Initiate a video chat with filters by clicking the video button. After which the other individual on the other side of the video call will be notified by his/her Snapchat notification settings.
Step 8. After the video call has been received. Scroll up "your screen", tap and hold. Icons will pop up to the right of the camera button.
Step 9. Now, scroll through the available effects. After settling to the filter you prefer, click to apply.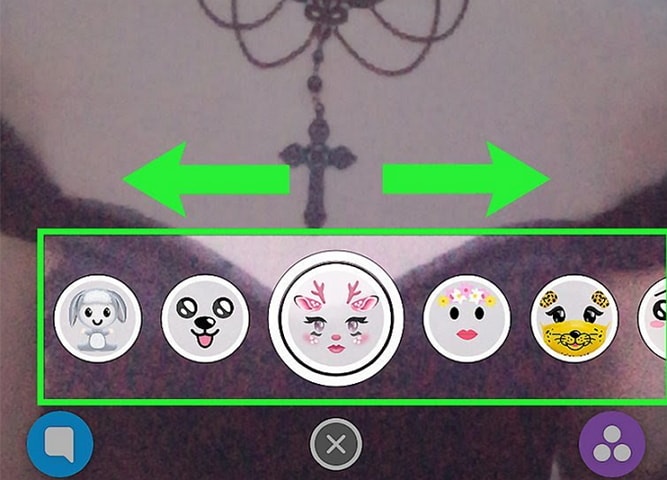 ---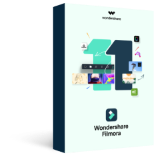 It's modern and easy to use interface welcomes and treats each user either a novice or pro with relevant features simply and straightforwardly.
Multiple creative inbuilt features which include filters and overlays, transitions, impeccably transform photo or video, and smoothly merge them.
Picture in Picture tool in Filmora video editor let it possible and smoothly layer multiple media files.
This program supports the import, editing, and export of photos and videos of up to 4K resolution.
---
Part 3. How to Use Instagram Video Chat with Filters
After a long wait, Instagram followers, at last, have something to laugh about. Video chat and camera effect which aggregates to video chat with filters has been rolled out. This feature is available for both Android and iOS users. Originally this good news was announced at the Facebook F8 conference.
To ignite a video chat with filter with an individual or maybe a group, slide into "Direct inbox" and click to view the message thread. Then in the top right corner, you will see a new camera icon. Tap this icon. A group video chat comprises at most 4 members concurrently. And during the latter session, you can minimize the video chat window and be able to multitask on Instagram.
At the moment video chat with filters is active in a group thread, the camera icon will take up a blue color. If the Instagram video chat conversation is not yet at the limit number of participants, to join simply tap the blue camera icon. However, note that blocking users will deter them from video chatting with you.
To use filters at the moment on Instagram during a video chat, follow the Instagram account of the camera effect designers. Among them include singers Ariana Grande and Baby Ariel, Internet media company BuzzFeed, YouTube personality Liza Koshy and the NBA. Clicking the face icon in the bottom right corner after following those accounts will add related camera effects to the Instagram camera.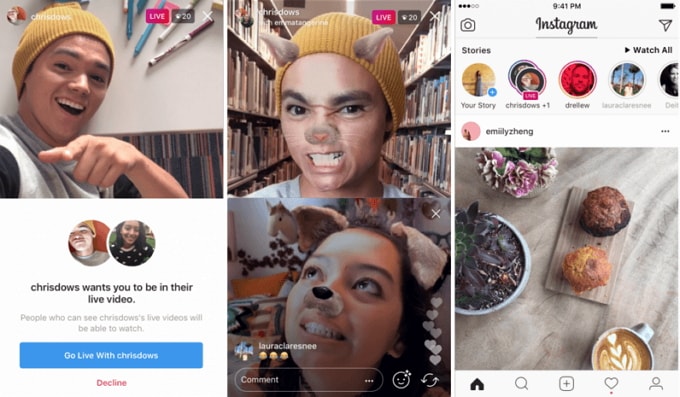 ---
Part 4. Other 6 Tips on How to Improve Video Call Quality
To have a perfect video chat apart from taking filters to your rescue, consider the following aspects:
1. Lighting
Adjust your lighting to avoid appearing as a dark silhouette on the screen. If you are using a lighting source, avoid being behind you or just above-it will cast dark-eyed-shadow or totally a dark figure of you. Let it be in front of you. Preferably use natural lighting.
2. Video Call Application Version
With each new version, they improve video chat quality. In this scenario where you are using more than a year outdated version, you will still have the same sucky problem. To avoid this and enhance video call quality be quick to upgrade to recent smarter versions
3. Wear Headphones
This seems not to be relevant when video call quality come into play. However, when you are using a smartphone during a video call or simply video chat you need to strategically place this device in front of you. Wearing headphones will give you space to perfectly set your camera to focus on your upper body. Instead, you might end up point at the ceiling lights or having a shaky video.
4. Background
If you have a background full activity like a bustling coffee shop, or family watching TV behind you, sought to a tranquil and serene environment. Instead, you will end up having a choppier video.
5. Internet Connection
A strong and stable internet connection is a secret to have better video call quality. If you have an overloaded internet with other tasks, this implies less bandwidth is used in your video call. Recommendable resort is using wired Ethernet instead of cellular network or Wi-Fi. Or closing all those programs specifically using the internet. You will be incredible to notice how video call quality increases drastically.
6. Adjust Webcam's Video Settings
Some webcams let you manipulate the brightness, microphone among other options within their settings. This can be a remedy for your video to look better although can't be that much effective compared to better lighting. But you can play around and be of great help when you are out of reach on real-world fixes.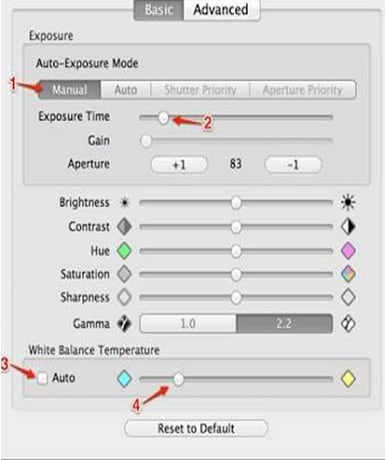 ---
Conclusion
The process of getting video chat with filters, no matter the program you are using perks up. To avoid some of the drawbacks during this process, dig deep on tips that enhance video call quality. Lighting, device positioning, and background are basic to this. Or you may also want to take video recording before sharing with your friends and family members contrary to real-time video chat, in this case, Filmora Video Editor software is the perfect software for you.