Is it possible to crop videos for Instagram? Yes, you can crop video using Instagram in-built video crop feature or using video crop Instagram software. You may find out that there are some parts of the Instagram video that you want to eliminate and the only quick way to do that is to crop out parts. At this point, you could be wondering which software to use or mobile app to use. Worry not. In this article we have recommended the best video crop Instagram software, an ideal video crop Instagram mobile app as online video crop Instagram that you can use.
Part 1. How to Crop Videos for Instagram on Mac and Windows
The most preferred and appropriate video editing software for both Mac and Windows OS is Filmora Video Editor for Windows (or Filmora Video Editor for Mac). This video crop Instagram software is fully packed with features ranging from basic to advanced hence it can facilitate trim, rotate, crop videos for Instagram with only few clicks. As you crop, you can use Pan and Zoom option as well as set aspect ratio of your video easily. Moreover, Filmora Video Editor is built with more features mentioned below.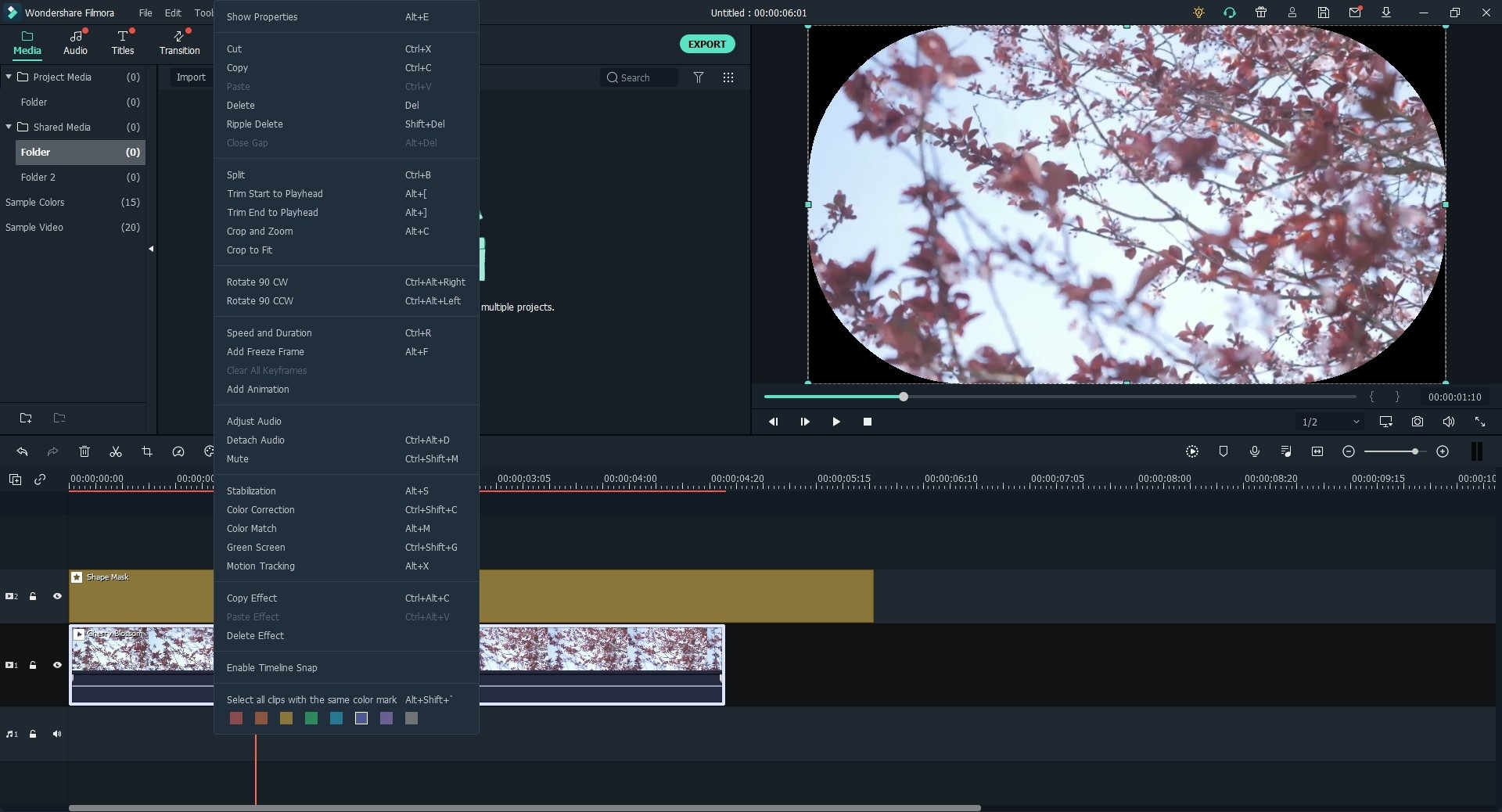 Why Choose Filmora Video Editor:
This software is built with numerous effects, filter, overlays, motions and elements that makes your videos more creative.
It allows you to edit videos, images and audios using its inbuilt basic editing features.
It is integrated with advanced editing options like 3D Lut, PIP, GIF Support, Camera Shake effect, green screen, split screen and much more.
Filmora Video Editor enable you to export videos with your preferred format, to your device and/or upload to social sites.
Also, it is built with a screen recorder.
Steps on How to Crop Videos on Instagram on Mac and Windows PC
Step 1. Import video files
Click Filmora Video Editor icon on your computer to open. Upon accessing the software, hit "Import Media Files Here" and browse to the saved location, select videos to import and click "Open" button. Now, drag these videos and drop on the video track on the timeline.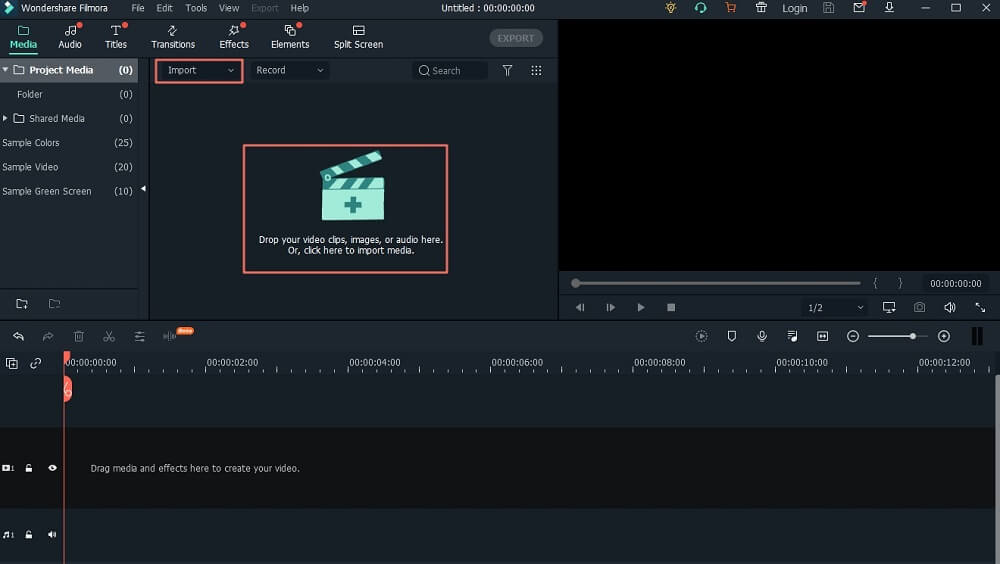 Step 2. Crop videos for Instagram
Right-click on the video and select "Crop and Zoom" option. And new window will be displayed to carry out video crop for Instagram. There are two options to do this, the first one is to select the preferred frame ratio such as 16:9. And the second one is to choose "Manually" to be your crop edit option which allows you to resize the frame freely.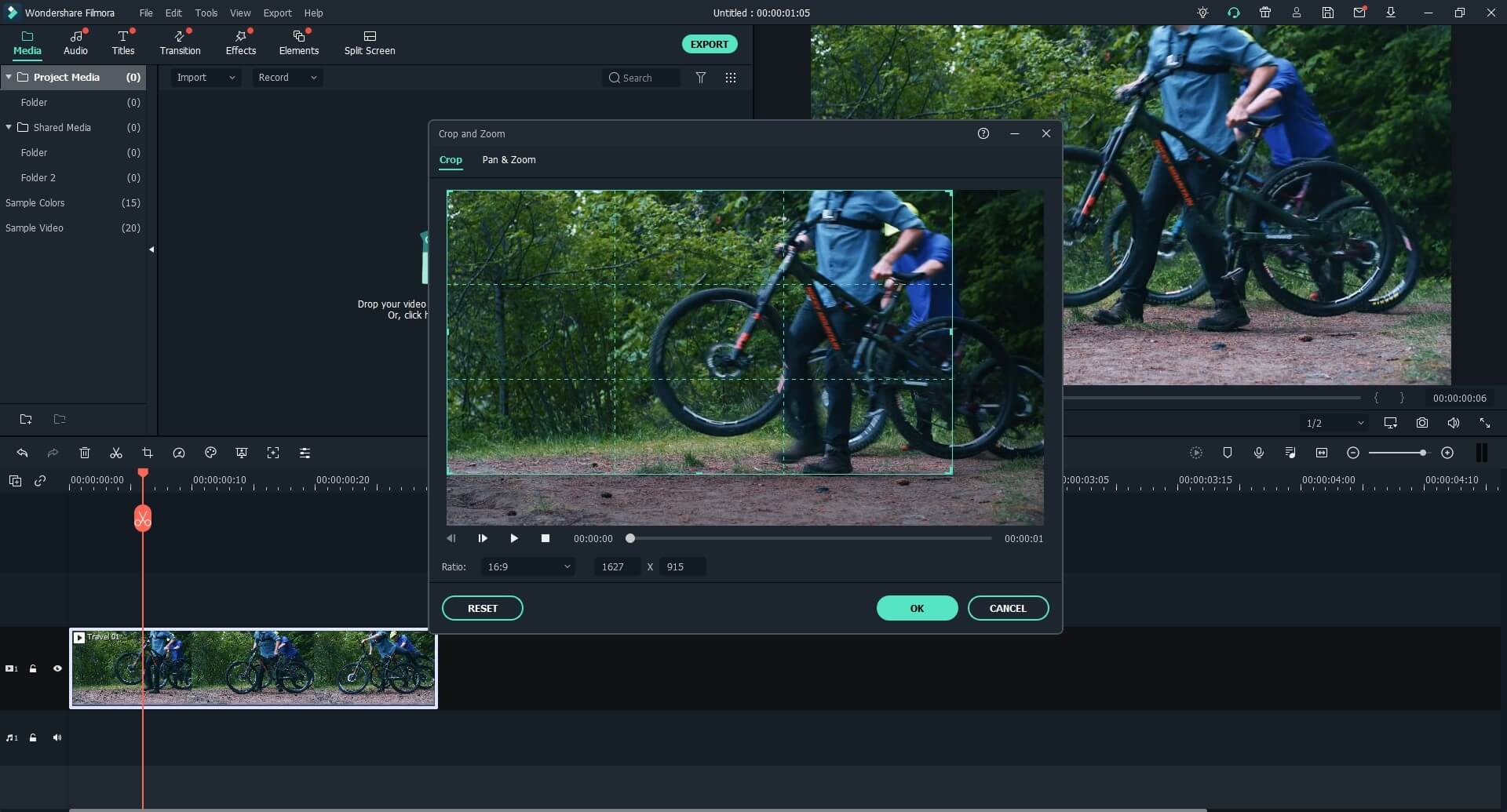 Step 3. Export cropped Instagram video
When you have attained a satisfactorily level of cropping your videos, click on the "Export" button just above the timeline. On the new window, select device to be your output and pick the right device option to coincide with your device. Then give it a name and save path. Additionally, you might decide to adjust the videos' resolution by clicking on the "Settings" button. Note that this will affect the size of the video. Finalize by clicking "Export" button and proceed to upload this video on Instagram from your device.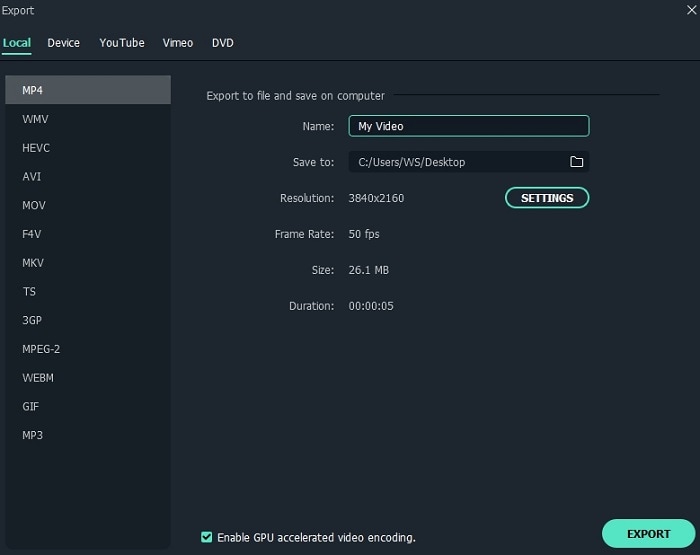 ---
Part 2. How to Crop A Video for Instagram on iPhone and Android
If you do not want to use a computer but rather crop videos directly from your Android or iPhone, then you need video crop Instagram application. In this section we will show you how to video crop Instagram effectively with Video crop for Android and Video Crop and Trim for iPhone
[Tutorial] How to Crop Video for Instagram on iPhone
Step 1. Download and install video crop on the iOS device. You can find it on App store.
Step 2. Click on the video crop icon to open. Then proceed on preparing to video crop Instagram video process by giving the app permission to access your photos.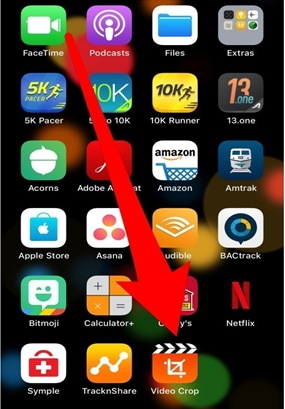 Step 3. All the videos on your iPhone storage will be listed and sorted by date.
Step 4. Pick the video you intend to crop. And click on the check button which is visible on the upper right corner.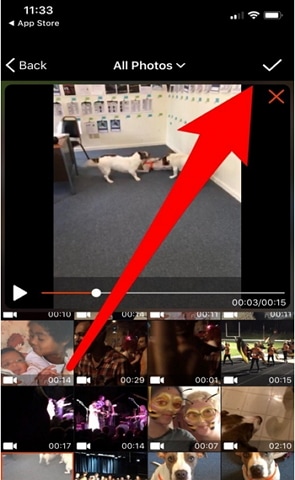 Step 5. At this point, a grid will be laid over the video. Where you are supposed to drag the edges and have the perfect video ratio for the Instagram video. Or alternatively, select the video ratio options at the bottom of the screen. It is recommended to use 1:1 ratio (square) otherwise upon uploading on Instagram it will automatically be resized.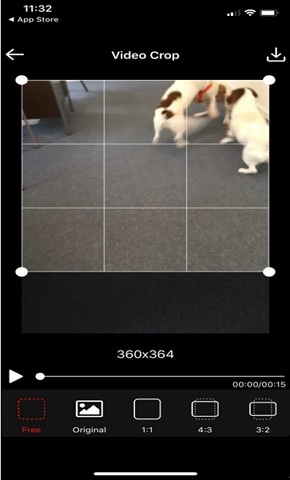 Step 6. Once you have reached at the required video ratio, tap on the download icon.
Step 7. Upon completing downloading the cropped video, hit on the "Save" option to save the video on the Photos app.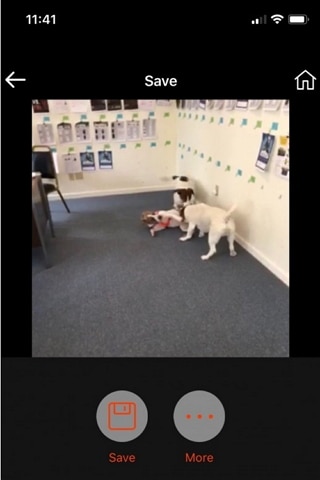 ---
[Tutorial] How to Crop Video for Instagram on Android
Step 1. Visit Google Play Store and install Video Crop and Trim Application from it. After which you click to open.
Step 2. Select Crop editing option then browse video save location and choose the one you want to crop.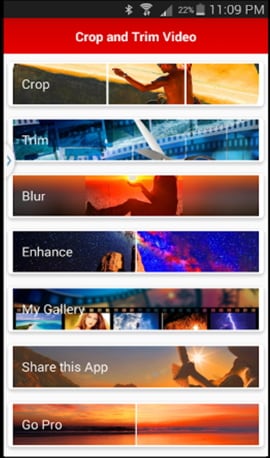 Step 3. From the available video crop options choose "Square" and drag the cropping section up to the preferred position.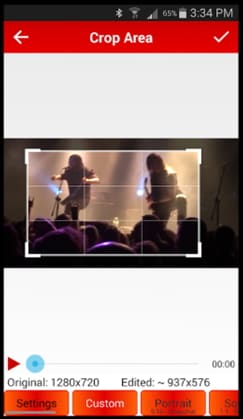 Step 4. Once done, tap the "Check" button and wait until the cropped video is automatically saved on your phone.
---
Part 3. Can You Crop Video Online for Instagram
Yes! there are various online free video cropping software which has make it possible to crop Instagram videos online. They include the following with the guide on how to accomplish how to crop videos for Instagram.
Method 1. Cropping Video for Instagram Online Using Video Cutter
Step 1. Visit Video Cutter official webpage
Step 2. Tap "Open file" button and proceed on to select a video then hit "Open".

Step 3. Once the video is uploaded, press the "Crop" button. A dotted line will be now visible, drag its edges to crop the video. Then click "Cut" from the bottom-right corner of the page.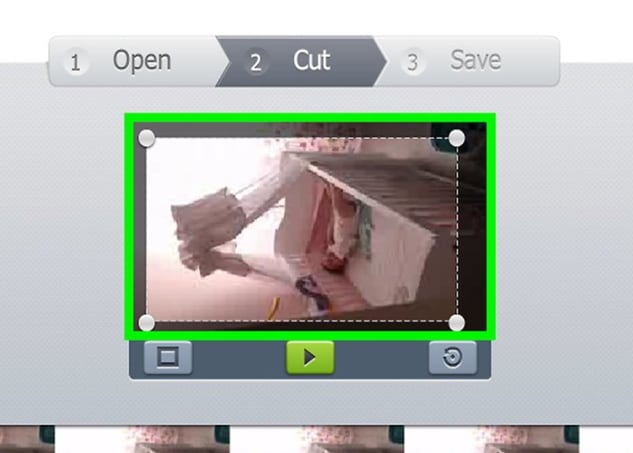 Step 4. Now, click "Download". This will save the video on the computer's hard drive.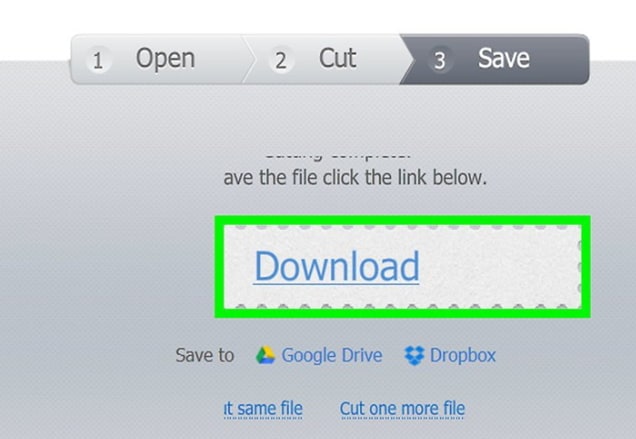 ---
Method 2. Cropping Video for Instagram Online Using MP3 Care Video Editor
Step 1. Visit MP3 care website.
Step 2. Press "SELECT VIDEO FILE" and choose the video from the appropriate save location. Then click "Open".

Step 3. Drag mouse over the area you want to crop and click "CROP VIDEO ONLINE".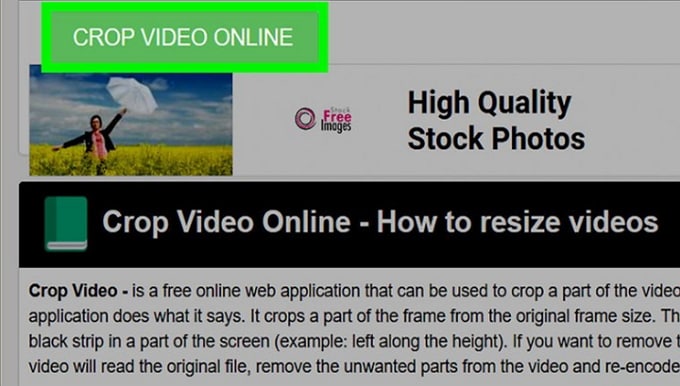 Step 4. Now, tap "Download Cropped Video File" link which will open a new window. And from here click the downward-facing arrow to save the video on the computer.

---
Part 4. Is It Possible to Post Videos on Instagram Without Cropping
When it comes to no crop video for Instagram, this is actually possible with the use of the tricks like uploading landscape video and rotating video. Landscape choice allows you to display your video in its full width and including background at the top and bottom of the frame. It is more effective at the moment where you intend to include a message in the story without interfering with the video. While the rotate option will take up the whole frame. However, this will force your users to turn their phones to be able to view the video.
---
Write in the End
To crop videos for Instagram is an exciting process with the help of video crop Instagram tools. And when you are acquainted with some few tricks on how to do so, you will be able to share amazing videos on your stories. With all those options available to crop videos for Instagram effectively and share them with your followers.