What is the best YouTube to MP3 converter for Android?
How do I download and convert YouTube videos to MP3?
YouTube is something that everyone spends a lot of time and enjoys doing so. But it is not always that you wish to watch a video or have a stable internet connection. In such cases, there are ways to download a YouTube video and keep it. But what if you want to convert a YouTube video into MP3?
You might want to convert video songs or inspirational videos on YouTube into MP3 and keep it on your phone's internal storage. In such cases, you will have to depend upon third party converting applications. This article will recommend YouTube to MP3 converter and downloader to your satisfaction.
Part 1: The Best YouTube to MP3 Converter for Win/Mac - Filmora Video Editor
Many good applications in the current market can be used to convert YouTube videos into MP3. One such application that is compactable with both Windows and Mac is the Filmora Video Editor.
Filmora is a video editor that offers a hell lot of features and options, including screen recording and conversion of videos into MP3. It can also be used as an MP4 to MP3 converter. It is a very popular application widely used among video editing professionals all around the world. Its simple interface makes video editing easy and usable by amateurs as well.
Let us look at some of the special features of Filmora that make it stand out among other video editing applications.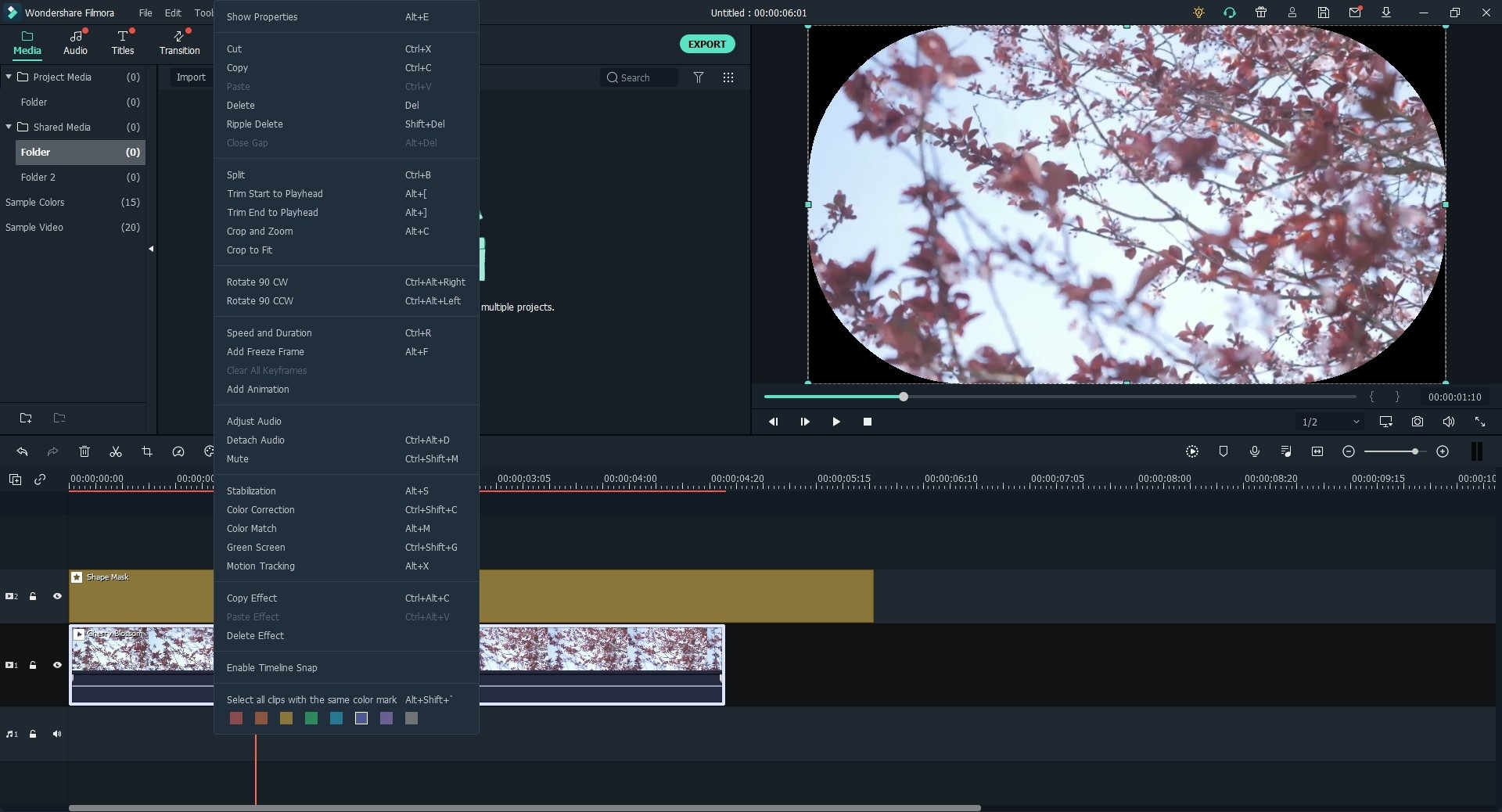 Edit YouTube videos using the trim, split, merge crop features and add effects, transitions, and background music.
Convert the YouTube video you have downloaded into any formats, including MP3. (The other video formats include MP4, MOV, F4V, MKV, WMV, AVI, MPEG-2, WEBM, TS, 3GP, GIF)
Has the option to directly upload the edited video directly to social platforms like YouTube and Vimeo.
Export the edited video in any format without even a little loss in the quality of the video.
When you need to convert a YouTube video to MP3, first, you need to import your YouTube video into Filmora Video Editor. And now, maybe you want to know about 4 ways to download YouTube videos without any software.
Steps to Convert YouTube to MP3 Using Filmora Video Editor
After you finish downloading YouTube videos, you need to complete the following steps to import your YouTube videos into Filmora:
Step 1: In fact, you have four ways to import media files (including photos, videos, and audio files) into Filmora Video Editor:
• Click Import Media Files Here on the left side of the main window to browse the media files on your computer and import them into the software.
• Click the Importbutton on the upper part of the software, and then select Import Media Filesor Import a Media Folder.
• Go to the File menu, and click the Import Media option to select files from the local folder and import them into the program.
• Drag and drop the media files directly into the software.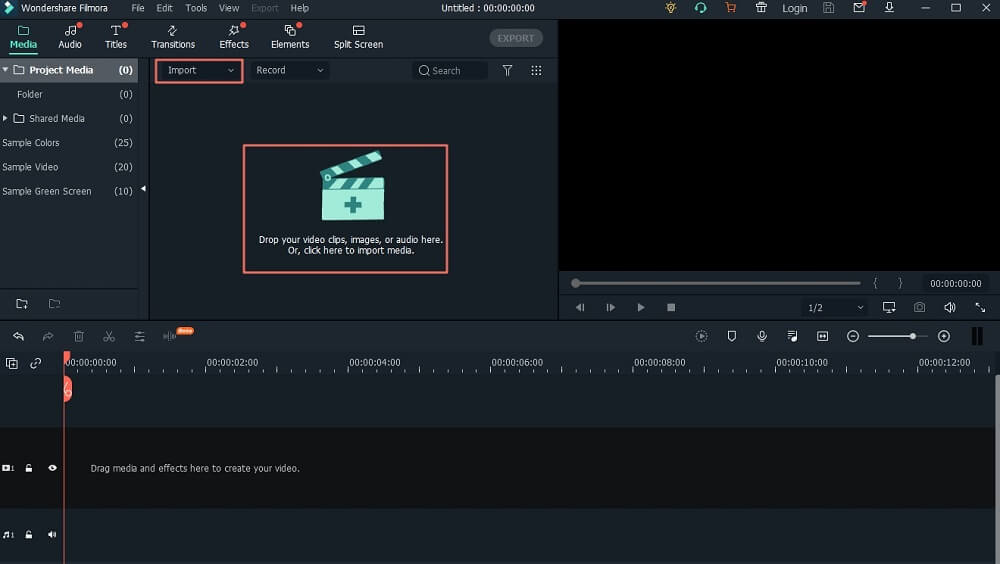 Step 2: How to Combine Video Clips?
- After importing the video, you can choose to process the video simply. For example, you can merge multiple downloaded youtube video clips. Then drag and drop video clips and photos into the timeline in order. When you export them, they will become a single video.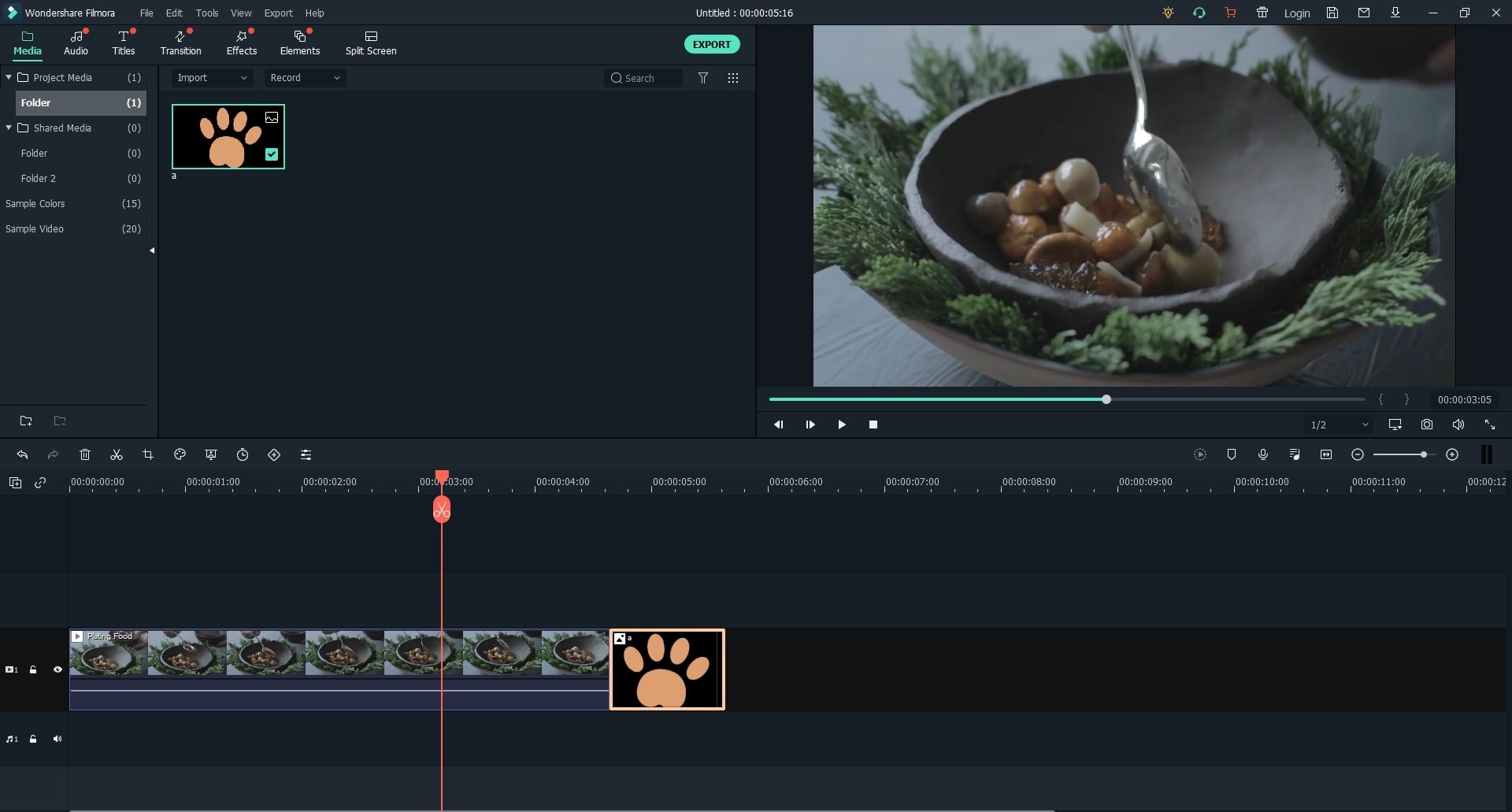 - After the video combination, you can also choose to add and edit text. To add text or title to the video, click the T (title) icon above the sub-menu to choose a cute title template once you find the title template, drag and drop it to the timeline.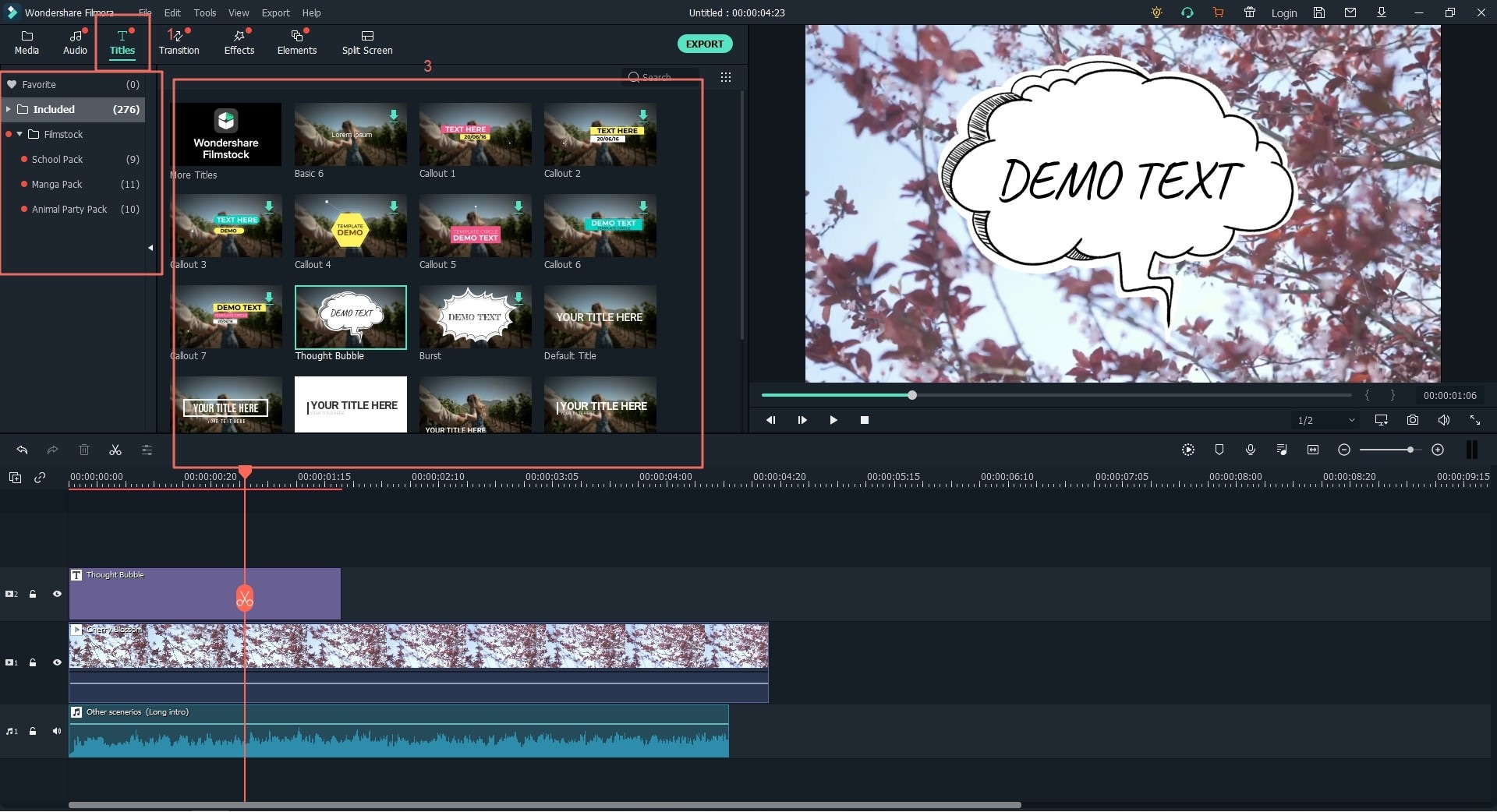 - Edit text: Double-click the text added to the timeline to activate its settings window. From there, you can choose preset colors and fonts for the text. Or customize the video effect yourself. For example:
• Select the font style, size, border, and alignment under the Font option.
• Go to Settings to determine the text color, space, line spacing, text layer, etc.
• Go to Transform and rotate the text or title as needed.
• Go o to Compositing to choose a blending mode and opacity.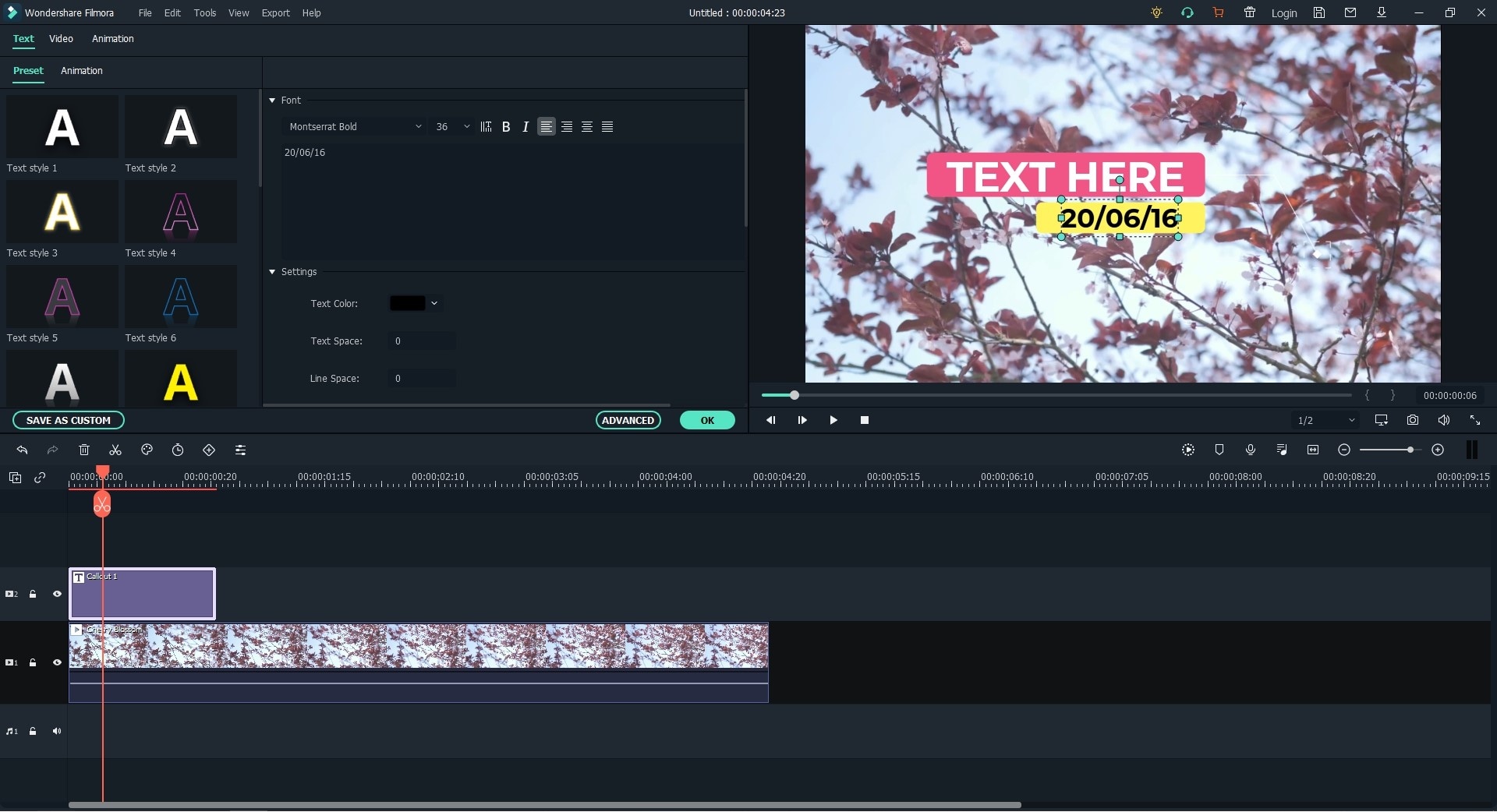 - You can click Advanced to add text boxes, text shapes, image overlays, etc. according to your needs for more text editing.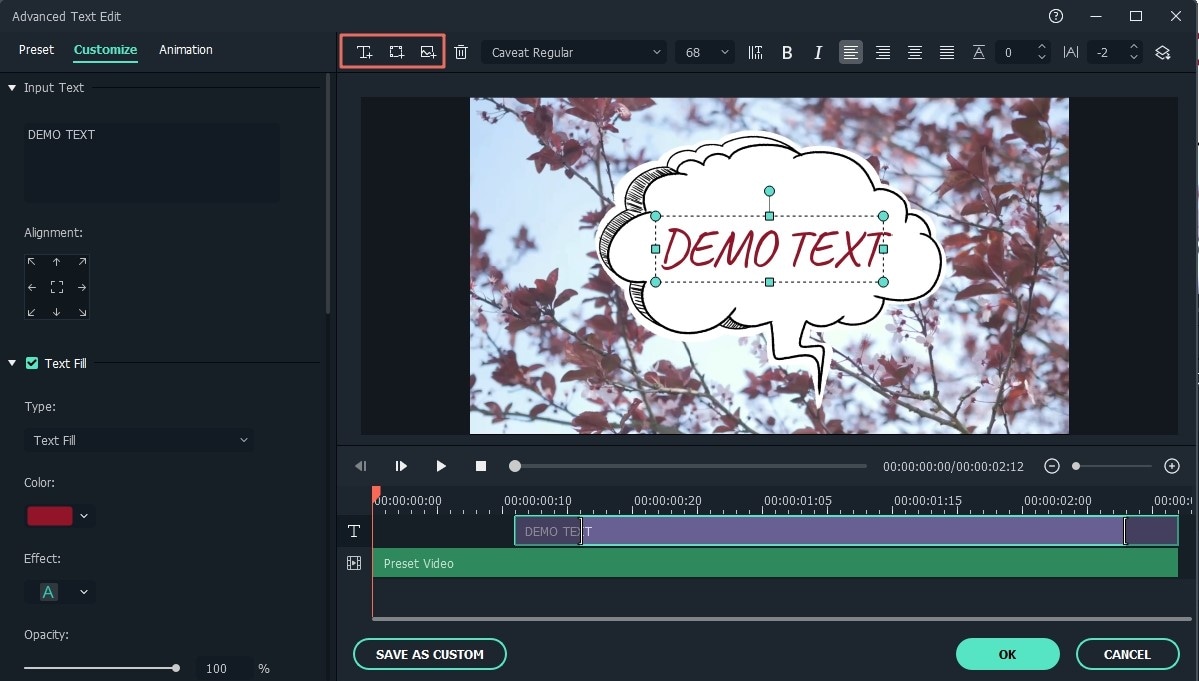 Note: The default duration of the text effect is 5 seconds. You can change it by dragging one of its edges in the timeline. Alternatively, you can click the Duration clock icon at the top of the timeline to enter a new duration.
Step 3: Export video to MP3 format?
- Filmora Video Editor allows you to export videos and convert them to the most popular video and audio formats, such as MP3. Click the Export button above the timeline and then navigate you to a new window. By default, there are 12 video/audio formats for you to choose, then you can choose to export the video to MP3.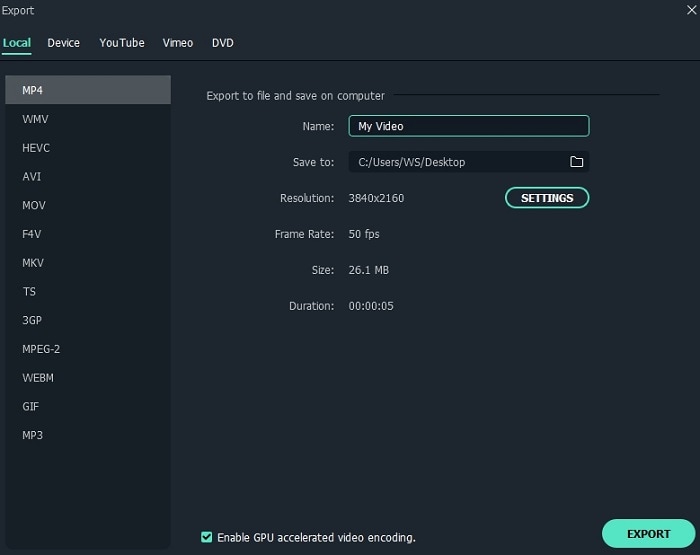 - If you are not satisfied with the video's parameters, please click Settings to change it manually. In the Settings window, you can set the quality to Best, Better, and Best. You can customize the video parameters, including encoder, resolution, frame rate, and bit rate. For audio, you can customize the encoder, channel, sample rate, and bit rate.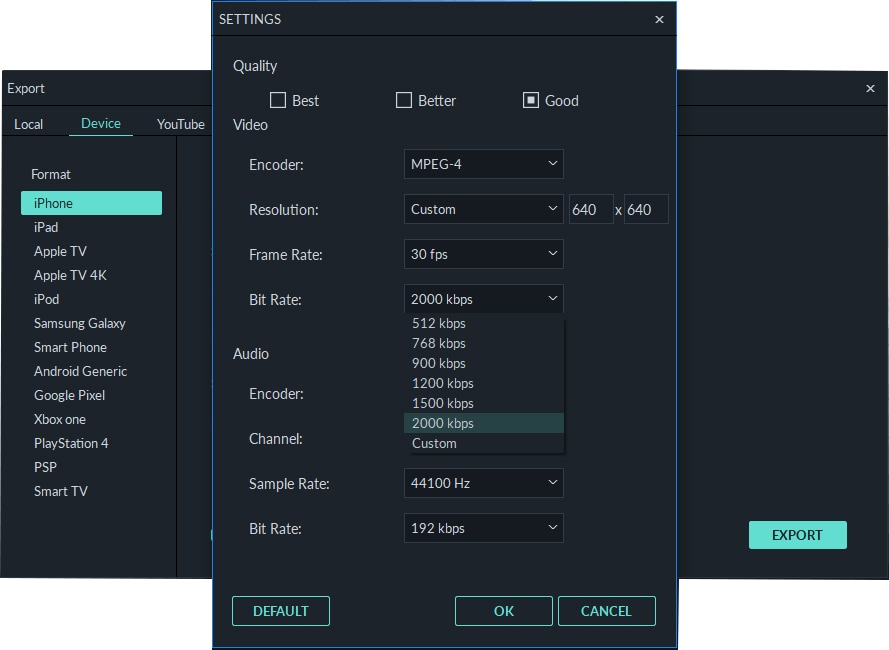 Step 4: Then you can give a name to the video and choose the destination to save the video. Finally, click Export to convert the video format to MP3.
---
Part 2: The Best 3 Best YouTube to MP3 Downloader Online
There are different ways in which a YouTube video can be converted to MP3. Those people who do not wish to pile up applications on their mobile devices can choose online converters to download and convert the video into MP3. Let us discuss how to convert YouTube to MP3 without downloading software while ensuring the video quality.
#1. Ymp4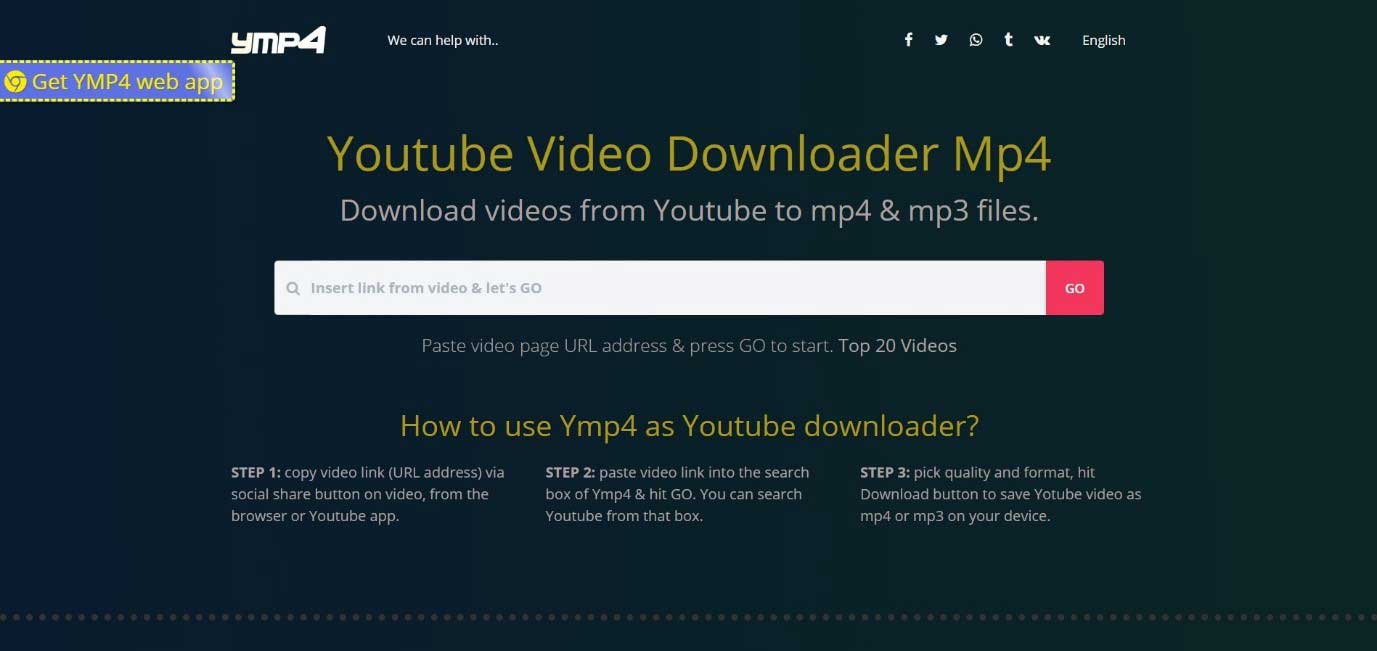 Ymp4 is a simple YouTube video downloader and converter widely used to convert YouTube videos into MP3 format. It can be used from any mobile devices, tablets, or convert YouTube to MP3 on PCs and offers a fast downloading and conversion process.
Pros:
• Easy to use interface which allows easy downloading.
• Fast conversion into MP3 and MP4 formats.
• Search a long duration video to download using keywords.
Cons:
• limited formats for conversion.
• Don't provide options to choose the quality of conversion.
---
#2. Ytmp3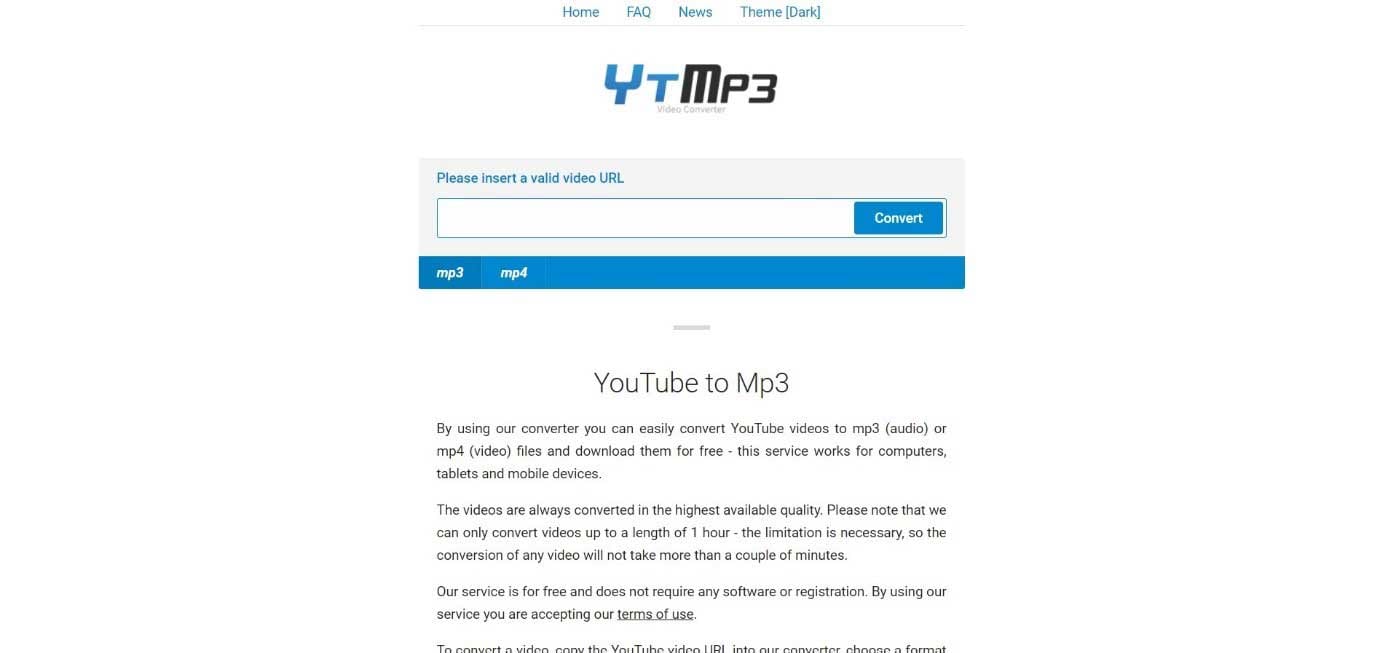 Ytmp3 is a website that can be accessed from any device, be it an Android, IOS, or PC. It can be visited from any browser and offers a quality downloading and conversion process. It has the simplest interface, and files can be converted into MP3 or MP4 formats.
Pros:
• Fast downloading and conversion.
• No ads or pop up messages, which often can be irritating.
• Uses web beacons and cookies to provide a good service for the next time you visit this page.
Cons:
• Can convert only a single file at a time.
• Does not support videos that have a total duration of more than one hour.
---
#3. MP3Downy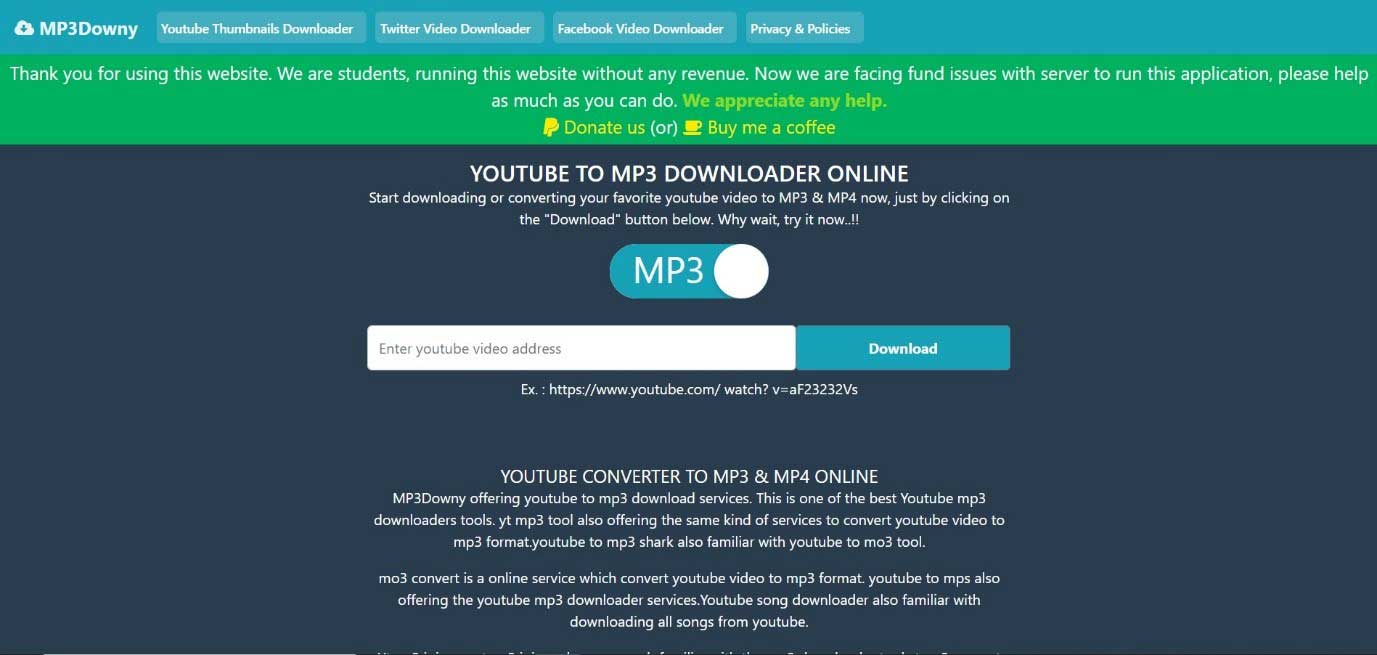 MP3Downey is a popular website widely used for the conversion of YouTube video to MP3 for some time. It is a great website and offers other features like YouTube thumbnails downloader, Twitter video downloader, Facebook video downloader, etc.
Pros:
• Secure and offers free unlimited conversion and downloads.
• Has the option to choose from 320 kbps and 120 kbps bit rates.
• Compatible with Windows and Mac.
Cons:
• Does not offer any options for batch download.
• Unnecessary ads.
---
Part 3: The 6 Best YouTube Video Downloaders and Converters to MP3 for Android
Many people use Android devices, and many of them like to convert YouTube videos into MP3 rather than downloading an MP3 file. It is better for people with many conversions to download a YouTube to MP3 converting application for Android. Some such applications are listed below.
#1. YouMP34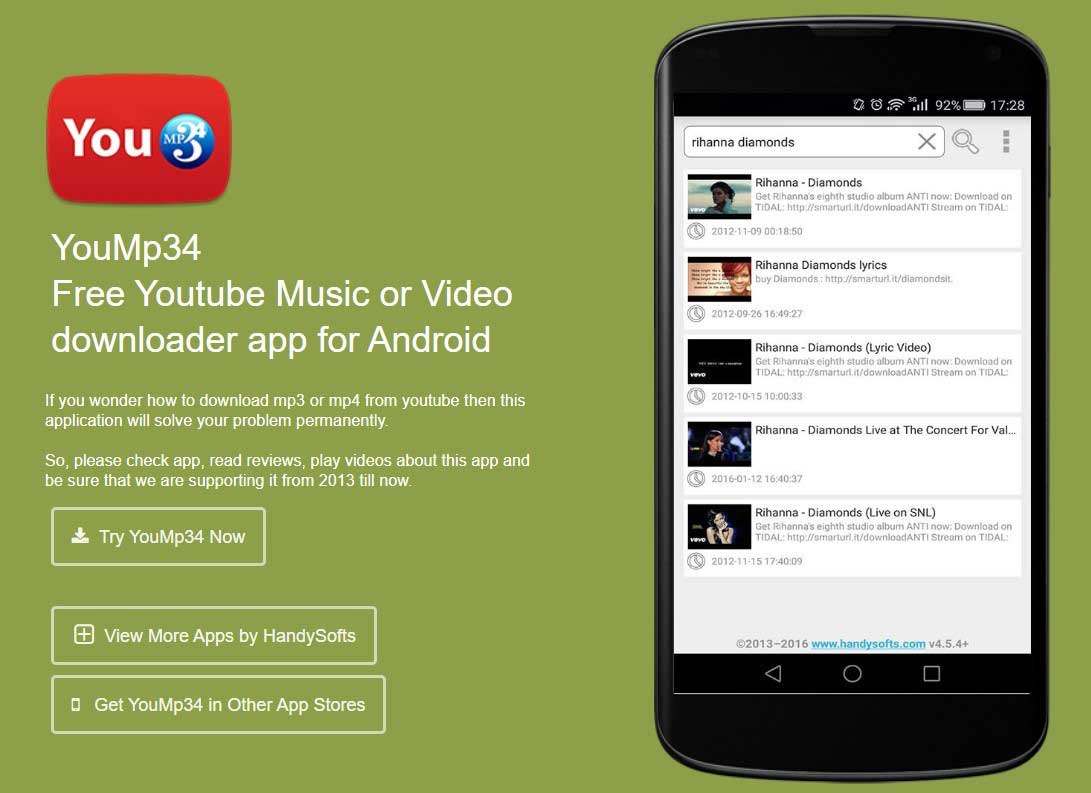 YouMP34 is another Android application that can be used to convert YouTube videos into MP3. It offers a smooth interface and fast conversion process.
Pros:
• Easy to use and stylish user interface.
• Allows direct sharing of videos.
• No compromise in quality in the conversion process.
Cons:
• Not many formats of conversion are available.
• Slow loading.
---
#2. Peggo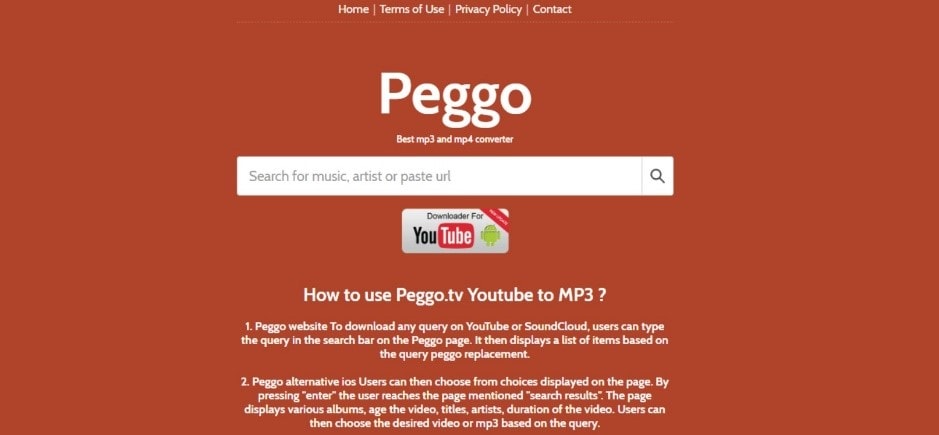 Peggo is one of the ideal applications that can be used to convert HD videos into MP3.
Pros:
• Easy download and conversion of YouTube videos into MP3 format.
• Selectable quality options of download.
Cons:
• Believed to be an application that raises privacy concerns.
• Unnecessary ads.
---
#3. VidMate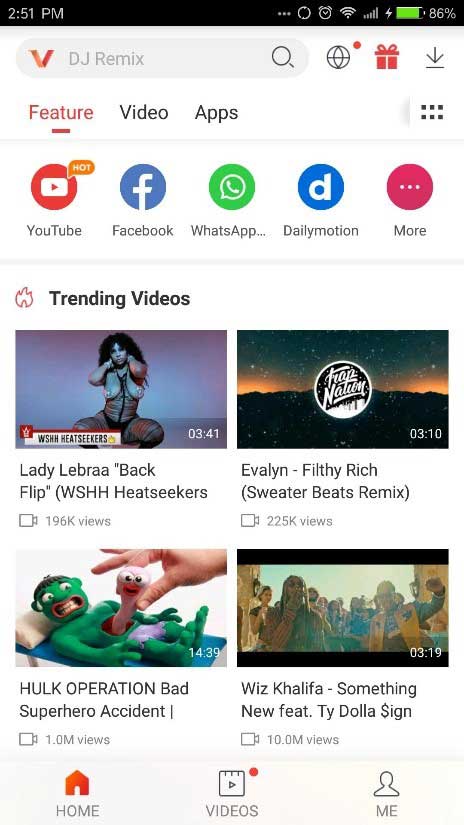 VidMate is a popular YouTube downloaders and converters for Android that has access to not only YouTube but also other 200 platforms. This application also allows users to stream online HD videos.
Pros:
• Has an integrated downloader for providing faster downloading speeds.
• Offers a large number of videos from different platforms under a single screen.
Cons:
• Not very easy to use interface.
• Rumored to have privacy risks.
---
#4. YouTube MP3

YouTubeMP3 attracts people with its sleek interface and its unique conversion features. It has been a rival of one of the most popular video converters known as Free YouTube to MP3 Converter.
Pros:
• Select compression rates of the MP3.
• Allows optimizing the output format and volume control.
• Supports a range of video and audio output formats.
Cons:
• Have disturbing ads.
---
#5. TubeMate YouTube Downloader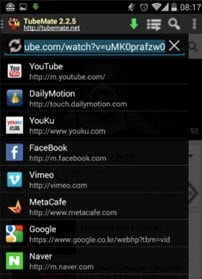 TubeMate is a free application that can be downloaded from any browser and installed on your Android device. It is very simple to you and allows you to search, play, and download any YouTube video directly.
Pros:
• Different video and audio formats to choose from.
• Directly open YouTube and supports direct download.
• Allows the sharing of videos on multiple social media platforms.
Cons:
• Not available on the Play Store.
• Crashes at times
---
#6. YMusic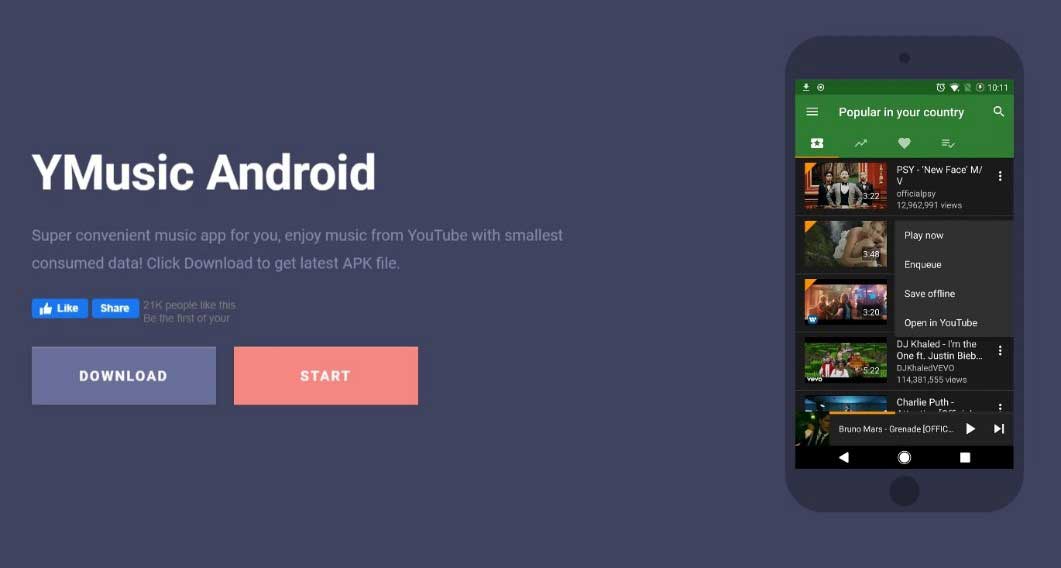 YMusic is another Android application that allows you to play as well as download YouTube videos to MP3 formats. Videos can be directly searched and downloaded using this app.
Pros:
• Cool interface and easy access.
• Direct download options.
Cons:
• Not available in app stores.
• Consumes battery.
---
Part 4:Top 6 Free YouTube to MP3 Downloaders and Converters for iPhone
Even Apple users need to convert and download YouTube videos into MP3 formats without compromising the quality, so we have listed a few of the best iPhone MP3 downloaders and converters for iPhones in the passage below.
#1. Video to MP3 Converter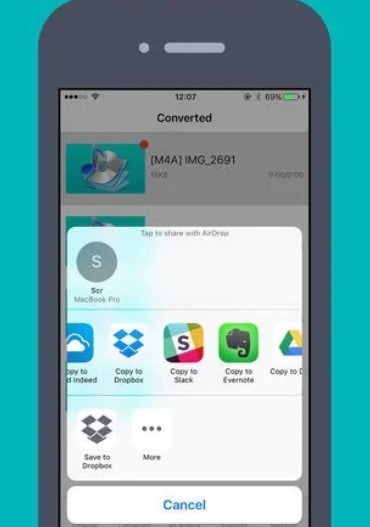 Video to MP3 Converter is an application that allows the conversion of YouTube videos into other video formats and MP3 formats. It offers a lot of features like customizable sample rate, bit rate, volume, etc.
Pros:
• Manually select the length of the video before converting.
• Allows the import of audio or video from iCloud, Dropbox, Google Drive, One Drive, Album, or camera roll.
• Allows opening the files in the same app and shares it with other applications.
Cons:
• Lack of a search bar for easy navigation.
• Need subscription to access full features.
---
#2. MyMP3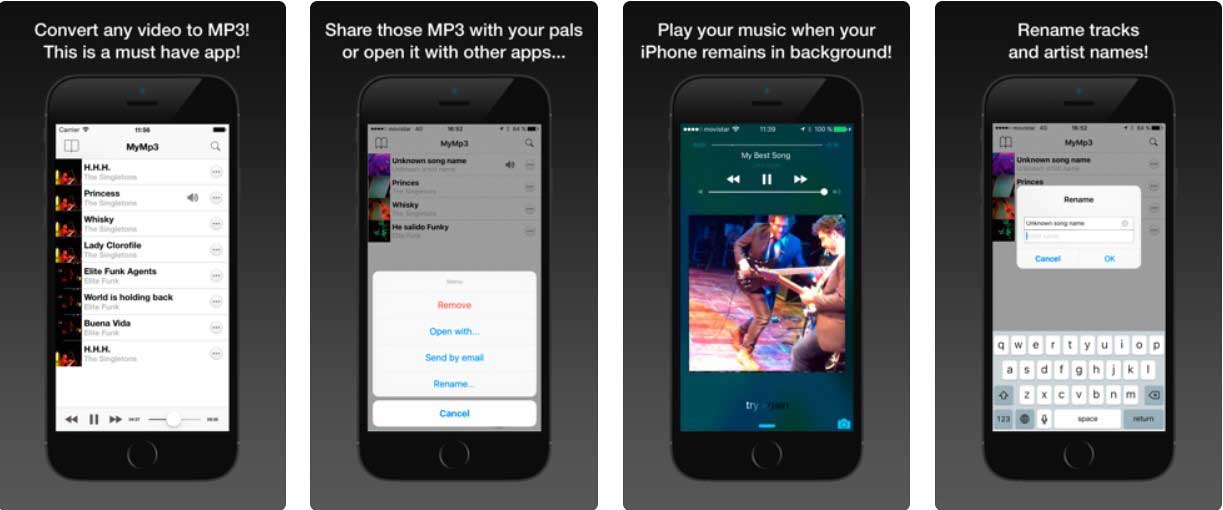 It is an application that allows fast conversion of any videos to MP3 formats on an iOS device.
Pros:
• Allows editing the metadata.
• Can instantly share the converted MP3 files to any social media platforms, email, or messaging applications.
• Offers features like renaming batch files, ripping CDs, schedule recordings, playlist management, and silence detection.
Cons:
• Cannot add playlists.
• Have to pay just to get rid of ads with no extra features.
---
#3. McTube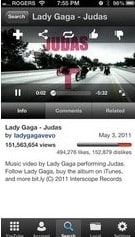 McTube is said to be a video downloading application that provides all the missing features of the YouTube application, including conversion and downloading of videos in high quality.
Pros:
• Provides a wonderful user experience.
• Change video quality between 240p, 360p, 720p and 1080p.
• Allows access to your YouTube account's rate, shares, comments, adds to playlists, etc.
Cons:
• Does not categorize the videos into trending, most popular, most viewed, etc.
• Ads that suggest downloading other applications.
---
#4. Freemake Video Downloader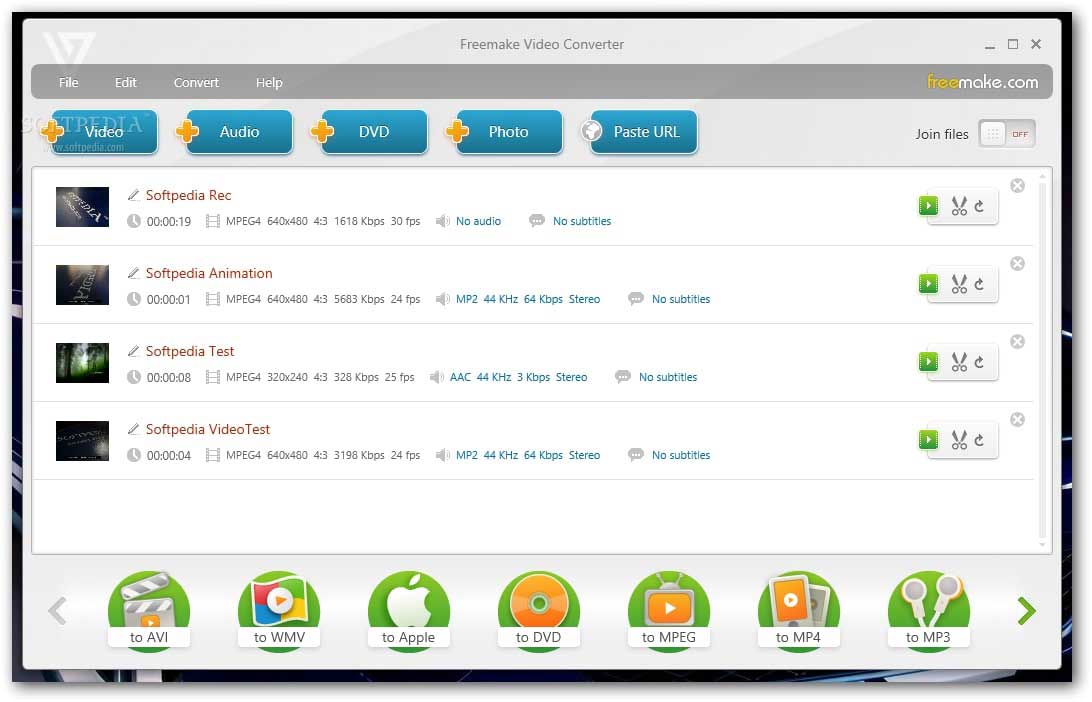 Freemake video downloader is a platform that grants you access to all most all the video platforms like YouTube, Dailymotion, Facebook, Vevo, Vimeo, etc. It is free to use and allows the download/extraction/conversion of any videos into MP3 format.
Pros:
• Allows the users to save videos and playlists on the app.
• Channels in MP3, AVI, HD, MP4, 3GP, FLV, etc.
• Absolutely free and no ads
Cons:
• A complicated process of conversion.
• Direct download is not available.
---
#5. MxTube for YouTube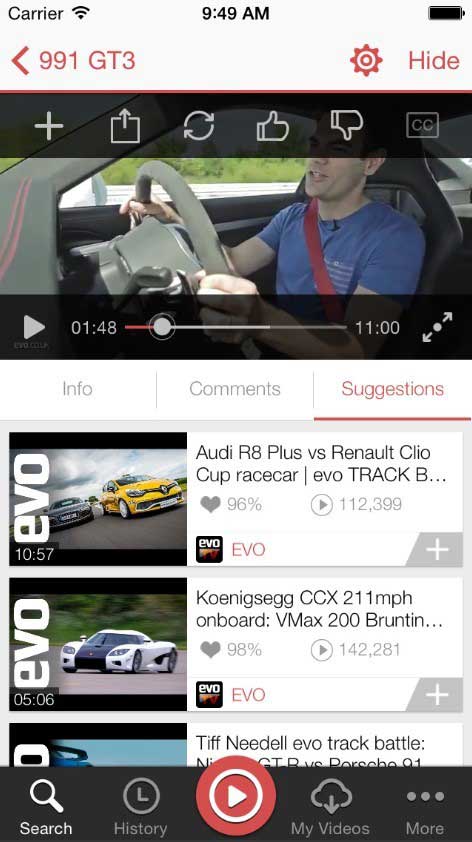 MxTube is an iOS application that enables its users to download any YouTube video directly to the device's internal memory from the app. Simply search the video, and you can download it in low of high quality.
Pros:
• Choose the quality of video 240p, 360p, 720p, 1080p.
• Advanced searches for videos.
Cons:
• Not available in iTunes.
• Regular updates are not available.
---
#6. iConv: Video & Audio Converter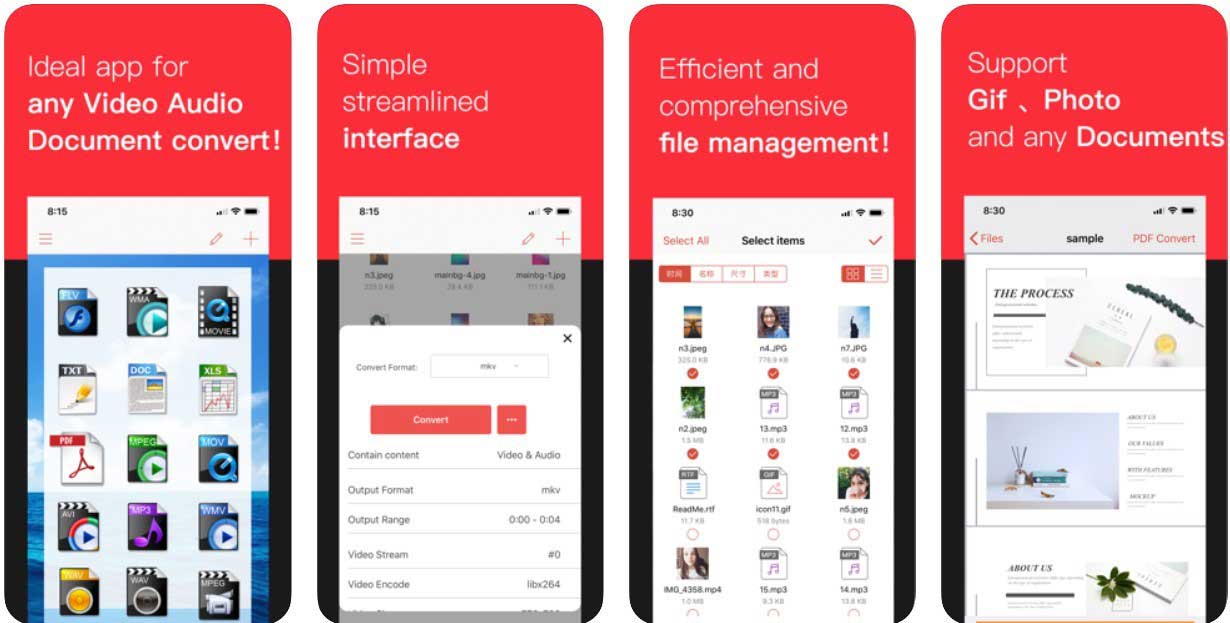 iConv: Video & Audio Converter is an application that is apt for everyday use and offers extra features like YouTube to MP3 conversion, decompressing files, document processing, PDF conversion, image conversion, etc.
Pros:
• Supports batch conversion of videos into MP3 formats.
• Simple, streamlined interface.
• Comprehensive and efficient file management.
Cons:
• Complicated interface.
---
Conclusion
Everyone enjoys watching videos on YouTube as well as on any other platform. At times, people prefer MP3's over videos, and most of the video content will not be available in audio formats. In such cases, there will be a need for converting these videos into MP3 formats, which can be done using the converting tools mentioned above.
Each of the tools we mentioned above can be used as the best YouTube to MP3 converter and downloader, and these applications can provide the best MP3 files without compromising the quality of the files. Please let us know what you think about the suggestions above and feel free to comment if you are aware of any better YouTube to MP3 converters and downloaders. Thank you.