Sometimes you may need to transfer music, photos, videos and more files between your BlackBerry smart phone and Mac computer. Read this article, you will get detailed tutorial about how to transfer files from BlackBerry phone to Mac or from Mac computer to your BlackBerry phone.
Preparation Before Transferring Files Between BlackBerry and Mac
The very first thing to do is make sure you have Bluetooth turned on and discoverable on your Mac running Mac OS X Snow Leopard, Lion etc. Open up System Preferences and select the Bluetooth icon — if you don't have one then your Mac doesn't support Bluetooth, sorry — and make sure that Bluetooth is both "on" and "discoverable".
Next up you need to enable Bluetooth on your BlackBerry, either via an icon on your home screen or going to the Setup application and selecting Bluetooth, then opening the menu and selecting "Enable Bluetooth." Finally, you have to pair the two devices together. On your BlackBerry home screen, select the Set Up Bluetooth icon.
It will ask you to ensure that your device is in pairing mode, which is what we did when we set the Mac to be discoverable. Hit "OK" and let it grind for a minute. Once it finishes, it should show a list of available devices, one of which will be called "Computer" or the name of your computer (which you can set in your Sharing preferences). Now it will ask you for a numeric passkey. You can put in anything that you're able to remember for about 10 seconds, because you'll have to enter the same thing on your Mac but after that you'll never need to know it again. After that, you should see this pop up on your computer:
Simply enter the same passkey that you did on your BlackBerry and you're ready to start transferring files!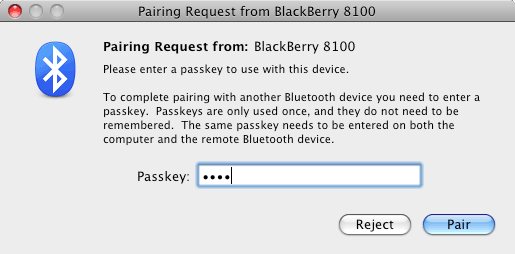 Part 1. How to Transfer Music, Videos, Photos from Blackberry to Mac
For BlackBerry->Mac transfers, just navigate to your Media application and find a picture, video, or what-have-you to transfer. Open the menu (the button with the little bundle of dots, usually left of the trackball) and select "Send Using Bluetooth" then select your computer from the list of devices that pops up. Likely there will be only one, namely, your computer.
Your Mac will pop up a dialog asking if you want to receive it, and if you click yes.It'll be transferred to your Documents folder. That's it, you're all done.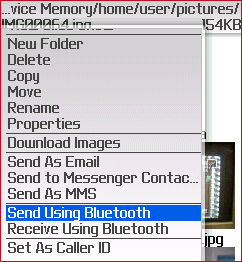 Part 2. How to Transfer Files from Mac to BlackBerry Phone
Mac to BlackBerry transfers are a little more complicated. The following steps are only for Blackberry files which are compatible with Mac. If your Blackberry files are incomptible with your Mac, please get the Video Converter for Mac to convert your BlackBerry videos to Mac supported format.
First, go back to the Media app on your BlackBerry and select Pictures, Ringtones, Videos, or Music, it doesn't matter which.
Then, open the menu and select "Receive Using Bluetooth". Once it says it's waiting for a connection.
Control-click or right-click a file on your Mac and select the "More" submenu. From there you can either select "Send file using Bluetooth" or the submenu "Send file to" which should have your phone in the list.
Then you can accept the transfer on your BlackBerry after selecting a download destination.
Mac->BlackBerry transfers are kind of buggy, unfortunately. One file stalled after being transferred 90%, and after canceling the transfer all future transfers stopped working until I turned Bluetooth off and then back on, on both the Mac and the BlackBerry. Bigger transfers like MP3s failed instantly with no reason given.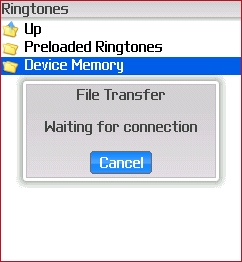 Tips: This how-to is compatible with the following BlackBerry Wireless
BlackBerry Curve: 8300, 8310.
BlackBerry Pearl: 8100, 8130.
BlackBerry 8800, 8820, 8830.
Technically all BlackBerry Wireless Handhelds running BlackBerry OS 4.2 and newer.
Again, if this method is out of work, the best solution for you is converting your Blackberry video and music to Mac video (take video for example), after that, you are able to use these phone files anywhere on your Mac, like iMovie, QuickTime, iTunes and more.