Celebrating Christmas from way before its time is a wonderful experience! You could start early celebration of Christmas by listening to your favorite blend of classic & modern Christmas songs on any day. We will be providing you with a list of popular Christmas Music Stations where you could listen to your Christmas songs and Carols all year round.
Part 1. The 10 Best Christmas Music Radio Stations
The Christmas Radio Music Station on CBN Radio broadcasts your favorite songs and Christmas Carols. You could hear songs from your favorite artists like Brenda Lee, Frank Sinatra, Nat King Cole, Amy Grant, Kenny Rogers, the Trans-Siberian Orchestra, Mercy Me, Faith Hill, Natalie Grant, Josh Groban and Mannheim Steamroller.
---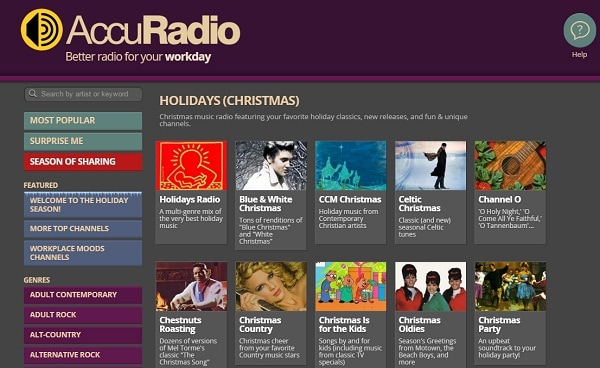 AccuHolidays consists of a bucket list of holiday music stations such as Quiet Christmas Eve, Celtic Christmas, Holiday on Broadway and Blue & White Christmas. You just have to select a station from the site and launch its player. You could even build your favorite music mix from various music stations. It is a popular Internet Radio which is accessible from anywhere.
---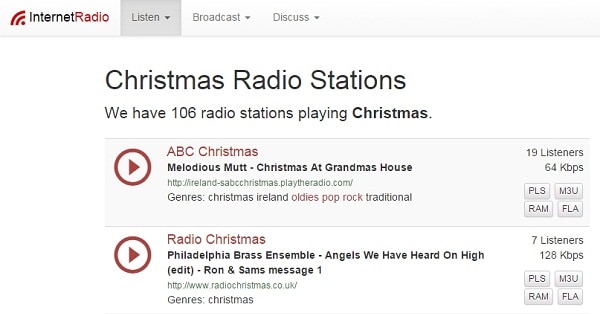 It has 102 radio stations which plays Christmas Songs. It also consists of Christmas music mix which could be played on Christmas Eve or any other festive season. You could tune into 1000's of radio stations which plays Christmas Carols and other seasonal pop music.
---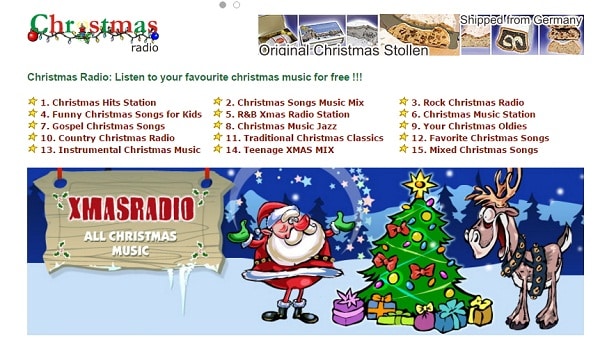 Christmas Music radio consists of various holiday classics and is also easy to use. It is a free online Christmas Radio Station which has 9 different Christmas Radio Stations such as Christmas Rock, classics and various Christmas songs. It features various hits from Chris Rea, Dean Martin, Jona Lewie, Bing Crosby, The Beatles, Michael Bolton, Cyndi Lauper, Darlene Love, Paul & Mary and so on.
---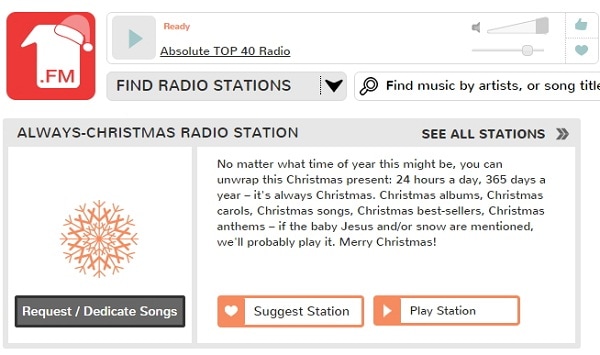 This Radio Station is always open for its listeners all year round. It is not bound in time for Christmas arrival. You could listen to Christmas Songs, Christmas Carols, Christmas Albums, Best-Sellers, and Christmas Anthems like baby Jesus and so on. It is open for Christmas Celebration for 24 hours a day and 365 days a year.
---
6. LITE 105 Internet Radio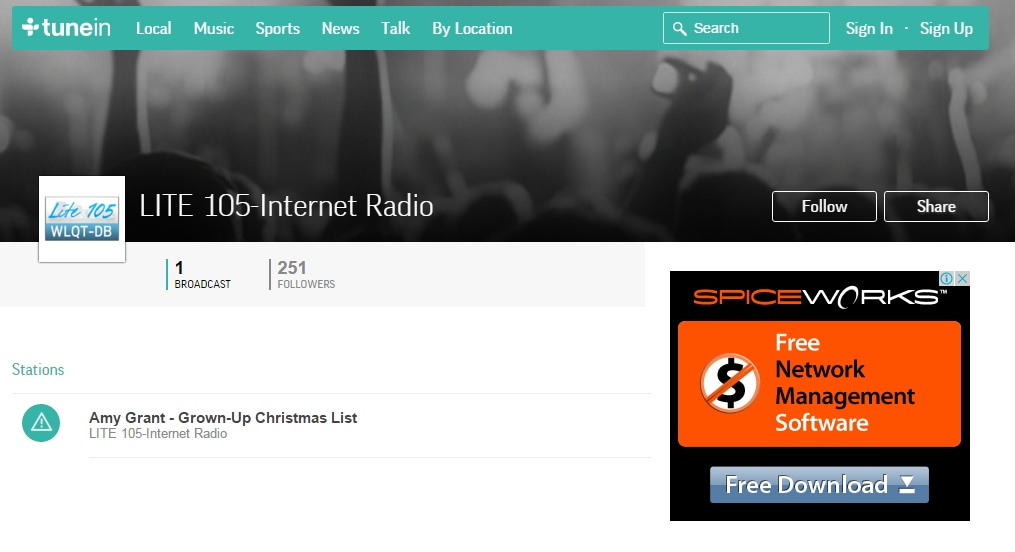 Dayton's Christmas music station plays all your favorite songs from Bing Crosby to Kelly Clarkson. They also play old and new Christmas Classics. It plays Jazz music on Thursday nights and Christian music on Sundays. If you have any song in mind or want to dedicate it for someone you could email or contact them on Facebook too.
---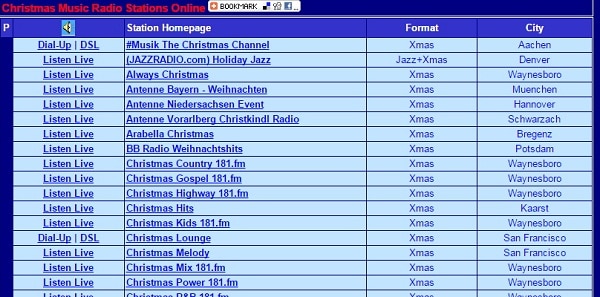 It features Live Radio stations and Web TV so that you could listen to more than 15000 online Christmas Radio Stations! Isn't it exciting! You could surf through different music stations as per your taste. It has also launched 3 channels for holiday music. They are Today's Christmas, Christmas Traditions & Country Christmas.
---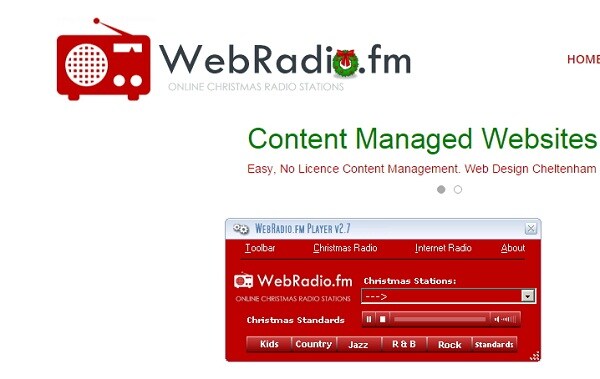 WebRadio.fm is listed online since 1995 and also has Web-Radio Christmas Player. It consists of a selection of stations which plays Christmas Music. You just have to click on the We Radio Player and select your Christmas Station to enjoy your favorite Christmas songs & Carols.
---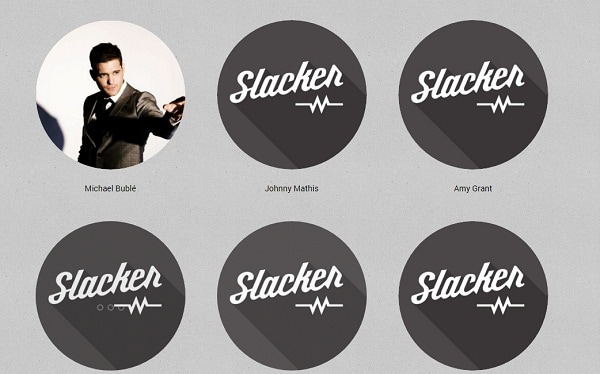 Slacker.com consists of Top Christmas Hits and has a perfect soundtrack for your festive season. You could enjoy all the classic songs and music from contemporary artists too. You could even save what you like and block any song you don't like. It has an interesting feature of searching the song by artist or activity.
---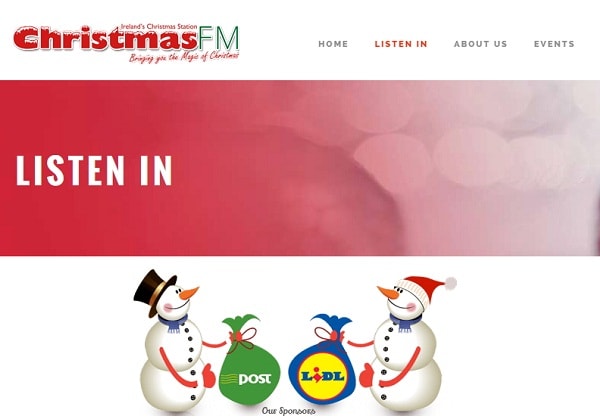 It has the best and new Christmas songs for the festive season. And the best part is that it is available for the whole year! Christmas FM IS Ireland's radio and holiday music station. It gives festive mood by bringing in magic to Christmas through its blend of Christmas music & carols each year to the whole world. It even has mobile apps for Android and iOS.
---
Part 2. How to Download Christmas Music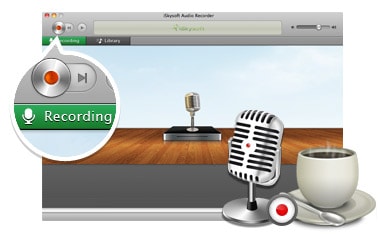 Can you imagine recording your favorite Christmas music from your Radio station? Yes, it is possible with the help of iSkysoft Audio Recorder where you could record unlimited free music from music station. It records audio from over 500 music streaming sites. You could record audio from Google Play, Pandora, iHeartRadio, Internet Radio, Mixclouds, iTunes Radio, BBC Radio and many more radio stations. You could also create ringtones with recorded music.
---
Part 3. How to Make a Christmas Video
Everyone is looking forward to spending time with family, friends, and loved ones this Christmas season, so it would be a great idea to vlog all your memories together. We're about to provide you with everything you need to make a Christmas video if you want to create everlasting memories this season!
The first thing you need to do is to get yourself an easy-to-use but full-featured video editing software! Wondershare Filmora will satisy all your demands excellently.
The software supports almost all available videos, images, and video formats. Besides, it also supports GIF files and 4K resolution videos.
Allows to import images and clips from Facebook, Twitter, and other social media channels.
The app also provides advanced functions, such as the audio mixer and picture-in-picture support, and basic functions.
Then, you might want to know some inspiring video ideas and the whole editing steps (from adding lovely Xmas-themed songs, adorable titles, elements, to uploading it to youtube/instagram/facebook), we've got everything covered already! Or, you can learn some expert tips about becoming a Youtuber in 2022 if you're a video lover!