What is the best streaming software for Mac?
How do you live stream on YouTube on a Mac?
Live Streaming software is a special and unique kind of software that enables users to broadcast live actions or performances over the network to help the public in real-time to gather and witness live action. The best live streaming software Mac versions which ensure Macintosh compatibility and other unique features are enlisted in this article along with the simplest methodology of how to use YouTube streaming software mac compatible versions.
The market has numerous variety of software that supports live streaming, but the main cons associated with many of these software include the Mac OS compatibility which these available software doesn't ensure for MacBook users.
Here we have brought you a list of the top 10 best Mac compatible live streaming software.
If you want to know more streaming software for Windows, you can click the link we show you before.
So, let's get started.
Top 10 Best Live Stream Software for Mac You Can't Miss
If you are a MacBook user and you wish to convey your live actions or real-time techniques to numerous users with the help of Facebook live streaming software Mac version then you're at the right place because, in this article, we have gathered top 10 live video streaming software for Mac that will broadcast your streaming to a large number of audience.
So here we go!
#1. OBS Studio
---
#2. XSplit Software
---
#3. Lightstream Studio
---
#4. Wirecast Play
---
#5. MimoLive
---
#6. CamTwist Studio
---
#7. Adobe Flash Media Live Encoder
---
#8. vMix
---
#9. Loola TV
---
#10. Ecamm Live
---
---
How to Live Stream to YouTube with OBS on Mac?
Catching a mass number of audiences for your live transmission is possible with the World's biggest streaming platform YouTube. However, if you are using Mac OS, then this article will guide you swiftly to stream your life passion with YouTube live streaming software mac OS version. Just follow the steps below:
Look here to learn more about how to live stream on different ways.
Step 1. Set up your Live Stream
On your YouTube account, Go to Create Studio option and click on Go live option. And then set up the title and description to tell your audience about your live streaming overview.

Go the Encoder Setup and copy the Streaming Key from the box which includes the key to be used in software.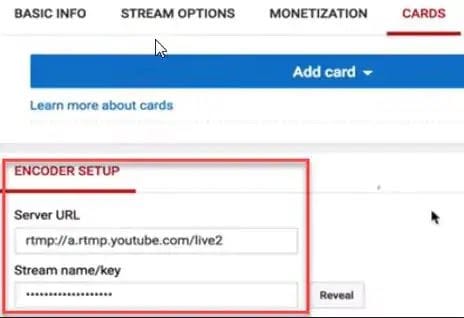 Step 2. Set up Your Live Streaming Encoder
Next step is to open OBS from your MacBook, and after it's a successful launch, to click the Stream option at the left side of the interface.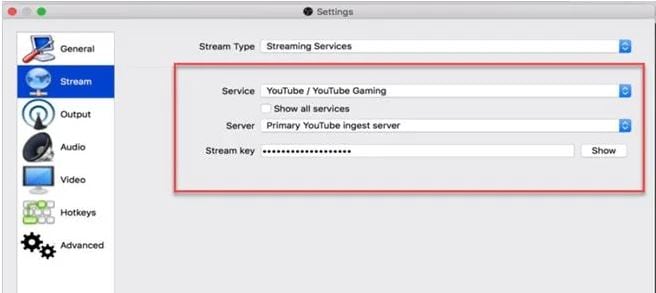 Now paste the Streaming key which was copied from the YouTube Encoder Setup to proceed with the OBS streaming.
The final step is to click Start Screaming button available in the menu of the OBS, this click will prompt you to YouTube live streaming directly.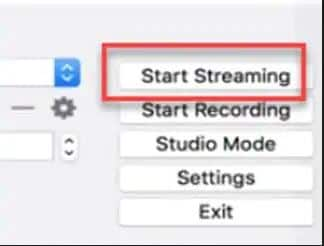 Step 3. Set up YouTube Events Schedule
The final step to start streaming from OBS is setting up the events for YouTube streaming as follows:
Open the Events page of your YouTube and click on the Schedule a new event option to create a new event for your broadcast. On the Basic Info tab, go to the Type option and select the Custom as the type of your streaming to provide set up with your OBS software as follows.
Do some personalized changes and after that, just hit the Create Event button to proceed with your OBS streaming.

---
The Best Live Streaming Video Editor for Mac - Filmora Video Editor
Looking for the best live streaming video editor to edit your real-time videos with fingertips? Here is the best video editor: Filmora9 Video Editor foe Mac, the choice of professionals to tackle the video editing creative ideas formation. The Filmora software enables you to put your video editing ideas into reality with the user-friendly interface. The best thing about this software is it's easy to understand editing techniques that drive users to achieve their target milestones in a real quick manner.
Here are some of the awesome features of Filmora Video Editor for Mac, if you want to know more, you can click the button below to download and try to edit your own video!
Final Thought
Being a MacBook user, it is utterly a difficult choice to proceed with the one software while planning for live stream broadcast over different platforms. But it's necessary and essential part of your live streaming process to select the best available software for your task. The choice you will make will comprises of basic key features of different software explained above.
Dealing with such an enormous and difficult task has been made easier for you as we have got an answer for you to choose Filmora Video Editor. Because it will not just record your live streaming but also provide you with the best video editing tools which don't require you to be an expert in the field while dealing with video editing professionally.