What is a meme?
People who maintain their distance from social media platforms might not be familiar with the concept of memes. In general, a meme can be a picture, video, or GIF that's specifically created with the sole purpose of making people laugh.
However, if you run a meme page on any of the social media platforms, you must be living under the continuous pressure of putting out funny memes multiple times a day. In such a scenario, it is essential to find the best meme maker that allows you to quickly edit photos, videos, GIFs, etc. and turn them into funny memes.
Well, it's seems to be impossible to add text to a video without any tool. But the fact has proved that you can do it when you find a reliable yet professional Video Meme Maker as your personal assistant.
So, in this post, we've scribbled down a list of 10 best meme maker app that are perfect to create and share memes.
Now, let's get started.
The Best Meme Maker in 2020 - Filmora Video Editor
Filmora Video Editor is the most reliable and feature-rich meme maker right now. If you've ever done video editing, you must have heard about Filmora. It's an exceptional tool that's designed with all the necessary tools to edit videos and images on a PC.</p、
However, very few people are familiar with the fact that Filmora can also be used as a meme maker app. With its 1000+ effects and unlimited transitions, you'll be able to create video memes and photo memes without any hassle.
These are a few of the features that make Filmora the right choice to create memes for social media.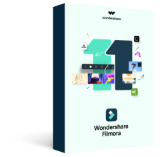 Filmora can be used to edit images, videos as well as GIFs, making it easier to design different types of memes.
1000+ visual effects give you the power to enhance the overall quality of the meme.
Add text to your memes and choose from an extensive range of fonts/text styles.
Add transitions to your video memes and add the required dramatic effects.
...
---
[Tutorial] How to Make the Funniest Meme using Filmora Video Editor
So, if you've also made your decision to use Filmora, here's the step-by-step process to make the funniest memes using the software.
Step 1. Download Filmora
First of all, download Filmora on your PC/Mac. If you have not downloaded filmora, then you can click the button below to download. Now, launch the installer and follow the instructions to install the software.
Step 2. Launch Filmora
Double-click the icon to launch "Filmora". Select the right "Aspect Ratio" as per your requirement. Click "New Project".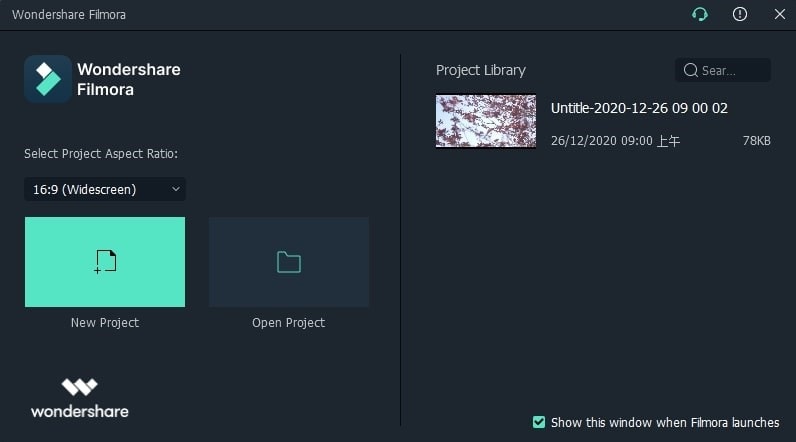 Step 3. Import Files
Once you're in the main interface, click "Import Files Here" and choose the video files that you want to use while creating the meme. You can also add files by simply dropping them in the timeline.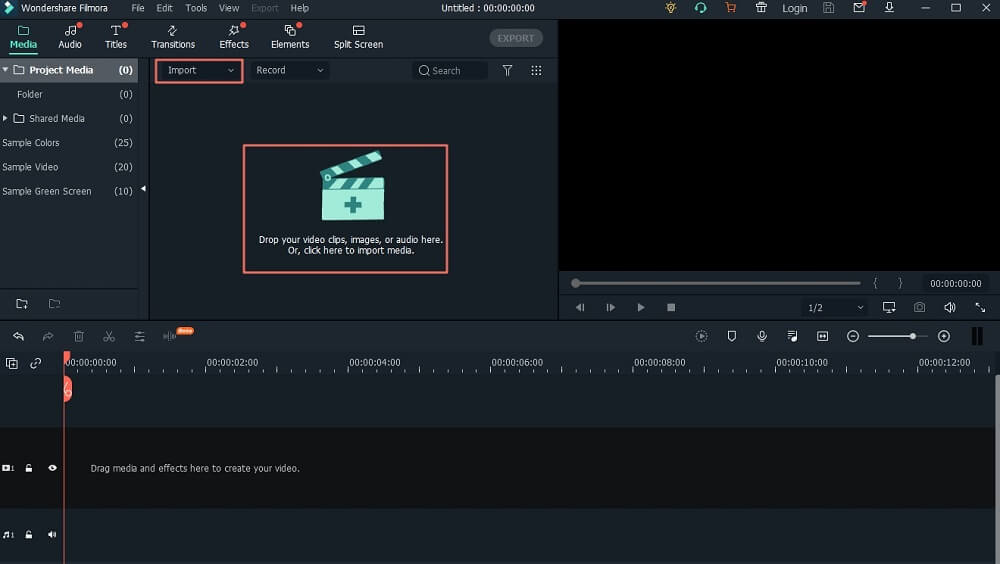 Step 4. Start Editing the Memes
There are different ways to edit memes in Filmora and it mainly depends on your creativity. However, two features'll always help you quickly edit the memes. These features include:
- Add Visual Effects
Like we mentioned earlier, Filmora Video Editor has 1000+ visual effects, which gives you the ability to edit memes in different styles. Whether you want to create old-school memes or a deep-fried meme, Filmora has enough effects to give the desired look to your memes.
- Add Text Elements
Since you're creating a funny meme, it's important to overlay it with a funny caption. To do so, you can use Filmora's Text tool to add a caption to your meme. To do so, click the "Text" button and drag a text- style to the timeline. Now, type the text that you want in the "Preview" window.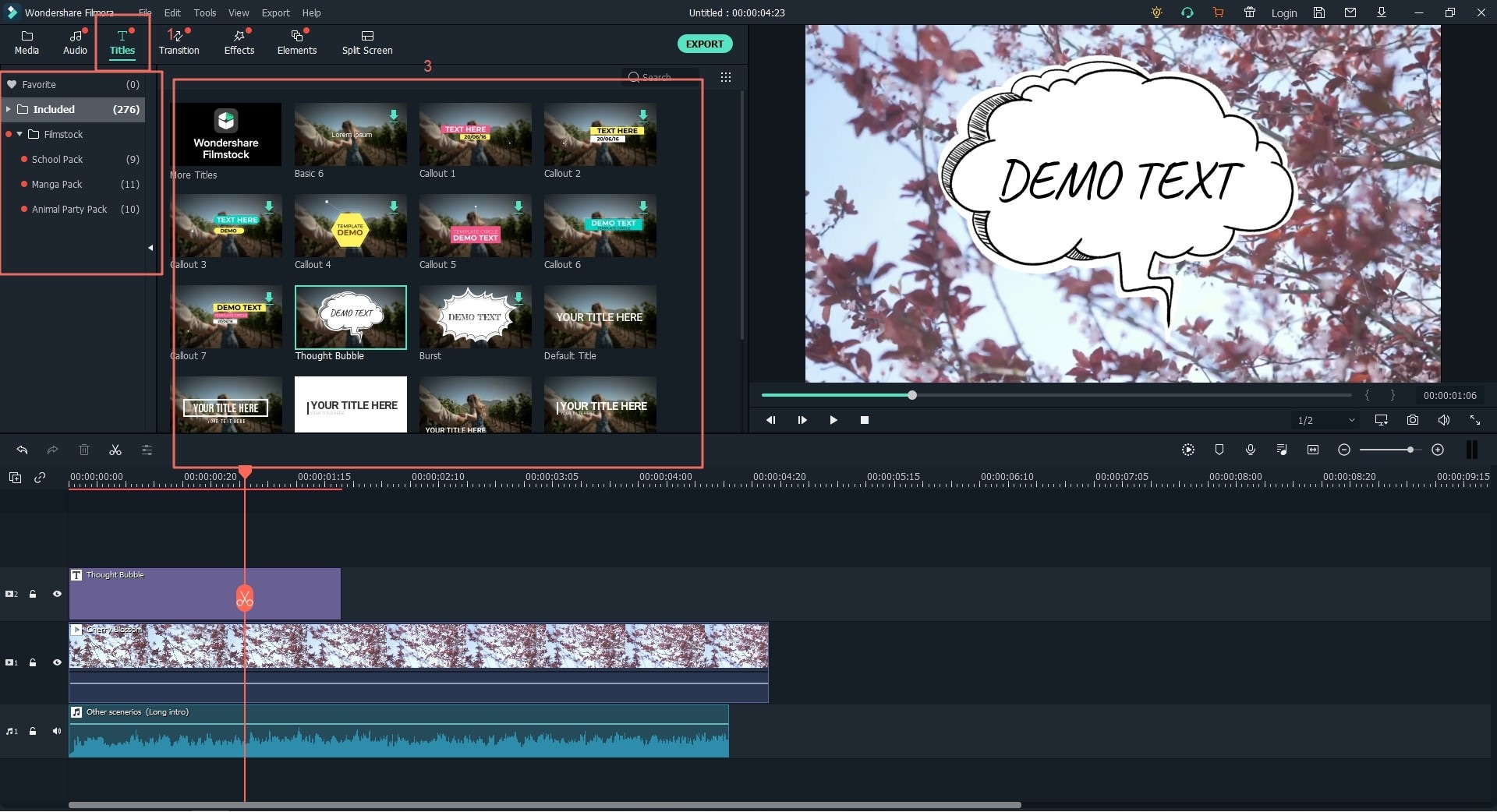 Step 5. Export Meme
After you've successfully edited the meme, click the "Export" button, and simply choose an output format for the meme. You can select different formats including mp4, GIF, AVI, etc.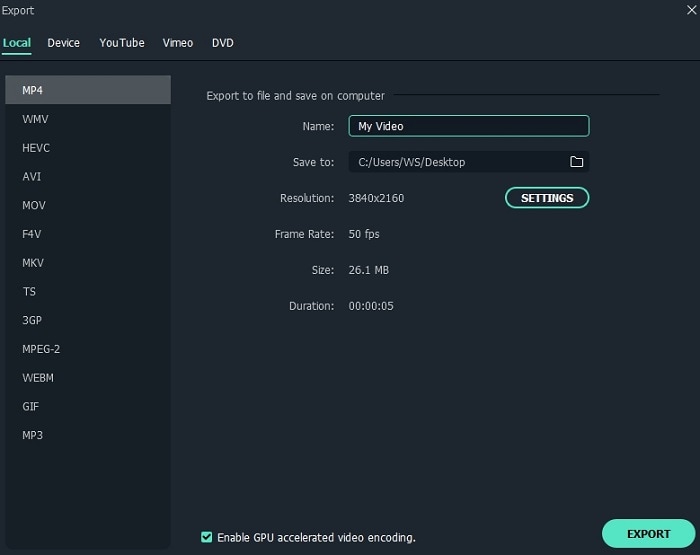 That's how easy and quick it is to edit memes using Filmora Video Editor. In conclusion, it's safe to say that Filmora is one of the best apps to make memes. Download Filmora Video Editor and try to creat the funniest meme!
---
Top 9 Meme Maker Apps to Create Funny Memes
When it comes to making memes on a smartphone, you won't have an endless list of features like Filmora Video Editor. However, these are the best meme maker apps you can use on a phone to create funny memes without any issues.
#1: Meme Generator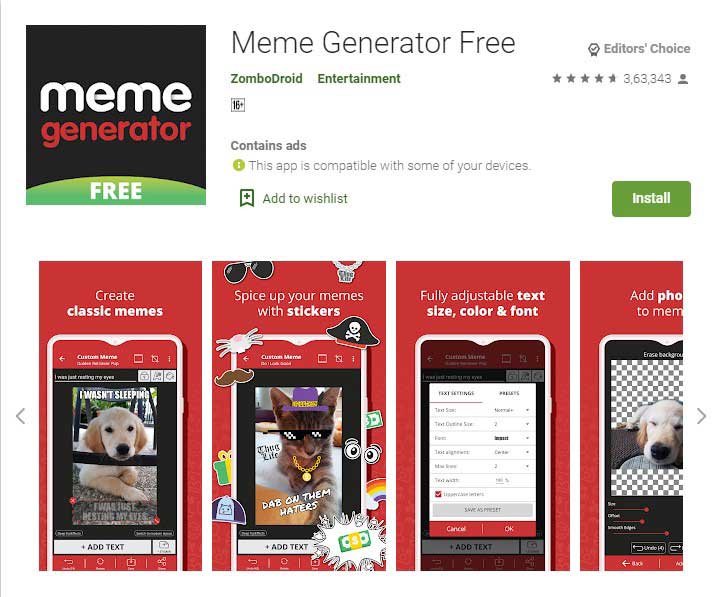 Meme Generator is a free Android app that's tailored to create a wide variety of memes. The app offers 100 high-quality meme templates and 60 different font styles that'll make it easier to quickly create a meme. You can also edit your pictures and turn them into memes using the Meme generator.
Pros:
No watermark is added to the memes
Hundreds of default stickers you can use to customize a meme
Directly share memes on social media
Cons:
You won't be able to create video memes using Meme Generator
---
#2: Meme Factory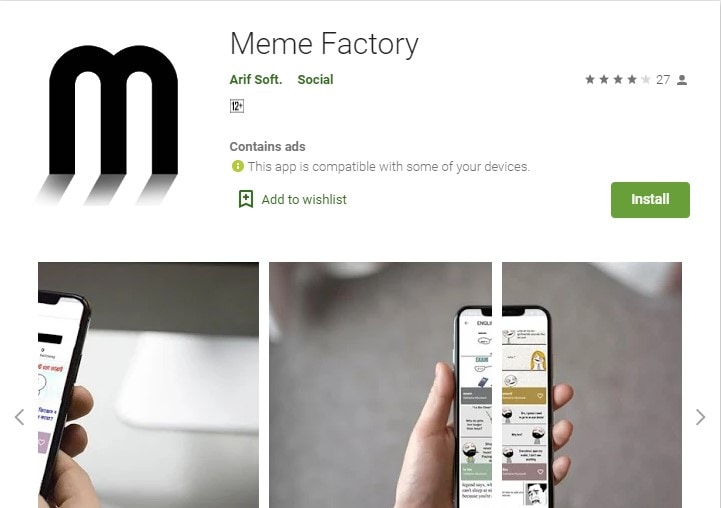 Meme Factory is a lightweight meme maker app you can install on your smartphone. With a dedicated search feature, you'll be able to quickly find all the trending memes within seconds. Meme Factory keeps updating its database with the most popular memes, which means you'll be able to quickly edit all the memes as per your convenience. Install Meme Factory if you're looking for a straightforward meme maker for Android.
Pros:
Find trending memes with one click
Directly set a meme as your phone's wallpaper
Cons:
Unexpected ads might become annoying with time
---
#3: Memedroid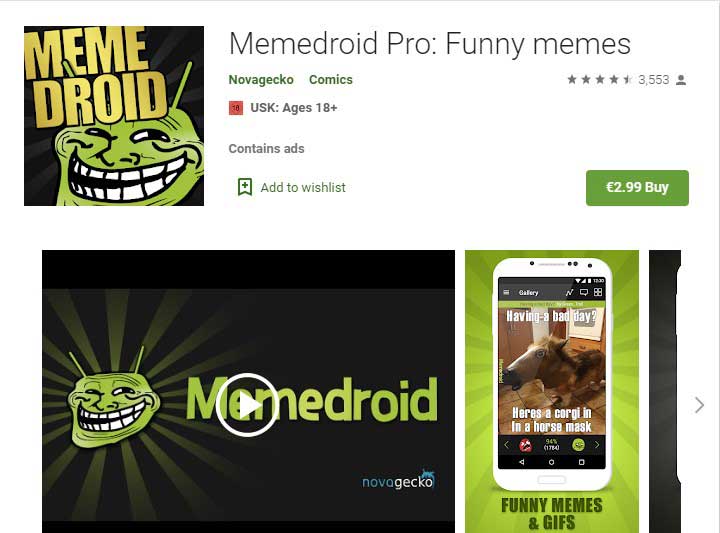 Memedroid is a paid meme maker for Android that costs around $2.99. However, considering its extensive list of features, the app is worth every penny. Memedroid offers a well-maintained meme gallery where you can find different types of memes. The gallery gets updated every day with "best memes of the day", allowing you to know what's trending in the meme world. Finally, you can use the advanced editing panel to create different memes, including deep-fried memes.
Pros:
Memedroid offers multi-language support
Share or save your favorite memes with one tap
Cons:
It might not be the right option if you're looking for a simple and free meme maker app
---
#4: Meme Creator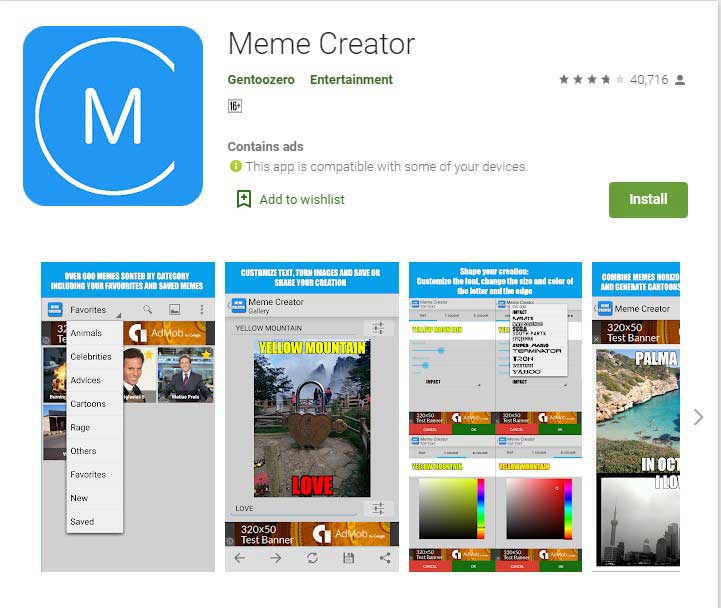 Meme Creator is the best meme maker app for all the novice meme page admins. If you're just starting with a meme account on any of the social media platforms, Meme Creator will give you plenty of tools to create a wide variety of memes. The app offers 600 meme templates that you can customize to create your own memes. You can also upload photos from the gallery to turn them into memes.
Pros:
A dedicated editing panel to edit the memes
Directly share memes on Facebook, Whatsapp, and Instagram using Meme creator
Cons:
As compared to other meme makers, Meme creator has limited features
---
#5: Mematic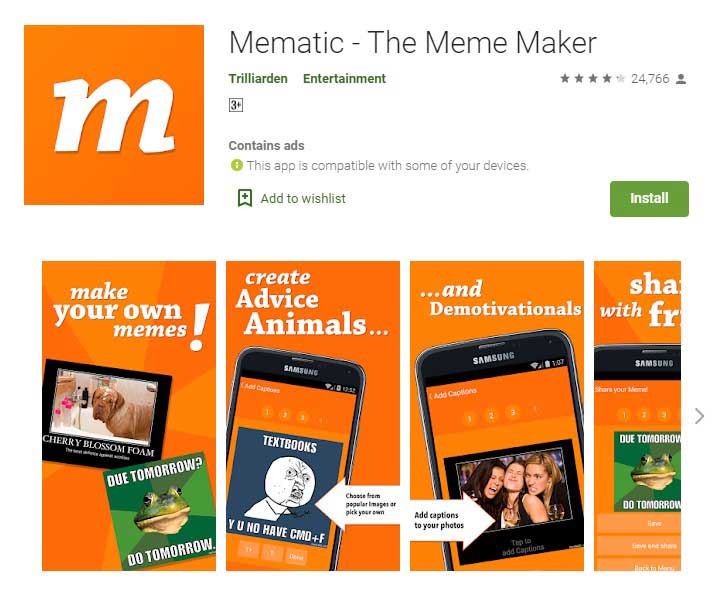 Mematic is the most suitable option for people who want to create memes as fast as possible. With a few clicks, you'll be able to add captions and change the overall color scheme of a meme. Even though the app has a limited number of features, its user-friendly interface makes it easier to quickly add captions and create customized memes.
Pros:
Add Quick Captions to Memes
Instantly share memes with friends and colleagues
Cons:
You won't have advanced editing options to create deep-fried memes
---
#6: Meme Generator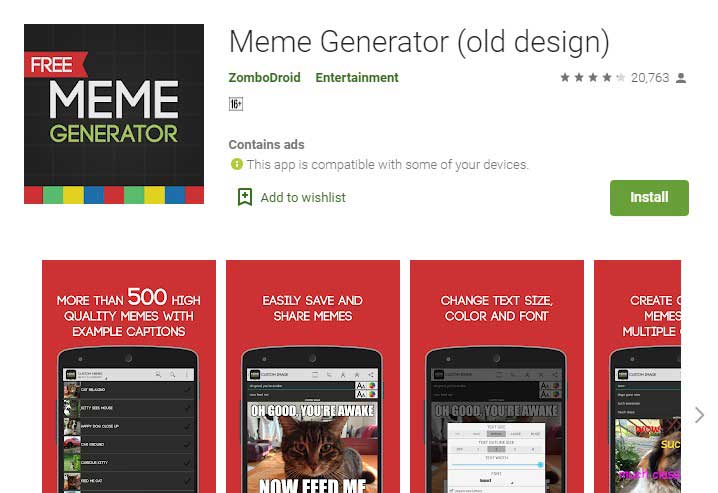 Meme Generator is yet another free meme maker with dozens of features to quickly edit memes. The app offers 1000+ free meme templates that anyone can customize to add a personal touch to the most popular memes. With Meme Generator, you can also create a "favorite list" and use it to save all the memes that you like.
Pros:
Dedicated Editing panel to edit memes
Choose from different types of memes
Cons:
There's no auto-update. You'll have to manually update the app from the play store to get new templates
---
#7: Memes Maker & Generator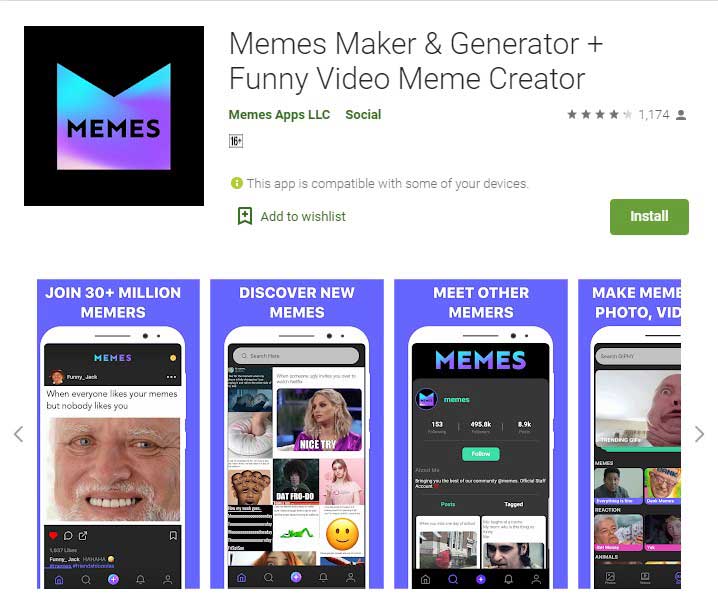 Memes Maker & Generator is among the most popular meme maker apps for Android. One of the best features of the app is that you can also use it to create video memes. In addition to this, the app offers regular updates with a new set of the most trending memes.
Pros:
Create Video Memes
Get access to all the latest memes & templates
Cons:
Users have reported encountering unexpected crashes
---
#8: Sarcasm Memes
With Sarcasm Memes, you can get access to all the sarcastic meme templates and use them to customize memes as per your own requirements.
Pros:
Create Instant Memes using Built-in templates
Get access to high-quality memes
Cons:
It takes time for the database to get new meme updates
---
#9: Viral Meme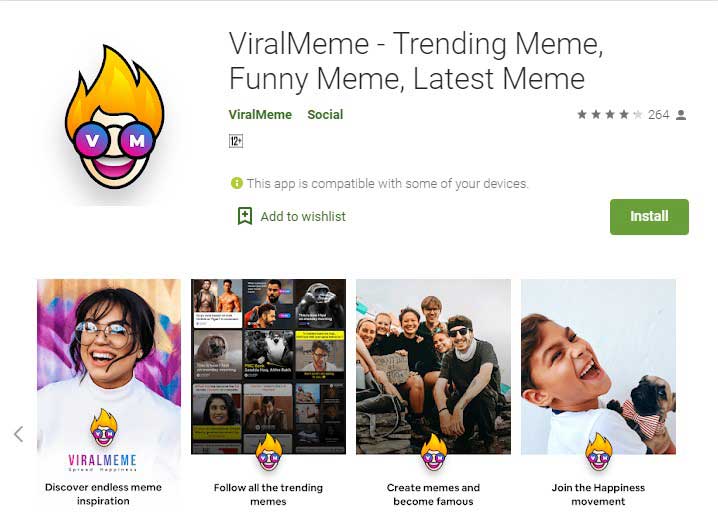 Viral Meme is a meme maker app you can use to create a wide variety of memes. With thousands of pre-installed meme templates and a straightforward interface, create your memes without any efforts.
Pros:
Share memes with your friends and react on their memes
You can also make money using Viral Meme
Cons:
The memes aren't categorized, which means you'll have to scan through all the memes to find the right one
---
Conclusion
That concludes our list of the best meme maker apps for all meme lovers out there. If you're looking for a meme maker for PC, Filmora Video Editor is the right option as it has a long list of features that'll make it easier to quickly edit video/photo memes. So, download Filmora and start editing memes for your social media accounts.