Have you got a new phone and looking for an excellent way to transfer contacts? If yes, this article will be really helpful to you then. There are top 8 contact transfer software listed in this article that will make transfer of contacts between phones trouble-free. We fully agree that contacts can be the first and important content in the phone and needs to be transferred these following softwares will provide you a good variety of options for contact transfer process. Let's begin.
#1.dr.fone
dr.fone for Mac (dr.fone for Windows) comes first among other contact transfer softwares and is the most recommended and easiest way to transfer contacts between phones. You will find transferring process extremely easier as it takes just one click to transfer your contacts. The more you explore this software, the more you will find this software amazing with its high quality features.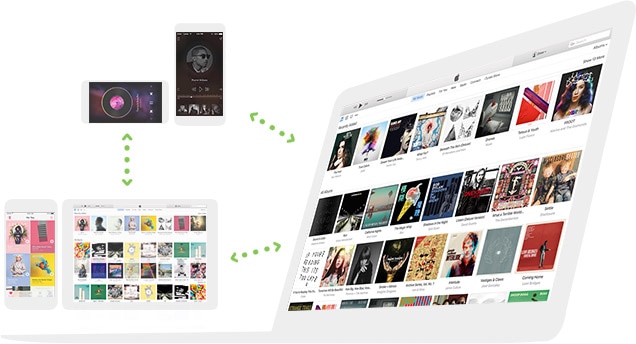 With this software, you can simply manage the music of your phone like adding/exporting multiple songs at a time, making or editing the playlists, de-duplicating the music etc. you can also transfer music between phones easily.
It cares about the personal and important information by keeping the backup of the contacts, iMessages, SMS, photos etc.
Management of contacts is done as well with this software like editing, deleting, adding, de-duplicating them.
Direct message can be sent from the PC to the Android device with dr.fon.
It can easily transfer from iTunes to phones (Android/iOS) and vice versa, computer to phones and vice versa, iOS to iOs, Android to Android and yes iOS to Android and vice versa.
How to transfer contacts between phones using dr.fone
Step 1. Launch the Software
Download and install dr.fone in your PC and launch it subsequently. Now, connect the two phones to the computer. Since there are two devices connected, you need to select the source device. This is the device which contains the contacts to be transferred. When done, you need to click on "Phone to Phone Transfer" option.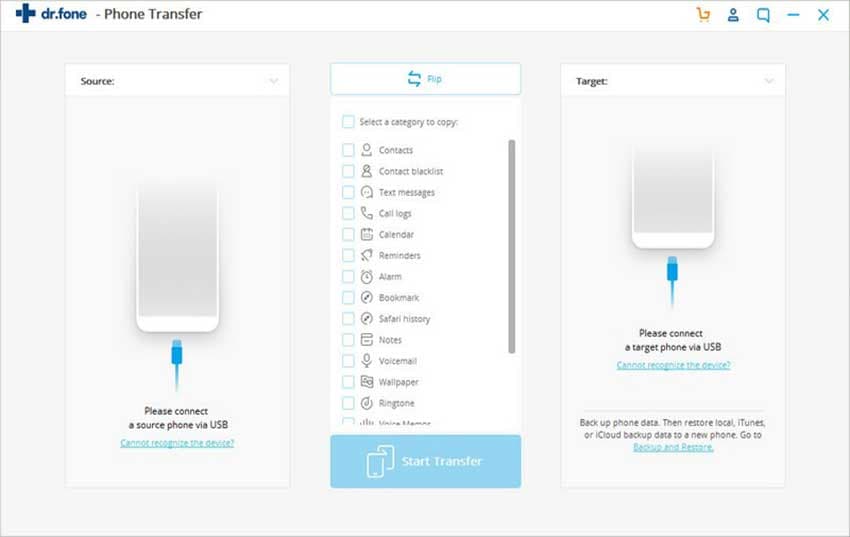 Step 2: Choose target device and transfer contacts
Next, you will be required to select the target device by hitting the dropdown icon. You'll see all the contents selected on the screen. Uncheck others and check "Contacts". Click on "Delete contents on target device then transfer" and this will make the other contents delete and transfer contacts to your new device.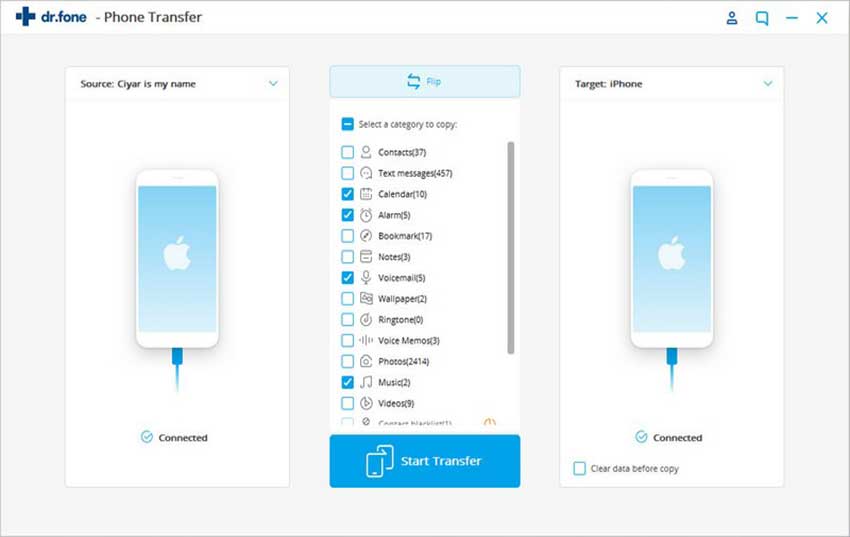 Step 3: Begin Transfer Process
Lastly, click the "Transfer" option and make sure that the device is connected for the whole process. After completion, click on "OK" and you're done.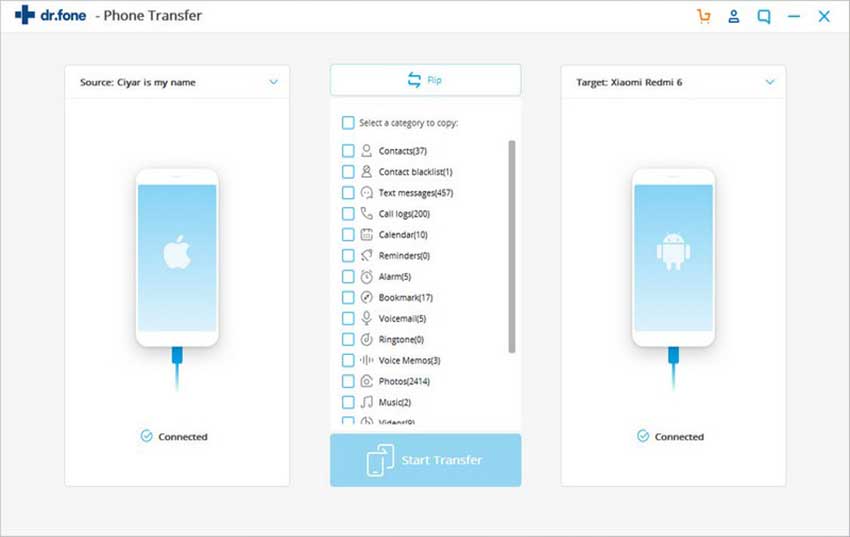 #2: PhoneSwappr
PhoneSwappr is another contact syncing software helps in transferring contacts between various devices and holds the ability to support iOS, Android and Windows phone 8. Although it supports several platforms, it does not support the OS of Blackberry devices. It has simple interface and assures secured process of transfer.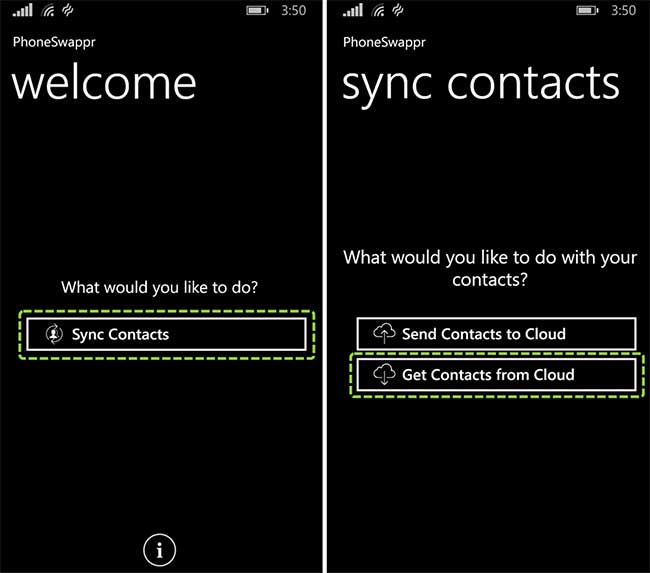 #3: NQ contacts sync
This contacts sync app is another option for the users to get the transferring thing done between devices. You can effectively transfer, backup or restore using this app. It also, like others, supports many operating systems that include Nokia, iOS, Android and Blackberry. It allows management of the contacts online.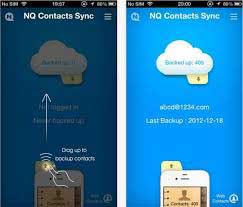 #4: Qikshare
Qikshare is compatible with iOS, Android and any desktop PC and comes on 4 in the list of contacts transfer apps. This provides fast sharing files and transfer process unlike transferring through email and text messages. It takes no usage of Wi-Fi or Bluetooth. Moreover, you can transfer up to 15 photos at one time.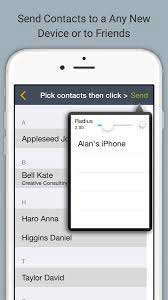 #5: Mobile Trans
The contact transfer method can also be done with Mobile Trans, a software that makes you able to transfer data amid iPhone, Android, Symbian, Windows phone and works with numerous devices and iOS 11 and Android 7.0 completely. Major networks like AT&T, Sprint, and Verizon are fully supported with this. It also can backup data and restore from Samsung Kies, iTunes or iCloud. However, the Mac version of this software can't support transferring from and to Nokia (Symbian) phones.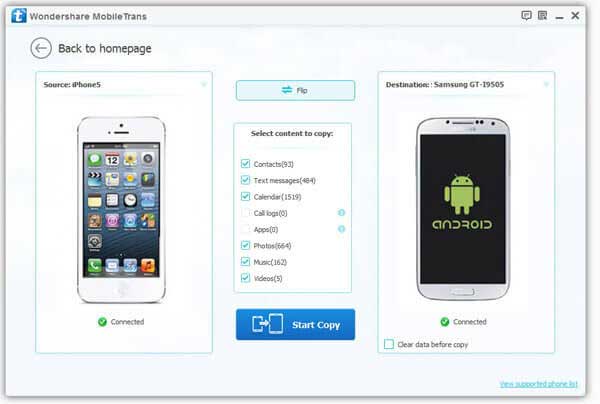 #6: SynciOS
This is another in the list of transfer software and allows you all to transfer contacts or other multiple files from iOS to Android and vice versa, iOS to iOS or Android to Android devices. You can avail backup and restore function using this software. It also allows you to restore and retrieve iTunes or iCloud backup and sync the data from iTunes Library to computer and devices. However, currently it is not able to work with iOS 9 and later versions for backup and transfer apps.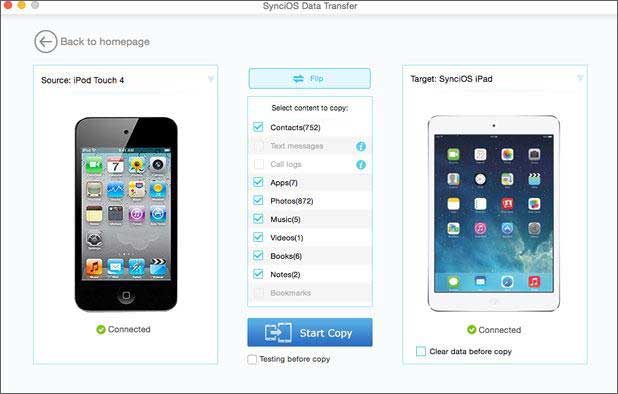 #7: CLONEit
CLONEit is an app that comes with the ability to transfer as well as backup 12 types of data files. It takes no cable, network or Wi-Fi connection or PC for the process and also the steps are not so complicated. Its compatibility is with Android and iOS operating systems. With this app, the users make themselves enable to uninstall native apps. Moreover, it is available in more than 40 languages making it much easier for the people who feel comfortable in using applications in their mother tongue.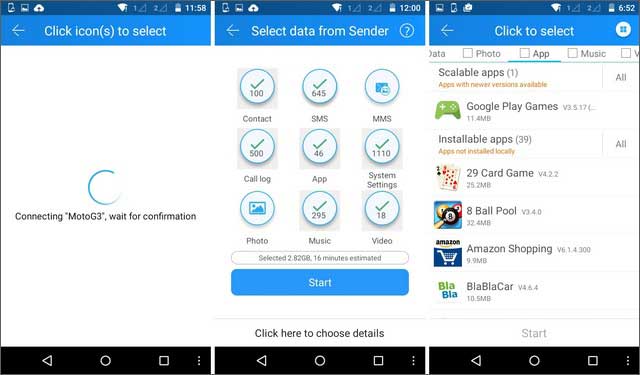 #8: MOBILedit
MOBILedit is also included in the list of contact transfer software. It is a professional phone content manager and allows the users to drag-drop videos, images and ringtones to the iPhone. Due to its user-friendly interface, the users can add, delete, edit or sync anything with much ease. Compatible with any operating system, this contact transfer software can help in retrieving data from old phones. Moreover, it keeps the data safe with its backup and restoring function. One thing should be keep in mind while using it i.e. the device needs to be connected with Wi-Fi, Bluetooth or USB cable.