In the last quarter of 2015, Apple introduced one of the most awaited and highly anticipated iPhone 6S with many new features. One of the unique features in iPhone 6S was the "Live Photos", while taking a photo on your iPhone, a short video is also recorded, this video will be one and half seconds before and after taking the image. So, using the 3D touch or your iPhone 6S, you can differentiate view these photos in video format. The video formatting that is used in the live photos is MOV, which can easily be played on the Mac. Normally, transferring a photo or video from iPhone to computer is not an easy feat and windows users specially face a bigger problem. However, if you want to convert these MOV videos into GIF images, there is no native way in Mac OS X that can do that.
#1. dr.fone for Mac
This amazing program is basically all in one media manager for your iPhone. You can easily transfer photos, music and videos from your iPhone to computer, iPhone to another iPhone and even Computer to your iPhone. The great preview option will let you view the Live Photos and you can easily transfer them to the GIF images using one click option present in the software. The best part about using dr.fone is that it will not ruin the quality of the images(.mov) transferred from your iPhone to your Computer. Using this amazing software, you can easily free lot of storage on your iPhone 6S. Lastly, you can also transfer any type of image, music or video file from your Mac to the iPhone 6s. Here's the step by step guide to convert MOV images (iPhone Live photos) to GIF image.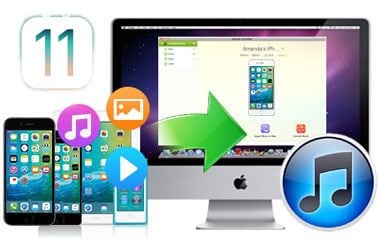 How to convert MOV to GIF Images using dr.fone for Mac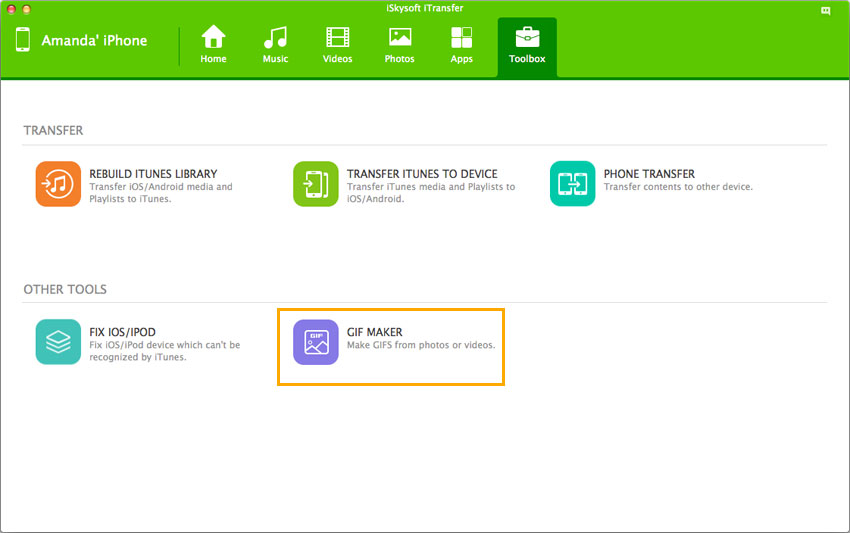 Step 1. Before you continue, download the latest version of dr.fone. Connect your iPhone 6s with the Mac and run dr.fone for Mac. Click the "Toolbox" at the top of the main window. Then you can see the "GIF Maker" button.
#2. Free Video to GIF Converter
A powerful tool that turns MOV to GIF conversions into a simple two-step process. In the first step, you select a video source file for conversion. In the second step, you define the number of frames per second, time interval, and resolution of the GIF image. During the second step, you have the option to keep the original resolution or reduce the resolution while maintaining the aspect ratio of the selected video. However, it does not let you enter your own dimensions for the GIF image. Once you're done with the two easy steps above, your GIF is ready and previewed in the second page. During the preview however, the GIF does not play normally. Instead, you have to go through each frame individually.
Pros:
Easy and simple to use.
Allows you to choose the frames per second (how quick the GIF will play) from 1 to 20.
Allows you to extract clips from the video by selecting a starting time and ending time.
Allows you to discard unwanted frames from the GIP.
Cons:
Adware.
Can be quite slow especially while processing larger videos.
No batch operations allowed (one file at a time).
All parameters are reset to default every time you load a new file.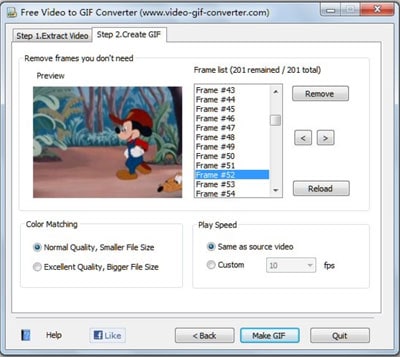 #3. Instagiffer
A nifty tool that comes with an impressive collection of features. It supports almost every video format available. Once you've loaded a supported video into the program, a preview of the GIF is automatically displayed. With the GIF preview, there are several modifications available as well. These include adjustments for starting and ending time, frames per second, resolution, and quality. You can change these parameters to adjust the output GIF according to your requirement. It also provides the user with an option to add captions and six different effects to the GIF. Another excellent feature of this tool is that it allows you to merge multiple videos into a single GIF image.
Pros:
A beautiful and interactive interface that is very easy to understand and use.
You can directly add videos from Youtube (and several other websites as well).
Direct upload option for Imgur available.
Powerful tool with a wide variety of rich features available.
Cons:
Batch conversion feature not available.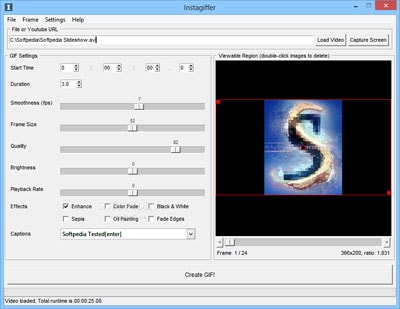 #4. iWisoft Free Video Converter
iWisoft is a video convertor that converts many video formats including MOV to GIF. It has a very user-friendly interface and the tools are quite easy to understand and use. All you have to do is to upload one or more videos into the interface. When they get queued, you will see a profile menu right at the bottom of the screen. From this menu, select the following options one by one:• Flash Video and Picture, Picture and GIF animated format. Before you hit the start button, the software gives you an option to change the frame rate, size, bitrate and ratio, as well. The converter supports a preview option but lacks options to select a starting and ending time for the GIF. This means that the whole video is always converted to the format which may not always be wanted.
Pros:
Easy to use
Supports a wide variety of formats
Takes very less time in conversion
The output is of great quality
Cons:
It does not allow you to choose the start and end time of the GIF. Due to this, the entire video will be converted into GIF even if you want only a certain portion to be converted.
Help and instructions are thin
Sometimes the program hangs when you try to edit a video before starting the conversion.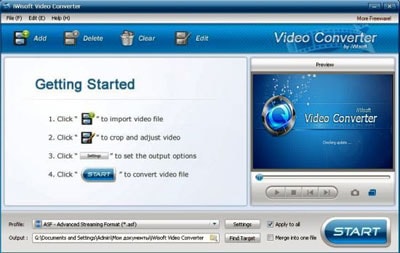 #5. Freemore Video to GIF Converter
This is yet another software that you can use to convert your MOV file into GIF image. Other than that, it supports many other formats such as AVI, MP4 and FLV. When you have uploaded your video, a screen with output options will appear automatically. It will show you a preview of the GIF image and lets you choose the start and end time of the clip. Moreover, the software allows you to choose a frame size of your choice from the given list of sizes. However, it does not support any custom sizes.
Pros:
Easy to use.
Supports a wide range of formats
Allows the users to convert only a certain portion of the video
You can select the GIF resolution from a long list of options
Cons:
You cannot convert videos in batches
Does not have a very good visual design
Does not contain media playing features