Reasons for transferring music to flash drive or USB
Music forms a major part of our life and hence we may feel the need to have them on all our gadgets. The photos, videos and applications take up a lot of space on the iPhone. It makes sense to transfer them to a computer or flash drive to free up space.
When you buy a new desktop at home, you will need the new iTunes library in it. You may also feel the need of taking backup of your music files on the flash drive so that they are not lost by accident.
Transferring music from iPhone to USB also allows you to play them on your home music system and other devices equipped with USB port. All of us are aware that there is no direct way to move music from iPhone to a flash drive. In fact, this is one thing that make many people continue to use Windows rather than Apple devices because copying of media can seem a real hassle at first. However, there is a solution to this problem that is pretty easy.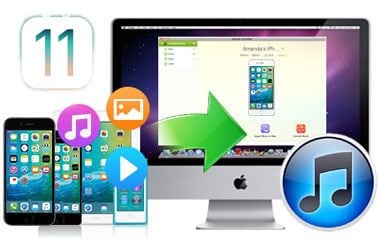 dr.fone - 1 click to copy iPhone music to Flash Drive intelligently
Apple puts restrictions on this aspect and we need a separate software tool to achieve this. This is where dr.fone plays a major part. It is a simple and easy way to transfer your music from iPhone to computer and flash drives without using iTunes.
There are many advantages that you will get by using dr.fone. Along with music, it can copy movies, photos, audiobooks and podcasts. All of this is done effortlessly and at an amazing speed.
#1. Complete transfer of music files
Copying music from your iPhone to flash drive can be very difficult. Apple does not let you copy music downloaded from apps or the music synced with iTunes library to your computer. Songs shared by your friends and saved on your iPhone also face the same problem. dr.fone eliminates the prohibitions involved in music sharing. You are able to transfer every music file that is stored on your iPhone.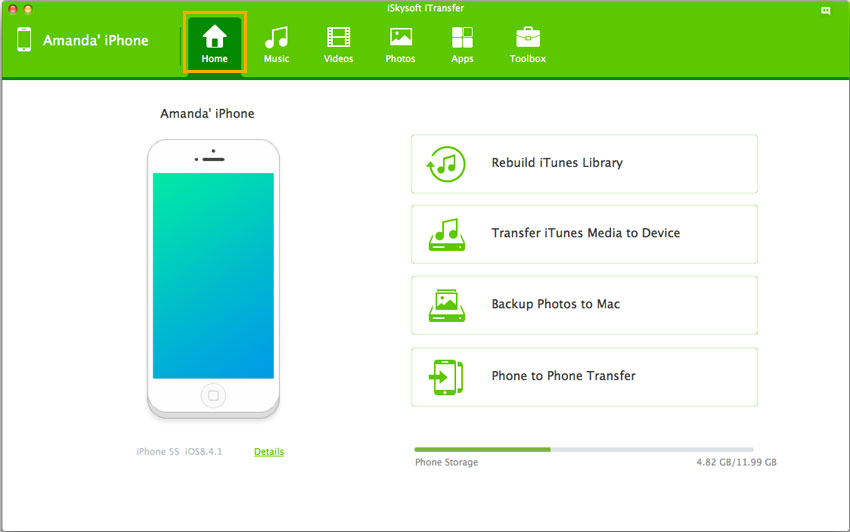 #2. Retains playlist and song details
dr.fone preserves your complete playlist features while transferring to flash drive. You can even export smart playlists. The details of the song preserved in the phone like ratings, play counts and artwork will be transferred along with the music file to your iTunes library. You will not lose any specifics and will be able to retain all the original song information.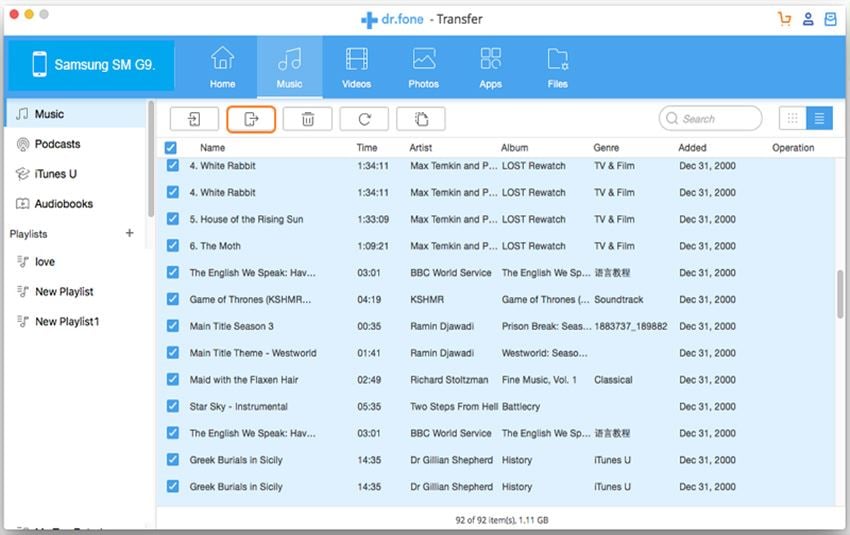 #3. Seamless transfer to other Apple devices
One of the biggest problems that you may face is while transferring the music from your flash drive or computer to other Apple devices like iPod, iPad and other versions of iPhone. Apple puts in a lot of restriction in this process. The data on the intended device of transfer also becomes vulnerable and many times we get the warning that data may be erased. Using dr.fone, you can freely copy music files and even movies and photos to other Apple devices effectively. You will not encounter any erasing issue and will be able to directly copy music and data to any other iPad, iPod or iPhone.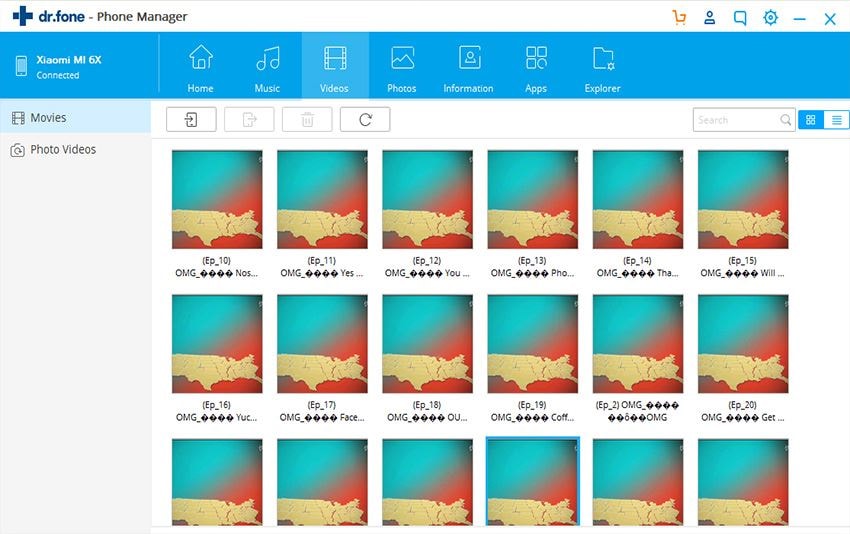 #4. Multiple modes of transfer
dr.fone gives you the option of copying whole of your music collection to a flash drive. It can be done with just one click of the mouse. The feature scans the music collection and filters out matching songs preventing duplicate transfer of the same song. Alternatively, you can choose specific songs and export them to iTunes library or a flash drive.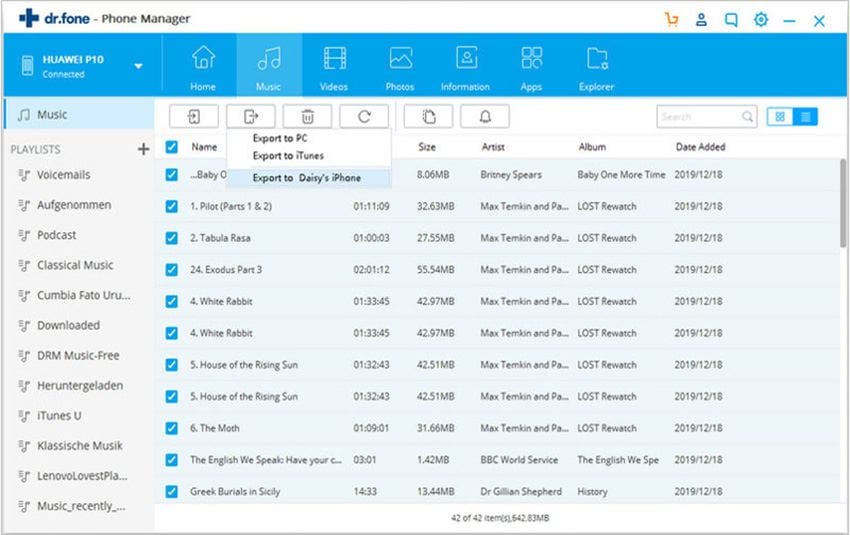 #5. Built in converter to suit destination device
The files that we want to copy to an Apple device may not always come in the supported format. dr.fone has an integrated conversion feature which can detect incompatible file formats while transferring to an iPod, iPhone or iPad. The program then automatically converts the data into an iOS friendly file format. This ensures that any file you transfer using dr.fone will play successfully on the intended Apple device, irrespective of the format it had while transferring.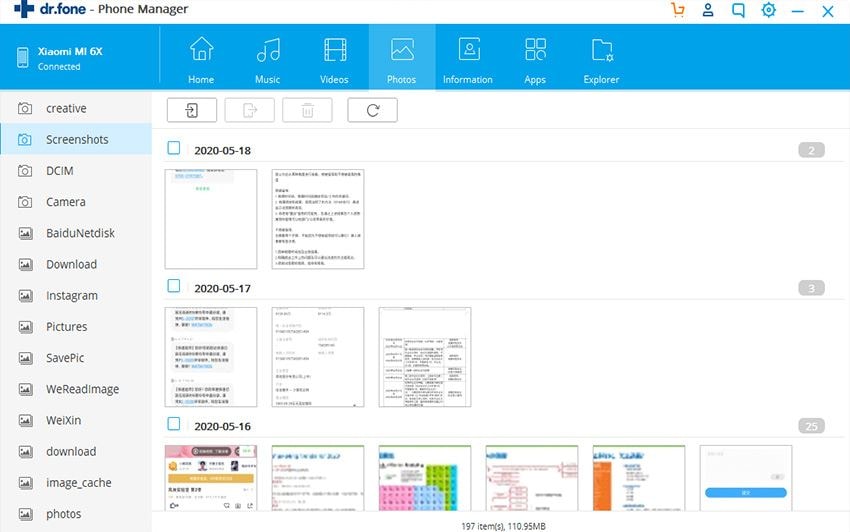 Step by step guide for transferring music from iPhone to computer and flash drive
So, are you looking to transfer music from your iPhone to the hard drive or flash drive without it being just stored in iTunes? If you would want to access all your data and media independently and not through iTunes you will love this product from Wondershare. Here is how you can use it.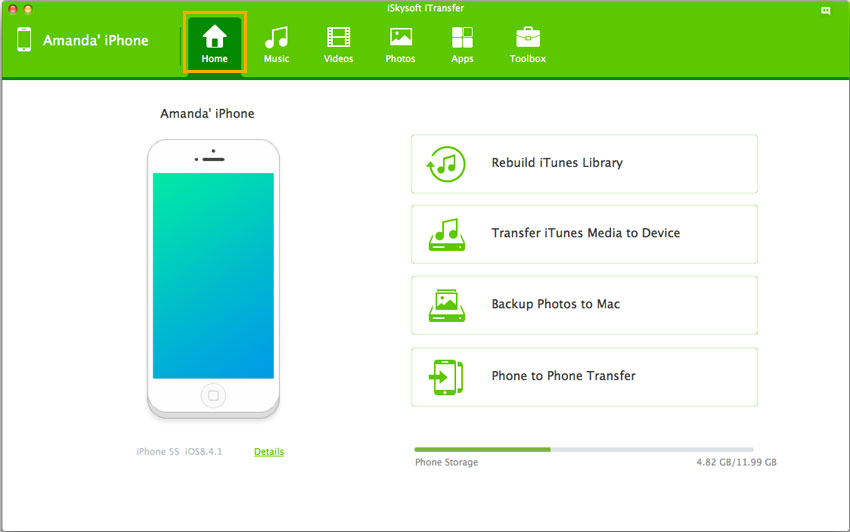 Step 1. Download and install dr.fone
You need to download and install dr.fone on your computer. Then you need to launch the program. Be sure to connect your iPhone with your PC using the USB cable. The program will recognize your iPhone and present the phone information on the main window.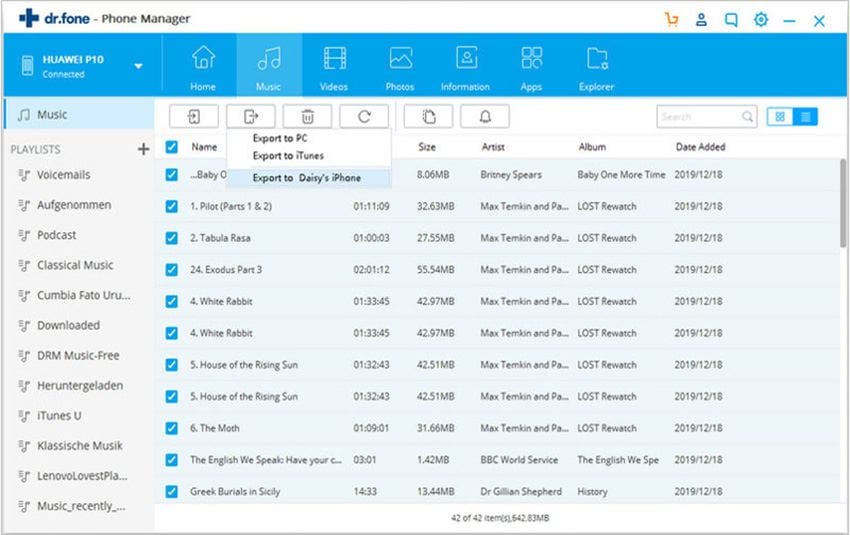 Step 2. 1-click transfer music to USB devices
Click the "Music" tab at the top of the software to see the audio files management window. Audio file types are displayed in the left sidebar. By default, the selected file type is music. All the songs on your device are displayed on the right side. Tick the songs you need and click "Export" > select "Export to Mac". Next, find a folder on your Mac to save these exported songs. Done and done!
This is all that you need to do to transfer music files from your iPhone to your PC so that you can listen to music any time you want without having to use iTunes. dr.fone makes the entire experience a pleasant one and you would love using this.