Recording of high definition 4K videos has become a trendy thing going by the high demand for high definition videos in the market. So, there is a wide range of cameras such as DSLRs, drone cameras, action cameras, and even smartphones and many of these supports 4K resolution. What's more, more and more straming severvices like Amazon Prime Video, Netfix, Hulu, etc. have also embraced 4K UHD format.
However, 4K UHD videos cannot be played on some media players. Then, many people choose to use a 4K video converter to change the 4K video format for playing on these players. Actually, you can get out of this trouble by installing a 4K video player software on your PC or Mac.
Then, what is the best 4K video player?
In this post, you're going to learn 7 best 4K video player with its main features, pros and cons. You can compare them and pick up on as the assistant for playing 4K videos on your laptop.
Now, let's get started...
5K Player
5K Player is free hardware and an accelerated 4K video player that works with Mac and Windows 10. It comes with great features such as DXVA2, NVIDIA QSV, hardware acceleration technology which is quite compatible with 4K resolution.
This video player is capable of distinguishing 4K videos and can reduce the video loading time effortlessly for the users to enjoy a very silky and smooth video playback. 5K player is four-in-one software that supports 4k movie player, 4k DVD player, 4k downloader and 4k video airplay server.
Pros:
- Brings all media to a place which eventually saves from clutter as it makes it possible to download, to play and also share media content without getting out of the application.
Cons:
- Mac airplay doesn't work as smooth as expected.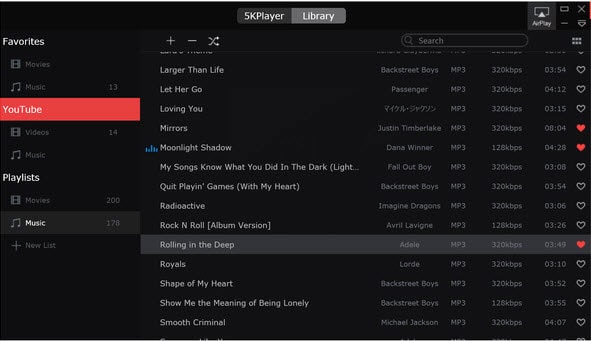 ---
Plex
Plex is a 4K video player that also works with Windows 10 and Mac. Users can play all movies, watch TV shows and can stream music without any problem. Plex 4K video player supports smooth playback using AVC coded provided the computer is capable of decoding it.
Pros:
- Supports all types of media and files.
- Shows all media collection in an easy to navigate interface.
Cons:
- It doesn't support some 4K files such as MKV, MPG, and others.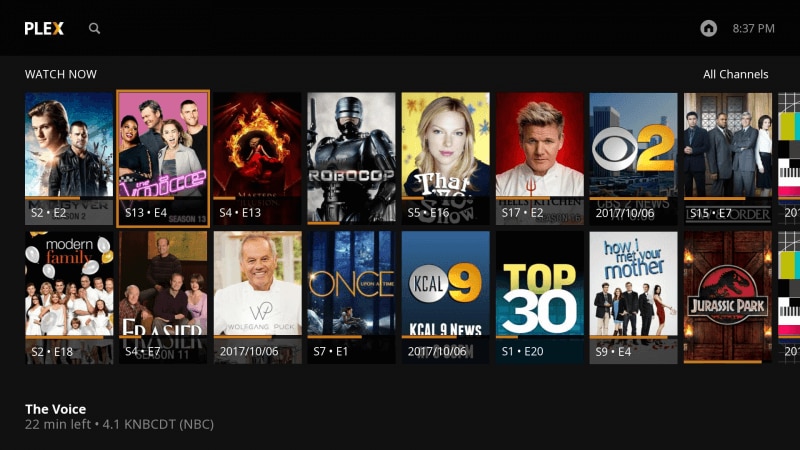 ---
VLC Media Player
VLC is an open source 4K video player that supports 4K video playback and several video formats including hardware acceleration support for high end videos. The upgraded VLC 3.0 version is quite versatile and provides support to the traditionally unsupported devices and formats. VLC 4K video player can be used on Windows and Mac.
Pros:
- It's incredibly fast and powerful yet simple to use.
- VLC can play everything including all the popular formats
Cons:
- Sometimes, it might fail to decode and format.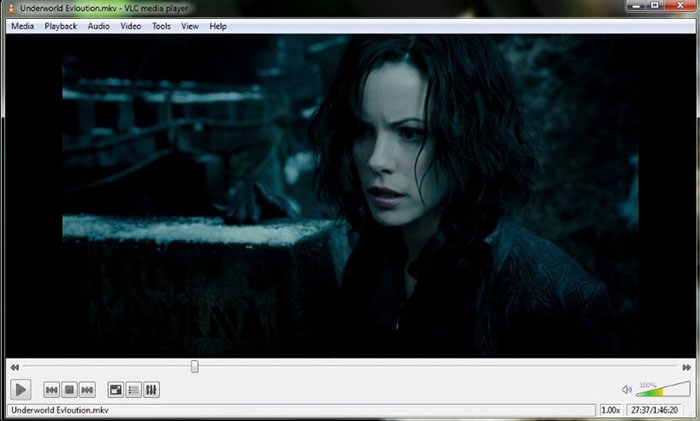 ---
PowerDVD
PowerDVD is such a powerful and affordable 4K video player for Windows 10. It creates such a stunning entertainment environment with best picture and sound details. This 4K video player has advanced features that help with managing music, photos and movies all at the same place.
What's more, it delivers stellar performance with extensive compatibility and a wide range of controls and convenient features.
Pros:
- Ability to play blu-ray content and extends support to the VR headsets.
- Has the most features and functionality than other similar program.
Cons:
- Only works on Windows.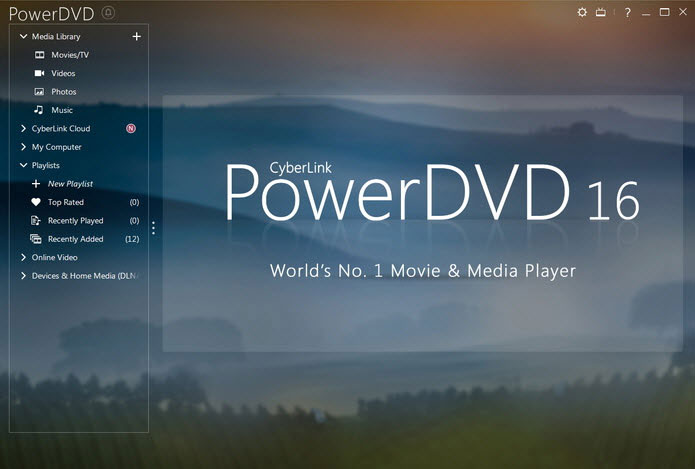 ---
KM Player
KM Player has great capability to play advanced media files quite easily and with automatic codec updates. The software is fast and delivers superb video quality. Users can easily modify the interface to their preference through use of the diverse toolset.
Pros:
- Well built for internal and external codecs and has a customizable interface.
- The 4K video player supports several file formats with much ease.
Cons:
- Fail to play some video formats after the latest updates.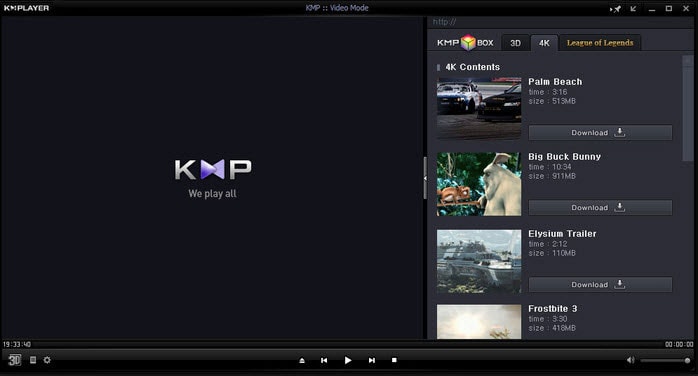 ---
DVD Fab Player 5
This 4K Video player is quite versatile and has an enhanced overall performance. DVD Fab Player 5 significantly improves compatibility, stability and playback smoothness for different video formats. It has such a magnificent user interface that totally supports navigation menus on Blue-rays, DVDs, and Ultra HD videos alongside a high resolution audio output.
Pros:
- Supports all video formats including new-generation 4K Ultra Blue-rays.
- Crystal clear image quality with a user friendly interface.
Cons:
- Lacks media library and other key features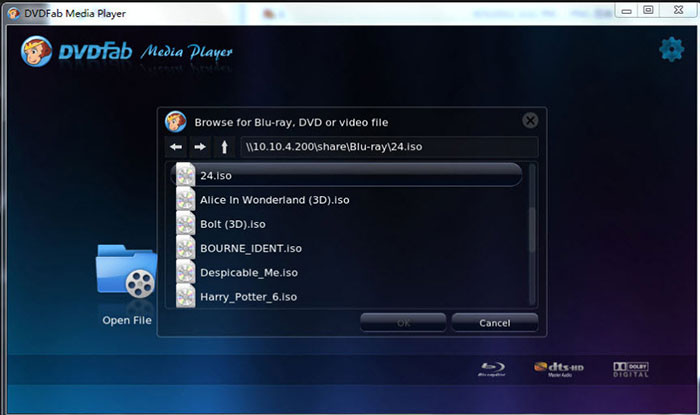 ---
Conclusion: What is Your Final Option?
There are 6 different 4K video player for your reference, which one are you ready to try first?
Obviously, almost all of them allows users to watch a 4K video on Windows or Mac computer, but some of them have their own limitations. So when you're going to pick up a 4K video player as your final option, you need to pay more attention to its limitations, and ensure these cons will not influence the further using.
Finally, in case you might wish to edit these 4K videos for specific reasons, here I'd like to recommend a good performanced video editing software for your reference - Filmora Video Editor & Filmora Video Editor for Mac.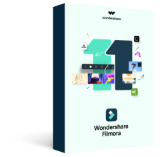 Import 4K videos and edit it with both basic and advanced editing tools, including splitting, trimming, merging, cutting, green screen, PIP, overlaying, etc.
Convert a video from or to 4K video format with 1 simple click.
1000+ video effects to customize and improve the video performance according to your own needs.
...