"Each instance I do a shoot using my smartphone for new footage, videos come out being blurred and shaky. This is my major blow to what I intend to create. However, trying so acquire professional camera equipment so solve the issue is so expensive for me now, and they are heavy though. Please, recommend me with a better solution."
Read also: 8 Most Popular 4K+ Action Camera in 2020
Well, here we recommend you to try smartphone gimbal. They are the best alternative for a professional camera. Acquire gimbal for phone and continue using your smartphone and produce high quality and steady videos.
Let's strat.
The Best 7 Phone Gimbal Stabilizer
Phone gimbal is a modification of what most people come to know as the Steadicam. Handheld gimbal stabilizer uses brushless motors that keep your smartphone steady more than your bare hand. This assures production of a nice smooth and shaky free video with your smartphone.
This article will cover the best 7 smartphone gimbal stabilizers by highlighting their respective features, price, pros, and cons.
1. DJI Osmo Mobile 2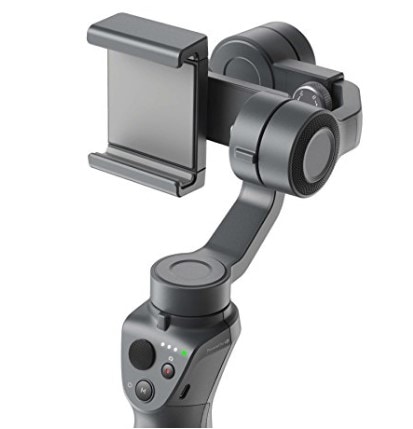 DJI Osmo Mobile 2 is one of the popular gimbal stabilizers which transforms your phone into smart motion camera. It comes with a fully packed innovative and useful features making it be the slickest and easy to use a gimbal for phone. It's intelligent processing technology and involuntary identification enhances and boosts videos and photos to have a better professional sheen. One of the important features found on DJI Osmo Mobile 2 is that it automatically maintains your smartphone facing you and its 3 axis gimbal stabilization keeps your phone absolutely stable for perfect and stunning captures.
Features:
- Dolly zoom and time-lapse effects available
- Weighs 485 grams
- Battery life is 15 hours which can charge the smartphone as well
- Compatible for both iPhone and Android
Pros:
- It's light in weight.
- Works well with any standard tripod
- Comes with many accessories
Cons:
- At times shuddering can be observed
- Bobbling effect is commonly experienced
Price: $134
---
2. Zhiyun Smooth 4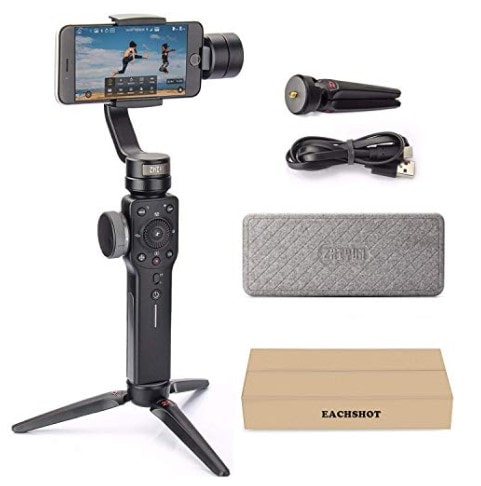 Zhiyun Smooth 4 is one of the leading product in the gimbal stabilizer market, thanks to its exceptional videos at an affordable price. It features an outstanding 3 axis gimbal that offers everything ranging from multi-axis control, ability to be compatible with the tripod you prefer to the ability to use and charge your phone amidst recording process. Furthermore, you'll comfortably use Zhiyun Smooth 4 with virtually all smartphone types with screens of 6 inches maximum, GoPro Hero models 3, 4, and 5.
Features:
- Full image control using thumbwheel joystick
- Battery life of 14 hours
- Weighs 547 grams
- Water-resistant
Pros:
- Steady even during windy conditions
- Very high build quality in general
- Allows rotation on the pan axis
Cons:
- Grip is short
- Prompts you to buy micro USB cable differently
Price: $119
---
3. Freevision Vilta M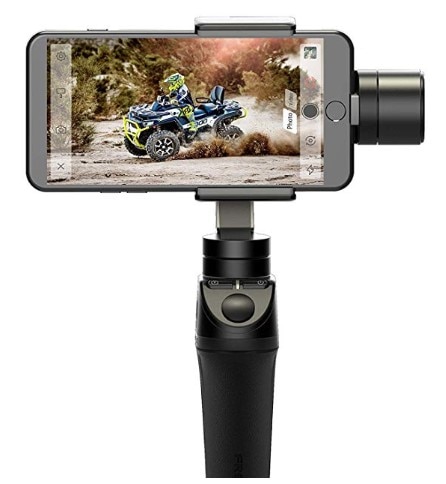 This is yet another powerful iPhone gimbal which employs the same algorithm as VILTA, which apply the advanced and efficient motor control algorithm together with servo control algorithms in the market. This makes smartphone gimbal to respond at a super-fast speed in the recording process with high control precision, resulting in exponentially higher image stability compared to its competitors.
Features:
- Features a type-C adaptor which lets you charge the phone.
- Battery life of 17 hours.
- Smooth zoom In/Out, POV &Helios cope & Dolly Mode.
Pros:
- Free vision counterweights and extendable monopod available.
- Handle is rubber-coated ensuring perfect grip.
- Available for both iPhone and Android.
Cons:
- Accessories shown are not included.
- Restricted to phones whose width does not exceed 3.25 inch.
Price: $109
---
4. MOZA Mini-Mi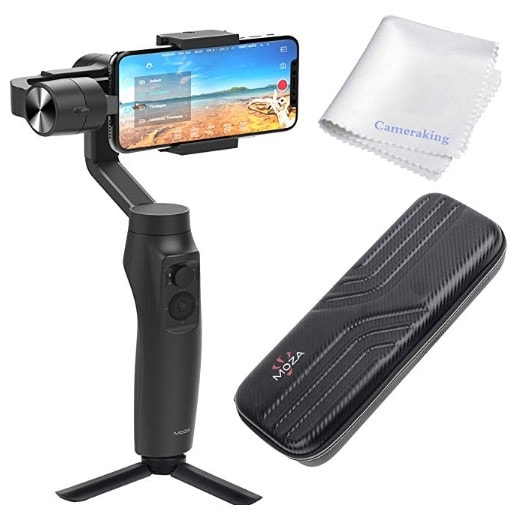 This is one of the unique handheld gimbal stabilizer which employs inductive charging technology and magnetic coils in the phone holder section letting you charge the phone wirelessly. By just spinning the dial wheel located on the hand grip smoothly zoom without the need to touch your smartphone.
Features:
- Super follow modes.
- Cinematic control of the camera using ergonomic key.
- Inception mode.
Pros:
- A bit cheaper.
- Very easy to mount and use.
- MOZA app available
Cons:
- Regular stabilization
Price: $99
---
5. FeiyuTech Vimble 2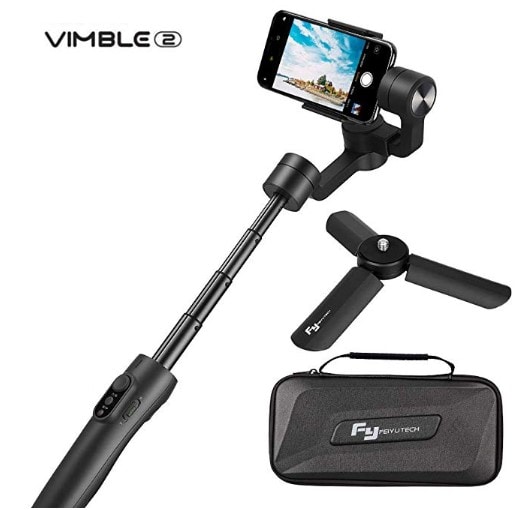 FeiyuTech Vimble 2 is like most of the already discussed 3 axis gimbal above, which by 3-axis precision eliminates shake video and allows you to easily and seamlessly shoot pro-quality, cinematic-like a raw file in several different occasions with your smartphone.
Features:
- Control camera with Bluetooth shutter button
- Built-in zoom slider in the handle
Pros:
- Extension freely handle
- Features a vast compatibility
- Easy to use
Cons:
- Accessories are bought separately
Price: $89
---
6. EVO Shift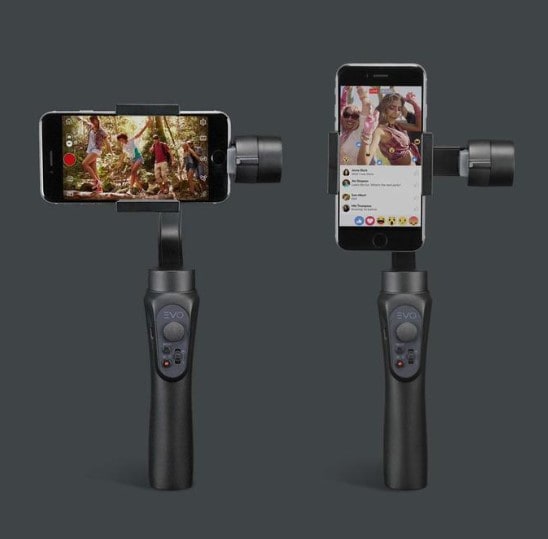 This gimbal for phone transforms your mere smartphone into a pro-quality video camera. It is a versatile utility and featured with a 4-way joystick and 2-way bi-directional mounting.
Features:
- Has 3 different stabilization mode
- Offers full control from the handle
- Weighs 450 grams
- Battery life of 10 hours
- Compatible with all smartphones weighing below 220 grams
Pros:
- Produce exceptionally good stable footage
- Installation and use are simple and easy
- Let's you control the phone with 4-way joystick
Cons:
- A bit heavy
Price: $99
---
7. Snoppa Atom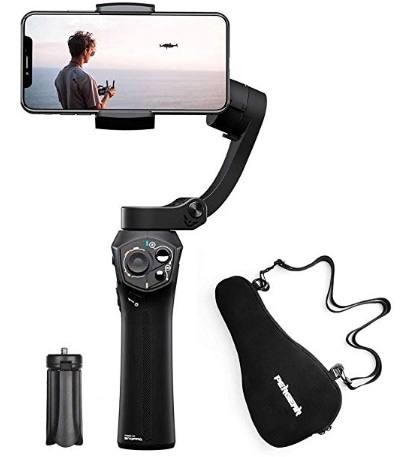 If you are that guy who loves a pocket-sized gadget, this gimbal stabilizer is meant for you because it's slightly longer than iPhone X. Has a long-lasting battery which as well supports wireless charging.
Features:
- Weighs 440 grams
- Battery life of 24 hours
- Compatible with smartphones weighing a maximum of 310 grams.
Pros:
- Can be folded
- Its buttons are multifunctional
- 3 tracking modes are fully functional
Cons:
- A bit expensive
Price: $129
---
Comparison of the 7 Best GimbalCam
The following table shows a detailed comparison of the 7 gimbals discussed above:
|   | DJI Osmo Mobile 2 | Zhiyun Smooth 4 | Freevision Vilta M | MOZA Mini-Mi | FeiyuTech Vimble 2 | EVO Shift | Snoppa Atom |
| --- | --- | --- | --- | --- | --- | --- | --- |
| Portrait and landscape modes (+/-degrees) | Tilt 155 (Landscape) | 300 of pan, 240 of tilt, 240 of roll | 360 of pan, 250 tilt, 180 rolls | 360 of pan, 165 tilt, 310 rolls | Tilt 320, Pan 320, Roll 320 | Pan 360 | Unlimited |
| 4K shooting | Yes | Yes | Yes | No | No | Yes | No |
| Compatibility | Android, iOS | Vast | Android, iOS | Vast | Android iOS | Varied | 124g |
| App (usability and control) | Best | Better | Good | Best | Good | Best | Good |
| Battery life (Hours) | 15 | 14 | 17 | 10 | 5 | 10 | 24 |
| Weight (Grams) | 485 | 547 | 416 | 543 | 420 | 450 | 440 |
| Unique advantage | Super-clear display | Quick response | Ergonomic handgrip design | Wireless charging | Control camera with Bluetooth shutter button | Built-in charger | Foldable |
| Price | $134 | $119 | $109 | $99 | $89 | $99 | $129 |
Well, I believe that you can now pick the one that suits you. Then, for creating a cool video, what else do you need in addition to the phone gimbal?
Without doubt, a powerful video editing software! It can help you cut and trim your video, add special effects to your video, even stabilize your video. In my opinion, if you are a newbie or a semi-professional, Filmora Video Editor is a good choice for you.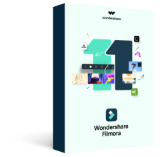 Key Features of Filmora Video Editor:
Its basics and advanced editing tools can help you edit your phone videos, such as cutting, rotating, cropping, color tuning, etc.
You can add music and text to your video.
It has a lot of built-in video effects, filters, transitions to make your video look cool.
It supports almost all popular video, audio and image formats.
It's easy-to-use. You can quickly master how to use it.
You can click here to get more info about how to use Filmora Video Editor.