In an ideal world, you can post videos immediately after shooting or creating them. That, however, is not the case. There are times when you want to get rid of extraneous parts. Occasionally, you may need to extract a specific video section from a large file.
Using a video splitter is the most effective method for achieving this. Splitting could take a long time because several video-splitting services are slow and difficult to use. Users must select the best video splitter software for maximum efficiency.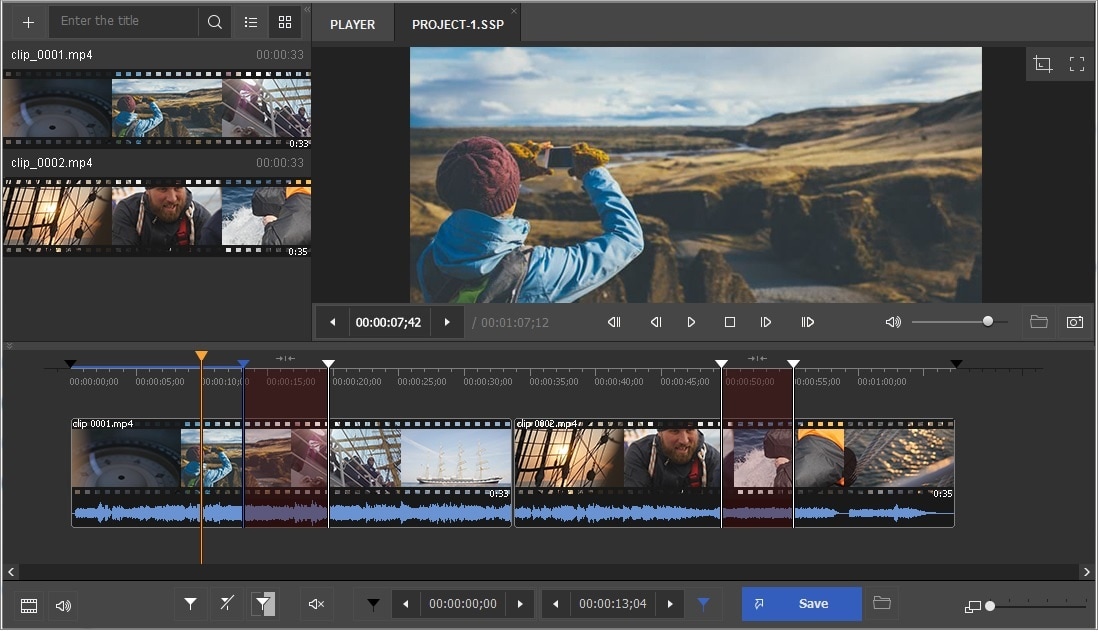 This article will focus on the six best video splitter software, including their features that can assist you in easily and efficiently splitting your videos.
Part 1: Essential Elements of an Effective and Easy Video Splitter
Almost every smartphone and the desktop platform supports free video splitter software. Most of the most recent splitters include basic video deception options such as clip splitting, crop varieties, merging, and others.
Some of the most common features of an easy video splitter are listed below.
When video splitter software is kept simple and unnecessary complexities are avoided, it performs better. The heart of an easy video splitter is a user-friendly interface for splitting controls. Using these controls, you can manage the periods that will or will not save in the final movie.
Supports All Major Video File Formats
Many file formats have been preferred to cross the divide to the general public, and the most well-known video splitter software supports this feature. In certain situations, this makes it somewhat more helpful than others. Some of them, for example, are preferred due to the high quality of various video formats.
Includes Basic and Advanced Editing Features
When constructing or editing a project with transitions using video splitter software, you typically make your loops by introducing additional video clips, images, color clips, and so on. Video editors use these transition effects to consider making your clips, pictures, and videos move quite innovatively from one attribute to another.
Part 2: Comparison/Overview of The Best 6 Video Splitter Software
Whenever you have to extract a critical or specific fraction of a video file, you'll need to find the best video splitter for pc.
The table below compares the six best video splitter software, including their supported platforms, target users, and the type of split-clip each video splitter software has.
Video Editor

Platform (macOS/

Windows)

Target User

(Professional, Communicator, Consumer)

Cut

 by Frame

Cut

 by Keyframe

Trim

Split

Final Cut Pro

macOS

Professional

✖

✔

✔

✔

Davinci Resolve

Both

Professional

✖

✔

✔

✔

Wondershare Filmora

Both

Communicator

✖

✔

✔

✔

Adobe After Effects

Both

Professional

✖

✔

✔

✔

iMovie

macOS

Consumer

✖

✖

✔

✔

Adobe Premiere Pro

Both

Professional

✖

✔

✔

✔
Part 3: The 6 Best Video Splitter Software
Despite having numerous online video splitter software options available today, most fail to deliver on their promises. Several free video splitter software, particularly a video splitter for PC, degrade video performance and cause data loss. So, how would you pick the best video splitter for high-resolution files?
Here is a list of the top six video splitter software, including full-featured and lightweight editing tools.
Compatible with macOS and, unfortunately, not a video splitter for windows.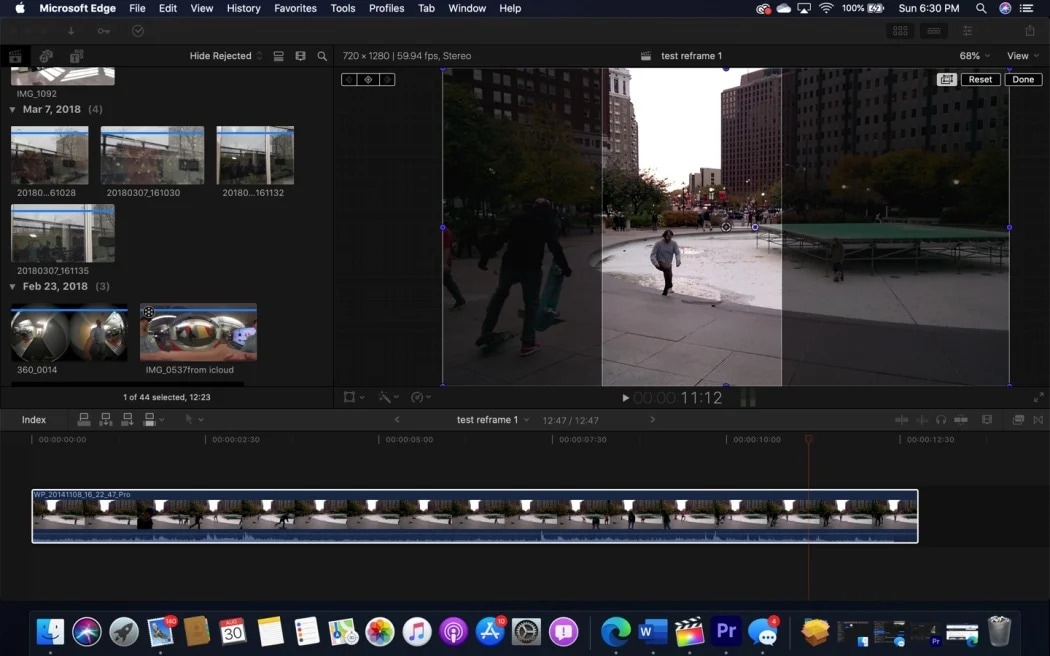 Final Cut Pro is perhaps the most widely used video splitter software on the Mac. This easy video splitter enables you to work with relatively high frame rates and many more effects while editing more complex projects at breakneck speed.
Additionally, Final Cut Pro includes a split feature that allows you to split a video clip, audio track, or display in your project. It is a large software package (approximately 2.85GB) that allows you to cut videos while maintaining quality. Furthermore, since video cutting is so simple, it has assisted people in cutting even large files and is considered the best video splitter.
Note: For more information, you may visit How to Cut Video in Final Cut Pro.
Key Features of Final Cut Pro
This video splitter software allows the users to add various effects to the clips to make them appear professional and broadcast-worthy.
Despite being open-source, this easy video splitter allows you to add numerous plug-ins to start making your video editing interaction quite innovative and productive.
Compatible with macOS and a large video splitter for windows.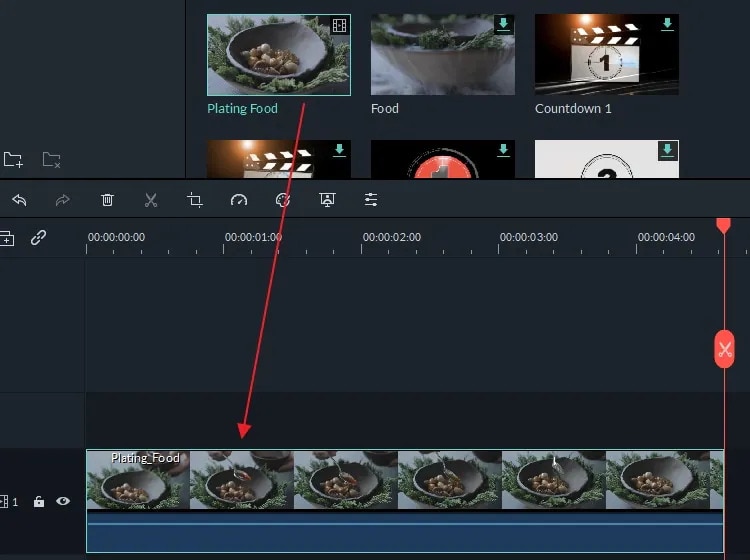 Davinci Resolve is undoubtedly among the finest video editing programs on the market. Furthermore, unlike other sequential video editor alternatives, this easy video splitter provides a free edition loaded with useful features.
The Cut Page is a component of Davinci's revolutionary editing innovations, seeking to make it among the best video splitters available. It includes many functions that simplify editing, notably the Davinci Resolve split clip feature. This option is beneficial when you wish to split long footage into sound bites, such as a narrative or a solo interview.
Key Features of Davinci Resolve
Smooth Split-Screen Modes
It provides more flexibility when comparing multiple clips or varying frames within a single clip.
Additional Post-Production Split Page
It greatly simplifies the editing workflow and is ideal video splitter software for producing convey edits on a tight deadline.
Compatible with macOS and a considered video splitter for windows.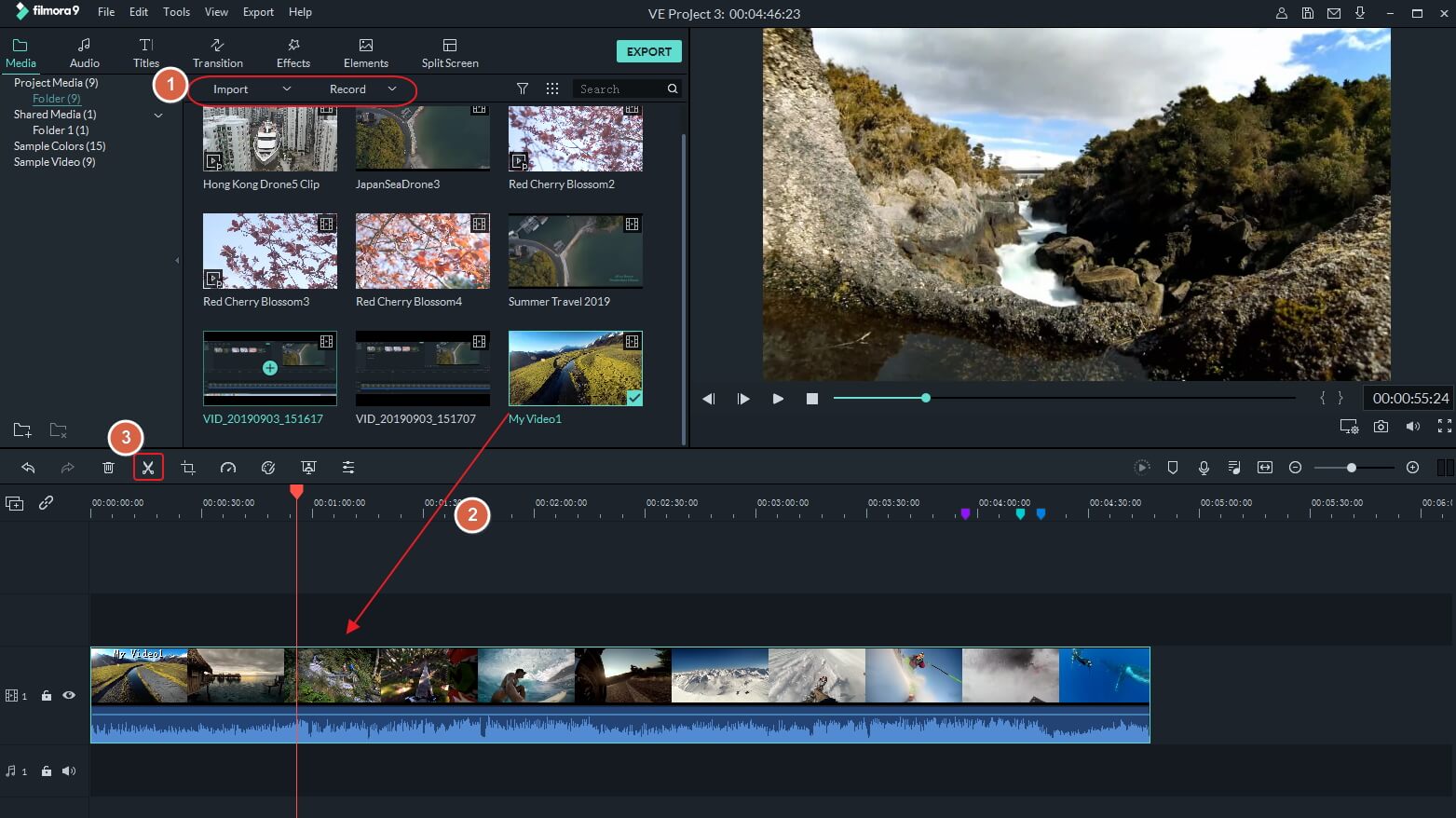 Wondershare Filmora is an excellent video editor for those looking for software that can split videos and has many features. It was initially only available for Windows, along with such a video splitter Windows 10, but the developers made it possible to use this simple video splitter in macOS.
Utilizing software to split and enlist videos is a straightforward process. It's a fascinating tool because it enables users to create elevated films employing filters, effects, and other features without needing professional editors. This best video splitter also allows you to export Video at breakneck speed and in 4k resolution.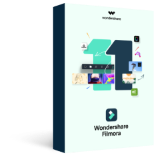 Best video editing software for beginner and semi-professional, that comes with powerful editing skills like trimming, splitting, rotating, editing, etc.
Advanced video effects like green screen, PIP, audio mixer, etc. can also be found and applied to your video within few clicks.
500+ free special video effects to customize and create an awesome movie by yourself.
1000+ standalone effects downloading resources to make videos in all kinds of styles.
Export videos to Chromebooks compatible format with 1 simple click.
Note: For more information on creating stunning videos, see Filmora Video Editor or How to Split Videos in Filmora in Four Ways (Video Splitter).
Key Features of Wondershare Filmora
Huge films can be easily cut, adjusted, and split without compromising quality using this easy video splitter.
User-friendly Split-clip Options
It has a lot of useful options for beginners, which will assist you in creating a stunning split video.
Compatible with macOS and is considered a video splitter for windows.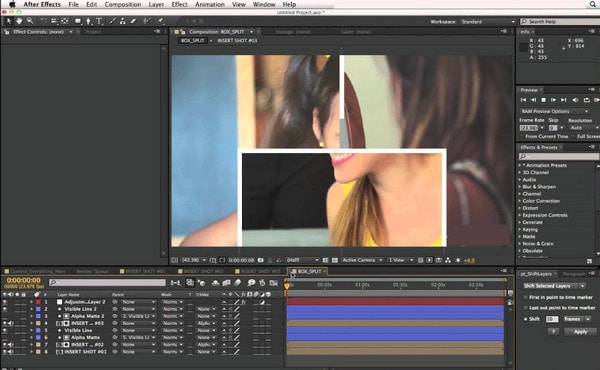 This post-production scheme, employed to modify images and videos, includes hundreds of effects. Additionally, this video splitter for windows and macOS allows for incorporating multiple images and video layers into a particular scene. Adobe After Effects work is well recognized for its flexibility and can be found anywhere.
Even though the interface of this video splitter software appears to be complex and difficult, many shortcuts are available to assist users in editing in After Effects. For example, in After Effects, you can split a video into multiple sheets with a few keystrokes.
Note: See How to Cut Video in After Effects for more information.
Key Features of Adobe After Effects
Effects of Immersive Virtual Reality
With all these creations and split-clip features, the audience can feel included and immersed in what they're attempting to play or watching.
Smooth Animation and Transition
The newest iteration of After Effects, the best video splitter, comes with a brand-new tool that enables users to make simple motion patterns and vibrant information records.
Compatible with macOS and, unfortunately, not a video splitter for windows.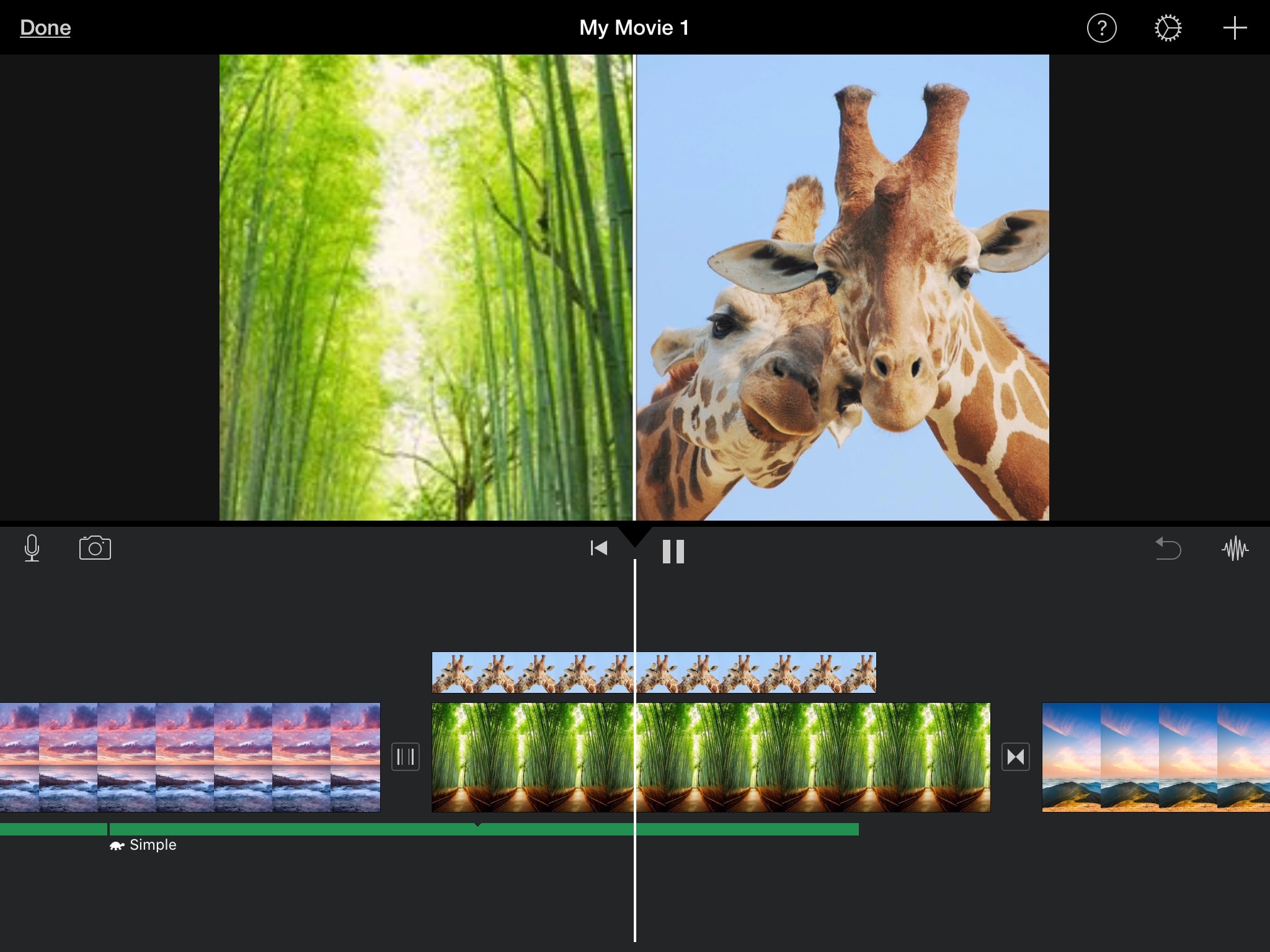 If you have a Mac, the iMovie video splitter software can assist you in splitting videos. It is one of the best video splitters available for Mac users. It has a broad range of options that can help you enhance the appearance of your clip in many ways. Many attributes, such as manuscript, special effects, and audio, can be added to the Video to enhance it.
This software's special effects and clip upgrades can help improve video quality. Furthermore, the functionality is so simple to use that even inexperienced users can produce stunning results.
Note: For further details, check the tutorial How to Cut Video in iMovie Easily.
Key Features of iMovie
Easy Cutting and Transitions
Transitions between clips smooth out or blend the transition from one scene to the next.
Users can overlay a short video over a background clip, image, or image in iMovie using the green-screen effect to split a clip.
Compatible with macOS and a large video splitter for windows.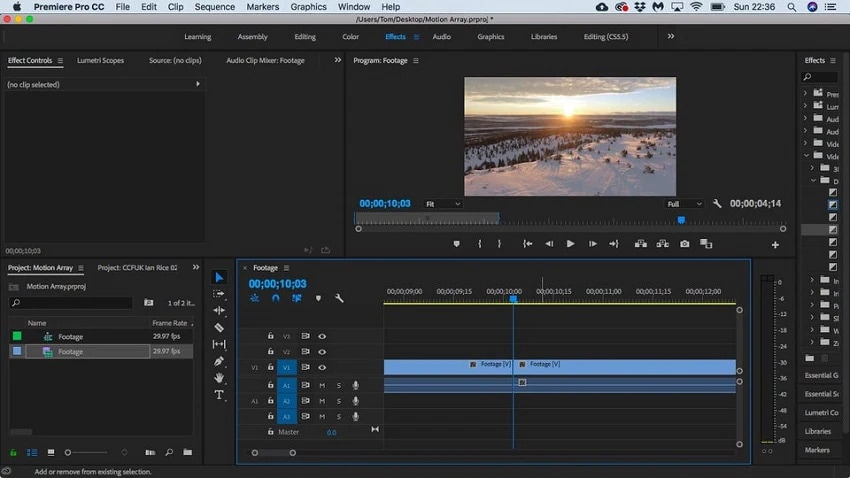 Adobe Premiere Pro is a time-tabled video splitter software developed by Adobe Inc. and released publicly as a part of the Creative Cloud licensing scheme. Being creative and organizing your clips freehand can be enjoyable. However, you will occasionally need to be extremely precise to ensure that your clips are evenly distributed across the screen.
The split-clip feature in Adobe Premiere Pro has remained popular. Not only is this a cool video effect, but it's also possible to generate widescreen monitors in Adobe Premiere Pro, and it's not as difficult as you might think.
Note: Go to How to Crop Video in Adobe Premiere Pro to learn more.
Key Features of Adobe Premiere Pro
The interface is simple and can be organized according to personal preferences.
Provides Numerous Clip-Splitting Options
Some users work with the trim clip tool, whereas others prefer to cut clips with a razor blade in this easy video splitter.
Bottom Line
Once you lack the right tools, video splitting could be a daunting task. However, you can take your video editing process to the next level using all these best video splitter software.