- How do I shorten an MP3 file?
- How do I edit an MP3 file?
- How to cut or edit an MP3 audio file?
- ...
Will you have any questions about MP3 file like the above? If so, you've been the right place.
Specially, I'll show you how to edit MP3 files on Windows and Mac step by step, and the whole tutorial includes:
- A practical yet easy to use MP3 Editor;
- How to edit MP3 (length, brightness, volume, etc.)?
- How to add album art to MP3 file?
- ...
So, if you're ready to go "all in" with MP3 files, this guide is for you.
Now, let's get started...
Filmora Video Editor - A Funny MP3 Editor You Might Not Know
Filmora Video Editor for Windows is a good audio editing tool that is rich in easy to use features and user friendly interface. You don't have to be pro to be able to manipulate your audio files anyway you like. What's more, this program is not only a simple MP3 audio editor, but also works prominent in video editing and have gained a great reputation among its users.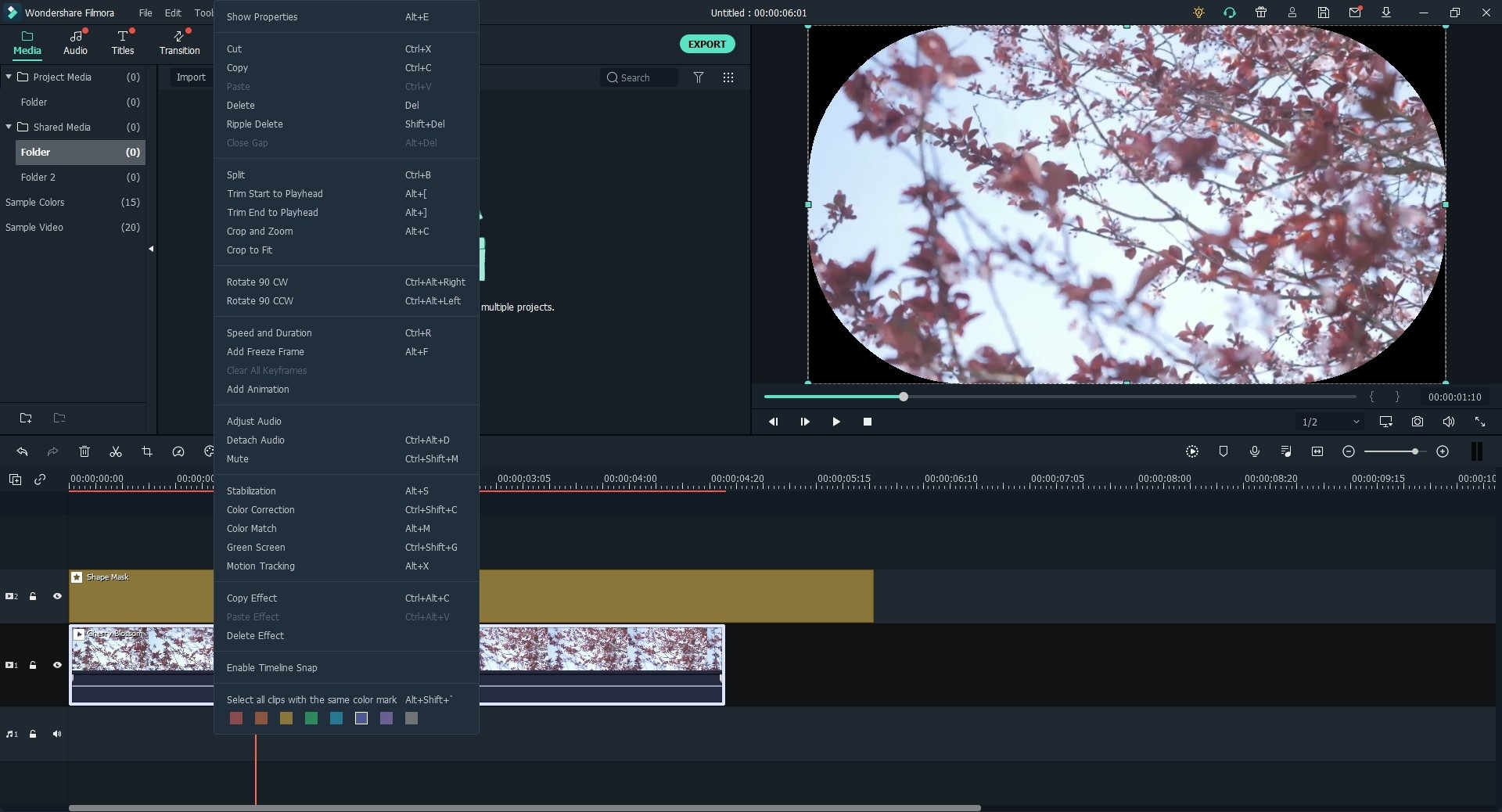 Offer several editing options like copy, cut, paste, split, merge, and convert among others for your audio files and video files.
Add effects to enhance your audio like amplification, Fading In & Out, and Pitch and many more.
Support a good selection of file formats like APE, AIF, AIFF, FLAC, APE, CUE, AU, AMR, OGG, WAV, DPE, MKA, M4V, M4A, MPA, MP2, MP3, RA, WMA.
Built with advanced video editing tools such as; picture in picture, split screen, screen recording, green screen, advanced text editing, audio mixer, 3D lut, video stabilization, background blurs and audio separation among others.
...
Now, you can watch this video to check how to perform all audio functions in few clicks.
If you watch this video, you'll notice that the steps is really easy to trim, cut and edit MP3 files (including length, brightness, volume, etc.) with the Filmora Video Editor.
However, in order to help you understand these steps, the below text tutorial are also recommended to you.
---
Tutorials on Editing MP3 Files in Windows and Mac
Preparation
To get started, you need to ensure the Filmora Video Editor is installed on your PC or Mac, and the MP3 file is also stored in the local disk for editing. Then, launch the program and directly choose "New Project" to open the editing panel.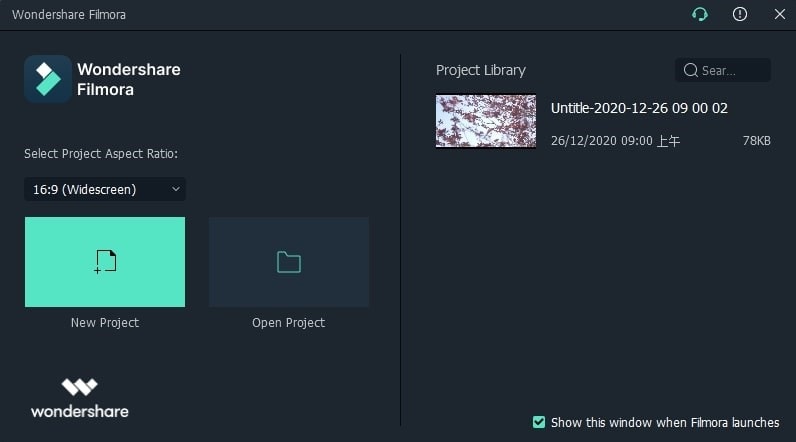 Then, you can click "Import" option to import MP3 files from your computer to the album of the MP3 audio editor. Or directly drag the MP3 files from the computer into the computer.
After that, the MP3 files will be arranged in the media library and you can drag and drop it to the timeline for editing.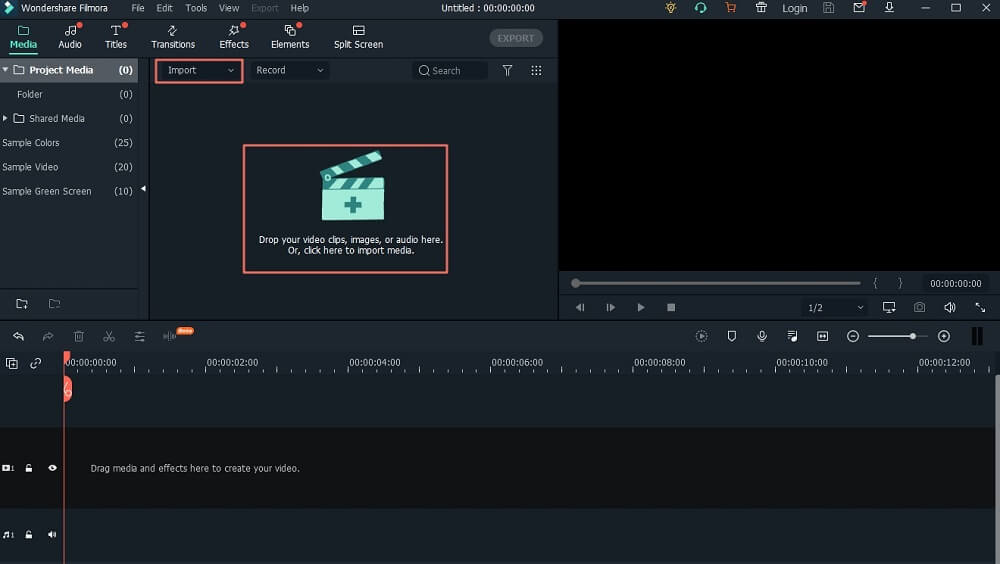 How to Edit MP3 Length Easily?
Filmora Video Editor provide users with two different ways to shorten an MP3 length. You can choose one of them to edit MP3 length as you like:
- If you want to trim a MP3 clip to a specific length, click the audio clip, mouser over its left or right edge to show the "double arrow" indicator, and then drag it to any length you want.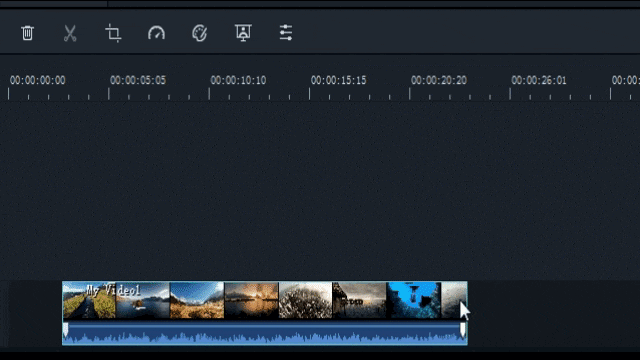 - To split or cut MP3 clip, you need to select it by clicking, drag the top of the red Time Indicator to any position of your choice, and then click the scissor-like button. To delete the unwanted MP3 parts, you just right click it and select the "Delete" option.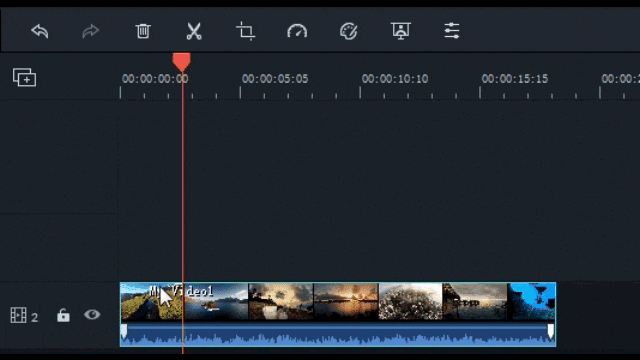 You can view all the editing effect in real time as long as you press the Play button in Preview window. If you're not satisfied with the editing effect, just do it again.
How to Increase/Decrease MP3 Volume?
Select your required audio clip on Timeline and then click Edit button to open the editing panel, where you can increase volume, decrease volume, add effects like Fade in & out, and Pitch to your MP3 files.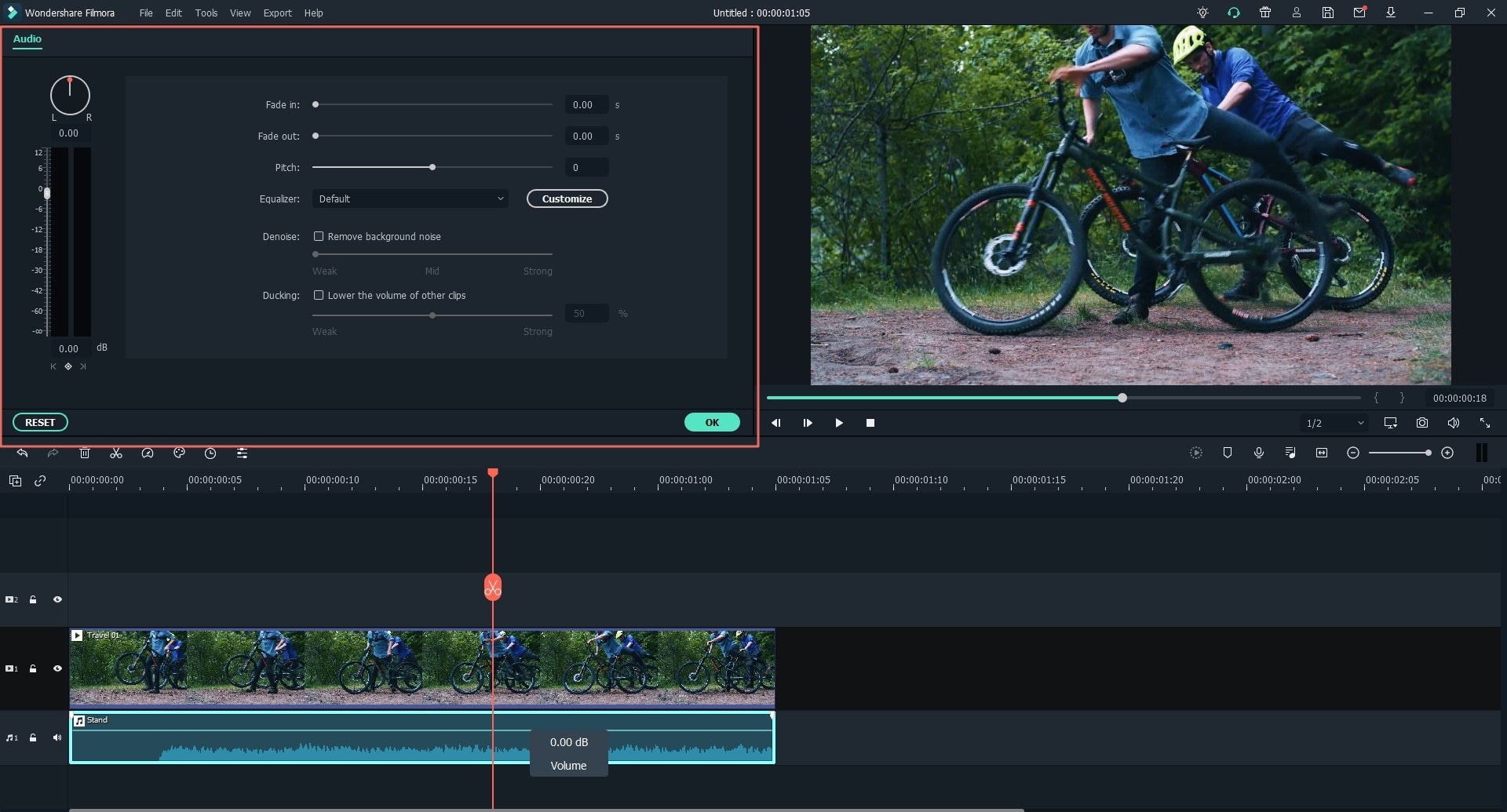 How to Customize the Sound Effects As You Like?
If you want to change the default sound effect, you can locate the option of "Equalizer" and change the sound effect as you like. The options including Default, Pop, Rock' n' Roll, Soft, Classic, Low Bass, Sparkle, Ska, etc.
What's more, you can also click on the "Customize" button to do the advanced settings. After that, click "OK" button to save all these changes.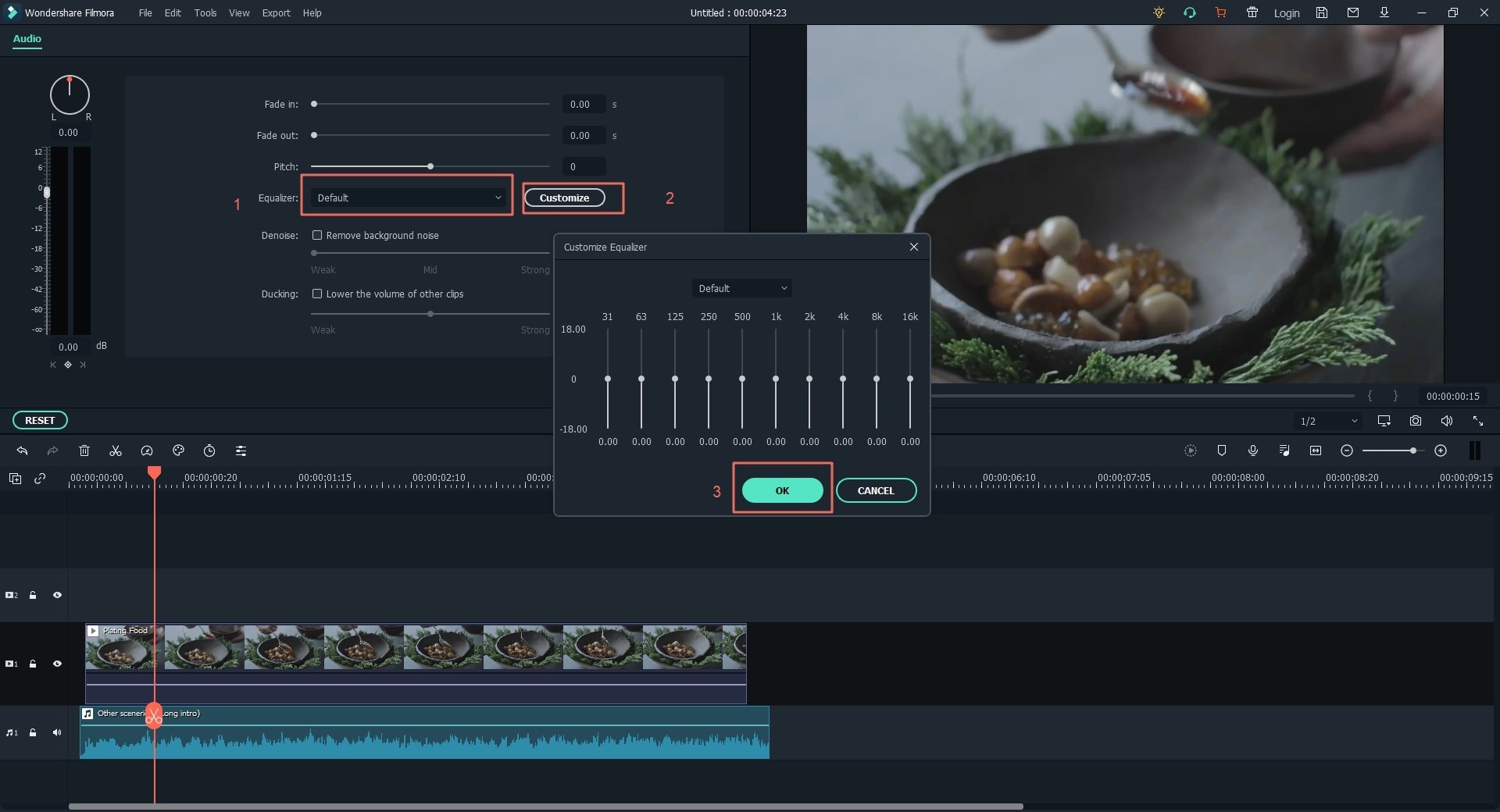 [Attention]
If you want, you can also use this program to add an album cover to the MP3 file. The detailed steps have been written in another post, if you're interested in it, please click the link for further reading.
Export the New MP3 File
When you have finished editing the MP3 file, click the "Export" button to export your masterpiece. At this time, you have fivedifferent options: Format, Device, YouTube, Vimeo and DVD.
Select the output way according to your own needs, and click "Export" button to start the transferring process.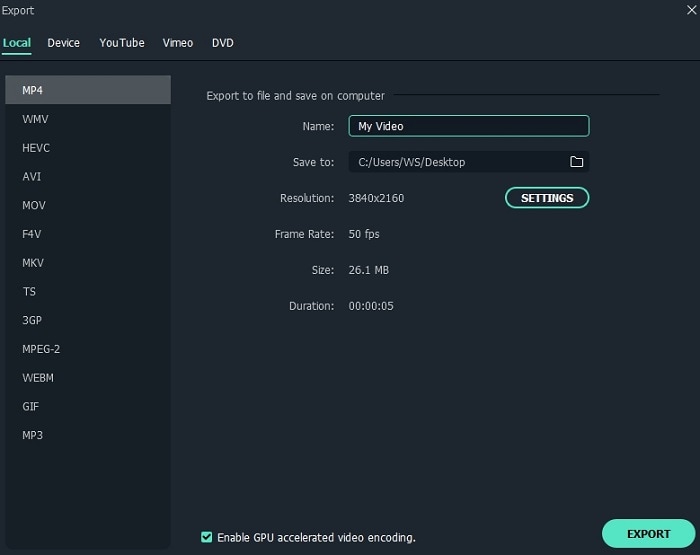 ---
Conclusion
That's all! This post is a full guide, teaching you how to edit MP3 files with Filmora Video Editor.
Have you gotten all tricks in editing MP3 file?
If so, let's download and install the Filmora Video Editor on your computer, then, follow the above steps to edit your own MP3 file quickly.