TikTok is the most popular app in the recent years, and it provide users with a new way to watch videos. Some people have summarized the reasons that why TikTok so popular as followings:
Fun, creative videos
TikTok users can choose any length between 15 to 60-second videos. The app makes it possible to record a video scene-by-scene and provides basic video editing tools to enhance the recording. Users can also post up to five photos in one post.
Large music and audio library
TikTok is often referred to as the Instagram for music for a reason. Hardly any video on the platform is published without music. Users are free to use songs and sound effects from the app's large audio library for their videos.
Curated content
As with other social media platforms, you can easily search for specific videos or types of content through hashtags and keywords. Users can also make their own videos easier to find for the TikTok community by adding hashtags and relevant keywords to their post's descriptions.
Likes and comments
Again, similar to other platforms such as Instagram, users can like other user"s posts by tapping on the heart icon. There is also a comment function and the app allows the sharing of content to other social media networks.
---
Steps on Editing Videos on TikTok [Step-by-step Guide]
To make a fun-to-watch video on social media, you will need to alter a video before sharing it publicly. You might want to edit out unwanted parts, add special video effects, graphics, text, music or combine it with another clip.
TikTok offers simple video editing tools that allow users to edit their videos in those ways. While most of them are quite basic, but they provide a way for young or inexperienced users to enhance their videos.
Now, let't check the detailed steps:
Step 1: To make a new video, tap the "+" icon and then press and hold the red circle to record your video. You can alternatively upload a downloaded video from your device.
Step 2: Now you are ready to enhance your video. Tap on any of the menu options: Voice effects, Filters, Trim, Volume, Sounds, Effects, Text and Stickers to edit your video. Browse through the different video effects and sounds and tap on them to preview. To delete an effect, tap the "Undo" icon but if you want to keep the changes, press "Save" and then "Next".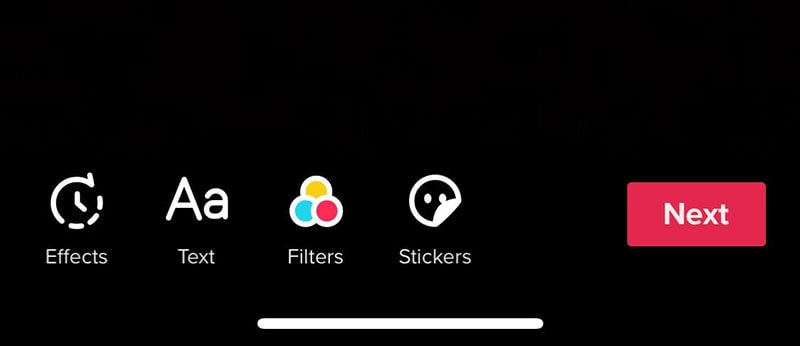 Step 3: Before you post your video, type in a good name and description with relevant keywords for your video. You should also add hashtags (#) or use the "@Friends" function to mention your TikTok friends on your posts. When done, tap "Post" to share your video with your TikTok followers.
As we said above, TikTok only provide users with few basic editing tools. So, if you're a semi-pro TikTok user, then you might wish to find another easy-to-use editing apps to help you create some video amazing, right?
Then, it's time to check the following apps in this post:
This app is considered one of the best video tools for mobile. It is easy-to-use and offers many advanced features and effects to help you create the perfect TikTok video. On the app, users can create music videos, short movies, vlogs and much more. There is also a function that allows the sharing of finished video projects directly to TikTok.
Attention: If you wanna to edit the TikTok video on PC or Mac, you can have a trial on the Filmora Video Editor software.
Key Features:
Intuitive timeline zoom function
Volume controls
Playback speed control
Ability to rearrange clip sequences
Huge library of music and sound effects
Ability to add stickers in videos
Stunning filters, transitions, and overlays
Ability to add colorful borders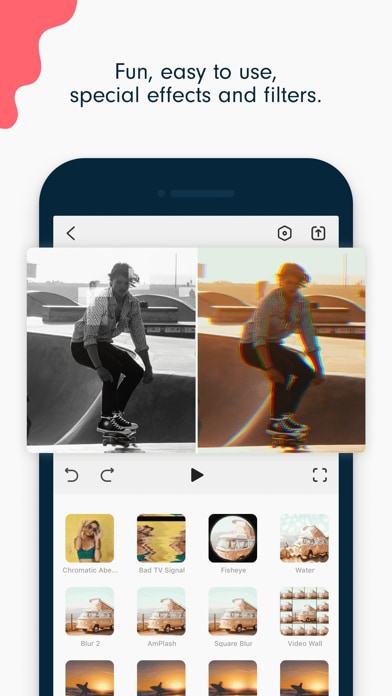 Inshot
This app is also a good choice for mobile video editing. It comes with features that allow users to trim and merge clips, crop videos, and blur backgrounds. It also has an image slideshow maker. Using Inshot, you can quickly edit your TikTok videos by adding music, text, rotating, splitting and merging clips.
Other features include:
Video trimmer and splitter tools
Decent sound effects library
Video filters and special effects
Ability to add text and stickers
Ability to change the video aspect ratio
Video blur editor
Collage & Photo Editor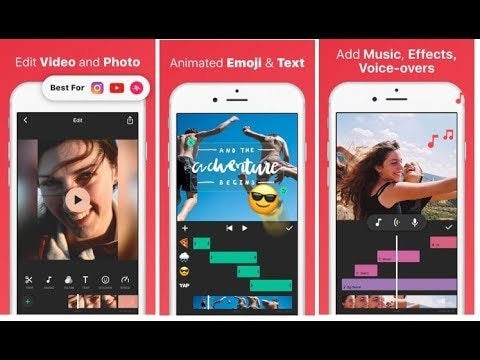 Timbre
This is an alternative app that can help users edit videos for TikTok. On the app you can perform various video editings actions such as splitting and merging clips, adding/removing audio and adjusting volume levels.
Timbre has a nifty feature that allows you to convert text to speech. It also compresses output video files to save you storage space on your device.
Key Features
Ability to seamlessly join video or sound clips
Can extract audio from a video file
GIF maker
Playback speed control
---
Conclusion
Now, do you know how to trim videos on TikTok, how to edit on TikTok? If so, just start your TikTok video creating now.
If not, you can try to edit on TikTok directly, then, ask help from a more professional video editing apps like FilmoraGo or Inshot.
Finally,
I hope this article can help you something when you feel confuzed in editing TikTok videos, and if you have any suggestions, please leave a quick comment in the below area.