Are you using Mac OS X and you want to extract audio from MKV files?
To begin with, MKV is
- a multimedia container format which incorporates video, audio, and subtitles into a single file without considering encoding types of these elements.
- being played with MKV compatible media player or installing the appropriate codecs for your media player.
- not an industry standard file format.
Therefore, there are quite some playback challenges associated with them and one remedy to these is to extract audio from MKV.
No matter the reason which triggers this action, you need possess the right software to help you achieve your intentions with ease. Here, we recommend Filmora Video Editor for Mac to extract audio from MKV.
Filmora Video Editor - Awesome Audio Editor to Extract Audio from MKV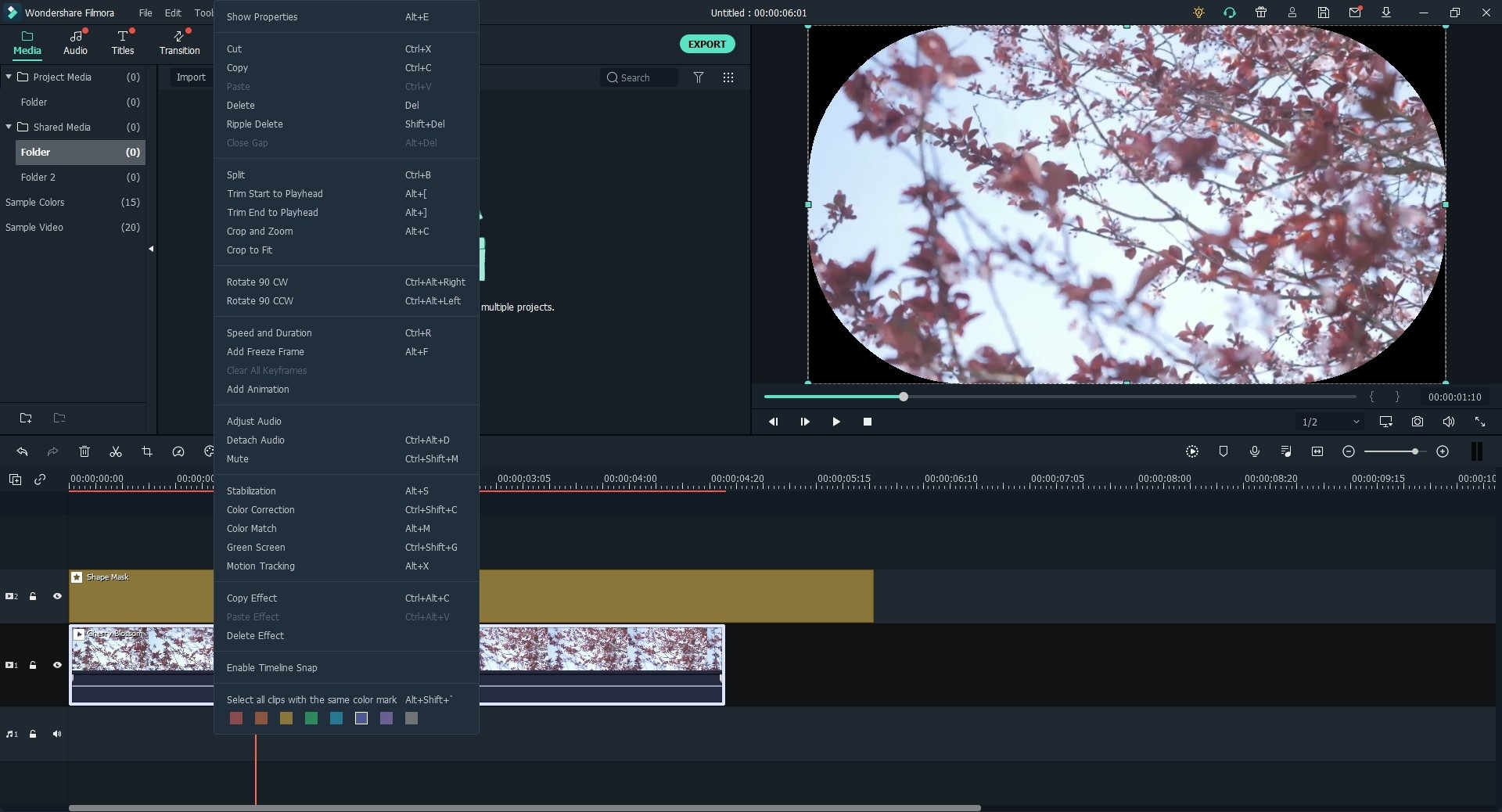 Filmora Video Editor for Mac is a robust one-stop-shop software designed specifically to gather all possible file edits within just a few clicks. The program brags with an intuitive interface with the right tools clearly appearing on the screen and this assures even the novice to obtain professional-like results in just one try. Also, Filmora Video Editor supports 100+ file formats, and with this, you can convert the file to your preferential format after you extract audio from MKV.
Other Features in Filmora Audio Editor:
Enables basic to advanced audio edits like split, background noise removal, apply audio fade effects, adjust audio speed, split and trim audio among others.
It is built with an audio mixer that supports different audio formats.
Supports import of Multimedia files directly from social media platforms and from cloud storage services.
Allows you to detach audio from video as well as mute audio in a video.
Allows you to replace original audio in a video with your preferred audio
---
How to Extract Audio from MKV For Mac Without Losing Quality using Filmora Video Editor?
The following is a step-by-step guide on how to extract audio from MKV using Filmora Video editor for Mac:
Step 1: Download & Install Filmora Video Editor
Download Mac version for your Mac and install. Then click on its icons on the desktop to launch it. Choose "New project".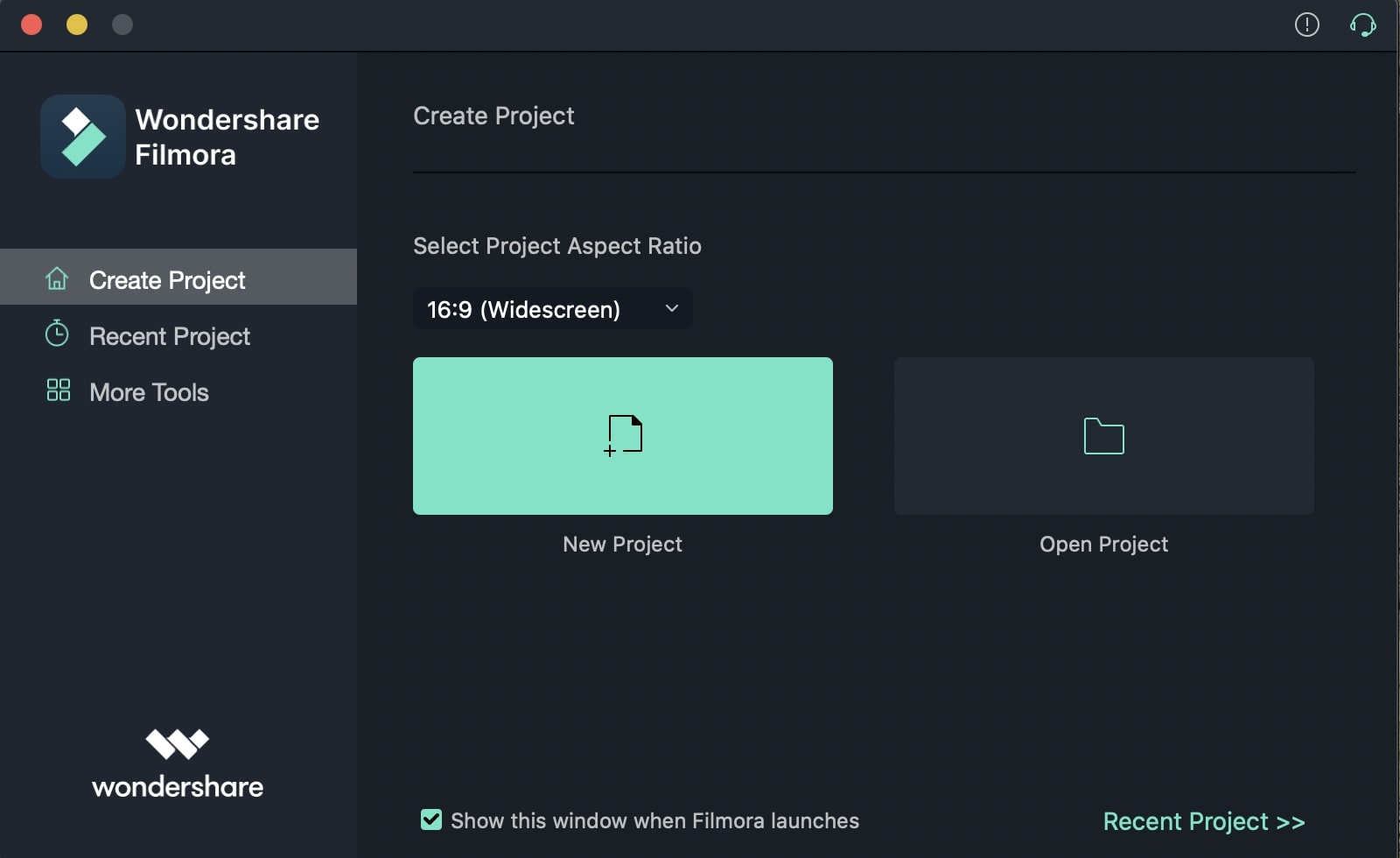 Step 2. Import MKV File
Next, add MKV file on the program. There are three ways to have this done in a simple and a straight forward manner.
- Way 1, click on the "File" tab on the upper-left side of the screen. Then, scroll down on the drop-down menu options and select "Import Media". Proceed and browse to MKV save location. Select the MKV file and hit the "Open" button to import.
- Way 2, click on the "Import Media Files Here" icon from the Media Library and follow the onscreen instructions to import MKV.
- Way 3, this is the easiest among the rest methods, simply drag MKV file and drop on the software.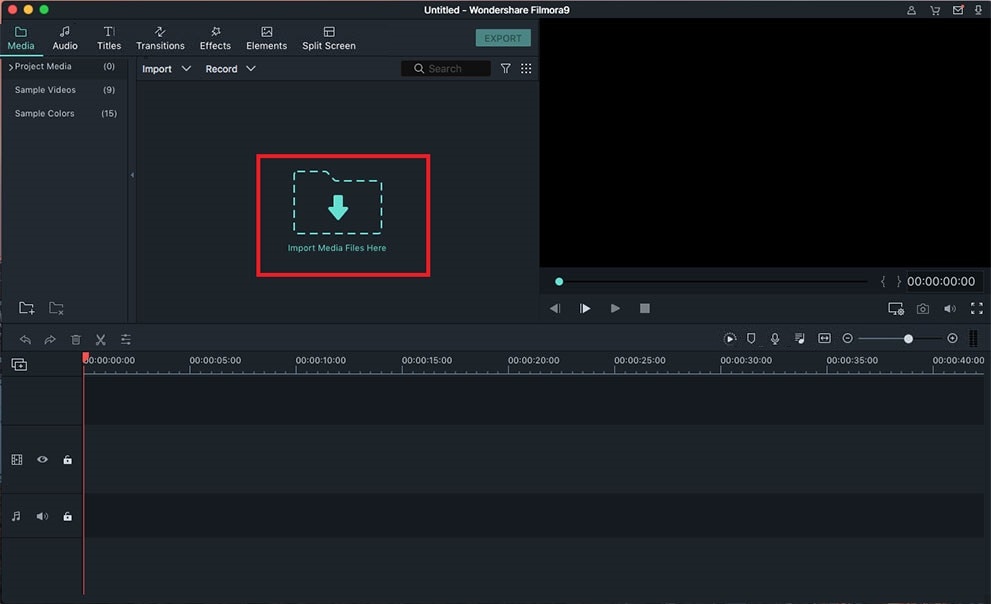 Step 3. Extract Audio from Mkv
Once the file is on the program's "Media Library" move it to the timeline by using the drag-and-drop technique. At this point, you are ready to start to extract audio from MKV. Simply move the cursor to the MKV on the timeline, right-click on the file to display a list of tools. From those tools select the "Detach Audio" tool and immediately you click on this tool audio track will be separated from Video.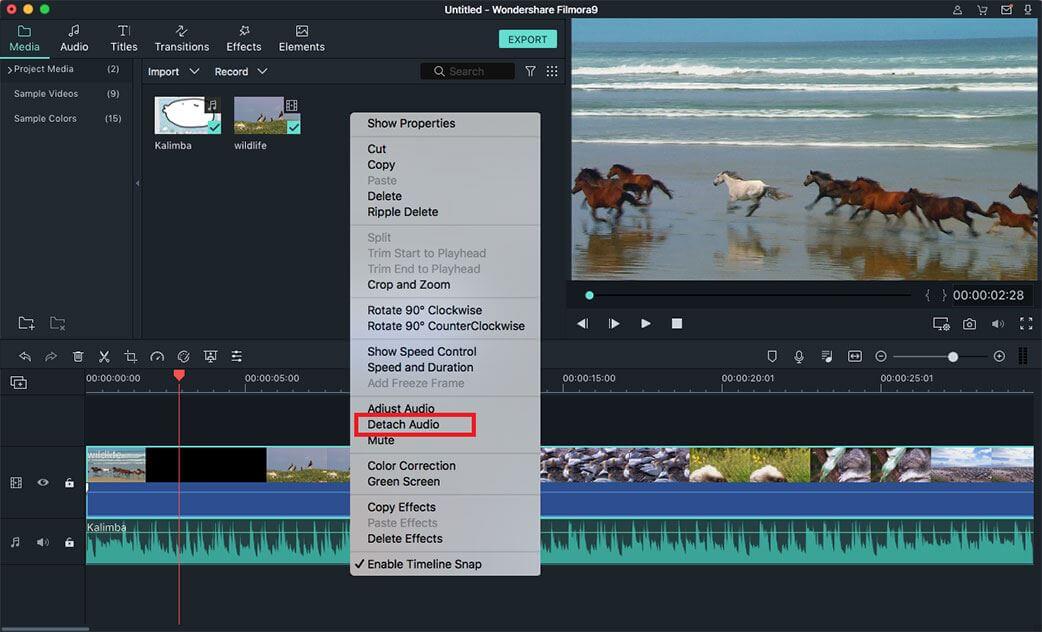 Step 4. Edit Audio File
Next, edit the extracted audio file. This is an optional step. You can perform several edits on this audio by accessing edit tools by double-clicking on it on the timeline. Move the cursor at the begging or the end of the file to trim it.
If you want to know more about audio editing fonctions and tips, see also: How to Edit Audio Files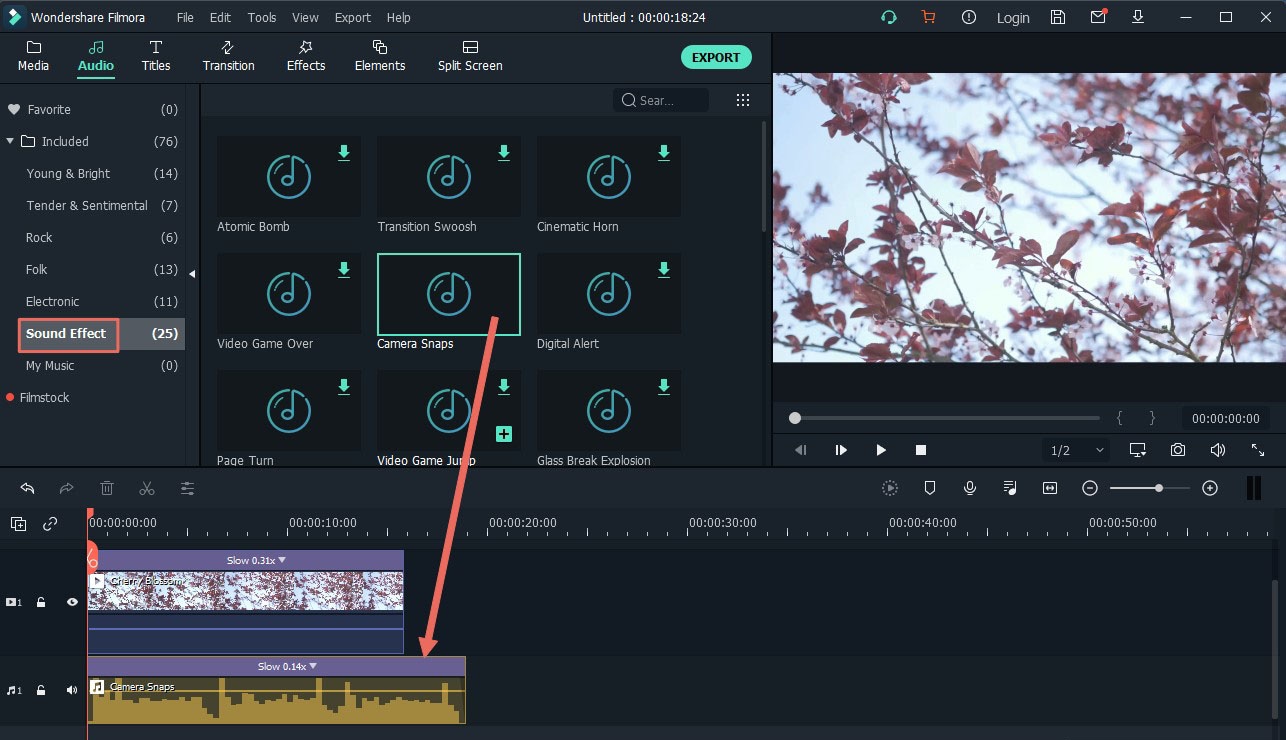 Step 5. Export Your Project
Export extracted audio from MKV for Mac. Tap on the "EXPORT" button select the "Local" menu. Provide the name for the extracted audio choose the preferred output format. Once you complete setting up this, click the "Export" button. Apart from saving on the hard drive, you can possibly send directly to your device share to YouTube/Facebook/Vimeo or burn to DVD.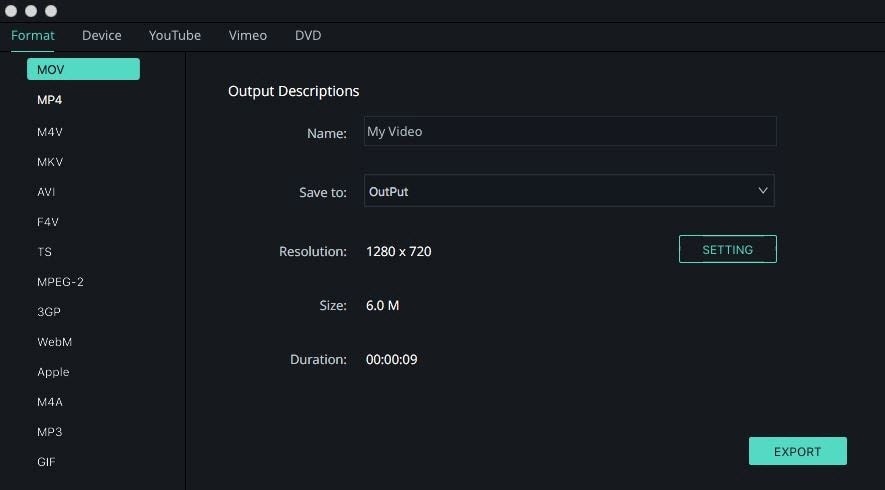 ---
How to Extract Sound from MKV using VLC
VLC is no doubt one of the commonly used playback media for both Windows and Mac users. It supports a wide range of multimedia files. You might have the knowledge that you can use it to extract audio from MKV successfully. If you have been using VLC to extract audio from video on Windows. You can perfectly do the same on Mac. However, the procedure to follow while doing so on Mac differs from that used on the Windows system.
Here is a step-by-step guide for you to extract audio from MKV for Mac using VLC:
Step 1. Move to the VLC media player icon and click on it to open. Click the "File" tab, select media and click on "Convert/Save".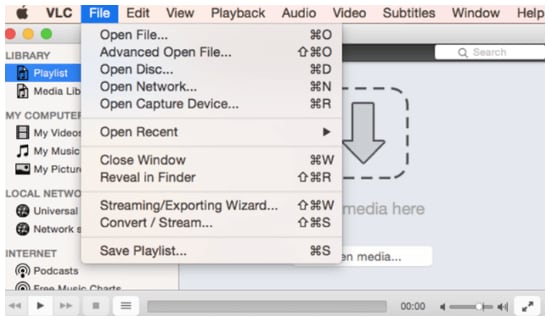 Step 2. Upon completing the above step, you'll be directed to a new window where you are supposed to select "Open media…" icon to choose MKV file whose audio you intend to detach.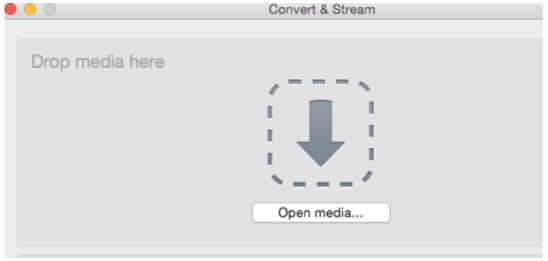 Step 3. This is the step where you choose the output format for the detached audio. Achieve this by accessing the drop-down menu and hit on the "Browse" to set an output directory.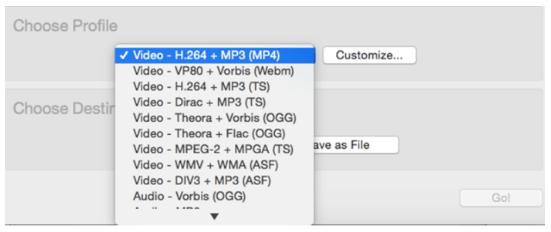 Step 4. Once you are through with the above step, you will be directed to a new window to save the file, choose an appropriate save path, and rename the extracted file. When you are satisfied with this step settings click the "Done" button and you'll be directed to the previous screen.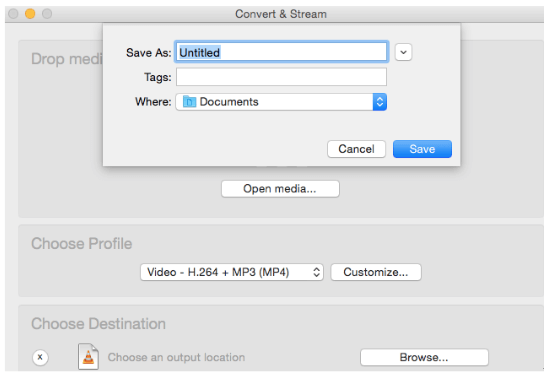 Step 5. Start detaching process by clicking the "Start" button. It'll take a few minutes to complete depending on the file size.
Write in the End
We are concluding the actions to extract audio from MKV for Mac by giving the comparison between Filmora Video Editor and VLC.
| | Filmora Video Editor for Mac | VLC |
| --- | --- | --- |
| Targeted Users | Novice & semi-professional | Novice |
| Price | From $39.99 | Free |
| Editing tools | More than 200+ | Limited |
| Support Recording | Yes | No |
| Import options | From Computer, Cameras, Phones/Facebook, Flickr, Instagram, etc. | Limited |
| Supported import formats | 100+ | 100+ |
| Output quality | Good/better/best | Good |
| Export method | Devices (iPhone, Android, PS4, Sony TV, etc), DVD, Youtube, Vimeo | Limited |
| Supported output formats | 100+, 50 video formats and 20+ audio formats. Support 4K. | Limited |
It's easy to see that Filmora Video Editort not only perfectly separates the audio, but also gives you more diverse options, such as adjust audio, trim audio, or add audio effects, etc. Why not have a try?