- How do I mirror a video?
- Can you mirror a video on iPhone?
- ...
The mirror effect helps people mirror a video or an image, which means the porocess of flipping an image or video horizontally or vertically. The mirror effect is a common effect added to pictures and videos by many people nowadays to make them look more fantastic and cool. For example, the kaleidoscope effect that everyone is familiar with is one of the mirror effects. With this type of filtre, you can easily the flip folding visuals, the cloning effect, and other magic in your video or photos.
Then how to mirror a video on PC ou Mac?
Well, in this post, we'll help you know about the best mirror video movie maker with the free mirror effects, and give you a proper guideline to create a mirror effect video on your own by using this video editor.
The advanced?
If you are an iPhone or Android user, and you don't know how to mirror a video on your phone, then this is where you will get the solution. We will provide you information on various apps to mirror videos on iPhone or Android.
Let's start.
Filmora Video Editor - Best Mirror Effect Video Editor You Can't Miss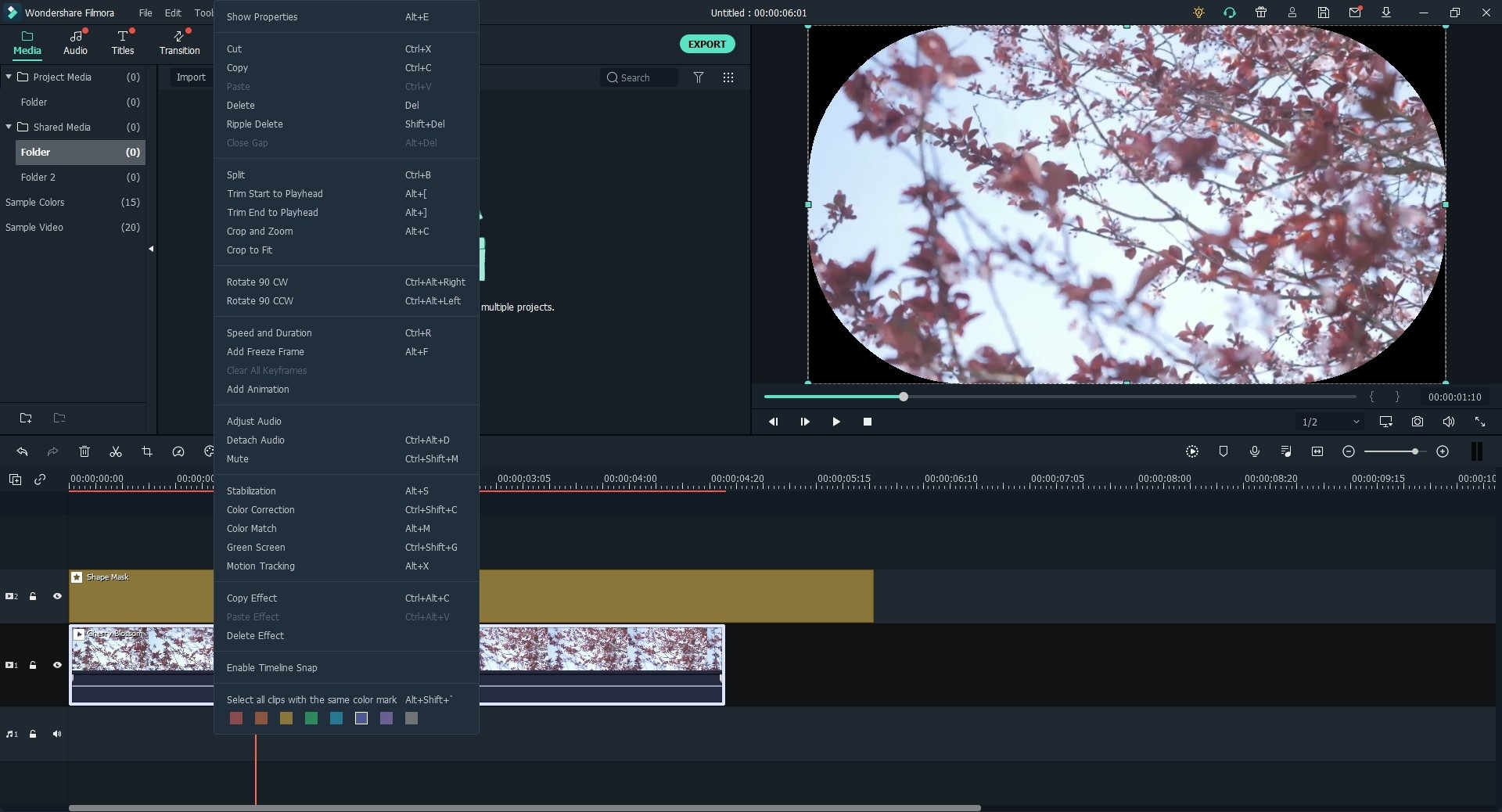 If you want to mirror a video but are not experienced in video editing, Flimora Video Editor (or Filmora Video Editor for Mac) can be your best choice. It contains horizontal mirroring, vertical mirroring and a kaleidoscope effect and allows you to add mirror effects to your videos with a very professional touch even if you are not a pro. Moreover, this programme is provided with basic and advanced editing fonctions that you can use to edit your mirror effect video. It is compatible both for Mac and windows, and supports most video, audio and image formats. Whether it is an educational video or advertisement, or a vlog or game now you can easily make your videos amazing and high quality.
Key features of Filmora Mirror Effect Video Editor:
Simple interface and easy to use, suitable for novice or demi-professional. You can learn how to edit videos and add mirror effect to your videos in minutes.
It has basic and advanced editing tools, such as clipping, rotating, splitting, chroma key, PIP, etc.
It has more than 800 visual and audio built-in effects. You can create, change and style your mirror effect videos by adding transitions, overlays, filters, elements, etc. At the same time it has a special effects store - Filmstock for you to download more special effects.
You can also use it to add background music and titles to your videos.
Support for exporting videos to the format you like, or you can download your mirror effect vidseo directly to YouTube or Vimeo.
[Tutorial step by step] How to Mirror a Video with Filmora Video Editor
Step 1: Install the Program and Import Your Files
First you need to download and install the program in your computer and launch it. You will get the home interface of the editor, from here click on the "New Project" option.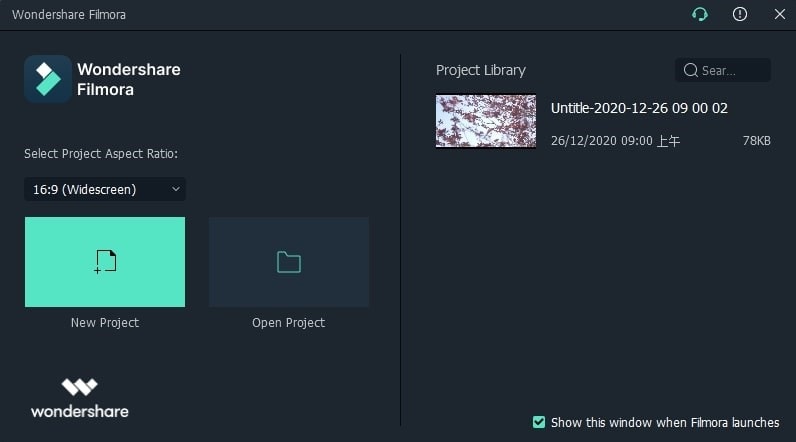 Then you will get an interface like below, from here you need to import media files to edit them. You can directly click on the "Import Media Files Here" and import files from your computer to the media library or you can click on "File" option from the top left corner of the program and select "Import Media" option and import files to the library.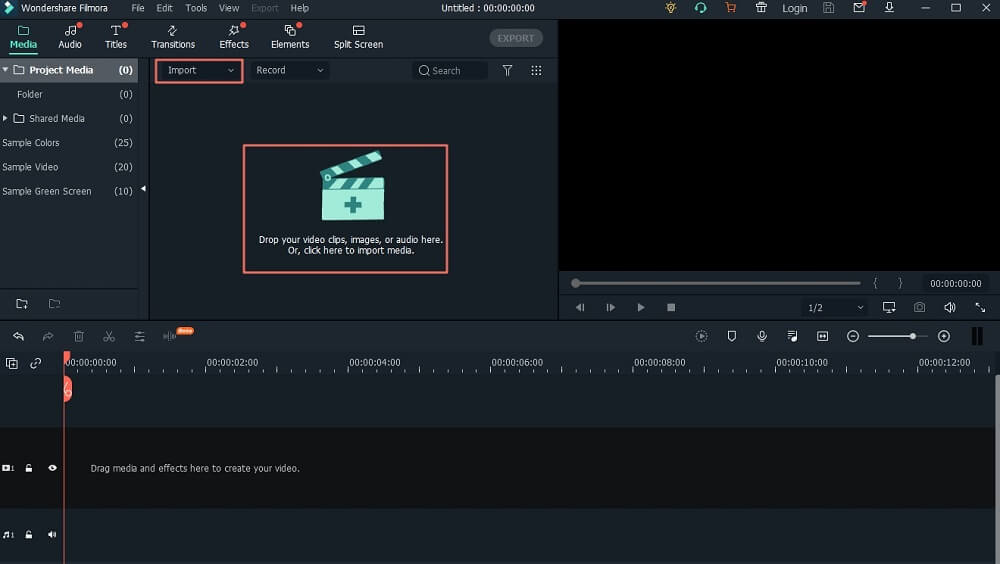 Step 2: Add Your Video to Timeline
Next you need to select the file or video from the media library of the program, then drag & drop it on the software timeline.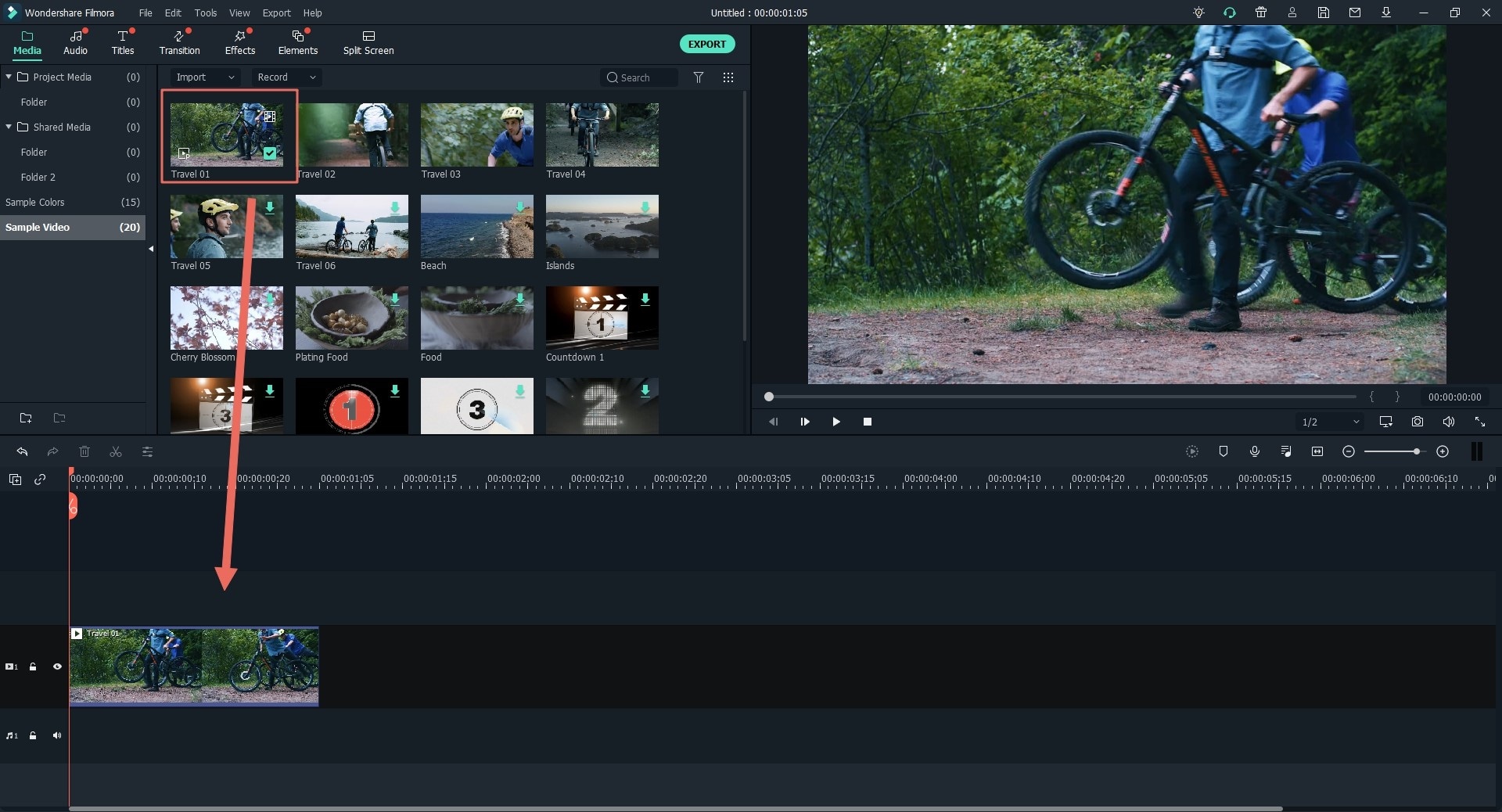 Step 3: Add Mirror Effect to Your Video
After that, you need to click on the "Effects" icon and select "Distortion" in the "Filters"category. Then find the mirror effect you like, select it and drag & drop the effect on the filter track of the timeline. You need to adjust the duration of the effect with the video and make sure everything is okay by previewing it carefully.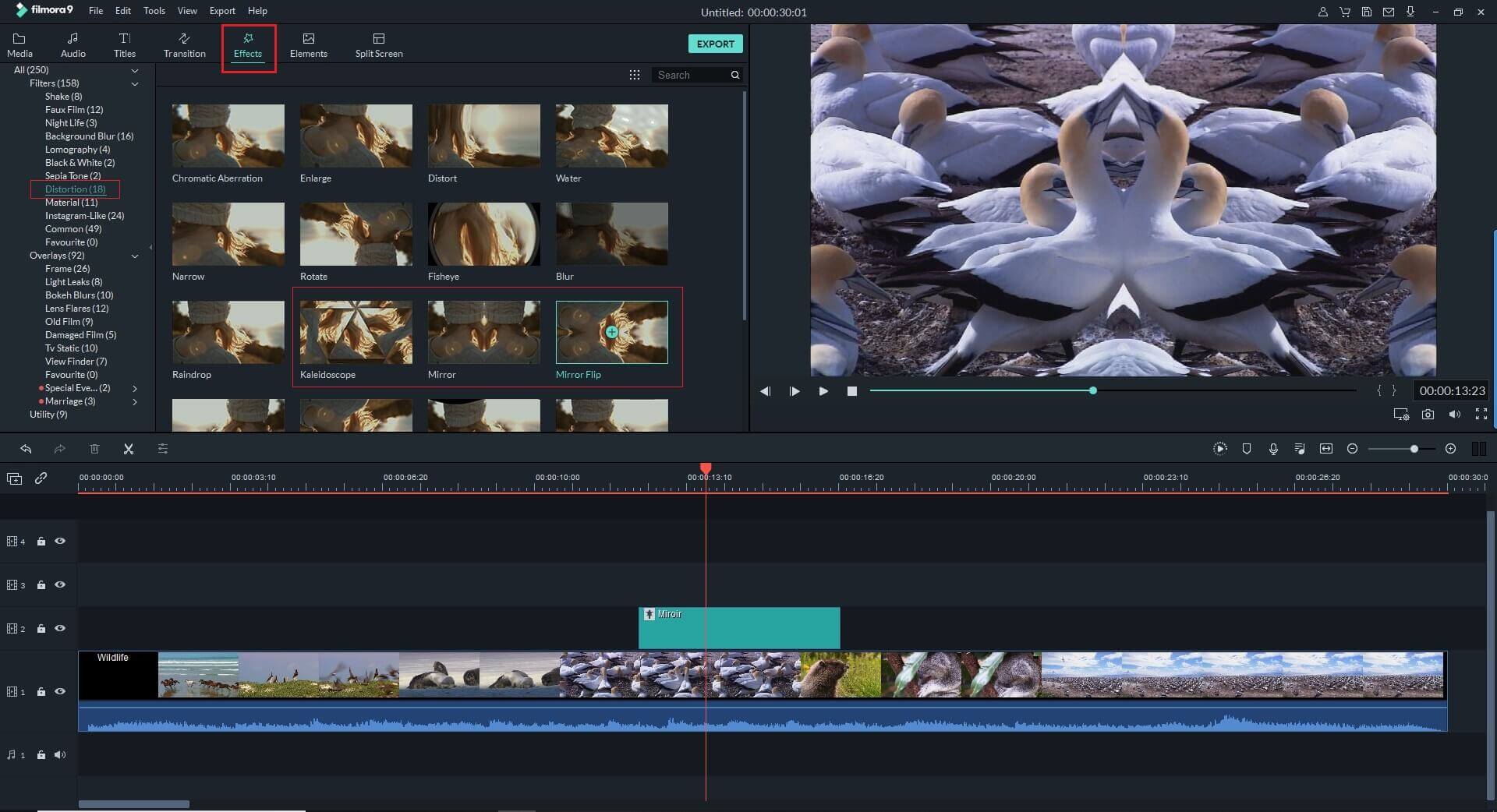 Step 4: Export Video
Finally, click on the "Export" button from the top menu bar and choose suitable format for your video from the new window and then click on the "Export" to save your video. Or you can log in to your YouTube or Vimeo account in the software and upload the video directly to the platform.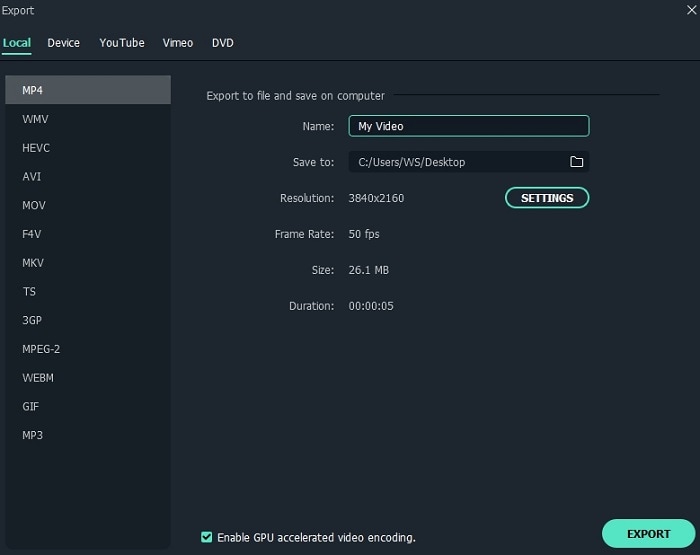 ---
5 Mirror Video Apps for You to Mirror/Flip Videos on iPhone or Android
There are many apps to flip videos in your Android and iPhone devices. Here are 5 of the best mirror video apps for Android and iPhone that you can use –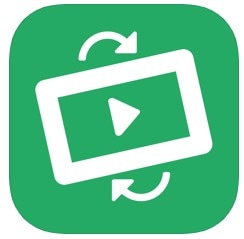 Video Rotate & Flip is a useful mirror video app for you if you don't know how to mirror videos on iPhone. It helps you to easily create, flip your videos in your required direction. Now you can easily change the orientation of your videos in IOS with the help of video rotate and flip. You can also turn the images in videos upside down in your way. This app is compatible with your iPhone and iPad. You can also import your files directly from your phone or cloud or directly from the camera roll. Both landscape and portrait orientations are available.
Price: $0.99
Pros:
- The app is extremely friendly and easy to use.
- You can find a lot of amazing filters and innovative designs for your videos.
Cons:
- The app is used for AVI input only.
- The app is not able to make pre-sets.
---
2. Swivel (for iPhone)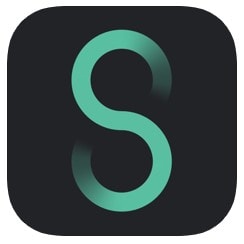 You can easily rotate your video to 90, 180 and 270 angles by using Video Swivel. It's another great mirror video app for iPhone. Turn your videos upside down and sideways by video swivel. You can also crop, zoom and add music to your videos easily. The app is compatible won iPhone, iPad and Mac book. You can also easily export the videos to your phone and upload it anywhere you want.
Price: Free
Pros:
- Beside vertical and horizontal flip, it provides you to flip the video according to your required angle.
- Easily convert your files to high-quality mp4 videos.
Cons:
- The app is a bit confusing to use.
- The app is annoying due to a lot of bugs.
---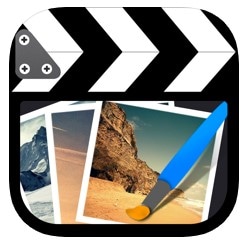 You can easily add a lot of visual and audio effects to your videos and images with the help of Cute CUT. It is one of the best and easy tools for adding effects to your videos. There are more than 300 effects available on the app besides flipping. There 7 different variations available for rotating the photos.
Price: Free
Pros:
- It has multiple elements for editing.
- Very easy and comfortable to use.
Cons:
- Resizing issues happen after the editing.
- After the video is trimmed it is not exactly as it was to be.
---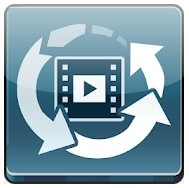 You can easily fix the orientation of the videos by using Rotate Video FX mirror video app for Android. You can easily rotate the videos at any required angle of your choice. The app works easily on the phone and computer. You can also rotate the frames according to your required angle.
Price: Free
Pros:
- It supports a lot of video formats for editing.
- Very simple and easy to use.
Cons:
- There is an issue to download the plugin.
- It does not allow flies more than 16 MB.
---
5. AndroVid (for Android)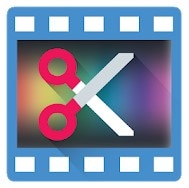 It is one of the best editors with many multiple functions. You can easily flip, reverse, transcode and add audio to your videos. The editor leaves no watermarks on your videos. It has more than 300+ options and effects for editing your videos.
Price: Free
Pros:
- There is no limitation of video size. It allows heavy files as well.
- User-friendly and multi-purpose app.
Cons:
- Download plugin issue is there.
- The app becomes a bit slow sometimes.
---
Write in the end
By reflecting the whole topic of this article, we can say that video mirror effect can make that video more, outwardly unique, intriguing or engaging. However, you must remember that the mirror effect works best in recordings that don't contain a ton of subtitles.
If you just want to mirror/flip videos on your phone, with the information of all the 5 mirror video app for Android and iPhone, you can easily start adding mirror effect on your videos. But remember that these apps usually only meet the needs of flipping video.
So,
if you are going to mirror a video and enhance your video with more editing tools, then Flimora Video Editor is considered as the best video editor with mirror effect available both for Windows and Mac. The user-friendly nature and multiple features make it best for use.
Just have a try of it by clicking the button below!
If you are interested in video effects, you can also read:
- How to Create a Video with Video Shake Effect