- Why my recording video color is a little off?
- How can I remove the weird tint from video?
- ...
You may want to improve your video quility from enhancing white balance to make video look more professional, but do you really know the whole use of white balance? And what are some good ways to set white balance? Is there any fabulous production can help you out? here we go!
What is White Balance? When You Need White Balance to Your Video?
There are many processes involved in video production that can help give your video the best possible appearance. One of these is White Balance.
White balance, abbreviated as WB, can be defined as the process of adjusting colors in an image or video so they look more natural to the human eye. Because no light is truly white, color temperatures from artificial lighting or the sun will inevitably distort colors on a recorded video.
While a serious White Balance problem will be obviously noticeable, even the slightest distortion in color temperatures can subconsciously create an uneasiness in the viewer's mind and make your videos uncomfortable to watch. The human mind can quickly tell when something isn't right when looking at things such as skin tones, vegetation or the sky.
When you need white balance to your video?
If you dabble in videography, you have probably encountered a scenario where you recorded a video but the colors seemed to be a little off, or maybe you have watched a video and noticed a weird tint. These issues are primarily caused by a White Balance problem.
Typically, a video shot in a room illuminated by incandescent lamps will have a yellowish "warm" glow, while a video recorded outside in daylight will have more bluish "cold" hues. Our eyes have the natural ability to adjust to these different types of lighting, but a camera doesn't. Modern cameras are increasingly getting better at capturing colored light, but accurate WB calibration takes experience and skill and even then, it may still not be perfect.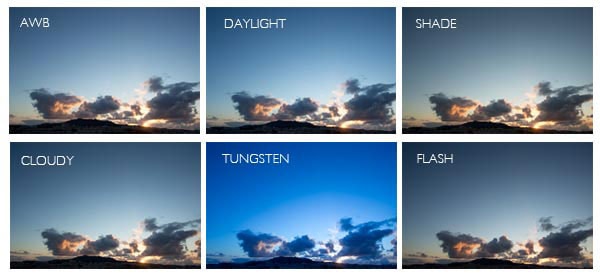 If you don't own an expensive camera with auto White Balance or are unable to achieve optimal results with your current camera, you can use a professional video editor to effectively correct White Balance and get your videos as accurate as possible,let's drive right in...
All-in-one Filmora Video Editor: A Wongderful Choice to Your Video
Filmora Video Editor is one of the best tools available today for fixing a wide variety of video defects. With this all-purpose video editor, you can not only easily correct White Balance issues, but also add a ton of stunning video effects and save your videos in any format.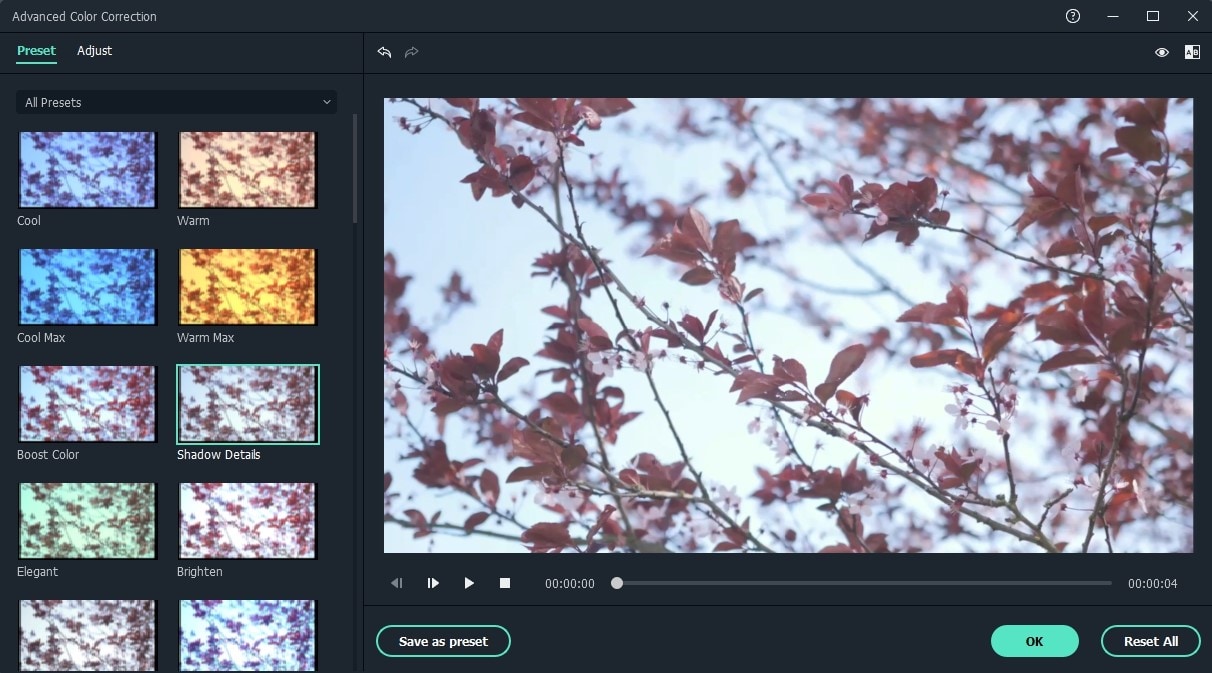 Other features of Filmora Video Editor include:
Powerful video editing features like trimming, cropping, rotating, merging/splitting videos and adding subtitles.
500+ eye catching video effects.
Adjust the brightness level of the movie to make it brighter or darker.
Apply a personalized vignette effect for your video.
Adjust the Exposure, Brightness, Contrast, Saturation and Vibrance.
Optimize the individual color range of your video.
---
How to Fix a White Balance Issue for Recorded Videos on Filmora Video Editor
If you are having White Balance issues on a video, the best way to fix it is with Filmora Video Editor. What makes it the best choice is its ease of use and unique software design that ensures it is economical on system resources. Follow this step-by-step guide below to correct a White Balance problem with Filmora Video Editor:
Step 1: Add/Import your video
Launch Filmora Video Editor and add video files to the program interface. To do this, either directly import video and photo shot by Camcorders, Cameras, iPhone or Android devices to Filmora Video Editor for editing, or click the "IMPORT" button on the top of the software to reveal the drop-down list > select the source from where you'll import media files.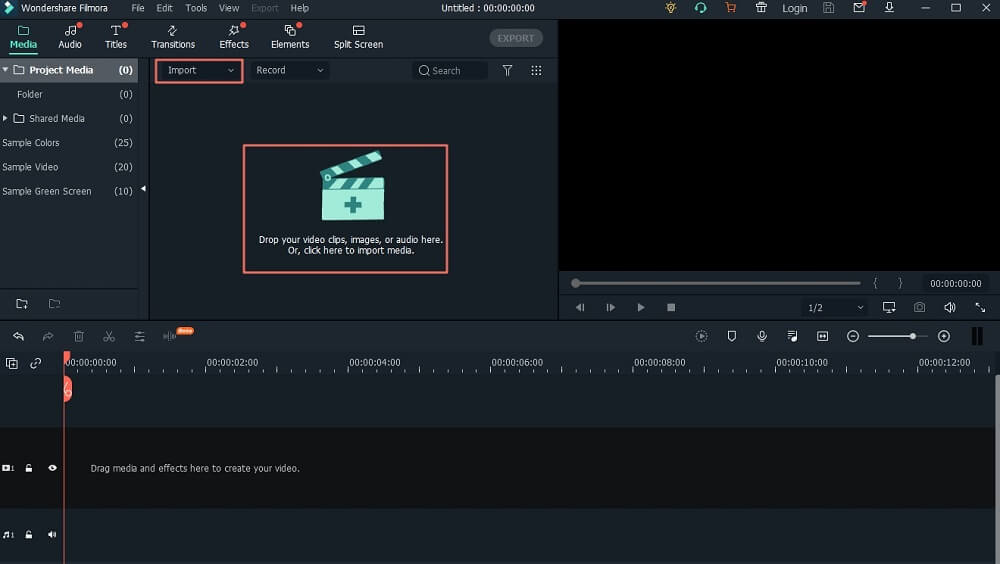 Step 2: Open Advanced Color Tuning Tool
To access the Advanced Color Tuning tool, make sure that your video is in the timeline and then click on the "Color Palette" icon. In the pop-up Advanced Color Tuning window, you will have control of several different presets and settings that you can manually adjust to fine tune video color.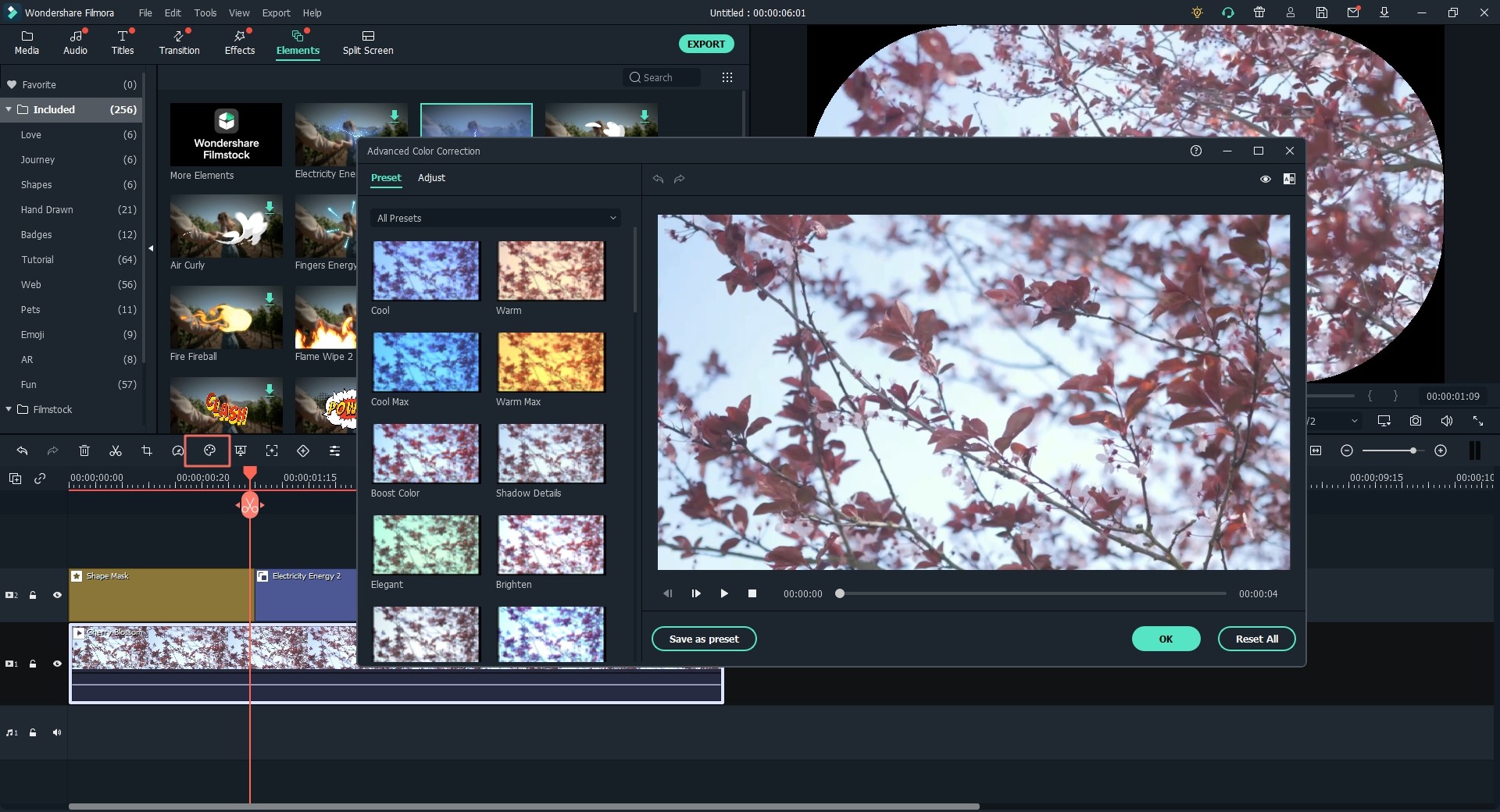 These include:
3D LUT
Color
Light
HSL
Vignette
White balance
Select White Balance to continue.
Step 3: Adjust White Balance manually
To adjust White Balance, use the two sliders on the left side of your screen labeled Temperature and Tint. If your video requires warmer, more vivid colors, move the sliders to the right. Warmer colors are best suited for music videos, holiday videos etc., and create a feeling of excitement and joy. Cooler colors work best for videos that require a more serious tone.
You can compare the before and after of your options by clicking on the A/B option.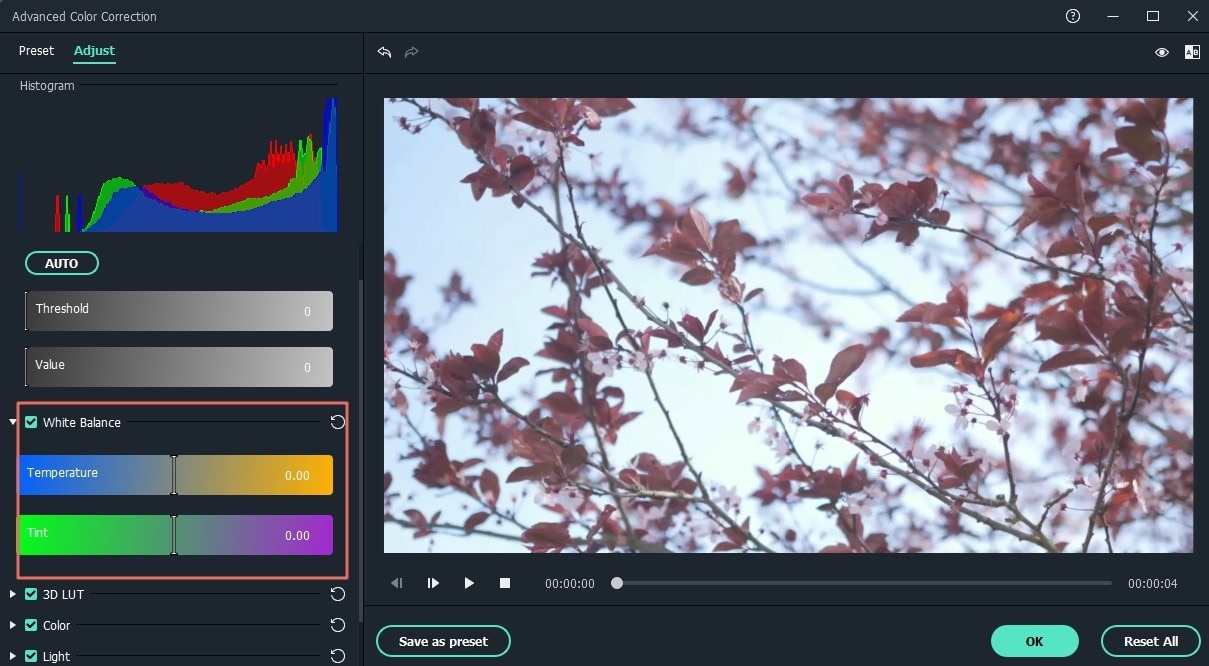 Step 4: Save the Video
Filmora Video Editor allows you to save your finished video on your hard drive in any one of 157 different types of video formats. To do this, simply click "Export" and choose your desired format. You can also upload your video directly from Filmora Video Editor to YouTube, Facebook or Vimeo, or burn the video onto a DVD.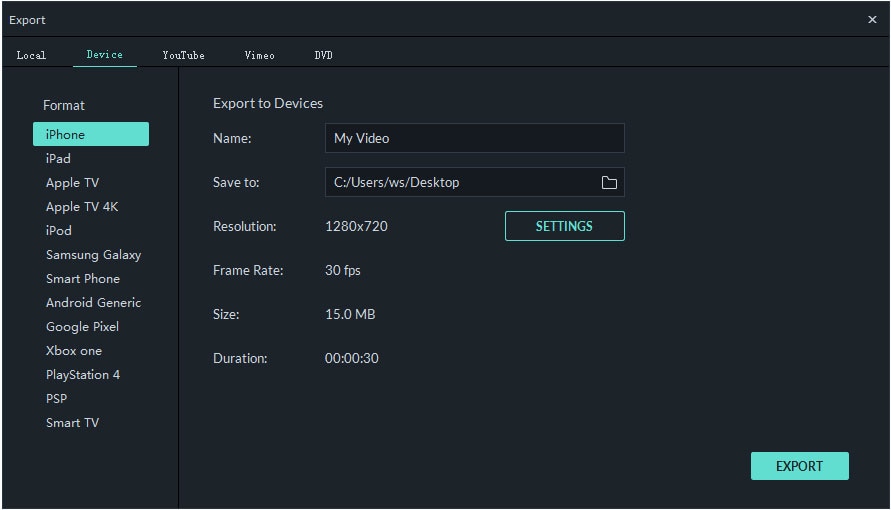 Conclusion
Until you've corrected your whites, you'll never be able to produce real life colors in your recorded videos. Fixing White Balance is an incredibly powerful way to improve the feel and look of your videos. A great deal of the mood and drama of a recorded scene is conveyed through the color and quality of light captured and therefore taking time to get your colors right is well worth the trouble.
Hopefully this article will point you in the right direction and help you.
In fact, Filmora Video Editor can help you do more editings and create a video with more effects than we listed above. You can click the below icon to download and try it by yourself. Or you can go to its full tutorial to learn all functions of this powerful software.