Speech to text applications used to be explicitly made for desktops, but nowadays, there are numerous you can use on your smartphone or tablet. With these applications handy on your mobile devices, you can use them in different instances like business, education, and personal to carry out dictations, compose letters and take notes. They are convenient for people who prefer to use their voice rather than type things out. However, not all speech to text apps are created equally – some have a higher dictation success rate than others.
A number of these applications go as far as to use advanced machine learning systems to reduce the occurrence of errors during transcription and dictation. It can also be challenging to find the best choice with the abundance of apps available in the App Store. Besides, an underperforming one will make your work more frustrating than easier. This article will ensure it doesn't get to this as we will discuss the best speech to text apps in the market, highlighting their features, pricing, pros, and cons. So, let's get to it.
If you are looking for a Google technology-powered free speech to text app that you can use for long speech recordings, Speechnotes is the best choice.
Platforms Supported – Android
Speechnotes is one of the best speech to text apps in the market as it enables users to record for a long time. Even when you take an extended break to think, the app will continue to record, and with the in-built keyboard, you can easily add punctuations where needed. You can also dictate punctuation marks using voice commands on this app. Besides, this app is compatible with any device with an installed Google Chrome Browser and a microphone.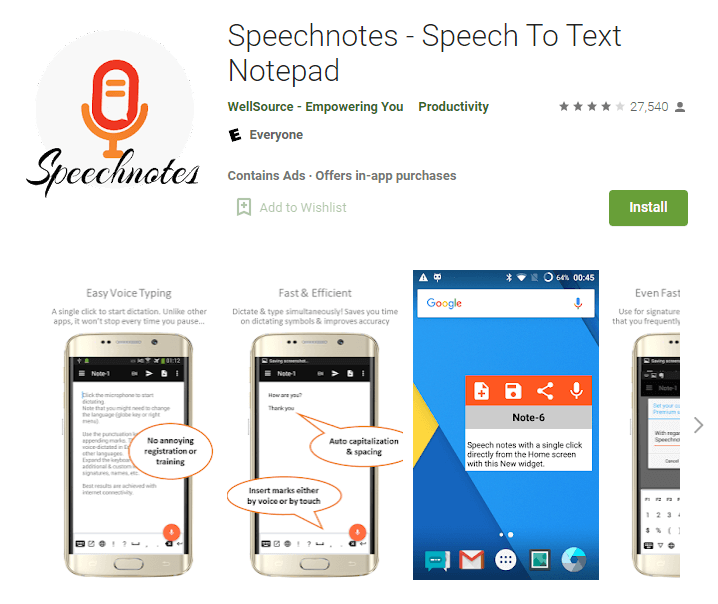 Main Features
Accurate Typing
Offline mode
In-built keyboard
Google Drive backup
Timestamps
Automatic capitalization and spacing
Editable cheat keys
Auto-save
Pricing
This app is free to download and use, but there is a premium version with no ads.
Pros
Simple app interface
Long recordings allowed
Accurate transcriptions
No account creation needed
In-built Google voice recognition tech
Easy to use
Cons
In-app ads on the free version
Only available on browser or android devices
How to Download
---
Transcribe is the best choice for you if you want a speech to text app that allows you to transcribe any video file or voice memo accurately.
Platforms Supported – iOS
Transcribe is an artificial intelligence-powered application that you can use to turn voice memos and videos into accurate and readable text. It is the perfect app for journalists, bloggers, writers, and secretaries who want to convert meeting minutes to text, translate video, or create movie subtitles. You can also import media files from other apps like Dropbox and export the dictated text to a word processor for further editing.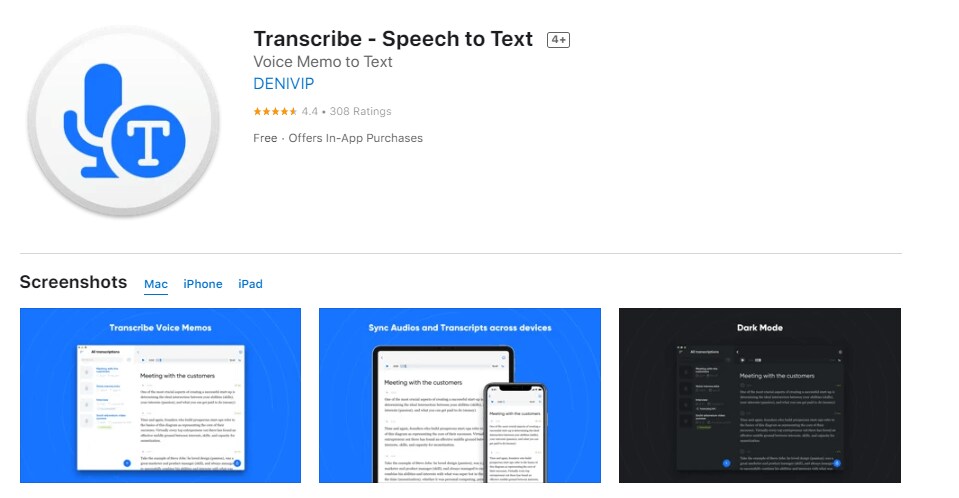 Main Features
File import
TXT, DOCX, PDF, and SRT export
AI technology
iCloud sync
Timestamp
Auto-save
Text expander
Pricing
A free trial is available for 15 minutes of transcription, and the users have to pay $5 for every extra hour. There is also a pro subscription model that gives users five extra transcription hours for free every month.
Pros
It supports over 120 dialects and languages
Easy to use
No ads
Cons
How to Download
---
Just Press Record is the top option for you if you are looking for a cloud-based transcription app that features transcription, recording, and iCloud syncing.
Platforms Supported – iOS
Just Press Record is an iOS app that allows users to convert their voice recordings into text, and they can edit the text and fine-tune the audio right in the app. This app will enable you to sync all your voice recordings on iPad, iPhone, Mac, and Apple Watch. Users can use this app to record audio for an unlimited time, and it can turn the recording into searchable text that supports over 30 languages.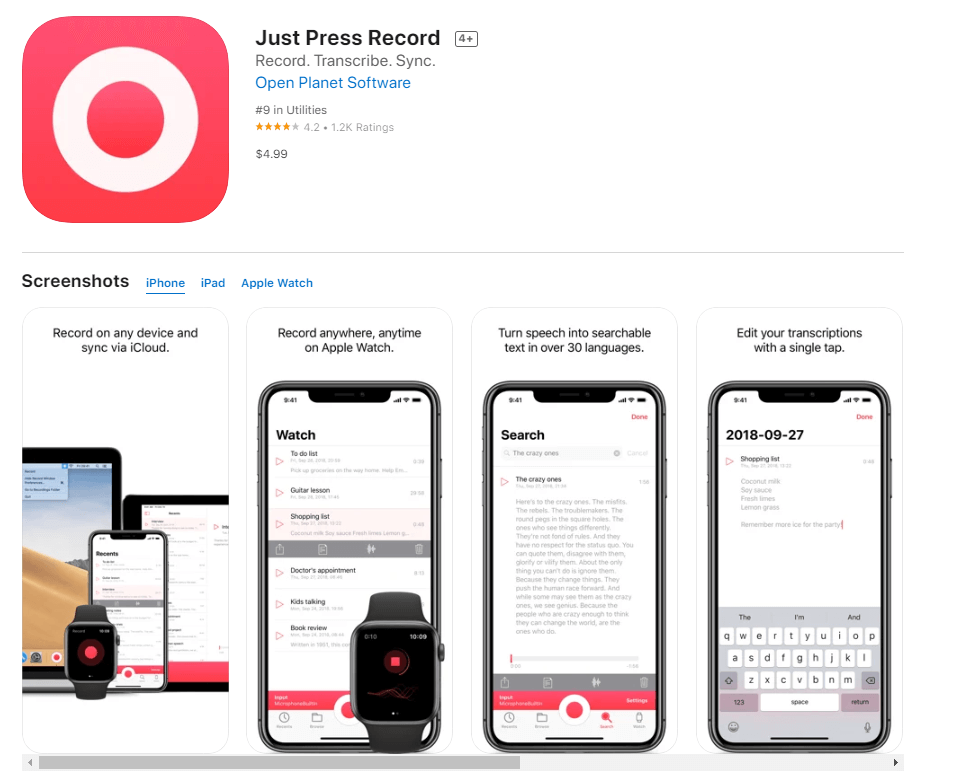 Main Features
iCloud syncing
M4A, AIF, and WAV file support
iCloud Drive storage
Voiceover support
Recording timestamp
Siri shortcut support
Local sharing
Playback
Apple Watch record
Pricing
Just Press Record goes for $4.99, with no free version.
Pros
Multilingual
Easy to use
Supports cloud syncing
Cons
Only available on iOS devices
How to Download
---
If you are looking for a high-quality mobile speech to text application that allows you to create documents of any length from audio recordings, Dragon Anywhere is the best choice.
Platforms Supported – Android and iOS
Dragon Anywhere is a mobile application that allows users to use their voices to edit documents of different lengths. You can use your templates, customized words, and commands to format the documents from your smartphone. This application allows you to easily import and export media files from tools like Evernote and Dropbox.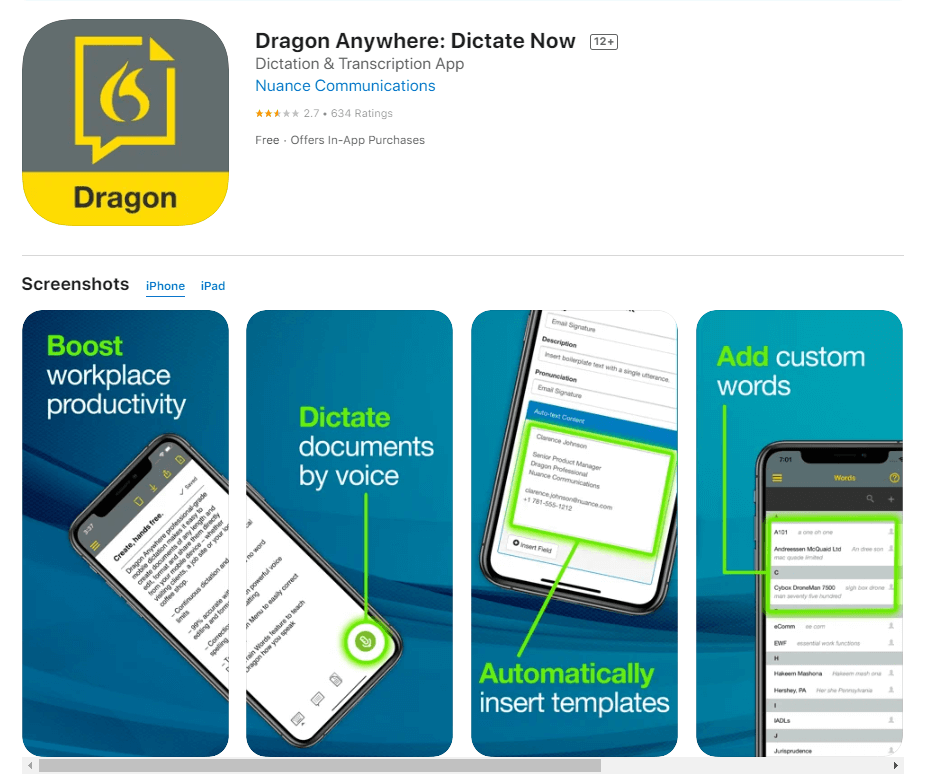 Main Features
Dragon Professional syncing
Voice formatting
Customizations
Pricing
Dragon Anywhere offers users a one-week free trial, and after then after they have to pay $15 monthly or $150 yearly.
Pros
99% recognition accurate
Easy to use
No recording time or length limits
Cons
Limited dictation
No beginner-friendly
Not as flexible as the desktop application
Internet connection is needed
Limited language support
How to Download
---
Voice Notes is the best option for you if you want an android speech to text application that efficiently stores all your transcribed notes and adds them to your calendar.
Platforms Supported – Android
Voice Notes is an android app that allows users to convert their audio to text even when the phone screen is off. This application supports a headset button and over 100 languages, and you can use it to create reminders, notes, and other types of documents. Users can also use the Voice Notes app to group their documents based on categories, and they can easily share their documents with friends.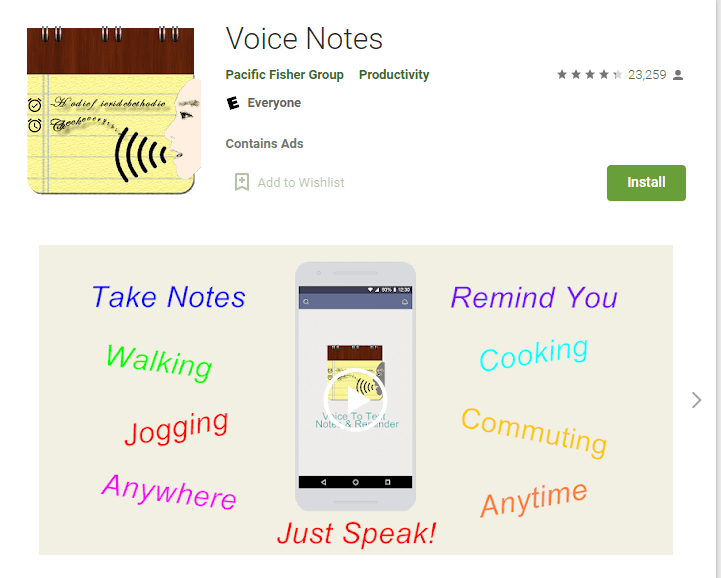 Main Features
Cloud storage
20 user interface languages
Auto-save
Android calendar integration
Pricing
Voice Notes is free to download and use, but the free version has recording time limitations. Users can access the paid version for just $3.
Pros
It supports over 120 languages
It has a free app
Easy to share transcribed text with friends
Cons
It is available only for Android devices
It takes up phone space
Google voice search with V6.15.24.21 or higher is needed
How to Download
---
Conclusion
You can choose any of the highlighted speech to text apps based on your needs, and it is essential to factor in pricing and features as well. If you want a paid application with high-quality features, you should opt for Dragon Anywhere or Just Press Record. Plus, for long recordings, go for Speechnotes or opt for Transcribe or Voice Notes if you are interested in multiple language support. If you're looking for a full-featured video editor with speech-to-text function, we recommend you to use Filmora Video Editor!
If you're not satisfied with app solutions, you can find a desktop or online solution with our guide as well!
If you're looking for TTS (Text-to-Speech) services, follow our detailed guide on TTS apps, TTS software, and online TTS tools before you make a wise decision!