Text to speech apps are not only useful for impaired vision or dyslexia sufferers. In fact, anyone can today use these smart applications to save time, read faster and auto-generate voiceovers for presentations.
You can read your emails or books while traveling and working with mobile support. The powerful tools have evolved a lot lately. You can now listen to text with the full emotions and expressions it has been written, all thanks to AI intervention. 
So, if you want to try some of the best apps on your mobile phone, we have shortlisted the perfect 7 tools for you.
Part 1. 7 Best Text to Speech Apps in 2022
We tested and listed these tools based on different parameters including functionality, security, and integration of advanced features. Let's review some of them here.
Supporting Platforms: iOS and Android
Price: Free with in-app purchases
Voice Aloud Reader is a simple TTS app that you can download from Google Play Store and Apple App Store to hear your documents aloud. It has all the features that you need to listen to long emails, screen web pages, news articles, OpenOffice documents, EPUB, MOBI, and more. The app also has OCR (Optical Character Recognition) technology to extract text from PDFs and make them audible to you.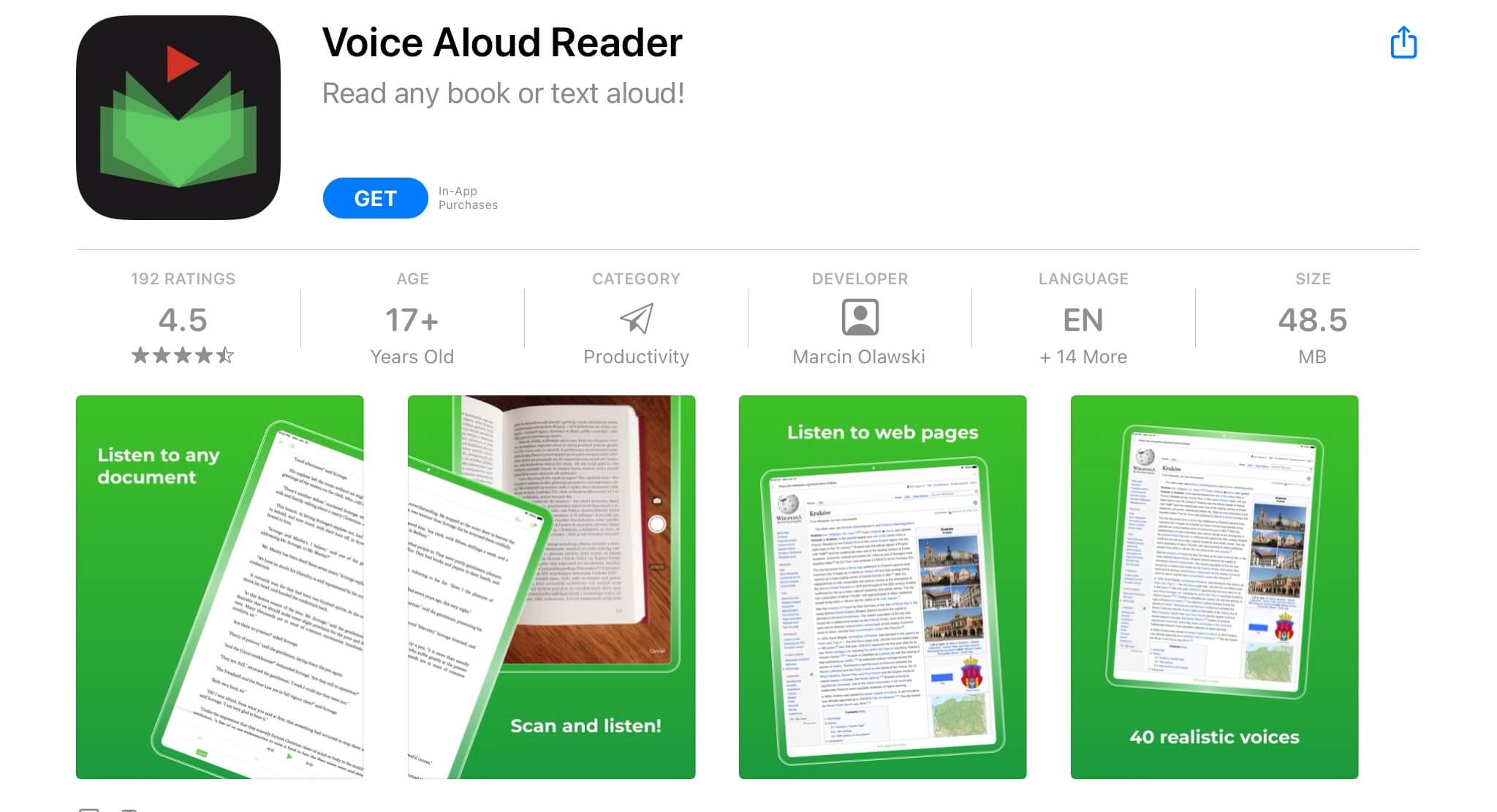 Main Features
Supports multiple input formats such as PDF, DOCX, DOC, RTF, HTML and more
Export WhatsApp chat to listen it
Read eBooks on screen with their original formatting
The app can read Chinese and Japanese vertical text
Store recorded text in WAV and OGG format
Let's you control audio using volume, pitch and rate of speech
Auto-recognize the appropriate language
Pros
Easy to use.
Attractive layout and interface.
Supports multiple languages.
Cons
Doesn't support some old operating systems.
Doesn't support images.
Best for: Reading text in multiple formats
Where to Download: Google Play Store and Apple App Store
---
Supporting Platforms: iOS and Android
Price: Free with basic features. Premium plans start from $9.99 per month
NaturalReader is a leading app that allows you to read text messages, PDF documents, eBooks, web pages and other mobile content. As the name suggests, the app provides natural sound to make you feel like another human is reading the text, not a robot. It is a perfect tool for people with dyslexia and other reading difficulties. The app is totally free for students, so they can listen to their course books and other learning materials anytime. But unfortunately, the app can't work with DRM-protected eBooks from iBooks, Nook, Kindle, etc.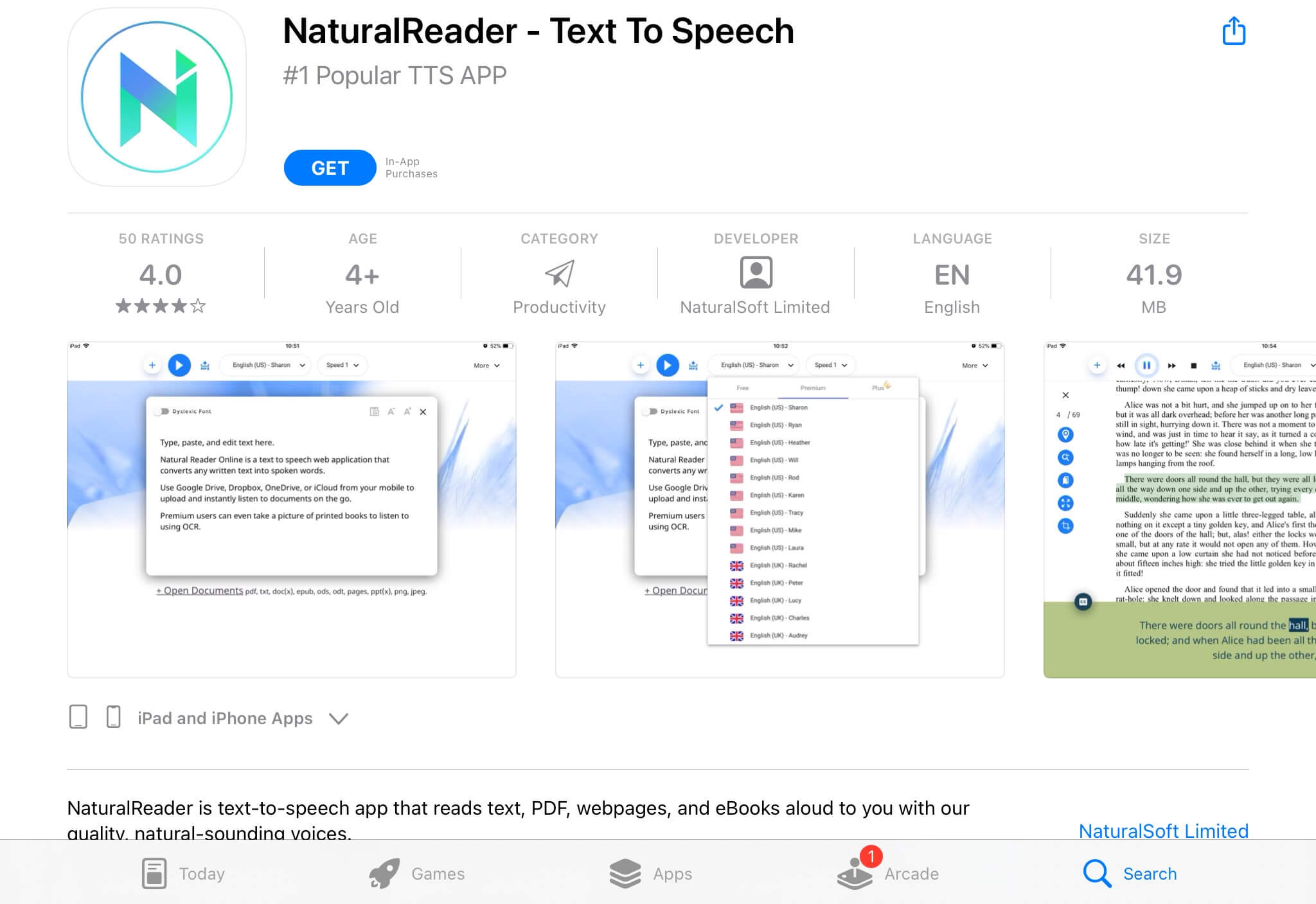 Main Features
Supports over 50 voices in over 20 languages
It can read aloud your e-textbooks, eBooks and class notes
Bookmark important pages for easy access
It can integrate with your Dropbox, Google Drive or OneDrive accounts
The Pronunciation Editor helps to fine-tune your pronunciation skills
Pros
Smart text filtering.
Supports multiple formats.
Attractive interface.
Cons
Doesn't work with the DRM format.
Free app needs to be on the Internet to access the voices.
Best for: Academic purposes
Where to Download: Google Play Store and Apple App Store
---
Supporting Platforms: iOS and Android
Price: Free with in-app purchases
Speech Central is the best PDF supported TTS app. It can read the text without any interruption from footers, headers or long web links. The tools offer great web support that you can listen to everything as, both articles and headlines. In fact, you can import the text from physical books using the camera and then the tool will read it for you. Also, you can read emails and export the text with annotations to DOCX format.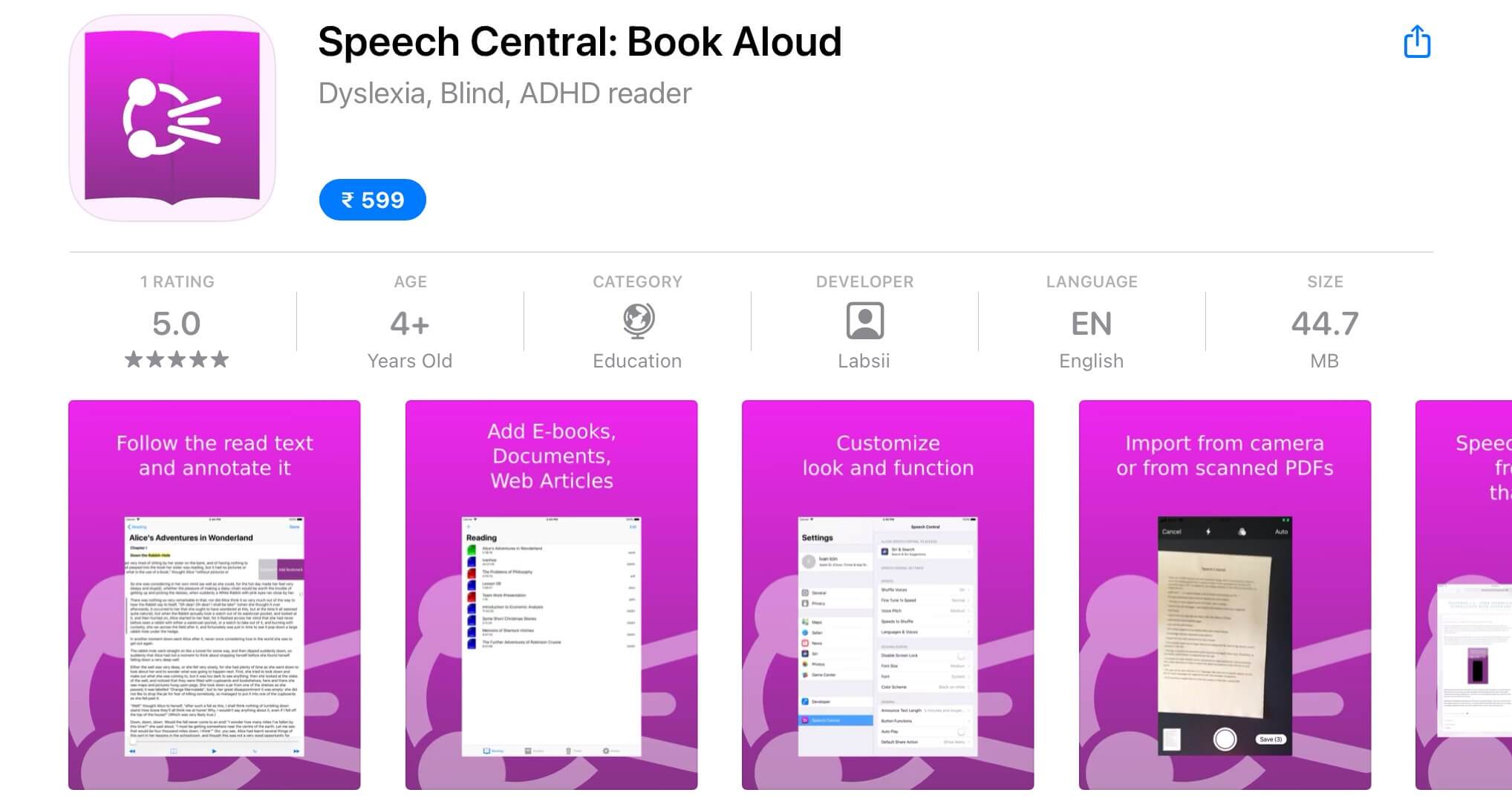 Main Features
More than 20,000 licenses sold voices with over 4 stars
Supports multiple document types, including PDF, DOCX, PPTX and others
Assistive technology for visually impaired and dyslexic users
Automatically detect language from the content
A wide selection of tools to control the text speed
Sync across other devices like Apple Watch
Pros
Easy to use.
Customize voice and its appearance.
Supports web and PDF format.
Cons
DRM-protected books are not supported.
No voices included on the Android version.
Best for: Web and book reading
Where to Download: Google Play Store and Apple App Store
---
Supporting Platforms: iOS
Price: Free with in-app purchases
Text To Speech! is a simple yet intuitive app that can bring the text to life on both iPhone and iPad. It allows you to select from 96 natural sounds across 38 languages. You should just download the app on your devices and go to Settings > Accessibility > Speech > Voices. Also, it doesn't require an internet connection to use the app. But that's only available on iOS 13.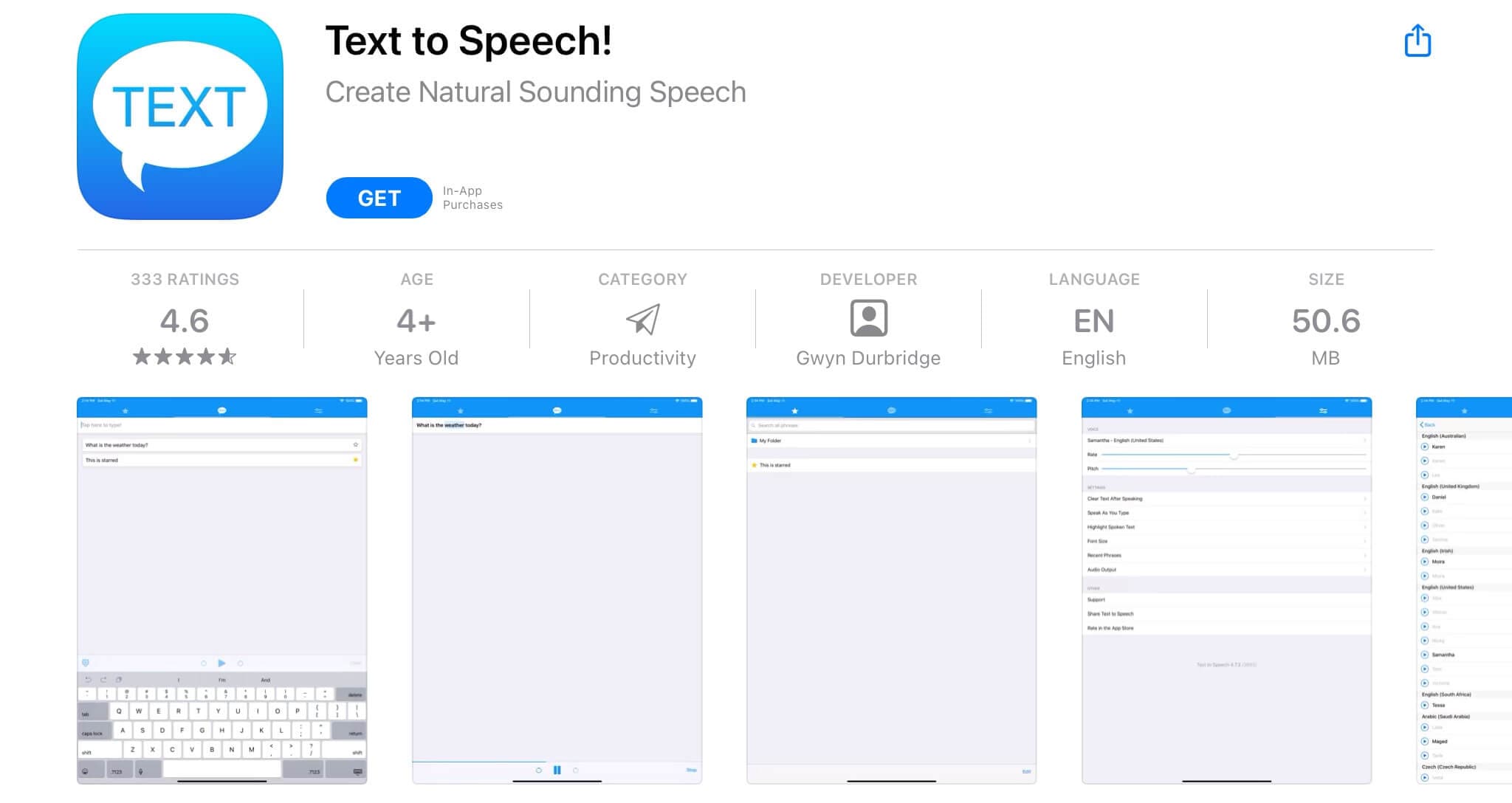 Main Features
Over 94 different voices to select from
Easy to adjust the pitch and rate
It can speak as you type
Highlight spoken text
Star your favorite phrases
Let's you export speech into audio files
Mix phone calls and speech
Pros
Supports multiple languages.
No internet connection is required.
Offers several accents.
Cons
There are some system glitches.
Users need to copy/paste to read aloud ePUB books.
Only available on iOS.
Best for: Good for book reading
Where to Download: Apple App Store
---
Supporting Platforms: iOS and Android
Price: Starts at $19.9 per month
Voice Dream Reader is an all-in-all software that offers text to speech, speech-to-text and text recognition. To function it properly, you will get 186 built-in sounds across 30 languages. You can upload the content to cloud solutions like Dropbox, Evernote and Google Cloud to read it anytime and anywhere. You can use distraction-free and auto-scrolling to listen to your content.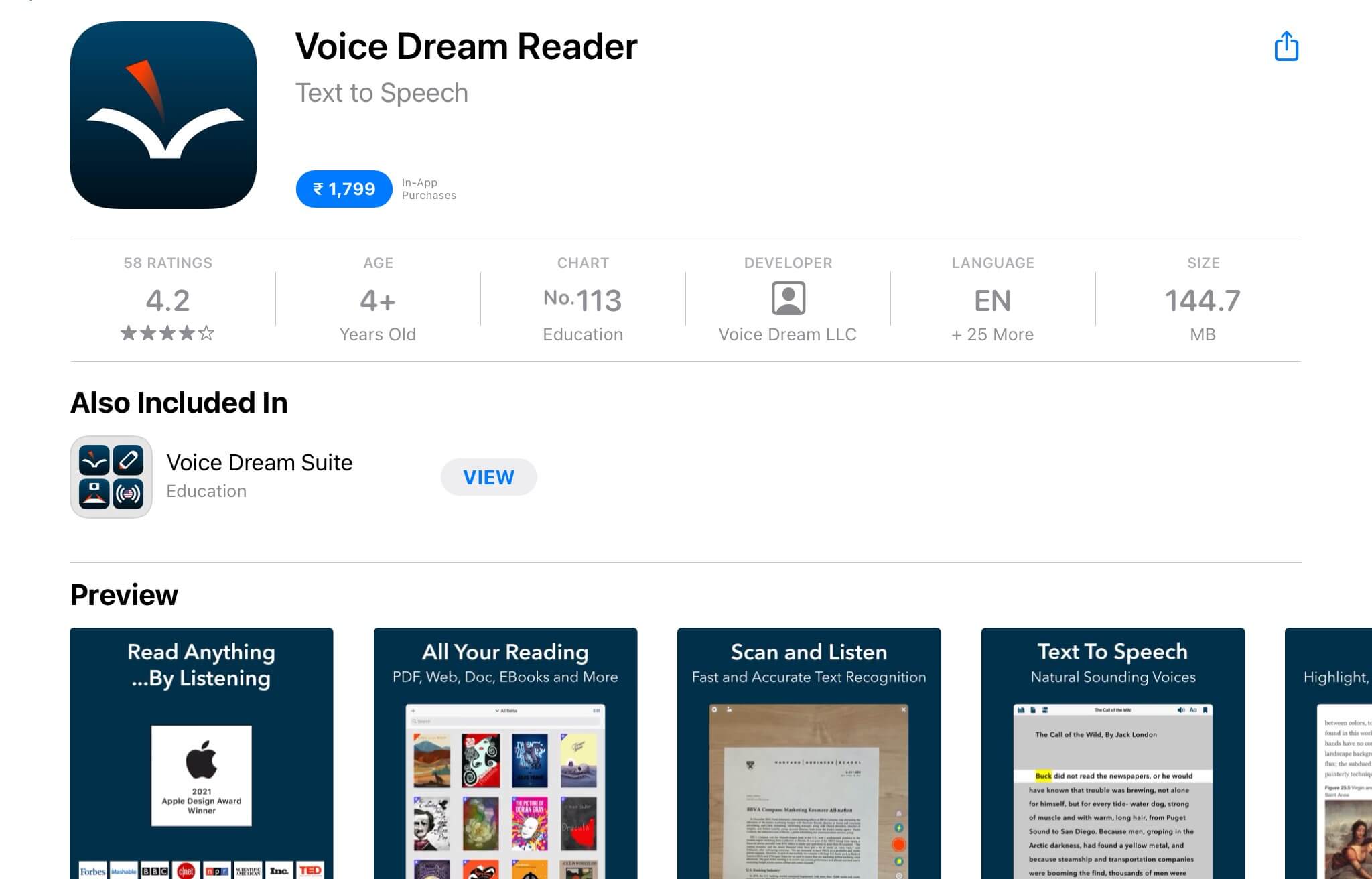 Main Features
36 built-in iOS voices in 27 languages for free
200+ additional premium voices in 30 languages
It helps to correct your pronunciation
You can play it in the background with the screen locked
Supports multiple formats like PDF, MS Words, web articles, EPUB eBooks, RTF and Google Docs
Audiobooks in MP3, MP4 or zipped format
Built-in scanner to scan documents and listen
Built-in dictionary
Native access to Bookshare
Pros
Easy to access.
Safari extension is also available.
Cloud support.
Works with multiple file formats.
Cons
Robo-voices.
Often crashes midway reading.
Best for: All types of voice features
Where to Download: Google Play Store and Apple App Store
---
Supporting Platforms: iOS and Chrome
Price: Starts for $1.99 per month
CaptiVoice is a popular tool used by teachers and readers. It will improve students' productivity and let them listen to their homework or the latest news from anywhere. The app is available offline and online, so you can listen to web pages and e-books. CaptiVoice can be easily integrated with cloud storage, LMS, and content sources. However, Android users can only access the app via Chrome extensions.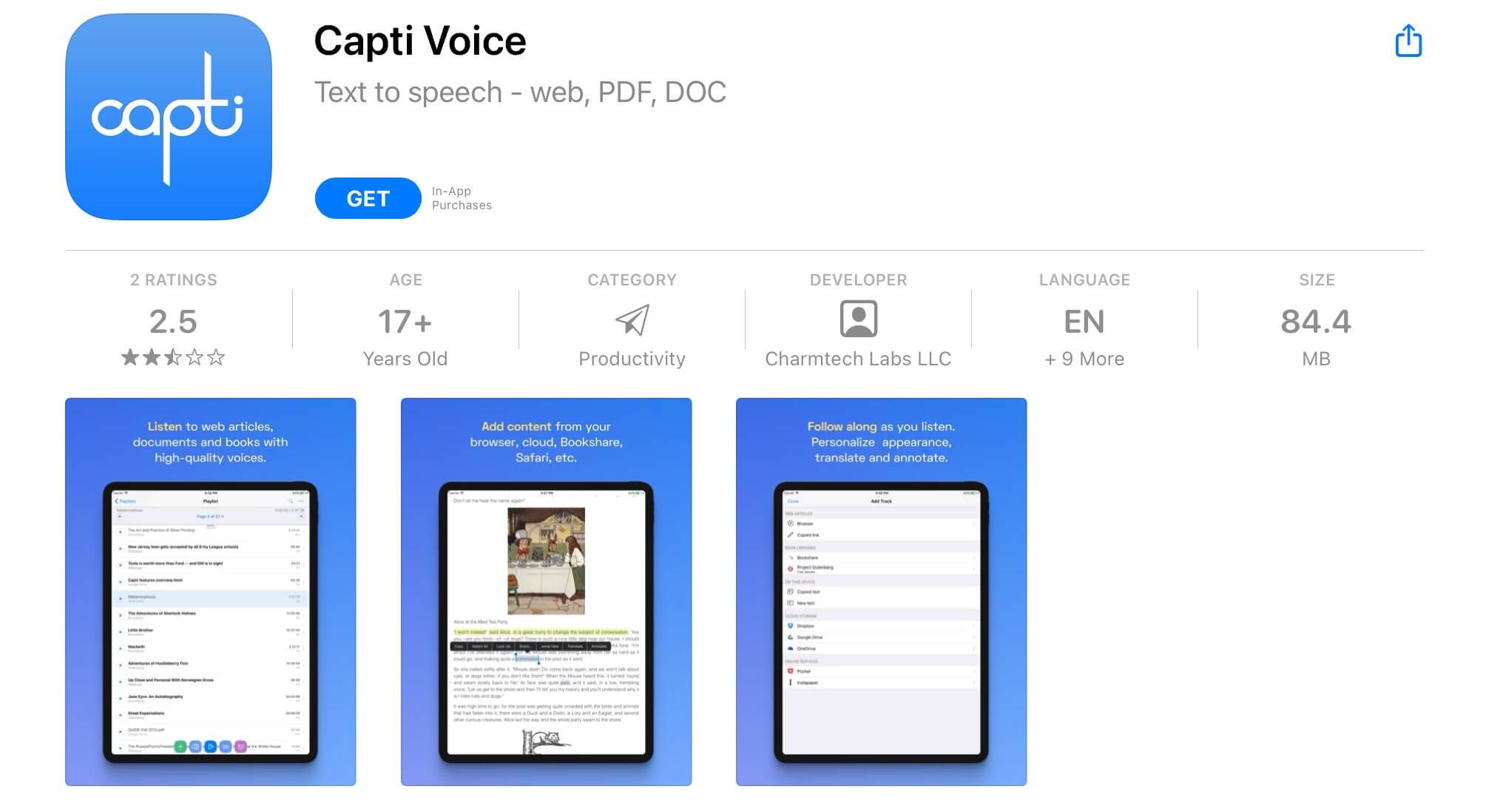 Main Features
Save documents, books and files for offline listening
Special dyslexia font
Let's user customize text fonts and colors
Easily lookup for word translation and definition
Seamless integration with Bookshare, Dropbox, OneDrive, Pocket, Google Drive and others
Works on all devices thanks to the Chrome extension
Pros
Simple interface.
User-friendly features.
Cloud support.
Supports multiple formats.
Good for dyslexic or vision-impaired users.
Cons
Does not automatically sync.
Not available for Android.
Best for: Academic users
Where to Download: Google Chrome Store and Apple App Store
---
Supporting Platforms: iOS and Android
Price: Starts at $9.99 per month
iSpeech is an excellent TTS app available on Google Play Store and Apple App Store for easy download. The app can translate text types in seven languages and speak in 8 languages. It also allows users to share translations on Facebook. It is pretty simple to use iSpeech, just type or copy the text into the text field and click on the convert button to get your audio file ready. Overall the app is great, but it crashes here and there, which can annoy you a bit.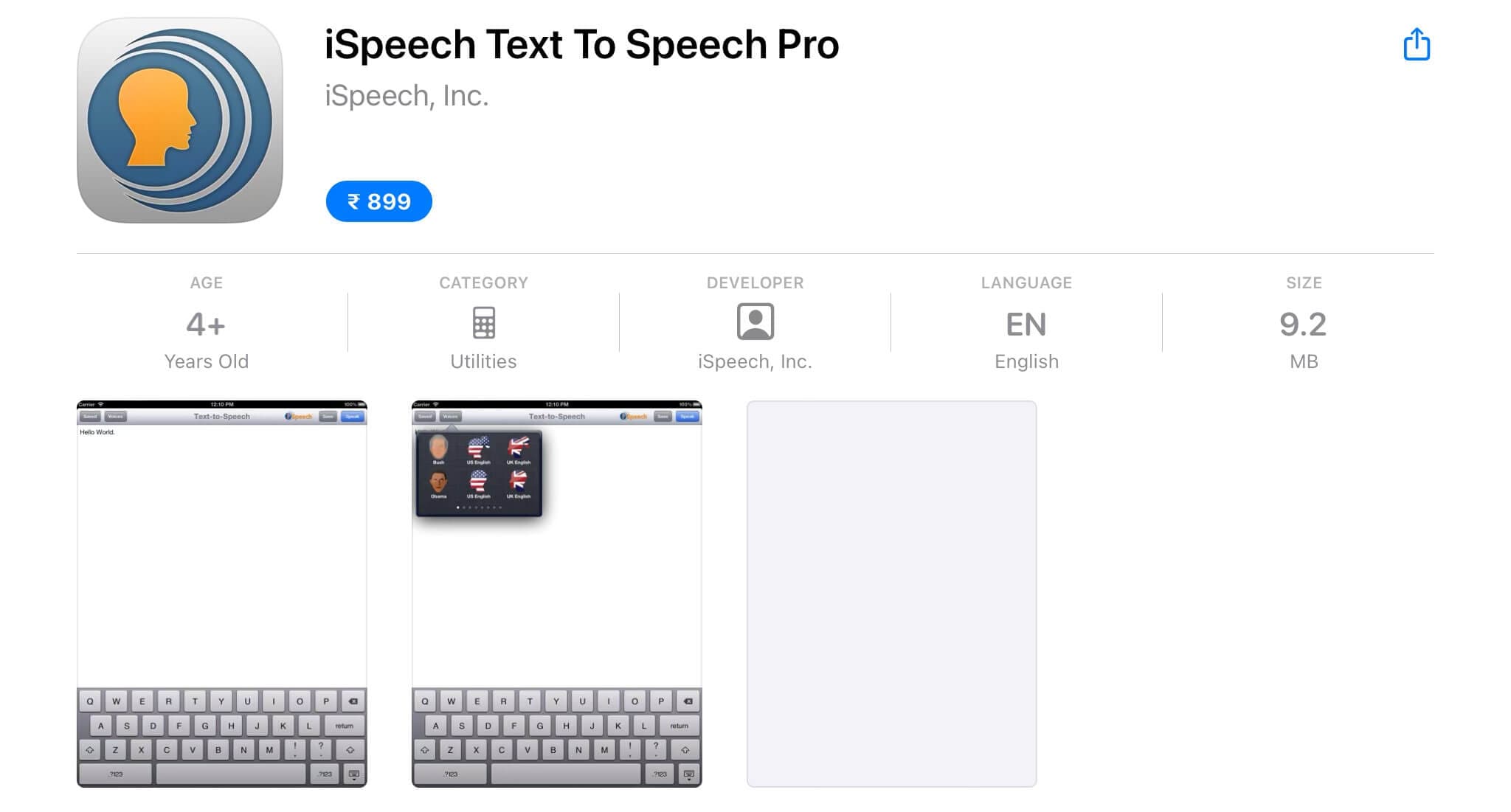 Main Features
Three different reading speeds
Separate male and female voices
No need to install the tool
Fully online TTS converting
Supports several audio formats, including MP3, WAV, OGG, MP4, and others
Most natural TTS sounds
Zero configuration required
No additional hardware or software required
Pros
Complete 24*7 support.
Free API access for testing.
Fast and lightweight.
Compatible with multiple audio formats.
Cons
Requires bug improvements.
A bit of a learning curve.
Best for: Commercial use
Where to Download: Google Play Store and Apple App Store
---
Part 2. Conclusion
There you go, people! We have shared the best 7 TTS apps that you can download on your mobile devices today. All the shared tools are great for performing different operations.
For instance, Voice Aloud Reader is the best for reading text available in formats and languages. On the contrary, NaturalReader and CaptiVoice are useful for students and teachers. In contrast, Text To Speech! and Speech Central are perfect for book reading.
So, based on your requirements, select the best TTS software from the list and download its free version on your phone to test the app. Once you find the most suitable application, you can subscribe to the paid version.
If you prefer to choose a full-featured video editing software equipped with TTS function, then Filmora will be your top choice! Of course, you can follow our guide on TTS software and online TTS tools to make a wise decision.
For Speech-to-Text services, you can check our guide on STT desktop software, and STT apps as well.