Efficiency is very crucial in every aspect of life, from work to school and personal life, and speech to text software is one of the tools you need in your arsenal to make your life more productive. These software come in handy when you have a long-form document to write or don't want to spend time typing, as they will detect the words you speak and convert them to text format. You can also use them to take notes during class, take meeting minutes, or dictate your thoughts into accurate and readable text. The best part is finding the best choice that fits your budget so you don't need to break the bank.
There are numerous options in the market, each with its unique offerings, and it can be challenging to choose one from the different options. Some of these software are available online, and for others, you will have to download them on your PC. This article will simplify your selection process by discussing the top speech to text software, highlighting its features, pricing, pros, and cons. So, let's get right to it.
Part 1. 4 Best Speech to Text Desktop Software
Suppose you are looking for business-grade audio to text converter that allows you to use your voice to write documents and operate your Windows PC. In that case, Dragon Professional Individual is the top choice.
Platform Supported: Windows
Dragon Professional by Nuance is a speech to text desktop software that allows users to expand their documentation productivity as you can use it to browse the web or create documents using voice commands. It is one of the most popular software globally, with over one million active users. This software offers dictation and transcription, and it allows users to interact with your PC using voice commands. Users can use this software on multiple devices, with the licenses being per user and not per machine. Besides, Dragon Professional Individual allows you to create custom commands and add custom vocabularies to reflect your preferences.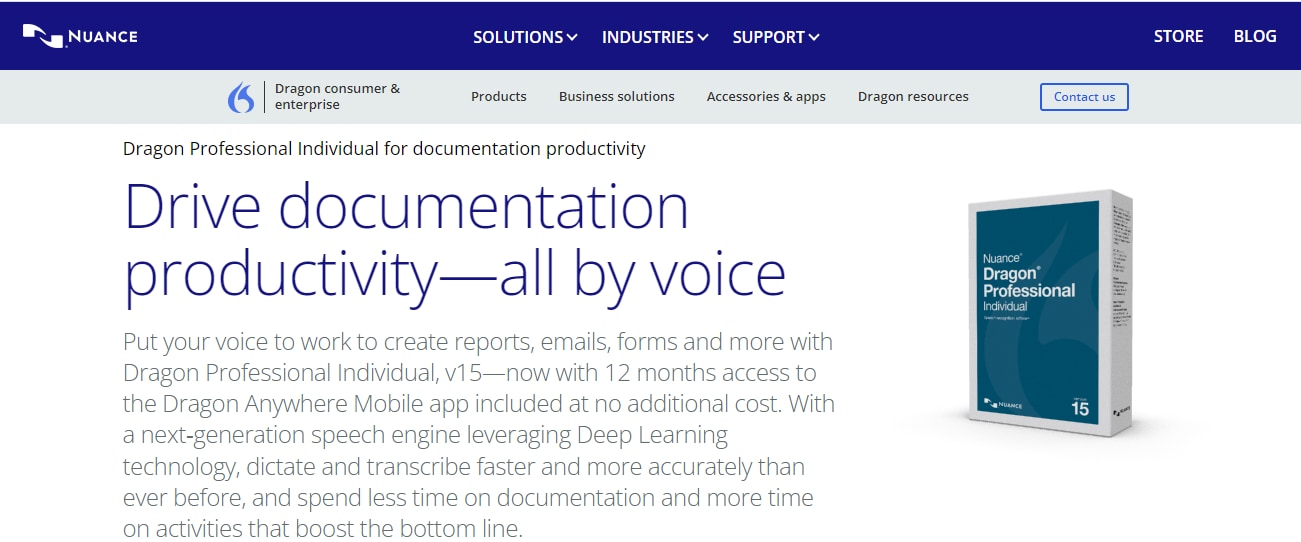 Main Features
Deep Learning technology
Basic Voice commands for Microsoft Office Suites and Web Browsers
Audio file transcription
Smart formatting options
Custom voice commands
Touchscreen optimized
Dragon Anywhere sync
Audio playback
Pricing
Dragon Professional Individual goes for a one-time payment price of $500, with a 30-days money-back guaranteed clause.
Pros
Intuitive user interface
Easy to use
Fast response time
Exclusive 12 months access to Dragon Anywhere mobile app
Supports multiple languages
99% speech recognition accuracy
Optimal accuracy for people with accents
Cons
Users need a sound card that supports 16-bit recordings
No longer supports MacOS devices
Costly
How to Download
---
Briana Pro is the best choice for you if you want it to offer virtual assistant functionalities powered by artificial intelligence.
Platform Supported: Windows
Briana Pros is more than only a speech to text software; and it is a multifunctional software that enables users to interact with their computer using voice commands. You can use this software to convert speech to text accurately in different languages, and it understands both typed and voiced commands. This software also features an Android and iOS app that allows you to use your voice to interact with your computer. Additionally, you can use this software to carry out various tasks like setting alarms, file searching, or solving mathematical calculations.

Main Features
Briana Android and iOS app
Artificial Intelligence system
In-built Window Control
Custom commands and shortcut keys
Dictation functionality
Pricing
A free version comes with limited features like no artificial brain and no multi-language support. The Pro version goes for $79 for a year or $199 for the lifetime version.
Pros
It supports more than 100 languages and accents
It is compatible with any third-party website or software
Users can automate repetitive tasks
Compatible with Windows XR, Vista, 7, 8, 8.1, 10, and 11
Cons
Restricted to PCs with 1.8GHz processor or higher
The free version does not offer the Dictate feature
No offline speech recognition support
It only works on Windows computers
How to Download
---
If you are looking for free software that you can use to create documents and control the Windows PC, Windows Speech Recognition is the best option for you.
Platform Supported: Windows
Windows Speech Recognition software is an in-built application on all Windows PCs. You can use this software to train your computer to recognize your voice, and you can then use your voice to carry out different tasks like typing documents or filling out online forms. This software also allows users to use voice commands to correct mistakes, insert punctuations, open apps, or prevent dictation, and they can also include words into their Speech Dictionary. Plus, you can enable document review, thereby allowing the computer to improve its ability to review your documents.
Main Features
Dictation
Speech Dictionary
Windows Commands
Document review
Speech recognition voice training
Pricing
Windows Speech Recognition software is in-built and free to use
Pros
Free and easy to use
Compatible with different applications and browsers
Accurate dictation
Windows 11 version supports over 30 languages and dialects
Cons
Involves a speech training period
Only US English commands are available for Windows 10 version
---
Filmora is the best choice if you want multifunctional software that allows you to create and edit videos while converting speech to text.
Platform Supported: MacOS and Windows
Filmora is popularly known as a video editing software, but it also offers a plethora of solutions, including speech to text conversion functionalities. Unlike the other software reviewed in this section, both Mac and Windows computer users can use this software to convert their speech to text and make it more accessible. After speech conversion, users can also change the font size and color, correct errors, adjust the alignment, and animate the text. Besides, you can also adjust the typing speed of the software to suit your preference, and you can upload an audio file for text conversion.

Main Features
Speech to text effect
Text presets
Text to speech functionality
Motion tracking
Green screen
Split screen
Video effects
Auto synchronization
Pricing
This software offers 30 minutes of free speech to text, but users will have to subscribe and pay from $4.99 to $29.99 to continue using this feature.
Pros
Intuitive interface
Multiple language support
Easy to use
Multiple features
Apple M1 compatible
Cons
Filmora v11.3 is needed to access this feature
Only 30 minutes of free speech to text time
How to Download
---
Part 2. 4 Best Ways to Convert Speech to Text Online
Google Docs Voice Typing is the top choice for you if you want an online speech tool to transcribe the text in Google Docs and Google Slides on the go.
Platform Supported – Mac, Linus, and Windows (Chrome browser-based)
Google Docs Voice Typing is a free voice recognition software you can use to transcribe and edit text on Google Docs. All you need to do is go to your Chrome Browser, open up a Google Document, turn the microphone on, and start typing using your voice. You can use over 100 languages on this software, and it allows users to use voice commands to add punctuations or format and edit documents. Plus, there are over 100 voice commands available for you to use.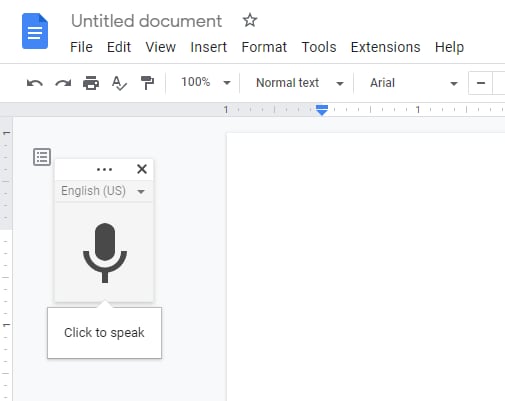 Main Features
Voice commands
Voice typing
Google Cloud integration
Pricing
Google Docs Voice Typing is free to use.
Pros
Supports over 100 languages and accents
Free to use
Beginner-friendly
Over 90% accuracy
Cons
Limited to only English voice commands
Restricted to only Google Chrome Browser
It is very sensitive
Stops after 30 seconds pause
No voice commands are available in Google Slides
---
If you are searching for an online speech to text tool you can use for real-time transcription and note annotation of meetings, phone calls, and interviews, Otter is the best choice.
Otter is an online tool that allows users to capture all their conversations and meetings, whether mobile, hybrid, virtual, or in-person. This tool integrates with video conferencing tools like Google Meet, Microsoft Teams, and Zoom and stores all the notes in secure and accessible cloud storage. With its AI technology, this software can apply custom vocabulary, speaker-identification and understand how you speak better. There are different available Otter plans for individuals, students, and businesses alike. Additionally, you can download a downloadable Chrome extension to make your transcription more efficient.

Main Features
AI technology-backed transcription
Chrome extension
Voiceprints
Real-time transcription
Automated notes
Integrated search capabilities
Custom vocabulary
Live captioning
Pricing
You can use this online tool for free, but if you want more time and features, you'll have to pay $8.33 per month for the pro plan.
Pros
Video conferencing integration
Easy to use
Highly accurate
Cons
The free version limits transcription time to 600 minutes per month
No desktop software
How to Download
---
If you are looking for an online speech to text notepad that you can use for accurate and free speech recognition, typing, and dictation, Speechnotes is the top choice.
Speechnotes is an online speed to text tool that offers a comprehensive speech recognition technology for accurate transcription results and increased productivity. There is no installation or download needed with this software – all you need is a Chrome browser because it is powered by Google technology. This tool types at the speed of your text, and you can move to take over the typing anytime that you want. There are also voice command features available for you to insert punctuation marks or stop typing.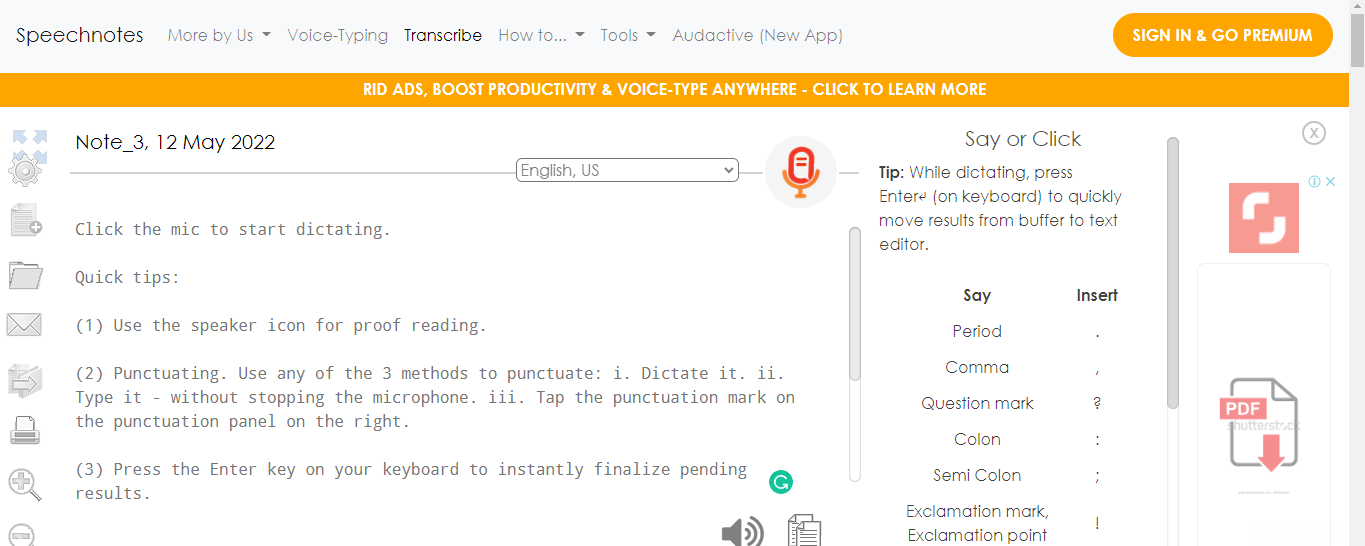 Main Features
Audio and video files transcription
Speech recognition technology
Auto-save
Automatic smart capitalization
Voice commands
Google Drive export
Speechnotes Voice Typing Chrome extension
Pricing
This online software is free to use, but users have to pay to access additional features.
Pros
No login or registration needed to use this software
Easy to use
Android mobile application available
User friendly
Cons
Users need to sign up with their Google Account for the premium version
No cloud saving
Restricted to only chrome browser
Transcription service costs $0.1 per minute
How to Download
---
SpeechTexter is the best choice for you if you want a software that enables you to use your voice to transcribe different types of documents, reports, and blog posts.
SpeechTexter is a free online application that allows users to transcribe their speech into texts, and with its voice command feature, users can add punctuations and paragraphs to their texts. This online platform uses Google Speech recognition to carry out real-time speech to text conversion, and it supports numerous browsers, including Chrome. All the texts transcribed on this platform are processed by Google servers even when they don't store any of the texts. Besides, you can edit your texts in any basic word processing platform and save them as a word or txt file.

Main Features
Custom voice commands
Real-time speech recognition
Word count
It supports over 70 languages and dialects
Auto-save
Auto-capitalization
Pricing
This speech to text app is free to use.
Pros
90% accuracy rate
Easy transcription
No download needed
Easy to use
Supports over 70 languages
Cons
It doesn't support iPads and iPhones
It is ridden with ads
Features are limited compared to other online tools
---
Part 3. Conclusion
There are multiple software available from online to desktop, android, and iOS applications. Each of the software reviewed in this article has its unique features, and it is best to choose the ones that fit your needs. Some factors you should consider when choosing software includes pricing, features, language support, and platform support.
If you want a software that supports multiple languages, you should opt for SpeechTexter, Google Docs Voice Typing, Briana Pro, Windows Speech Recognition, or Dragon Professional Individual. On the other hand, if you want software that offers a Chrome extension, you should choose Speechnotes or Otter.
If you prefer to find an app solutions, you can follow our deep-researched guide on speech to text apps as well!
If you're looking for TTS (Text-to-Speech) services, follow our detailed guide on TTS apps, TTS software, and online TTS tools before you make a wise decision!