- How to split a large movie into small pieces effortlessly?
- How to cut video, cut MP4, AVI, MP3, WMV, 3GP or any other files?
- What kinds of software can be the best video splitter?
- ...
Well, all your questions can get an ideal solution in this post. This is the ultimate list to show you the top 10 reliable online video splitter to help you split, cut or trim a video to several parts. And it also provides a comparison sheet to help all of you make a right decision without testing these free online tools one by one.
Can't Miss: How to Split Video into Frames
What's more?
Online tools are strongly dependent on network stability, so they're easier to crash, or not working due to the poor Internet connection, and finally result in time-consuming. So this post also take a professional yet great video splitter software - Filmora Video Editor for your choice.
You can pick up the best video splitting software as your personal option according to your own needs.
Now, let's check these 10 advanced free online video splitter and professional video cutter software one by one.
Top 10 Free Video Splitter Online for Windows, Mac
#1. Wincreator Video Cutter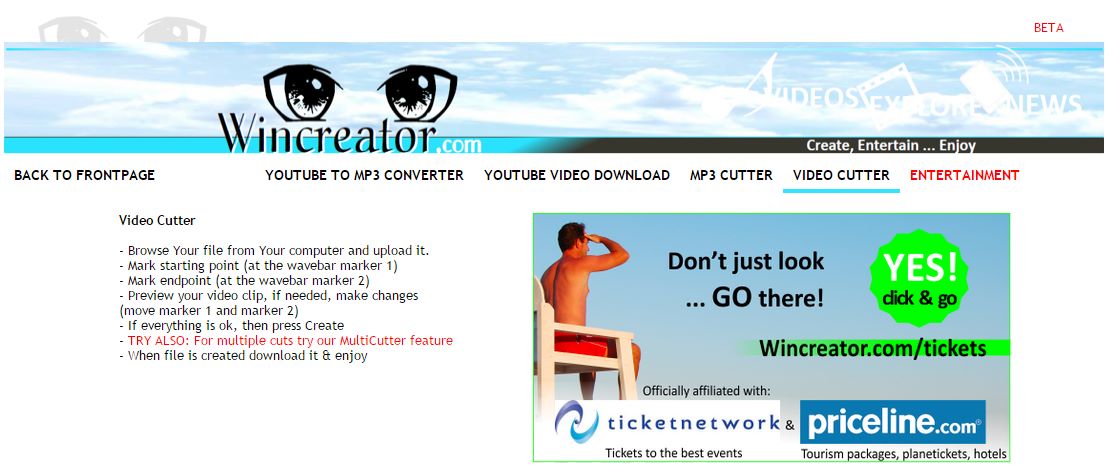 If you want to split videos online, you can try this video cutter. It will allow you to easily browse video files directly from the computer system. On the same note, editing will be as easy since the cutter will allow you split video online by marking the starting point and ending point, preview it before editing and download to enjoy once created. Its supported video formats include AVI, MPEG, MKV, WMV, FLV, MP4, MPG, TS and M2TS among several others.
Learn more >>
---
#2. Cellsea Video Editor

This video splitter online supports many video formats like MP4, FLV, WMV, AVI, MOV, RM, DIVX, VOB, MPG and 3GP. Cellsea Video Editor is very easy to upload a video file to online sites, add desired effects, manipulate video size as well as convert to a different format. The biggest feature you will find very useful with Cellsea Video Editor is sharing because it will allow you to share the edited video file with many people across the internet.
Learn more >>
---
#3. Online Video Cutter

MPG, AVI, MP4, MPEG, WMV and 3GP are some of the many file formats that this program supports. It makes cutting of videos online very easy and enjoyable so you will not have challenges getting rid of any unwanted content. You can as well download your videos to iPod, iPad and iPhone among many other portable devices. It is available for free.
Learn more >>
---
#4. FileLab Video Editor

The key feature that comes with this online video splitter software is video editing which will include trimming, cutting, splitting, merging, rotating and mixing of videos. Other features include adding transitions through timeline editing, overlay videos with a clear definition of direction, position and transparency as well as management of multiple video formats. These formats include FLV, SWF and 3GP, MKV, WMV, MOV, MP4, MPEG, DVD and AVI. You can load videos of any file format to FileLab Video Editor and they will be reproduced in portable devices like iPad and iPhone.
Learn more >>
---
#5. Pixorial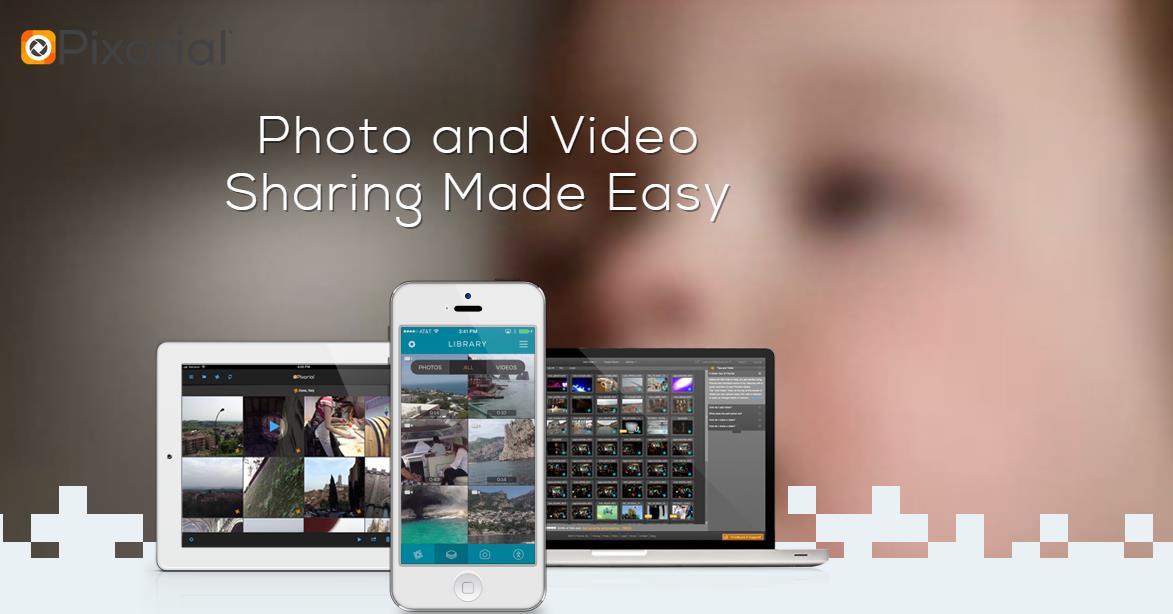 Easy universal import is the stand out feature for Pixorial because this online free video splitter allows for transfer of videos across computer devices and online platforms. Powerful smart albums are another feature for Pixorial which safeguards your videos with safe storage under a private cloud to ensure you get to access them from anywhere and at any given time.
The biggest benefit of using Pixorial is flexible sharing of videos since it does not come with any sorts of limitations to users. The intuitive interface makes communication effective and turnaround very fast. However, it might be an expensive option since it does not support all video formats in the market. Also, editing can turn out to be slow at times. Supported video formats are VHS-C, VHS, Digital8, MiniDV, Hi8, 16mm and 8mm.
Learn more >>
---
#6. WeVideo Editor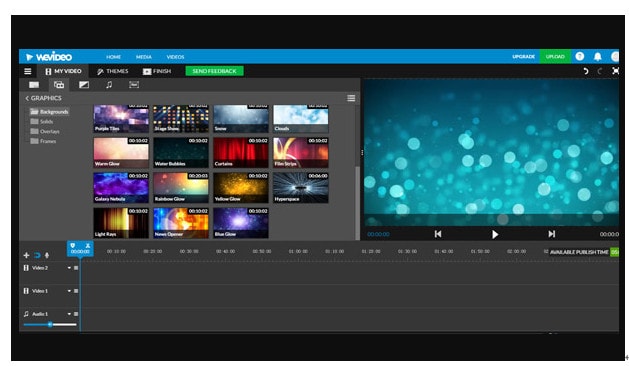 This is a cloud-based collaborative video editor that comes with very powerful features. You can animate photos, do clip transformations, add voiceovers, and so much more. The fact that it is based on the cloud makes it very easy to share your videos online.
You can easily split videos with this tool, just like you would on the desktop. The tool has an easy learning curve, and you have over 600 clips that you can immediately start using to create your videos. First create the video in Storyboard form and then go to Timeline mode for advanced features.
Learn more >>
---
#7. YouTube Video Editor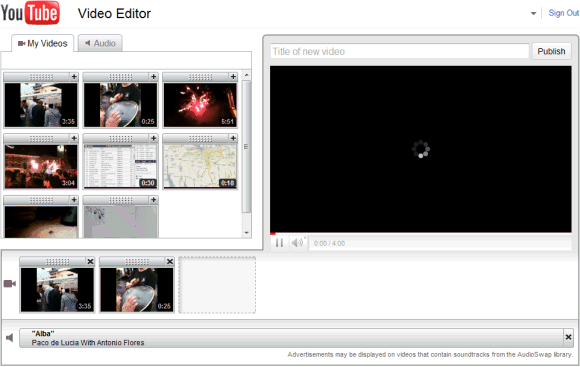 Not many people are aware of the fact that YouTube has its own video editor. You can choose videos from your channel and split them to mix with others. This is a great free online video splitter that will do wonders for you.
The YouTube video editor is a cloud based video splitter which makes it very powerful. You can edit your videos, add special effects, and do a lot more with this tool. The tool gets new features regularly so you should keep on checking and finding out just how much more you can do with this tool.
Learn more >>
---
#8. Kizoa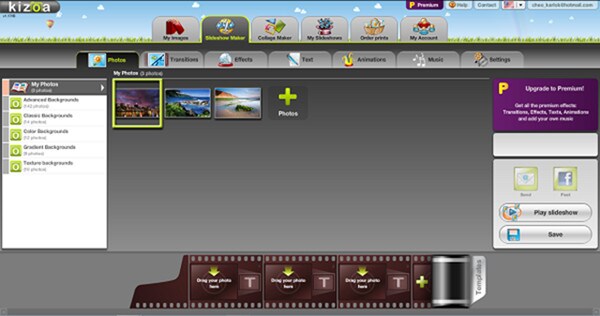 Kizoa is a free video splitter that can be used to clip and split video online and also do a lot more. The tool has the ability to overlay audio and music on the video, so you can add a voiceover or a music file.
You may also add preset video "Intros" and "Outros" into your videos without having to struggle to create them. The text on these beginning and end clips can be edited for you to write what you want. It is able to split audio and voiceover channels, just in case you want your video to be properly audible.
Learn more >>
---
#9. Clipchamp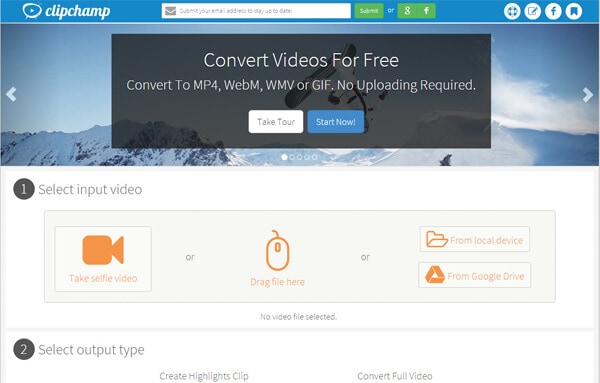 This is a fantastic online video splitter that comes with all the features of a desktop editor. You can split, rotate, join ad edit video in several ways. The interface is quite simple and one does not need to have any experience in IT or video editing to use the tool.
The tool enables you to edit your videos on your browser without uploading it to the Internet. This makes it much faster than many other online video editors which require video to be uploaded first. You can edit files of any size with ease.
Learn more >>
---
#10. Video Toolbox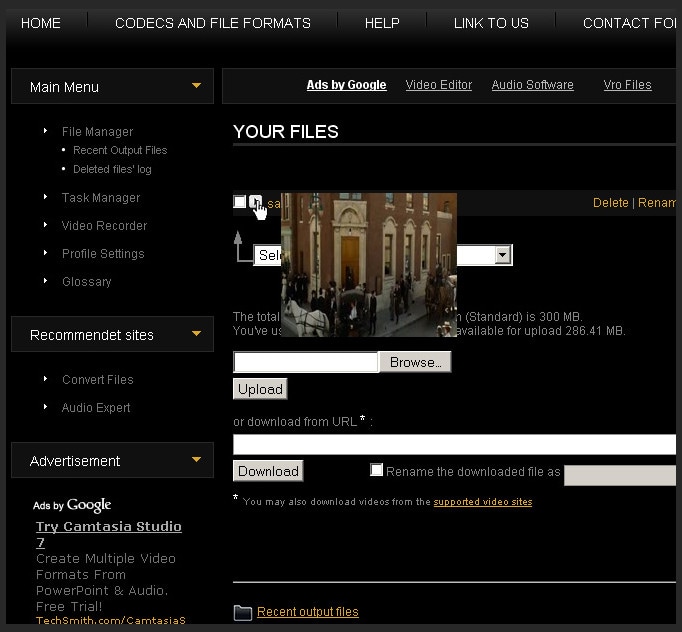 This is a simple and straight-forward video splitter online. It has the capability to convert files into several formats. You can now edit your videos in a professional manner and share them online with your friends and family.
The tool can work with video files of up to 600MB, which makes it exceptionally good if you are editing some streaming video form the Internet. The advanced editing mode allows you to make changes to video codec, bit rate, resolution, frame rate, and a lot more. You can also make changes to audio channels when working in advanced mode.
Learn more >>
---
Filmora Video Editor - Best Tool to Cut, Split or Edit A Video By Yourself
Filmora Video Editor is the best video editor in the market and provides the best methods, tools and techniques to perform the video editing easily. With it, you can easily cut video or split a large video to several parts in different ways. And you're also allowed to combine video clips, rotate a video or make a split-screen video within few simple clicks.
What's more, this program have gained a great reputation in video editing area, espeically for beginners. And unlike online tools, Filmora Video Editor is not fully dependent on network, and it can save your orginial editing files when a abnormal shutdown is happened. That means you can re-launch the tool and continue to edit the video as you like.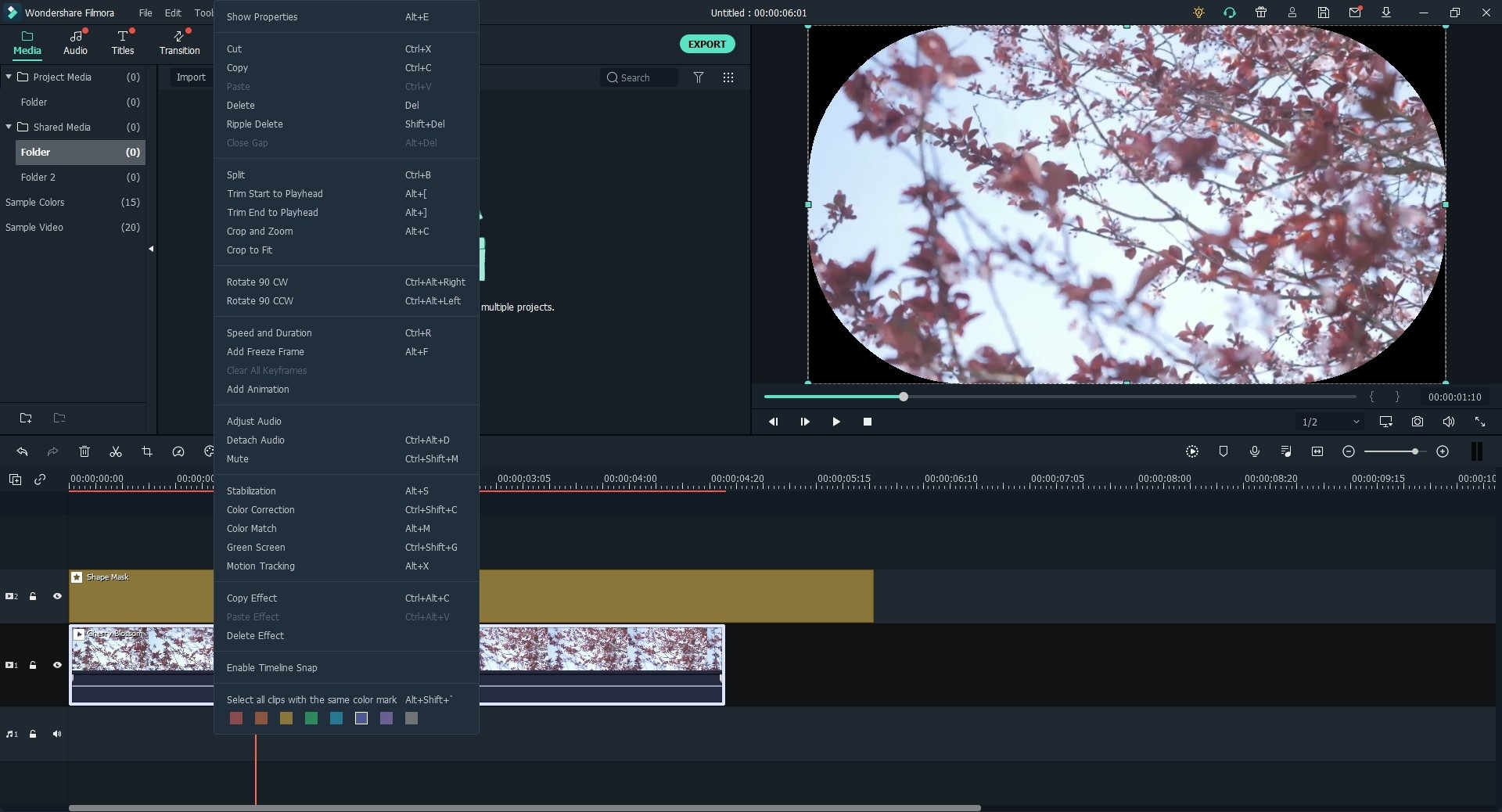 Split a video in 3 different ways: split video files manually, split with scene detection, split with instant cutter tool.
Ability to produce top-quality videos as it comes with Video Stabilization tools.
Lots of basic editing tools includes changing video orientation and speed.
A comprehensive Media Library for easy management of projects.
Various special effects including split screen, green screen, and face-off features are also available.
Learn how to split or edit a video with Filmora video editor as follows:
- How to Split Videos within Few Clicks
- How to Edit Videos [Ultimate Guide]
- How to Make A Split-screen Video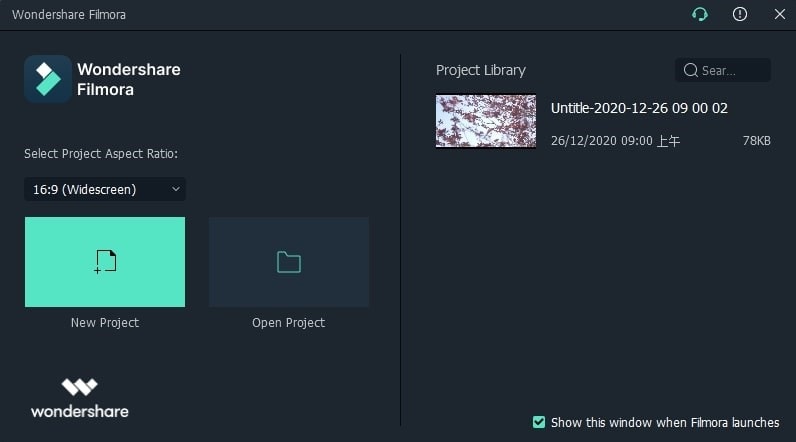 ---
Comparison - Which One is the Best?
With that information, it will be upon you to decide which the best online video splitter to use is among those discussed above. As noted earlier, you must take a keen look at the key features, their pros and cons and anything else that will help you make an informed choice. The good thing is that most of these splitters have unique characteristics so you should not have any regrets for the one you end up settling for. Chances of getting the choices wrong are minimal and it's something that you cannot contemplate at all.
Software
Multi-Formats Supported
Video Sharing Online
Download Edited Videos to iPhone and iPad
Video Safeguards Feature
Filmora Video Editor

[Recommended]

Yes
Yes
Yes
Yes
Video Wincreator Video Cutter
Yes
No
No
No
Cellsea Video Editor
Yes
Yes
No
No
Online Video Cutter
Yes
Yes
Yes
No
FileLab Video Editor
Yes
Yes
Yes
No
Pixorial
Yes
Yes
No
Yes
Now, I want hear from you like that:
Which kinds of program you are ready to try first? Online Video Splitter or Video Splitter software like Filmora Video Editor?
Or will you have any other suggestions about split a large video to clips?
Please leave a comment in the below area, and if you don't know how to start it, let begin your video editing journey with Filmora Video Editor.