What is a private video on YouTube?
YouTube is the best source of showcasing your content and let the viewers go through your interesting videos and skills. However, when uploading a specific video to your YouTube channel, you may notice your uploading video's privacy setting having three types and, by default, set to public as YouTube is to drive engaging traffic to your content. There includes an option of YouTube private video. The other two kinds are: Unlisted and Public.
A private video is of a kind which enables only invited viewers to watch your content. Sometimes, a private YouTube channel is also essential for a family gathering or a family-bound content, which means these videos only provide excess to the channel owner's invited viewers. Therefore, how will you make/share/watch/download a private YouTube video? Hope this article will help you to solve the above problems.
Part 1: How to Make YouTube Videos Private?
When you share your videos with your YouTube channel, you may bypass this privacy option referring to your uploading video's privacy status. This allows your viewers to see your content, and they are open to comment, like, dislike, and share your videos. The default setting allows you to share your uploaded video content with everyone on YouTube; either they're your subscribers or not. But they can access your video content which you upload on your channel.
Sometimes, you may need to edit your videos and upload them for your private selected audience. Filmora Video Editor provides you an easy and simple to edit your videos editor with a professional look to your videos. You can create a private YouTube video with Filmora; it can enhance your video editing to the next level, which will surely makes your content an attractive one. And you may learn more about how to make YouTube videos more creative with Filmora.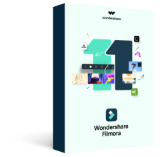 Save the video to popular formats, like MP4, MOV, M4V, FLV, etc.
Hundreds of animation titles, effects, and transitions for memes.
Share and upload the resulting video to YouTube and Vimeo directly from the program.
Simplifies your creation of amazing and high-quality videos (4K).
Now after your editing has been done and you are ready to upload a private YouTube video for your private audience, but for that, you need to know how to upload a private video to YouTube here we have provided steps for you:
• Open YouTube in your browser and go to youtube.com.

• Select the upper right corner camera icon, as shown in the figure below:

• From there, select Upload Video option.

• Now click on the Public dropdown button to see the other options available.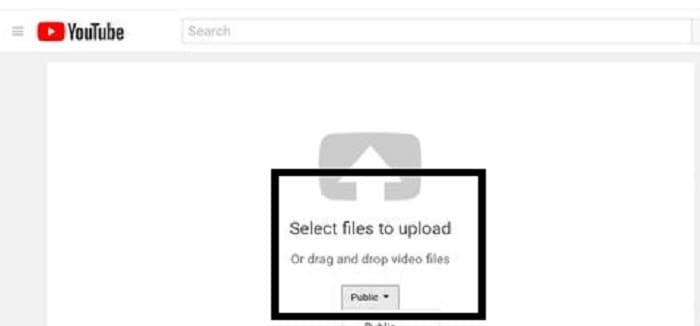 • Select Private as this was your concern.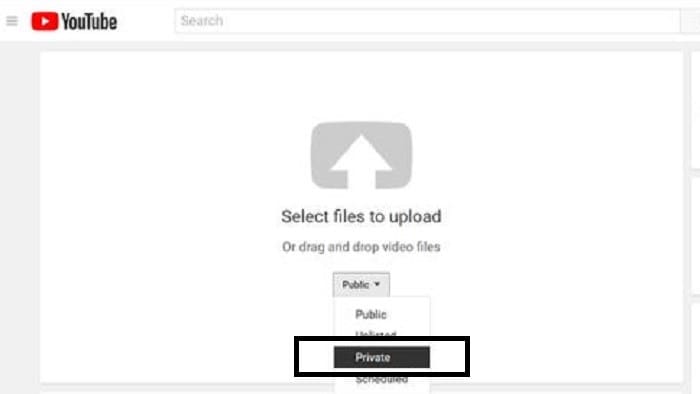 • After proceeding with this option, your uploaded videos will be private and uploaded on your YouTube channel.
Now you have given the access to only your specified audience to Watch, Like, dislike or comment on your video content, which you have uploaded on your channel.
---
Part 2: How to Share a Private YouTube Video?
A big plus about YouTube is that it enables you to share private YouTube videos to a number of individuals of your own choice. You can share it with a number of users having an email address by keeping the video's privacy limited to your selected audience. In this way, like a private YouTube channel, only those viewers can Like, Dislike, and comment on your videos, which you have shared with them.
Step by Step Guide on How to Share A Private Video on YouTube
• Search for YouTube from your browser and open youtube.com.

• Select your channel profile photo at the upper right corner of your screen.

• From drop-down options, click on YouTube Studio option as follow: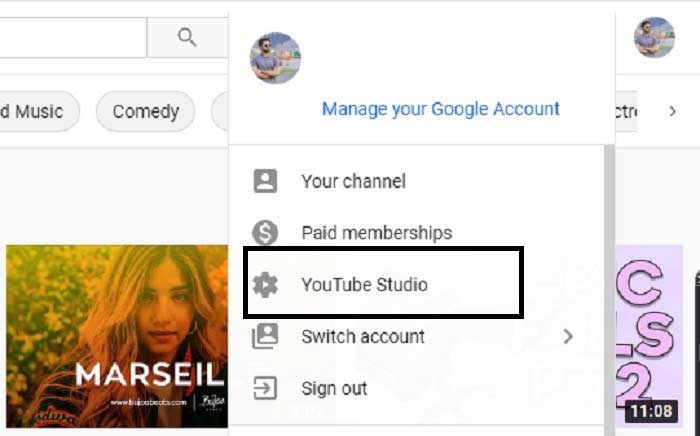 • Now there are several other menu items on the right side of your screen and select Videos from the menu list to see your channel available videos.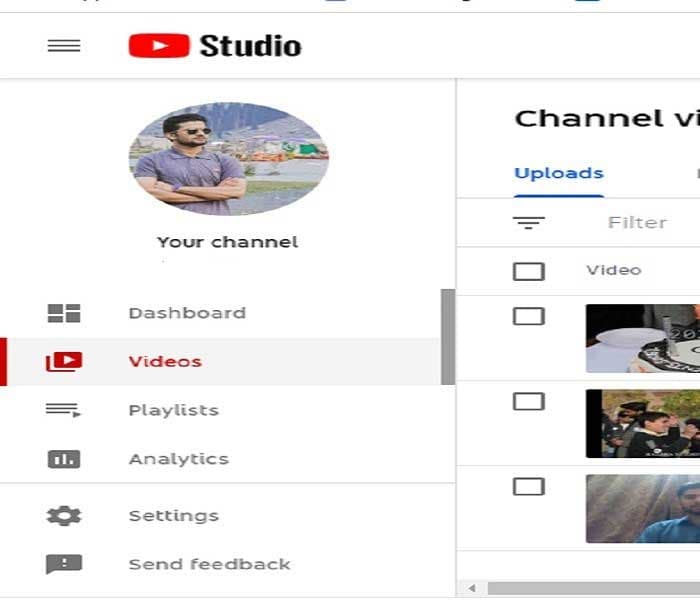 • Select the private video which you want to share by clicking on the title of your video.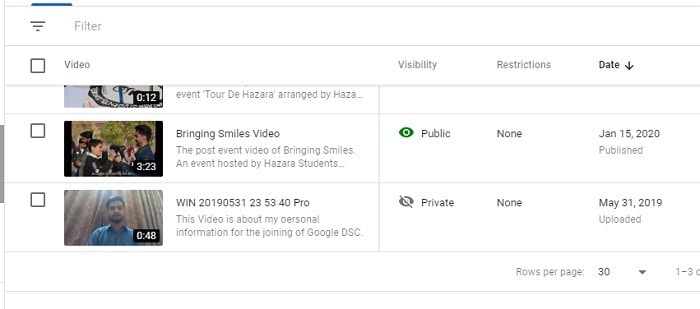 • Now click on the three-dot button available at the top-right of your video details.
• Select Get shareable link option and enter the email address of the people you want to share this private video with to complete the private YouTube video sharing.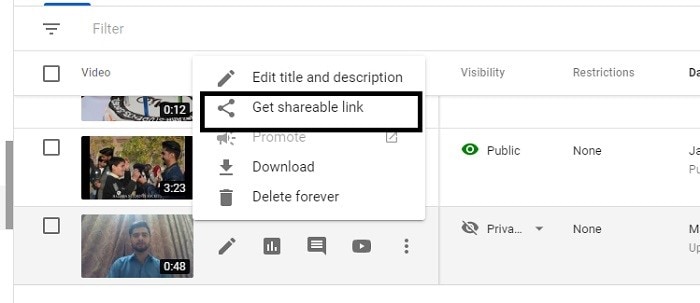 By these steps, you allow your selected viewers to see your video and add any comments to your video if they would like to.
---
Part 3: How to Watch Private YouTube Videos?
After you have modified your videos to be private and shared it with only authentic persons or family members, the next step is how do your viewers watch your private YouTube videos because your private video doesn't appear in their YouTube search results or your channel playlist.
Step by Step Guide on How to Watch Private YouTube Videos
• The first and foremost step to view private videos on YouTube is to log in to your browser with the email address on which the video owner has given you access to that private video.
• By opening the mailbox of your specified email, you shall see the email from the YouTube.

• Opening that email will bring you to an interface having a center click button that directs you to the video.
• In order to move forward, click on the three-dot button, as shown below: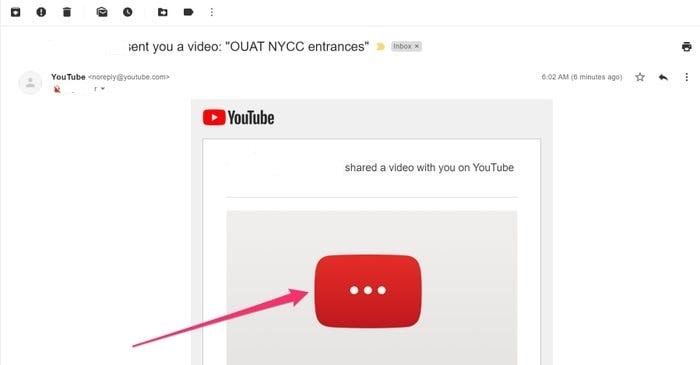 • Now you shall be prompted to youtube.com, where the video will begin for you to watch.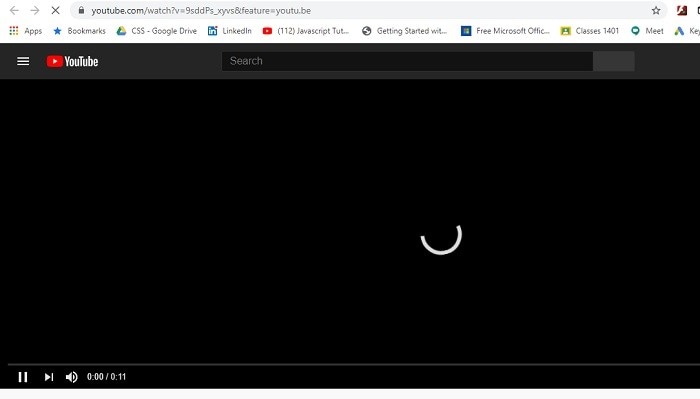 • You can view, like, and comment that the owner already has your YouTube private video access.
Note: You can only watch a video where you have got an invitation from a private video owner. If you don't have an invitation, that video will be unavailable for you.
---
Part 4: How to Make a Private Video Public on YouTube?
After you have published your private videos on your channel, now the selected viewers have access to that content via the link you have shared with them. After getting a step-by-step guide on how to make YouTube channel private, there comes the point when you want to show the general viewers your content, and you want to share with them, the already published video that was private.
A public video is a one which is available for all the YouTube users around the globe and will include in your subscribers feed and your channel playlist. In the upcoming guide, you'll be instructed on making a private video public on YouTube and how to make a private video public on YouTube.
Step-by-step Guide on How to Upload A Video to YouTube
• Open your browser and go to youtube.com website URL.

• Select the picture icon situated at the upper right corner of your screen, as shown below:

• Now you shall see several options listed, select the YouTube Studio option.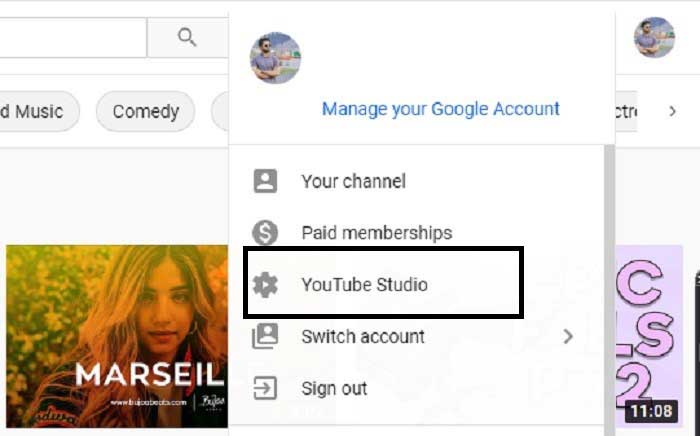 • After getting into your channel's YouTube studio, go to the right-side menu list and select the Videos menu.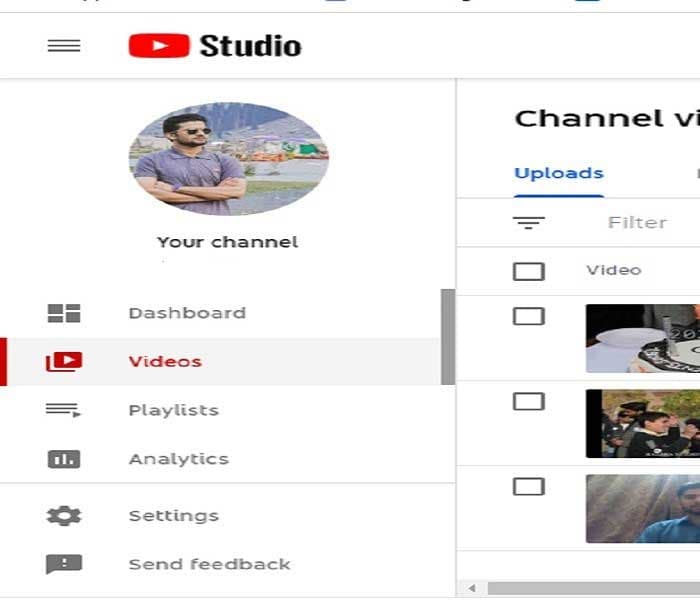 • It will direct you to your channel videos, including all your private videos as well. Select the private video you want to make public and click on that video's three-dot button.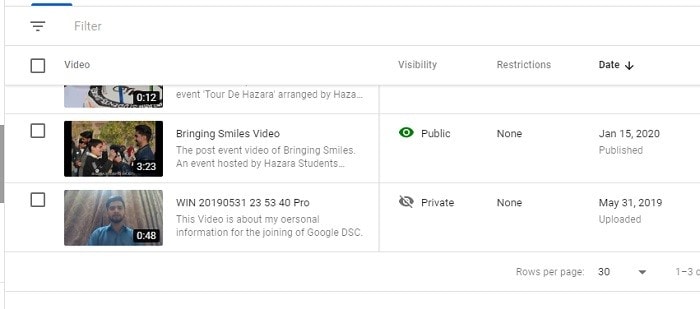 • Now to make it from Private to Public, select Public from the drop-down list as shown above.
• In this way, you can easily convert your already published YouTube videos privacy setting from Private to Public.
Now you can enjoy the increasing viewers on your video as it's gone public and in your subscribers YouTube videos feed. Your videos can also be in search results of YouTube users if users search specifically for your video title.
---
Part 5: How to Download Private YouTube Videos Using 4K Video Downloader?
Being a YouTube user, saving useful and enjoyable content is everyone's aim while witnessing such useful content. For public type default videos, you can easily download the content. Still, for the private type videos, the video will be unable to get downloaded as the YouTube limits the viewers to only access to that email notification.
In this guide, we have brought you an easy way to download private videos right from the given link included in your invitation to watch that private video. All you need to do is download and install 4k Video Downloader.
Step by Step Guide on How to Download Private A YouTube Video Using 4K Video Downloader
• After installing this software, launch it from your desktop, and you shall prompt to that interface.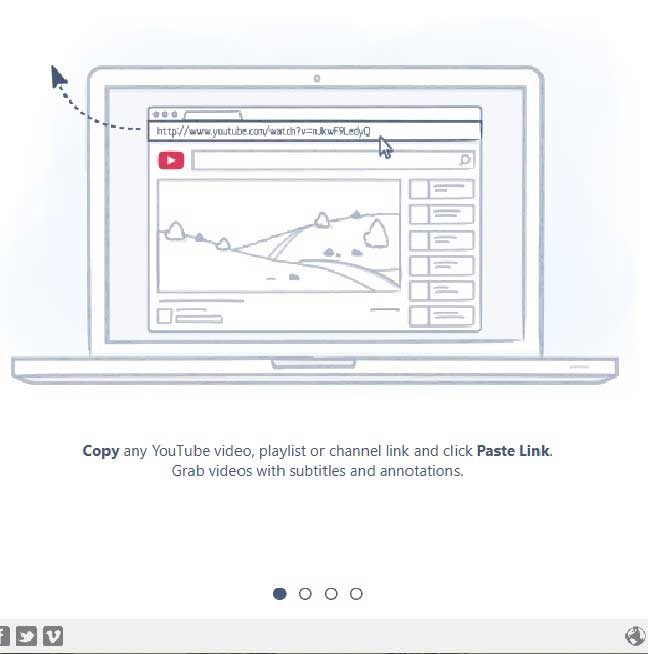 • Now, copy the link of that private video you have been notified about via email, which you want to download.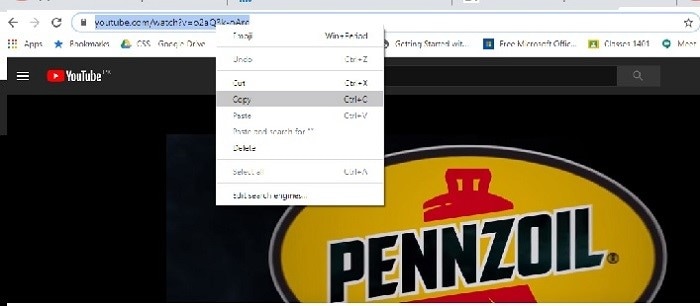 • Now, simply paste that copied link in the URL box of 4k Video Downloader.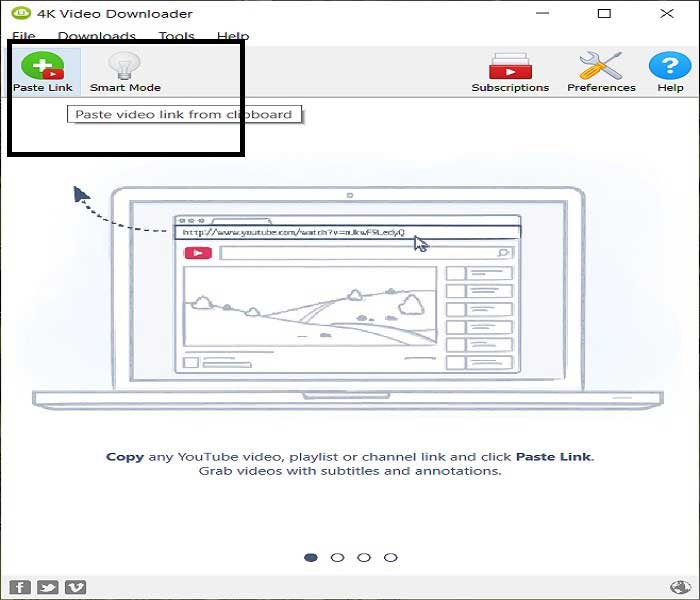 • Select the specifications you want your video to be downloaded in. Finally, proceed with the download button, which starts downloading your private video.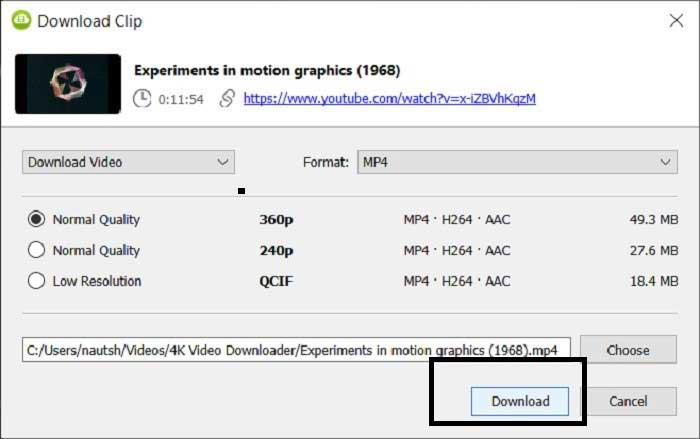 After the download is completed, you can go and see the downloaded video within the specified format and quality you have had selected before the download begins in the 4k Video Downloader application. In addition, there are also 4 ways to download YouTube videos without any software for your reference.
---
Conclusion
All the explained guides are easiest and on-demand solutions to their respective questionnaires, and you can have that blink question after you have professional video content that you can publish and show to the users worldwide as well as within your circle. But if you are a beginner and editing your content is a complicated task for you. There is Filmora Video Editor available for absolutely free to solve your content editing concern. Filmora provides you with the best and easiest way to edit video content. It allows you to make/share/watch/download a private YouTube video easily.
After the download succeeded, start giving a professional look to all your videos before giving it a push to your YouTube channel and share a private YouTube video, then you can gather a more reliable audience.