Admit it! Memes are able to bring great laughter. There has been a great trend of memes in recent years. You find various funny memes in the social media platforms and memes have taken over the social media giant Facebook by storm. Whether you wish to make funny birthday meme or a meme for valentine or any other special day, you can do so online easily.
Wondering how to make a meme online?
Well, the answer is here. We have come up with the top 12 best meme maker online platforms to help you with the creation of your memes.
If you want to have a meme maker app, you can clic this link to find the best meme maker app for you.
Now, let's get started.
Top 12 Meme Creator Online You Need to Know
Creating meme online is not that tough as you might think of it. All you need is the top list of it. And here in this section, we will be introducing top online meme creators. Have a look.
#1: Filmora Free Meme Generator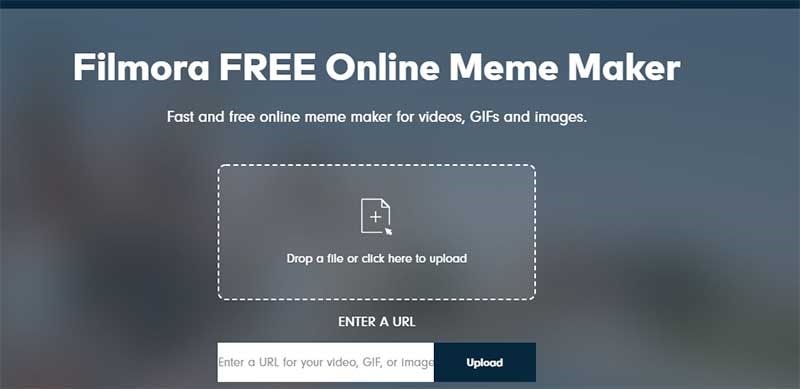 Filmora Free Meme Generator is one of the most useful and outstanding meme-makers online. Providing you the free and fast services, you can take the help of this tool for videos, GIFs, and images. With its user-friendly interface, one can never find it hard to create memes using Filmora.
Pros:
Extremely easy to use
Easy drag-drop option to create a meme with your image
Helps to create memes in no minutes
---
#2: Canva's Meme Generator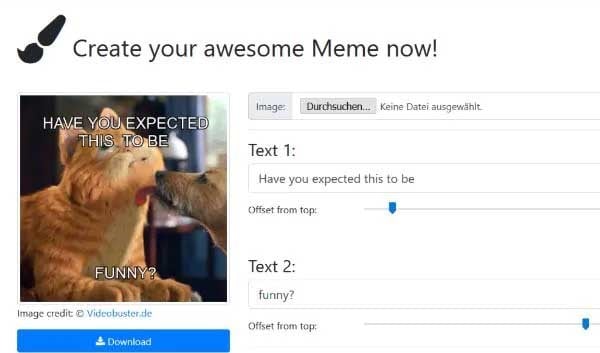 Containing millions of stock photos for the users, Canva's Meme Generator comes on the second in the list. You can take your own images to create memes and get the options to make alterations to the font as well as text colors.
Pros:
Free and easy to use
Has the ability to create and share fast
A lot of templates to choose
Cons:
Premium photos will be having watermarks
---
#3: ImgFlip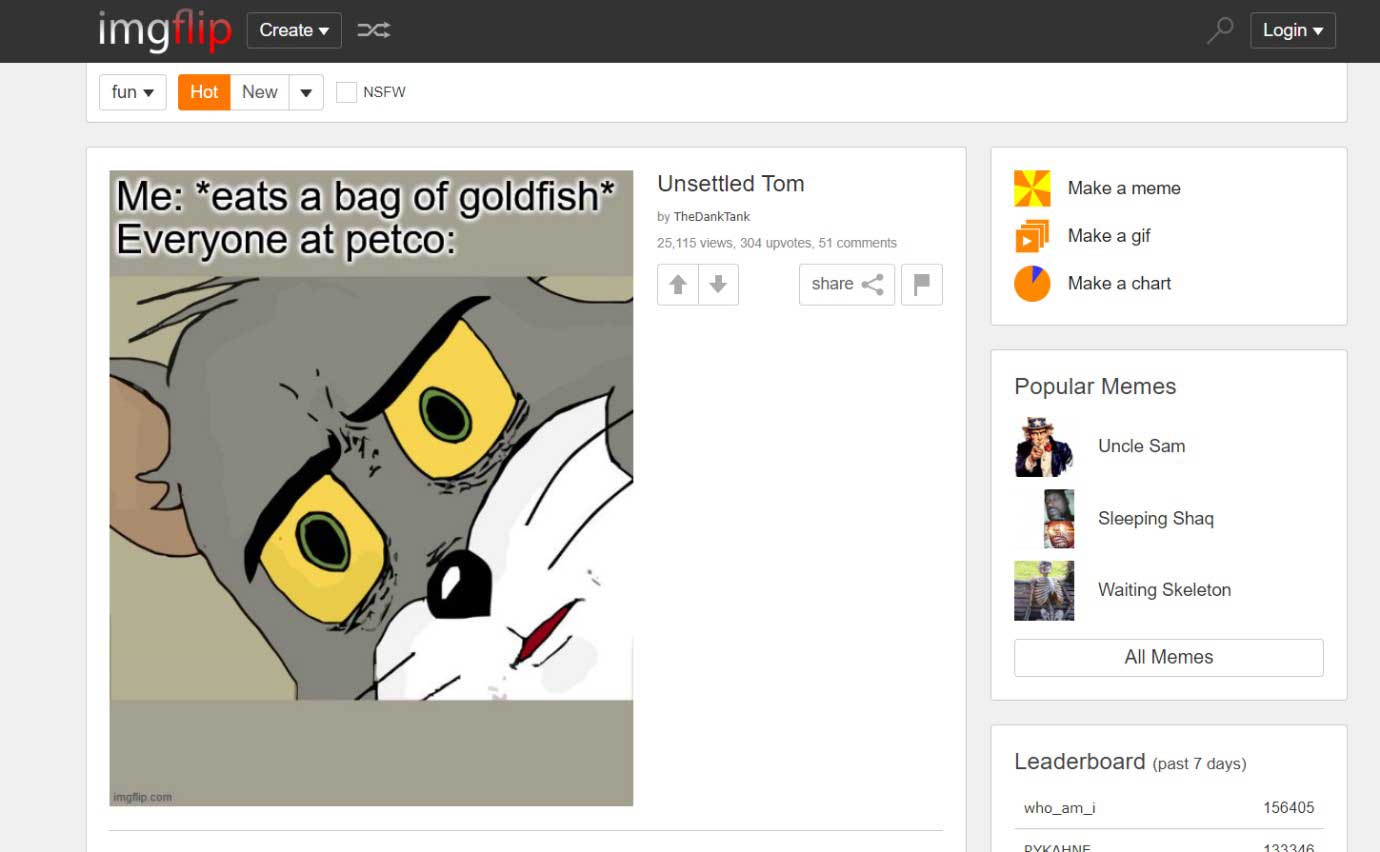 If you are a meme lover, then you must have come across this hugely popular meme maker page. ImgFlip is a meme maker online platform that lets you make memes without registering to their website. The meme library in ImgFlip is a vast one and you can choose images and add captions to them. After that, you can share those memes across social media sites in no time. The site also lets you create existing GIFs.
Pros:
Apart from memes, it can be used to customize images into poster, banner and more
Many customizations available
Cons:
The interface might seem a little messy
Watermark will be shown on the meme
---
#4: MemeGenerator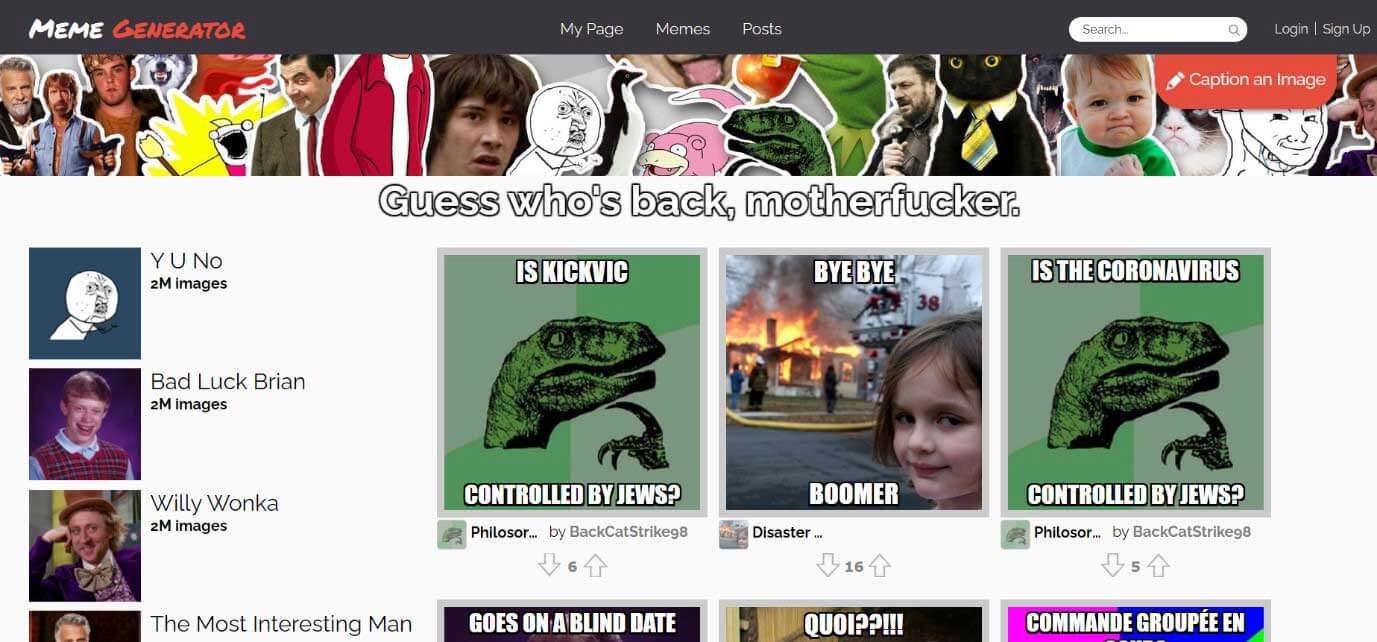 A majority of meme makers will recommend this MemeGenerator when it comes to the creation of viral memes. This is one of the most popular meme creator online platforms out there. The site lets you browse through their vast collection of images and gives you the facility to upload them directly.
Pros:
Easy sending and sharing of memes
A vast variety of categories
Cons:
It has a sign-up process and not a simple drag-drop system
---
#5: Kapwing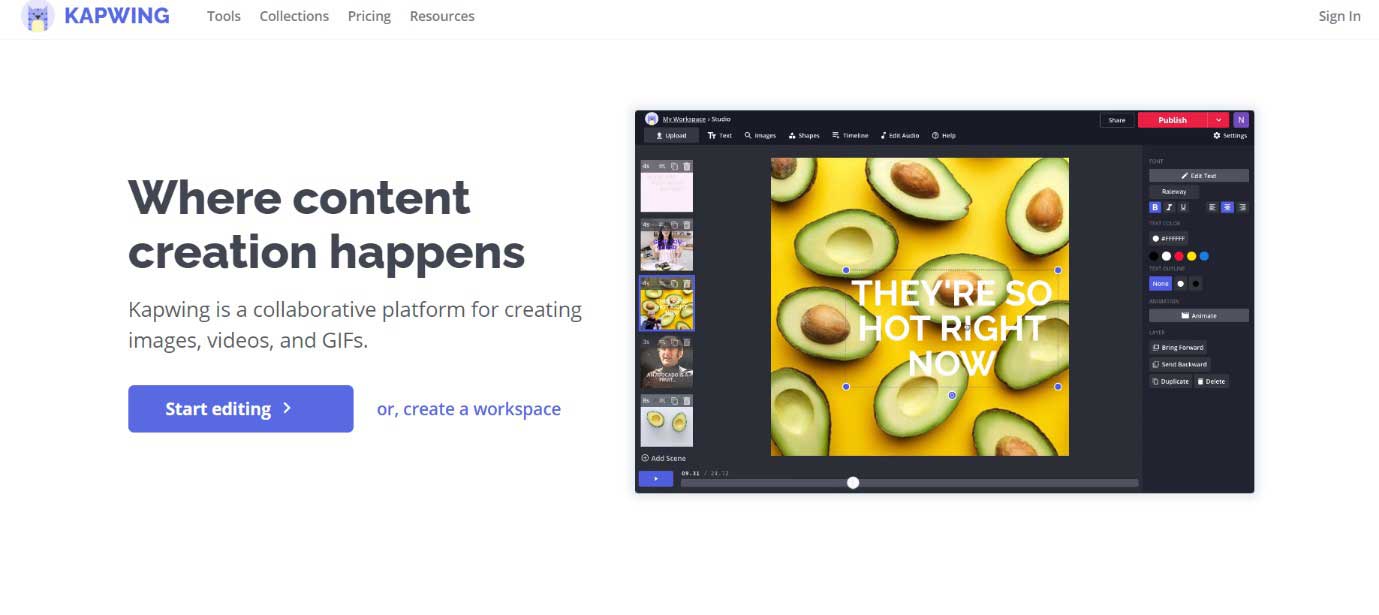 Kapwing has come up with a simple yet effective meme maker which will let you do all the meme related tasks all in one place. You can easily create video collages, edit videos by adding text and sound to your videos, add subtitles to your videos, and also resize them according to your needs. Simply upload the picture you want to turn into a meme and get started.
Pros:
This online meme generator not just offers meme-making facility, a lot of other tools like loop video, trimming video options are available
Almost every common image or video file is supported
Cons:
Sometimes, it becomes difficult to load thereby giving user hard time to work
Need to pay for removing watermark
---
#6: Imgur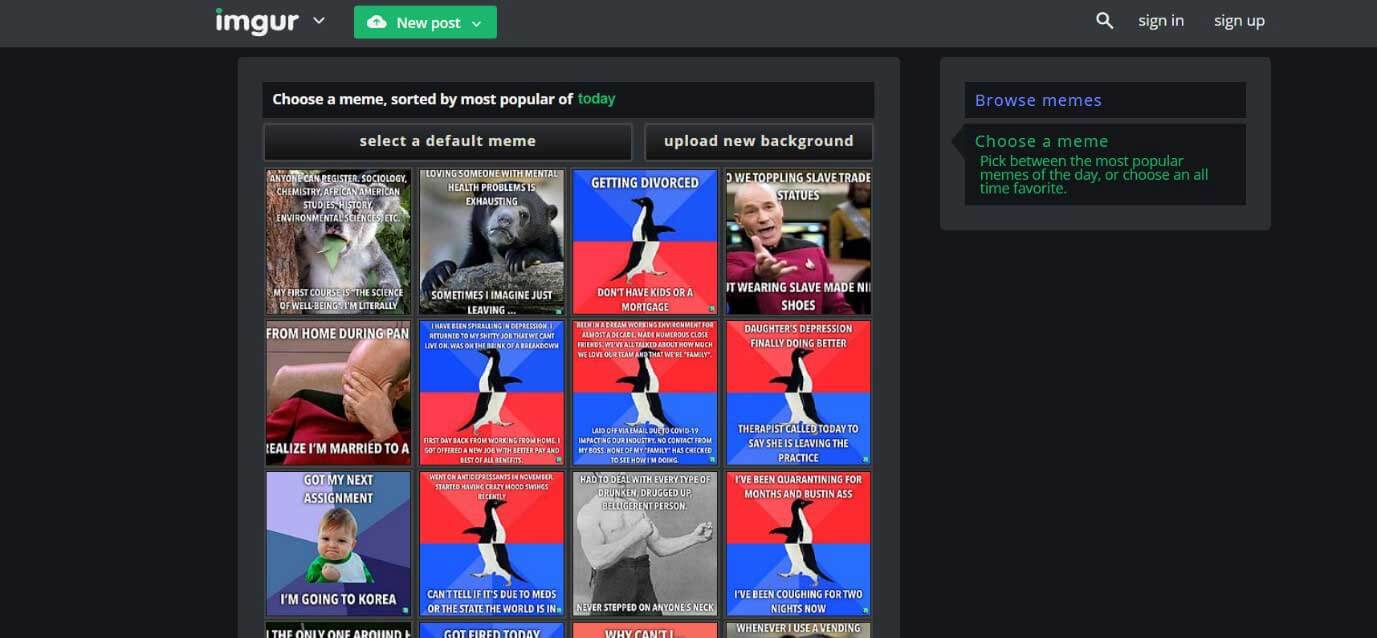 Imgur and meme go hand in hand. Well, memes and Imgur have coexisted and continues to do so even now. Do you want to know the reason behind the success of this site? Well, this site was used to make some of the most popular and viral memes in history. The most popular meme maker online free platform, Imgur lets you do tasks such as uploading images, editing them, and sharing them across the social media sites.
Pros:
Lots of edit options available
Offers the advantage of using default image background
Cons:
To submit memes, it takes account registration
---
#7: MemeCreator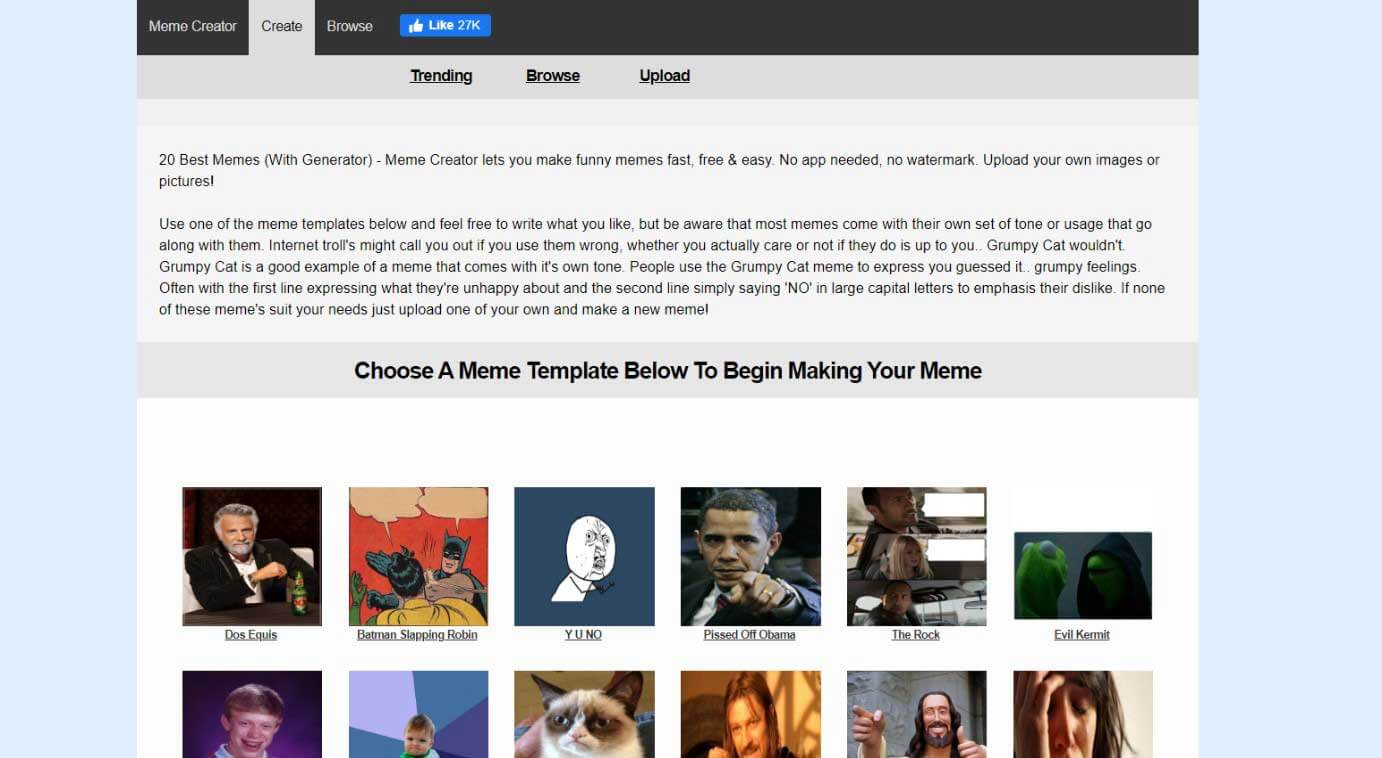 The name itself states the purpose of the website. MemeCreator is one of the popular and trending meme maker free platforms on the internet. Now, the question arises why is this popular? The website has been in the rankings even since its inception and here is one of the reasons why it is popular. MemeCreator allows you to create memes quickly and effectively within a few seconds.
Pros:
This online platform gives a lot of templates to create a meme of your choice
Helps you filter from trending memes
You can create meme without a watermark
Cons:
The interface is not so attractive
---
#8: Adobe Spark Post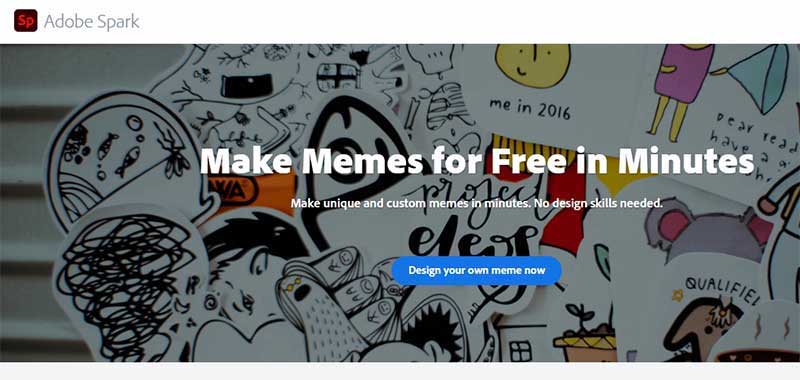 Adobe Spark Postis designed attractively. We all know Adobe for a long time and hence there is no need to mention the performance it can provide us. Talking about it as a meme generator, can help you in choosing unlimited backgrounds and text appearances.
Pros:
No specific designing skills required
Can do the work in a couple of minutes
Offers professional themes
Cons:
Can be problematic if pictures are not in PNG format
Watermark exists in images
---
#9: Lumen5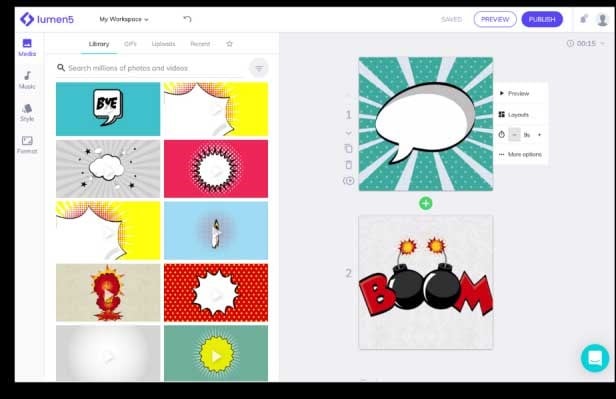 Another meme generator online is Lumen5. With the help of this, one gets the power to bring out their best from creative minds. This meme maker can help you providing some unique designs and you can share it anywhere on the social media networks with ease.
Pros:
Images, videos, Gifs all kinds of files are supported
All formats including PNG, BMP, JPEG, AVI are compatible
Customizations like cropping, brightness adjustments, etc. are easily available
Cons:
Customization regarding video volumes is not available
Text size can't be adjusted
---
#10: Meme Center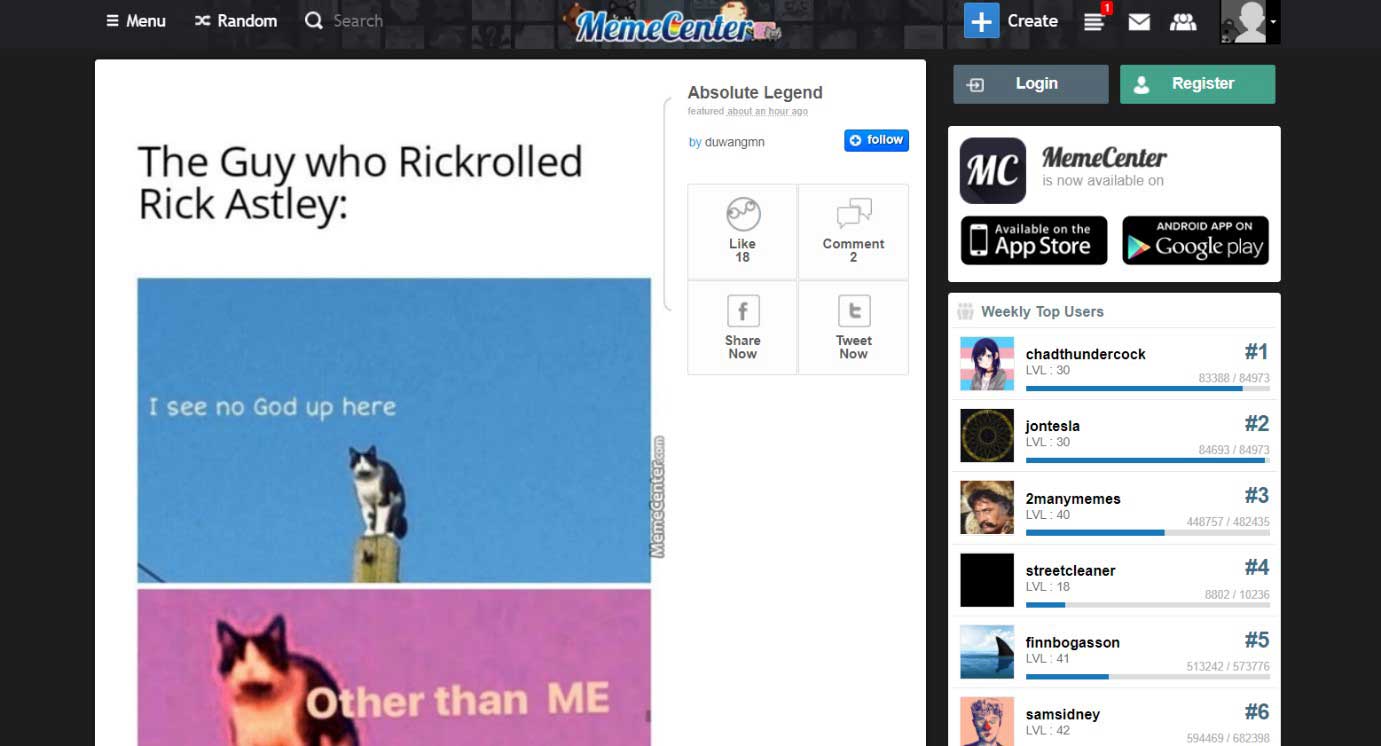 Perhaps one of the largest communities out there dedicated to memes, Meme Center is the meme maker you have been searching for. The website is loaded with meme generating tools such as Memebuilder, Quickmeme, and GIFmaker. These tools will allow you to make memes using image editing tools such as Brush Tool, the Oval, and also lets you add captions to your memes.
Pros:
Offers pre-built templates to quickly create memes
You can choose from "Features", "Top" like filters to create the best.
Cons:
Can be difficult for a beginner
---
#11: Livememe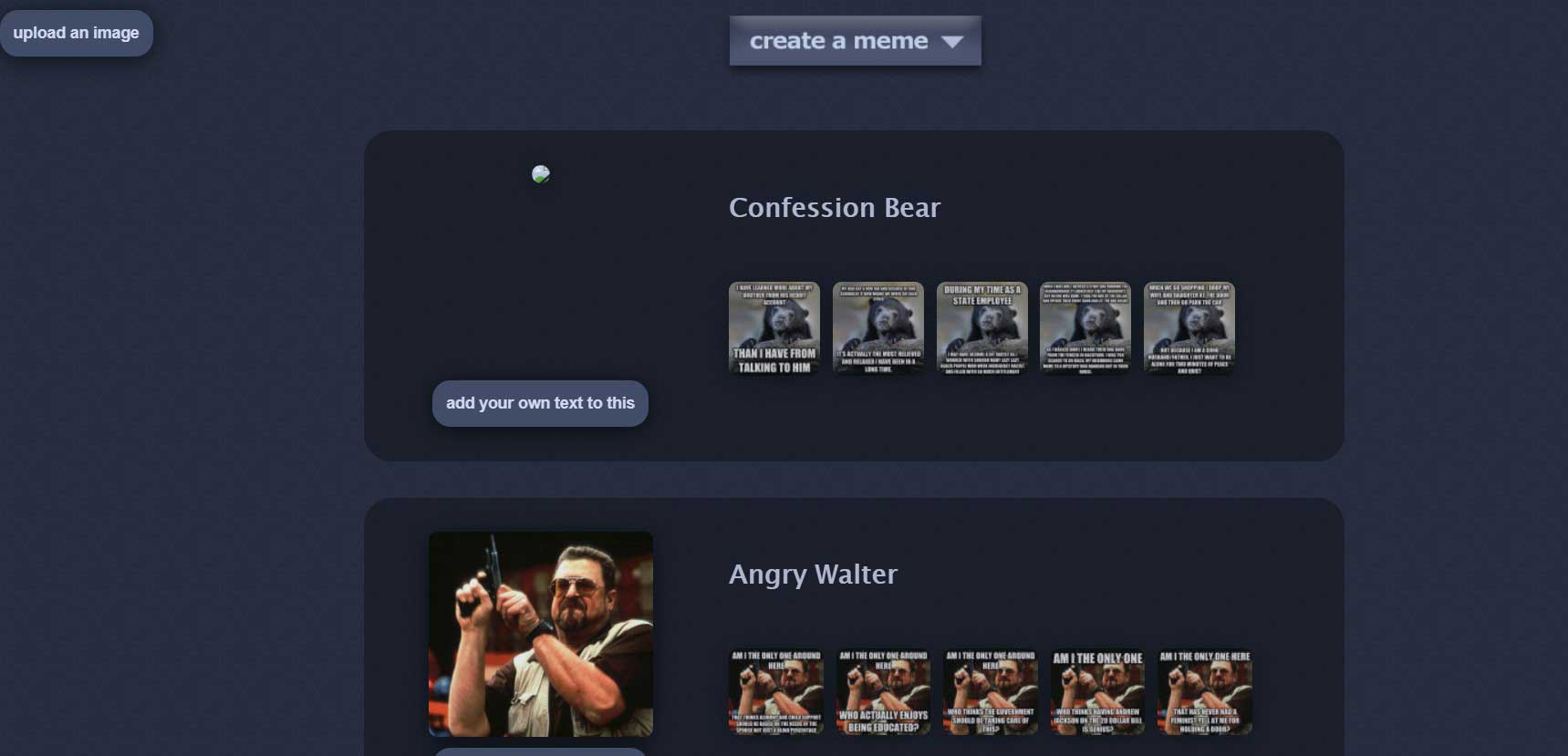 Livememe is the next answer if you are wondering how to make a meme online. It is a popular and trending destination for meme creators and meme lovers. Here is a reason behind the popularity of this free online site. You can make a meme in the quickest way possible and that is by simply uploading the image and adding a caption to it.
Pros:
All popular meme images are available
Easy and safe to use
Cons:
You can only share those memes in Reddit directly.
Text customizations are not available
---
#12: DIYLOL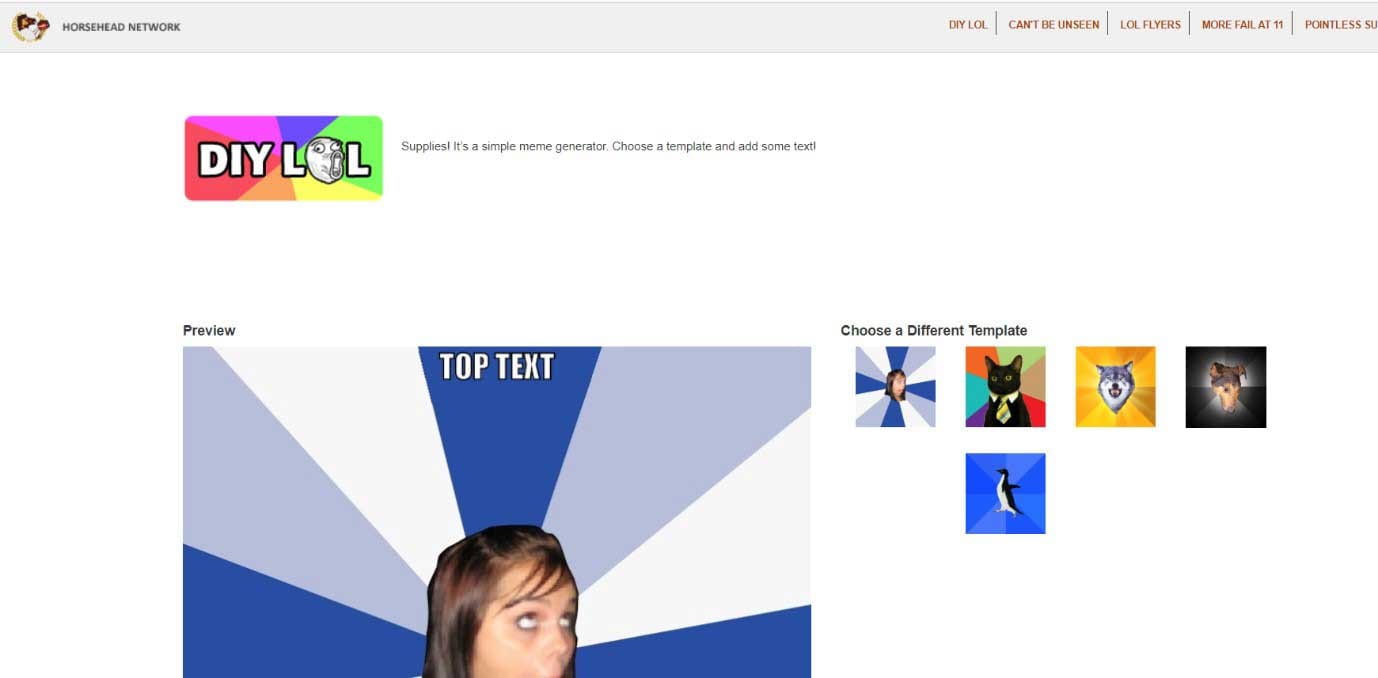 Bringing the last but of course not least online meme maker in the list! DIYLOL comes with pre-existing images that you need to choose and add the text and voila! This meme generator online can be liked by those who want simpler memes.
Pros:
Gives option for font size and color adjustments
Offers readymade templates
Cons:
Not able to upload your own image
For desktop lovers, in case you wish to go for meme creation on your desktop, jump to the next part as we are going to share the best one for serving the purpose.
---
The Best Meme Maker App on Desktop - Filmora Video Editor
In order to work on desktop for meme creation, Filmora Video Editor is the best software in the market right now. Apart from that, this tool can really help you with your meme creation. Not just it is capable of editing images or videos, you can create memes in no minutes.
These are certain key features of the Filmora Video Editor: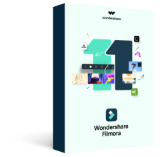 With the help of Filmora, one can edit videos, images, and even GIFs in a hassle-free way.
One can choose from a wide range of fonts, and make their meme text more attractive.
With a lot of transitions, titles, you can make the memes look the best as per the requirement via Filmora.
Furthermore, over 1000 visual effects are offered to improve the meme quality with ease.
...
---
How to Make a Meme with Your Own Picture - Using Filmora Video Editor
Making memes using Filmora Video Editor is an easy task to do. Users do not need to have the technical knowledge to make memes using the software. We have mentioned a guide on how to make memes using the software.
Step 1. Download Filmora
Begin with downloading Wondershare Filmora on your PC. Now, install the software and go ahead launching it.
Step 2. Launch Filmora
Once Filmora is launched, select the right "Aspect Ratio" as you want. Hit on "New Project".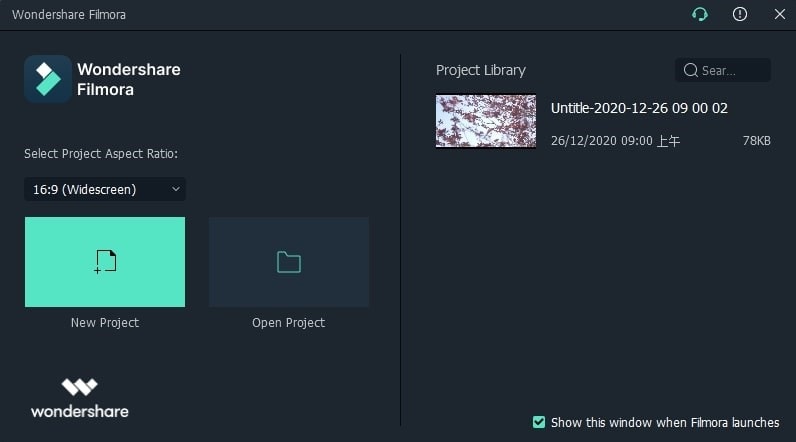 Step 3. Add Files
Now, hit on "Import Files Here" followed by selecting the video files to be transferred to meme. You can drag-drop the file too to start work.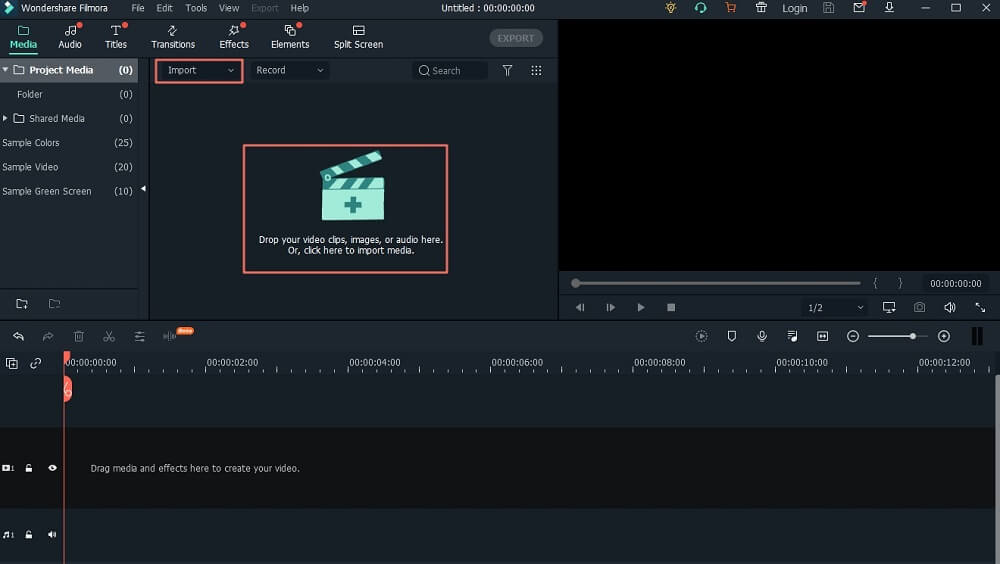 Step 4. Editing Memes
You get two features in order to create or edit meme. It all comes to you how creative you are to make the best meme. You can use:
- Add Visual Effects
As mentioned, 1000+ visual effects can help you editing memes in various styles. No matter if it is about deep-fried meme or a simply funny one, Filmora is there to help you with a number of effects to make your meme look attractive and engaging.
- Add Text Elements
Without text, a meme will have no fun obviously! Filmora is there to help you with its text tool. Using it, you can add a caption to the meme you are creating. Hit on the "Text" button and get the text-style dragged to timeline. Type what you want and see how it looks.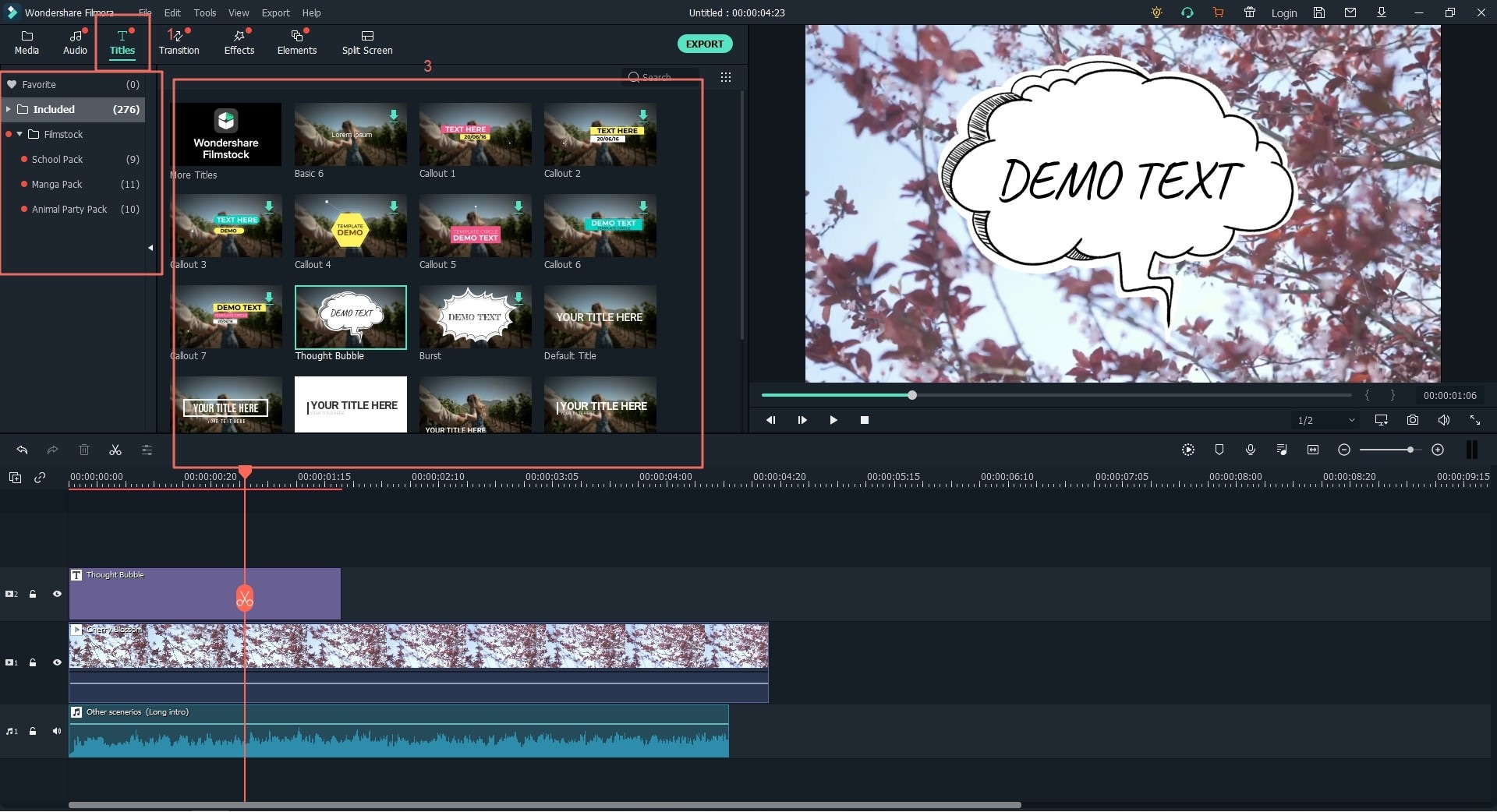 Step 5. Export Meme
Once you are done with the meme editing or creation, hit on the "Export" and pick out the output format you want.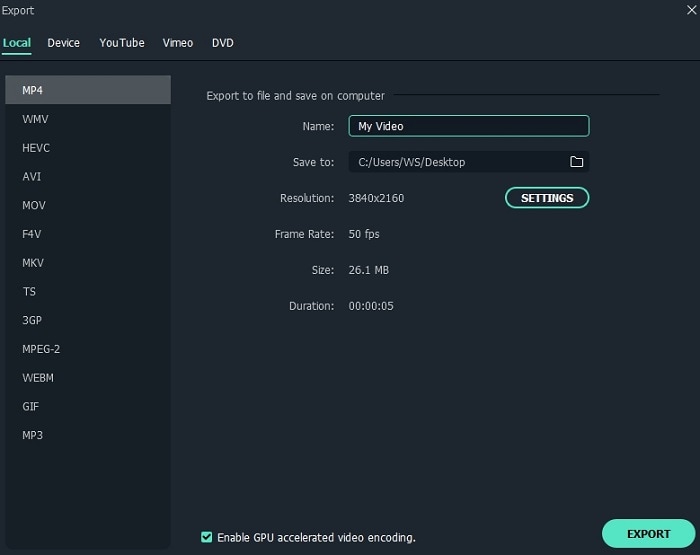 You may be interested in: Learn how to make a video meme by yourself.
---
Conclusion
This article gave you an idea about the top trending meme maker on the internet. Go through each and one of them as they have so many things to offer in the meme creation industry. Meme lovers have used these platforms to make the viral memes that make you laugh even today. Let us know which one you chose. Get started with your ideas and create up the most viral memes using the chosen one that will go down in history!