Generally, making 2d or 3d stunning animations requires advanced software and extensive experience, which could be really difficult for those who are not so professional in video editing and production.
But don't be discouraged if you are just a beginner, there is still likely to make a really good and unique animations without many professional skills.
Actually, other than fthe software used by professional animation teams, there a number of desktop or online 2D animation makers in the market. With those tools, whether making animation is for your pleasure, for your work, or for your kids, you can handle that pretty well.
In the article, you can find 6 desktop 2D animation software and 4 online animation tools for beginners. Hopefully after reading this article you can get started with a tool that fits you and helps you make animation more easily.
6 Best 2D Animation Softwares for PC & Mac
2D animation software is advanced in vector art and is used to create unique animations, for motion capture, tweening and puppeting. You can make your images and vision come alive using the best powerful 2D animation makers.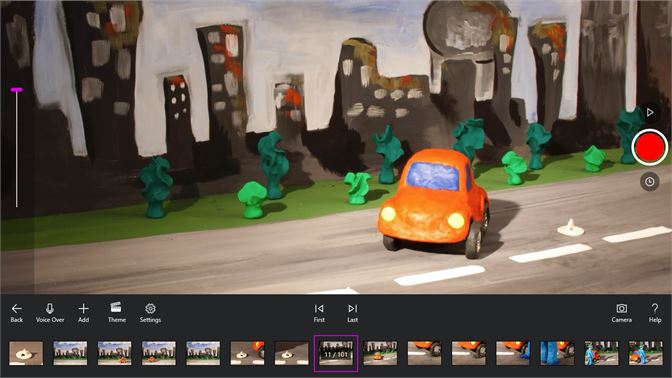 Stop Motion Studio is undoubtedly one of the most popular software in the market. It has a unique style of creating quality and clear animated films simply by taking different objects such as soft clay items and dolls with joints while manipulating them. Manipulations and changes are then carefully photographed to act as a frame. This stop motion software is both available for PC and Mac.
Pros:
- Has a great starting off.
- It is free.
- Can easily make stop motion animation films with pictures.
Cons:
- Limited options .
- Has just basic features .
Plateform: Windows, Mac
---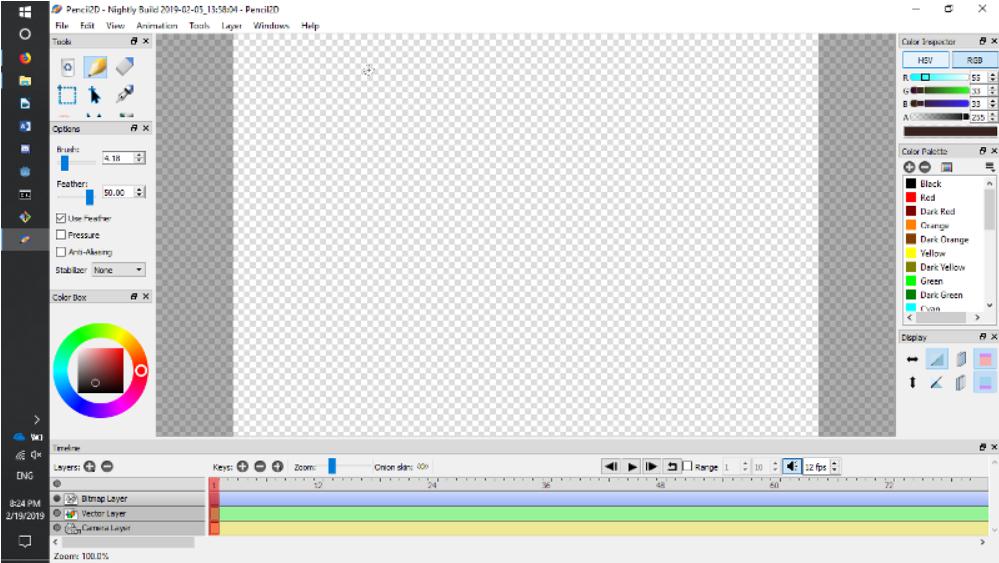 Pencil 2D animation is the easiest animation to use. It works flawlessly on Mac or Windows computers, perfect for beginners because of an interactive interface that is easy to understand and use. What's more, it is lightweight, has a minimalistic design, features vector and raster workflows, runs on all platforms and is open-source software.
Pros:
- Easy to learn, use and navigate
- Comes with quality fluid animation
- Brings great animations to life
Cons:
- Its eraser tools is not fully optimized
- You will need an extra software to export videos
- It cannot handle complex animation
Plateform:Windows, Mac, Linux
---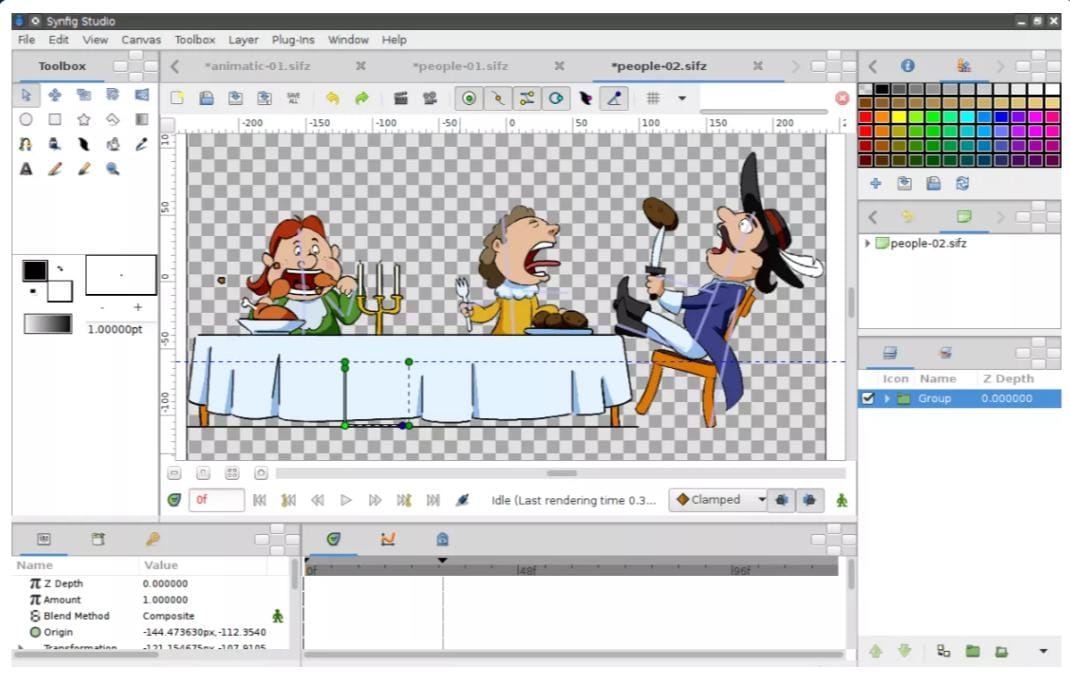 Synfig Studio is a open-source 2D animation software that works efficiently on Windows, Linux and OSX. It delivers multiple players when you are creating content. You can use it when adding distortions, transformations and filters because of its functional and high-end bone system.
Pros:
- It is super affordable and powerful at same time
- It comes with exceptional plugin capabilities that enhances the quality of your animations
Cons:
- You need a strong computer for you to run it
- It can be hard to understand or use it
- Complex and continuous tasks can crash it
Plateform: Windows, Mac, Linux
---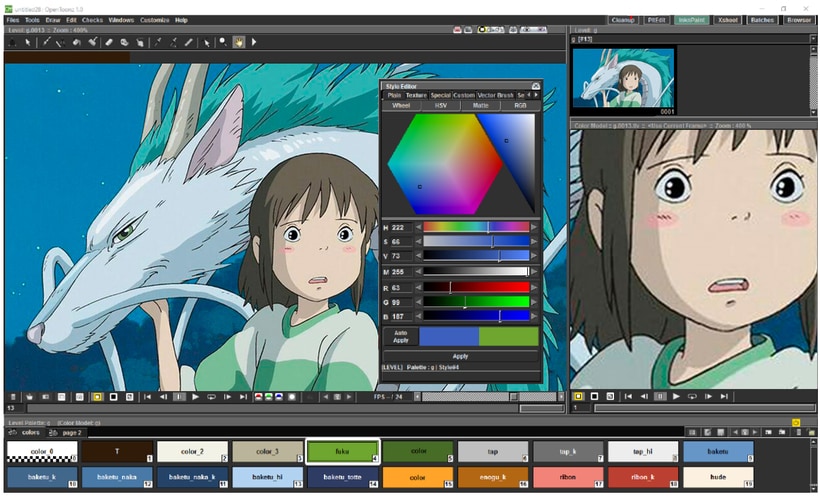 Opentoonz is another open-source animation software designed for beginners. It can be used with plug-in effects that can seamlessly change image flair, it can distort details and add lights. Furthermore, it can correct the animation with losing frame, allows you to add extra colours to ensure your animation is more colourful and beautiful and is highly compatible with white and black, coloured without binarization scanning.
Pros:
- It is perfect for newbies
- Has a Google group to solve users's problems.
Cons:
- Its UI design is old
- Creating new frames can take time
Plateform: Windows, Mac
---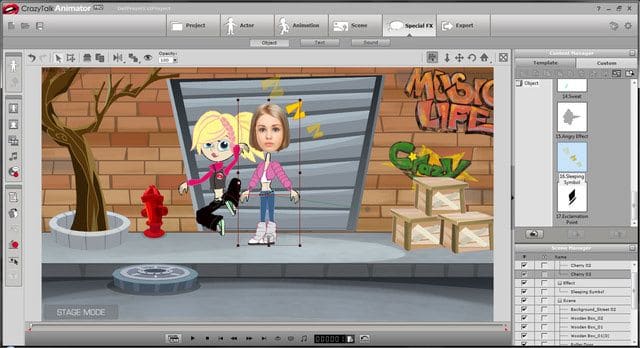 Cartoon Animator 4 is an exciting animation program that is easy to use. It is ideal and perfect for beginners and allows you to create animated characters from images, make lip-sync animation from audio. quality and cool animations. Moreover, it supports 4k resolution.
Pros:
- Comes with motion capture capabilities
- It has a large templates library
Cons:
- No drawing tools
- It is pricy
Platforms supported: Windows, Mac
---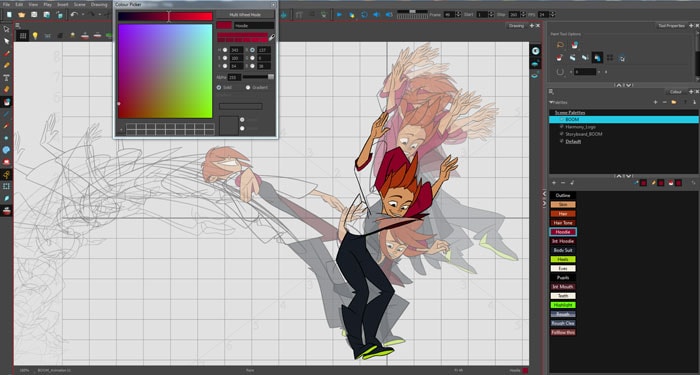 Harmony animator is a all in one 2D animator. It allows you to complete all your animation tasks from drawing to working on the final animation product. Therefore, you can work on several tasks including animation, artwork, adding sounds as well as production effects into an animation. Its features include a stabilizer for quality smooth lines, has 3, 4 and 5 point curved perspective lines and helps you to create cut out animation. Additionally, it allows you to integrate it with available software, offers 2D and 3D integration and you can simply import multilayer PSD and PSB files, bitmaps, PDF, illustrator and media files.
Pros:
- Has plenty of drawing tools
- Unlimited animation features
Cons:
- You can't record audio in the program
- Available at a fee
Price: Free trial, $20 for Gold plan and $30 for Platinum plan
Platforms supported: macOS, Windows
---
4 Best Animation Makers Online for Beginners
Generally, when creating animations as a beginner, you will find online animation tools can be a great choice. Such tools often provide ready-made animation templates, enabling you to create your animation videos in a short time. Let's take a look at the 4 best online animated video tools.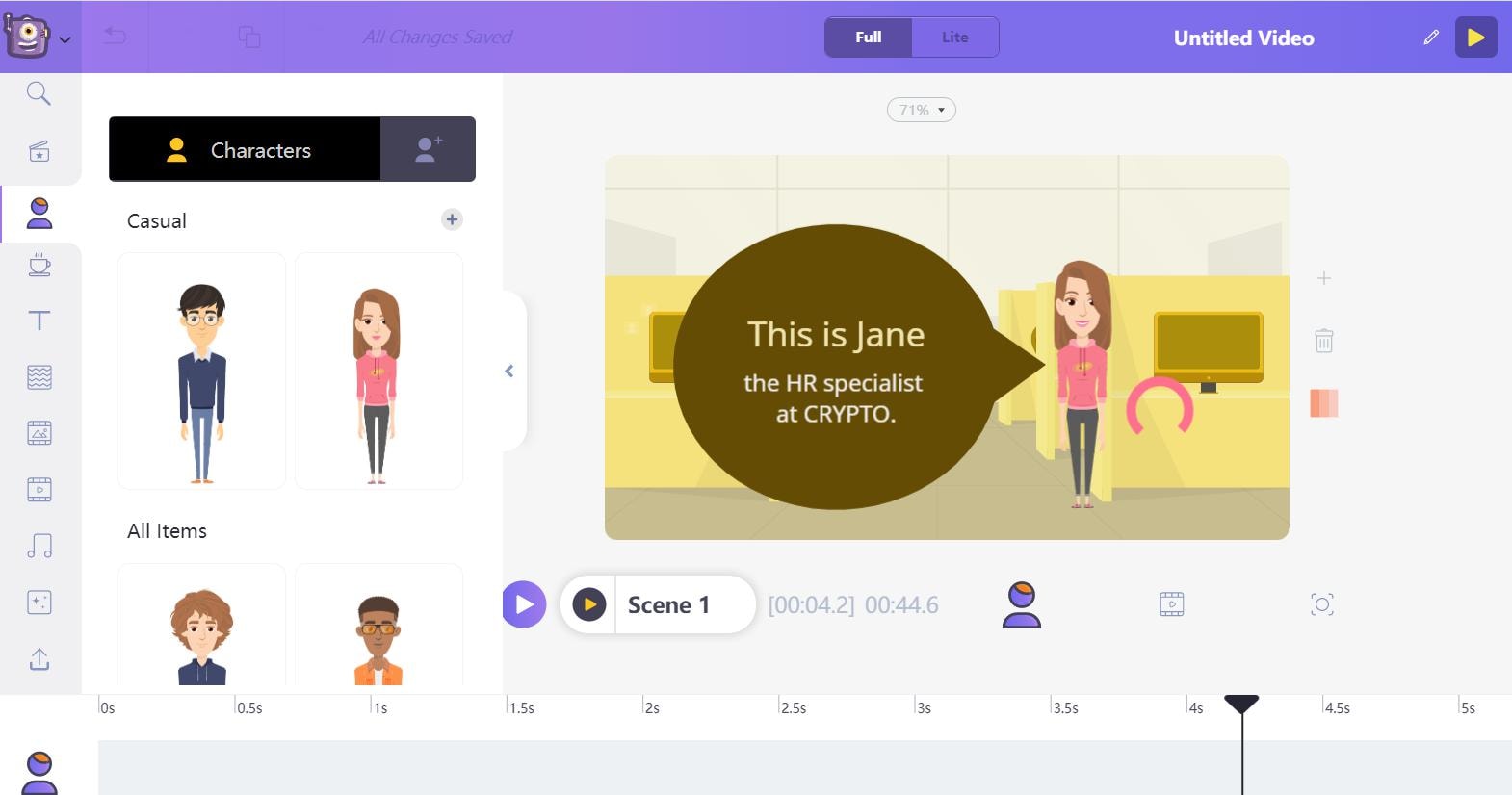 Animaker is an exceptional tool with an array of video templates for you to use. You can create your own animation video within a few minutes It is designed to help you create highly customizable video animation content for pleasure or business seamlessly.
Pros:
- Offers an array of animation templates for you to choose a style that suits your needs
- It is a reliable and trusted animation maker
- Auto lip-sync.
Cons:
- You may take time choosing a video style to use
---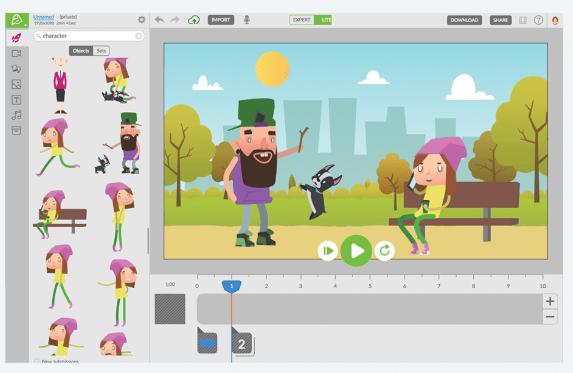 Animatron is an amazing software, great for marketing or trainning video. It allows you to create one of a kind explainer videos, HTML5 banners and whiteboard-style animation. It allows you to get the job done efficiently and within the shortest time possible including different presentations.
Pros:
- Hundreds of pre-animated assets to select from.
- Has great customer service
Cons:
- You have to save data as you work on your animations
- The interface is not highly interactive
---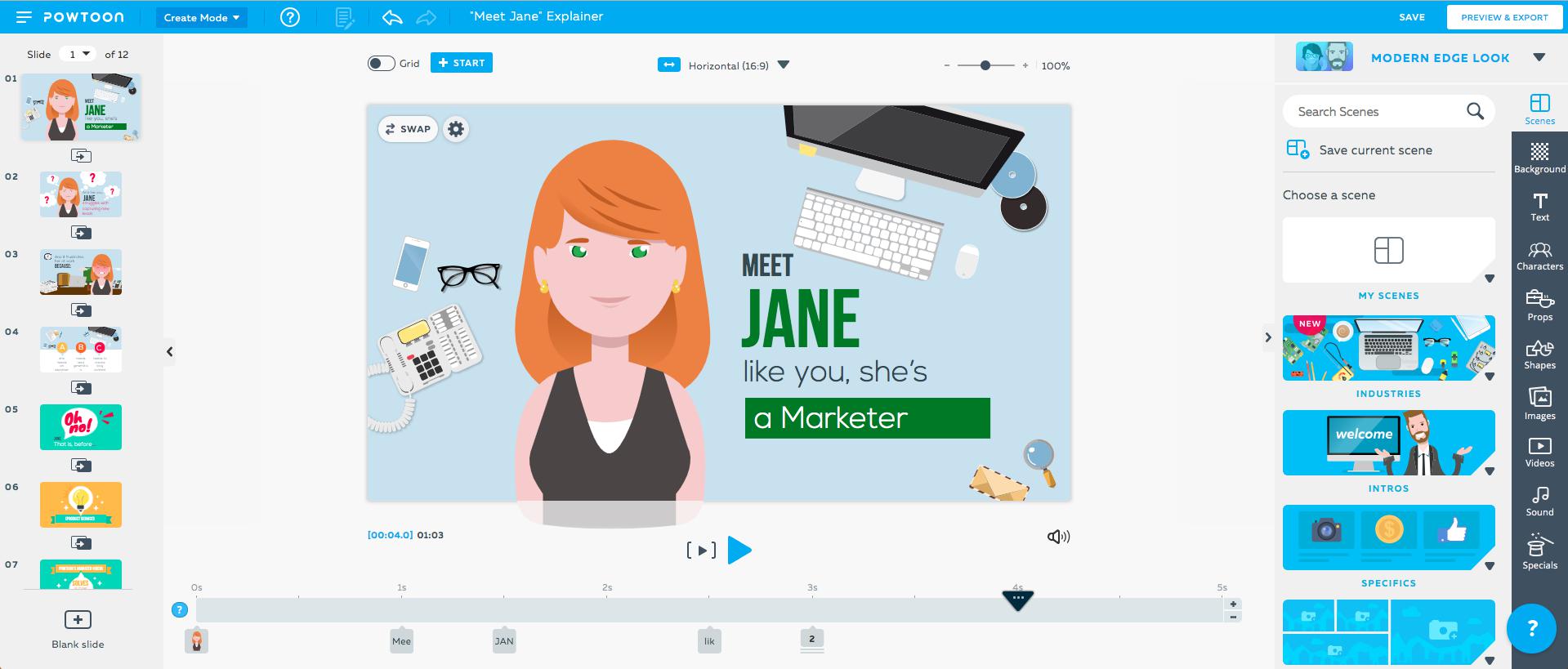 PowToon is equally an effective and reliable tool that helps you to create professional presentations, videos and animated content. If you want animations to showcase your business to your clients, this is the tool to use. It is cheap, compatible with different computers and has been integrated with top sites to provide quality content.
Pros:
- Has amazing templates
- Creates perfect animations in minutes
Cons:
- Editing can be confusing
- It can take time uploading videos and images to your timeline
---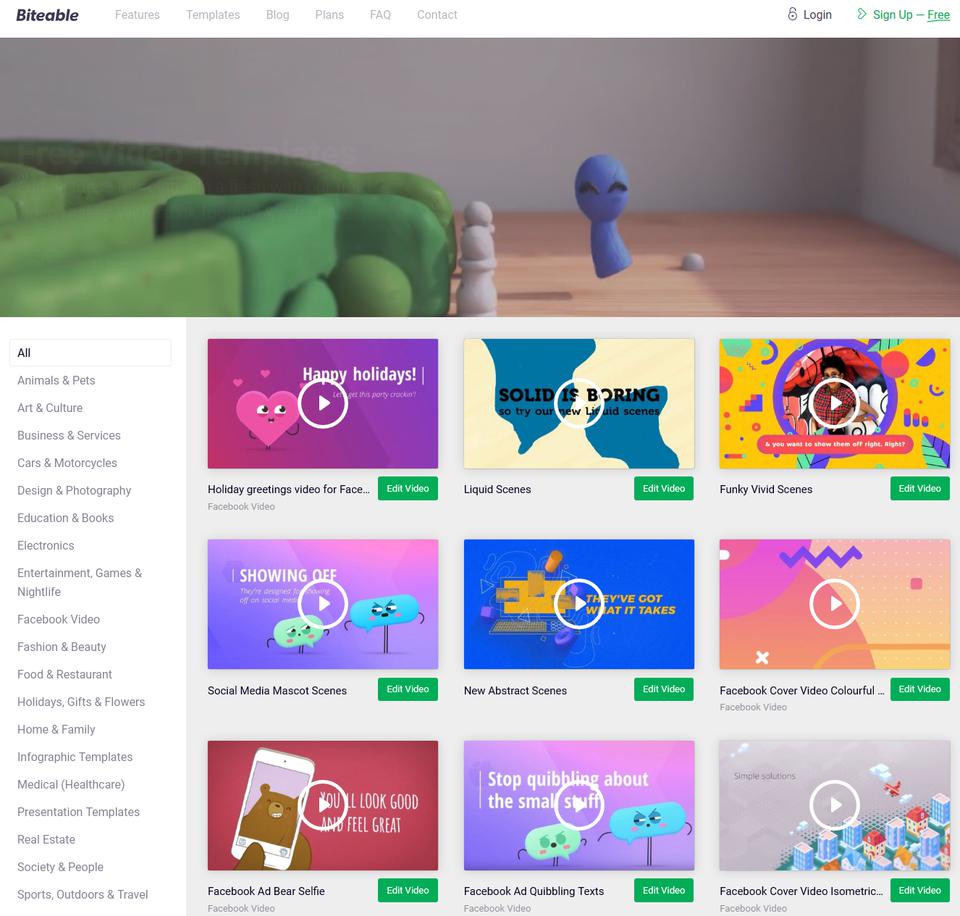 Biteable is a reliable online animation maker. You do not need a powerful computer to use the program. It is also an easy tool to use when you want to create informative and fun content. What's more, you can share content with your friends and associates. It also allows you to customize content to your liking, add text and sounds to personalize the animation even further.
Pros:
- Highly customizable
- Huge selection of animated templates and footages.
Cons:
- A bit pricy.
---
Conclusion
Animation software desktop vs. animation maker online, how to choose?
Well, 2d animation software is a powerful tool that allows you to create animations of motion, based on a frame by frame basis. What's more, you can create different animation models based on your needs.
However, animation maker online helps you to create animations using templates. With this tool, you can create videos with playful scenes for advertising or teaching on YouTube or other sites.
Therefore, choosing animation software or animation maker online depends on your needs. And which software do you tend to use to start animation? Or do you have other recommendations for 2D animation software? Leave your comment below!
Read Also:
- 8 Best YouTube Thumbnail Makers for Your Animated Video
- Top 8 Sound Effects Website to Find Fun Audio Effects for Animated Video