"How can I reverse a video on TikTok after recording it so that the whole video runs backward?"
"How do you make a reverse video on TikTok?"
In today's culture, video plays a huge role in our everyday lives. The popularity of video apps like TikTok has changed the way we consume content online. In fact, people are more than 5 times more likely to click on a video when surfing the internet or social media websites.
Some of the most unique and interesting videos to watch are those that feature special effects, such as reverse playback. While this effect is viral nowadays, it is not new at all. In the early days of filmography, making a video play in reverse was often a complicated process that required expensive equipment and special techniques to get it right. However, thanks to advancements in technology, anyone can now use software or apps to produce the reverse effect for TikTok videos.
If you are interested in using this effect on your TikTok videos, you will be pleased to know that there are several ways to do so. To learn about the easiest and most effective ways you can edit your videos to play in reverse, continue reading below.
The 2 Best Solutions to Reverse A TikTok Video
Solution 1: Using the TikTok App to Reverse Videos
If you are familiar with the TikTok app, you may already know of its inbuilt reverse playback effect. If you have never used it before, follow the guide below to get your videos to play in reverse on TikTok.
Seamless guide to play a video backwards on TikTok
Step 1: Launch TikTok on your mobile device and tap '+,' located at the bottom of your screen to start creating a new recording.
Step 2: Tap and hold the red circle to use your device's camera to record your video. When finished recording, tap 'Next' to proceed to the next step.
Step 3: Now tap on the icon labeled 'Effects' and then 'Time.' On the Effects menu, tap 'Reverse' to apply the video effect. Your video will now start to play backward in the preview.
* Side Note:

If you want to make your reverse video even more creative, you have the option of making your initial recording at different speeds of 0.3x, 0.5x, 2x, or 3x.
Step 4: When finished editing, tap 'Next' and then add a description and finally click on 'Post' to share your reversed video with other TikTok users.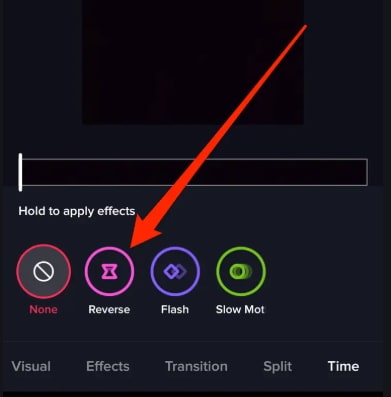 ---
Solution 2: Using FilmoraGo to Play a TikTok Video in Reverse
FilmoraGo is one of the best video editing apps for Android and iOS that can effectively edit videos to play in reverse. It is packed with loads of tools and functions that allow users to edit videos and images on their mobile devices.
It is popular for its vibrant and well-designed interface that is easy to use and navigate. In addition to applying the reverse playback effect, users can also add high-quality filters, special effects, transitions, graphics, text, music, and more to make their TikTok videos even more interesting to watch.
Follow the steps below to edit your TikTok video to play backward using FilmoraGo:
Step 1: If you don't already have it, download and install FilmoraGo on your device from the Apple Store or Google Play.
Step 2: Using the native camera app, record your video.
Step 3: Now launch FilmoraGo and click 'Create New Video.'
Step 4: Next, tap 'Camera' and select the video that you previously recorded from the camera roll. Tap 'Add' and then 'Next.'
Step 5: On the menu on the right side of your screen, tap 'Edit Tools' and then on the Effects menu, select 'Trim Clip.' Tap on the slider labeled 'Reverse' and then 'Okay.' Give your device a few seconds to apply the reverse effect and process the video.
* Side Note:

Optionally, you can further enhance your video by using the many other tools available on FilmoraGo.
Step 6: You can now share your video directly to TikTok from FilmoraGo. To do so, simply select 'More' on the 'Save' menu and choose TikTok.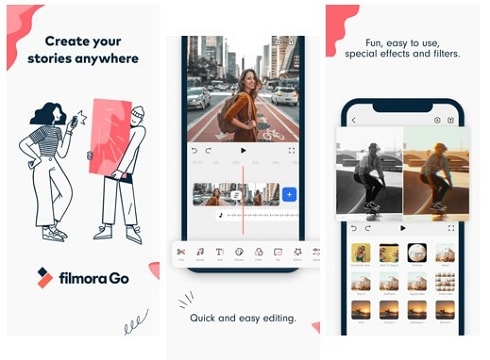 Bonus: If you do prefer to edit videos on Mac or Windows computers, the desktop software would be the best choice for you. Filmora Video Editor is one of the best video reversers on the market, which supports to play videos backward in clicks and provide thousands of transitions, text effects, and filters for users.
To dig more suggestions for reversing a TikTok video, don't miss these guides:
- The Best Reverse Video Maker [Guide]
- Top 6 Online Video Reverser [Top List]
- How to Reverse Video in Premiere?
- How to Rewind or Reverse Video in iMovie?
---
TikTok Video Reverser Apps Comparison: TikTok vs. FilmoraGo
Video Editing Tools
TikTok - The app offers basic editing tools that are easy to use to and apply for the average user. However, it is difficult to control precisely where to apply an effect.
FilmoraGo – This app provides both basic and advanced editing tools to accommodate users on all skill levels. Users have better control over the placement and properties of each effect.
Special Effects Selection
TikTok - The users have access to a good selection of visual effects, stickers, and transitions. Some users have reported that the effects library isn't updated too frequently, so you may miss out on the latest TikTok video trends.
FilmoraGo – This app offers a huge selection of free and premium special effects. There are also more special effects categories to choose from.
Compatibility
TikTok - The app has limited compatibility with video formats. If you want to upload a video that you've downloaded from the internet or saved on a storage device, you may have to use a different app or software tool to convert it first.
FilmoraGo – FilmoraGo accepts more file formats. In addition, it can also optimize videos to be compatible with different social media platforms such as Instagram and Snapchat.
Ease of use
TikTok - TikTok is quite easy to use. Users will have no problems finding and applying different effects and settings.
FilmoraGo – The app is also easy to use thanks to its simple, well-designed layout. You will find it easy to navigate the app and discover new and interesting ways you can edit your TikTok videos.
Cost
TikTok - The app is free to download but features in-app purchases mostly for copyrighted music.
FilmoraGo – This app is also free to download and use but features in-app purchases. Users can buy premium special effects and filters.
The Finish Line
As you can see, you do not need expensive software or expert knowledge to reverse a TikTok video. Whether you are a beginner or an advanced user, simply use any of the methods listed in this article to make any video play backward.