In the world of tech and video content creation tools, there's always stiff competition between companies as they strive to outdo one another, either of them trying to best the other. Both amateur and professional video editors won't be strangers to these two excellent video content creation tools: Filmora X and Blender.
They're both unique with particular exclusive features, but which one should you go for? The paragraphs below should give you a better idea of what each software can do for you. It's going to be Filmora X vs Blender, but which will emerge the victor? Time to find out!
Part 1: General Comparison between Filmora Video Editor and Blender
1. Audience
It is true that Filmora and Blender both target video creators: as an open-source 3D creation software, Blender is bent towards 3D Animation design and rendering while Filmora X is bent toward convectional video editing and film post-production. This draws a thin line between the kind of audience targeted by these two computer applications.
2. Software Categories
Filmora X is a convectional video editor. A perfect tool for adding texts and subtitles to your video, mixing audio, and adding cool visual effects, easy upload to social media platforms, etc.
Blender is a full-fledged 3D creation software that also has a video sequencer packaged inside.
3. Platforms
Wondershare Filmora is available for both Windows and Mac platforms. There's also a cute yet powerful app from Wondershare for mobile platforms (Android and iOS). It is called FilmoraGo. You're welcome.
Blender is available on all major platforms and can be downloaded on Windows, Mac, and Linux platforms. The complete source code can also be downloaded online without any added cost. It is entirely open-source. A team of smart software developers maintains the official version.
4. Price
After trying Filmora X for free and you're interested in getting a license, Filmora X comes at the cost of $40 to $100 for individuals. Filmora X starts from about $140 (for a single PC) and up to $1120 for 10 PCs max for teams and businesses. It has a reasonably flexible pricing policy that suits both individual and industrial uses.
In contrast, Blender is free, open-source software with the GNU license. You could download and use all Blender features free of any charge whatsoever.
---
Part 2: Specific Comparison of Video Editing Features
Blender contains more media editing categories than Filmora X. However, video content creators will probably not be interested in most of the types on Blender (speaking about Animation, UV Editing, Game Logic, Motion Tracking, Scripting, etc.).Instead, they are most likely going to be interested only in the video editing aspect of Blender. In this regard, we'll hence limit our discussion/comparison to the video editing features of Blender and Filmora X.
Video Editing Features of Blender
At first glance, Blender doesn't seem to hold much water when it comes to video editing. Don't be deceived by its stern look! Blender handles much more than you might expect.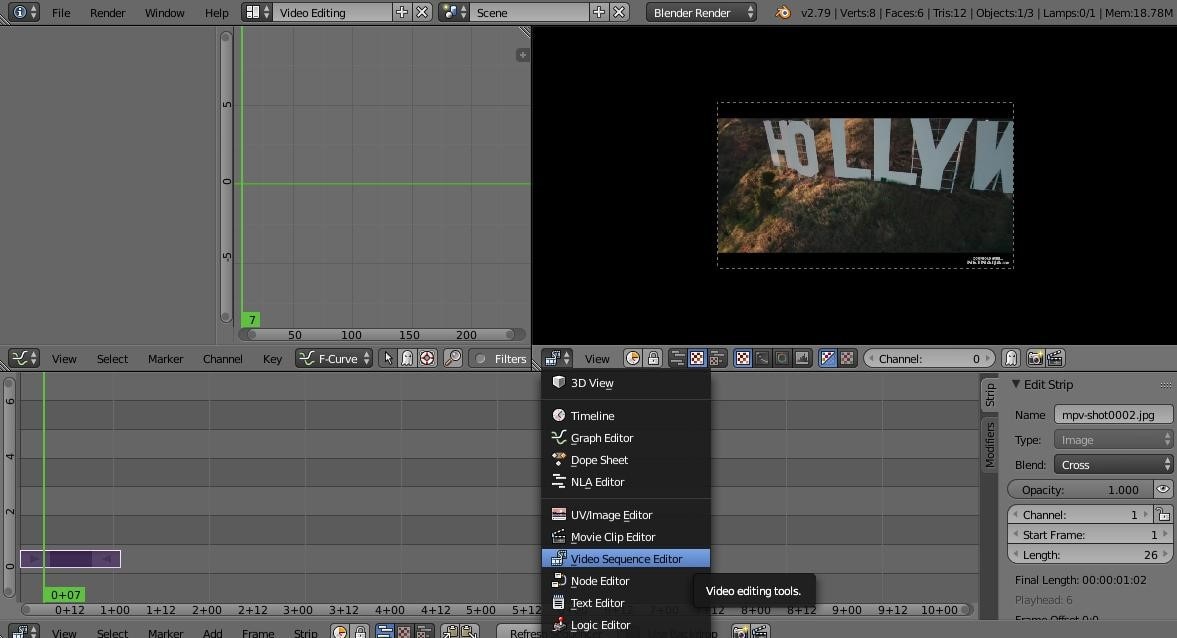 Generally, Blender includes the following video editing features:
Luma waveform and live preview.
Video speed control and filters.
Video layer adjustment and video transitions.
Histogram displays and chroma vectorscope.
Audio mixing and syncing alongside scrubbing and waveform visualization. 
32 slots for adding media files (video, audio, images, masks, scenes, and effects).
As you can see, the Video Sequencer embedded in Blender is a complete, advanced video editing tool. You could combine multiple video channels and even add effects to them. There's hardly a limit to your creativity as you can go further into video masking or outright combination with animations --all in Blender! If you're new to video editing, you could achieve a great deal with Blender with patience.
Video Editing Features of Filmora X
Filmora X intuitively provides top-notch video editing features. As soon as you launch the software, everything it is capable of is reachable without much stress --and under your fingertips. One of Filmora's goals is probably to make you creative as much as possible with less headache.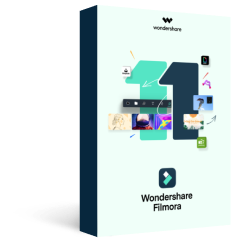 Video Editing Features of Filmora X
Split, trim and merge videos.
Screen recording on computer and mobile devices.
Easy video color correction and matching.
Crop videos and modify aspect ratios.
Video rotation to various angles.
Save videos in popular formats.
Optimized video for various screens and devices (game consoles, computers, mobile devices, and TVs).
Easily export your finished products to social media platforms (YouTube and Vimeo).
Luckily for video content creators, Filmora X combines power and most of the desired functions by video content creators in one software —more to that, it intuitively presents these features. It is an excellent option for quickly creating ads, educational, game, vlog, makeup, music videos, etc.
Advantages of Filmora X
1. Social media sharing
Video editing can get tiring sometimes. After the whole process, the next thing creators look to is publishing online. Filmora makes this process much easier and stress-free. It handles formats and aspect ratios of various social media platforms. And with just a push of a button, you can upload your video/project directly to YouTube and Vimeo.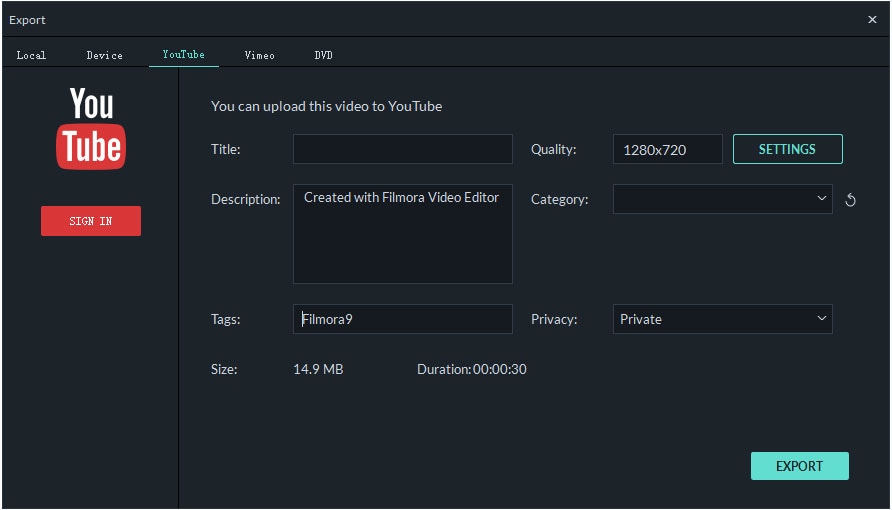 2. Support for HD Resolution
Filmora supports high video resolutions, including 4k video resolution. Even more, you could easily tweak the settings to suit your needs/meet the requirements of whichever platform you are uploading your video.
3. Faster rendering
Filmora X reads and admirably renders video frames. You don't have to wait too long before it reads and renders your video frames completely and gets it ready for editing.
4. Video stabilization
If you do not have camera stabilization equipment such as a good tripod or camera stand, Filmora X does a pretty good job digitally stabilizing your shaky video. With your shaky video on the timeline, you only need to double-click it to open up its editing panel. You'll find "Stabilization" among the options. Your video will be fixed automatically. You could also adjust/tweak the stabilization settings (e.g., how smooth should it be?) when previewing the video.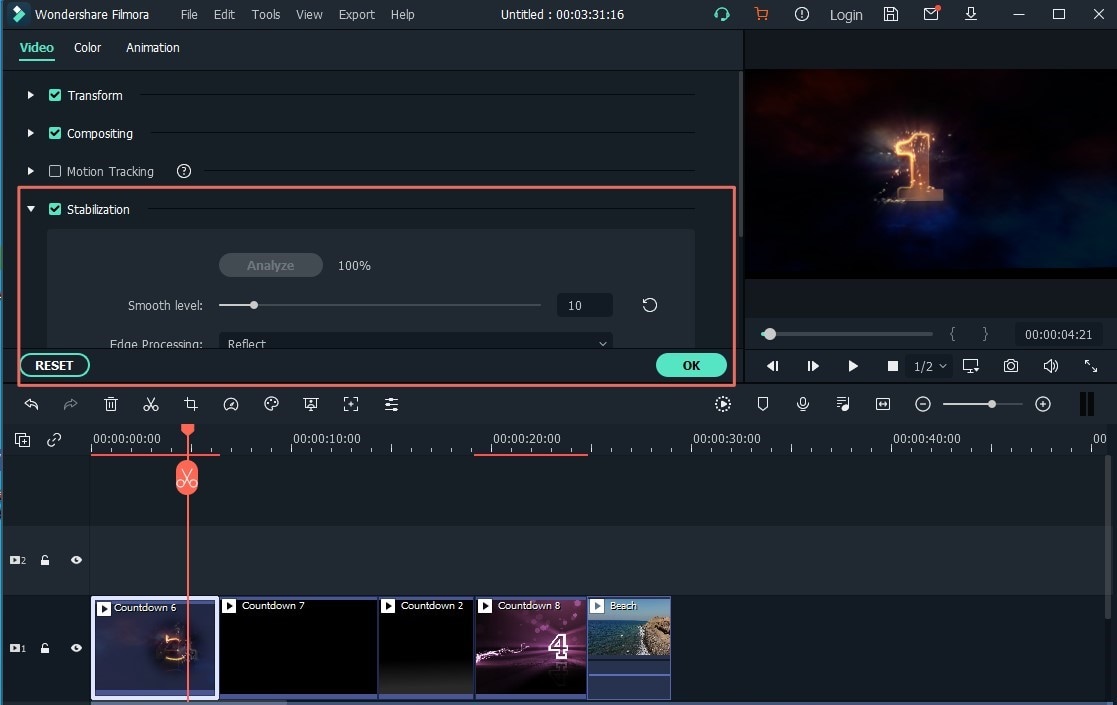 5. Audio workstation
Apart from visuals, Filmora X impressively handles audio editing. A bunch of sound effects is also available for creating a more engaging video for your audience.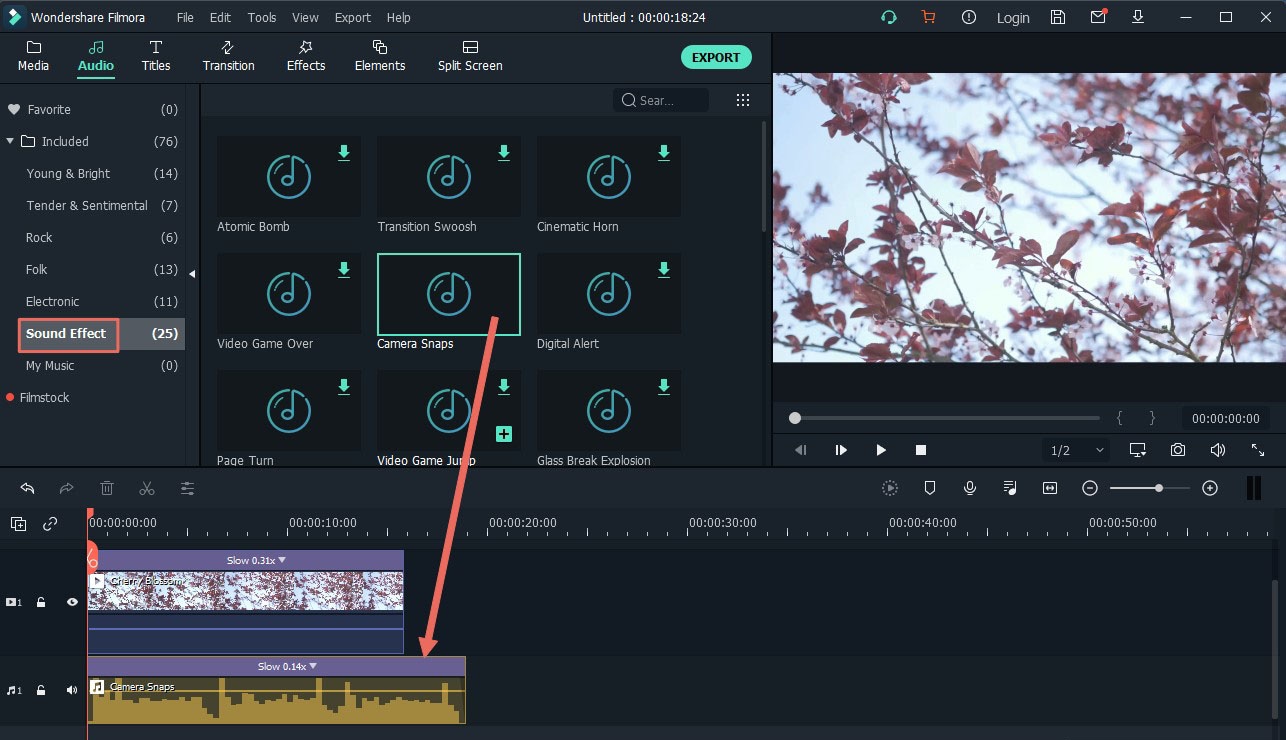 ---
Conclusion
There you have it! Hopefully, you've made your choice already (based on your personal or project requirements). As pointed out in this Filmora vs. Blender article, both Filmora X and Blender have their strengths, shared features, and distinct features. However, in terms of simplified video editing, it is clear which option you should choose.
When it comes to making your YouTube videos, marketing videos, documentaries, recording your screen, etc.--or, in general, video editing--Filmora X offers more robust video editing features and functions. With Filmstock, for example, there's hardly a modern video effect that won't be found there if you're into making techy videos with Filmora X. One last but not least thing that can't be overstated with Filmora X is how easy-to-use and friendly the software is compared to Blender. Good luck!